Do your children love to watch endless hours of TV or have trouble turning off the video game? Does it drive you crazy having to say "no" for the thousandth time each day?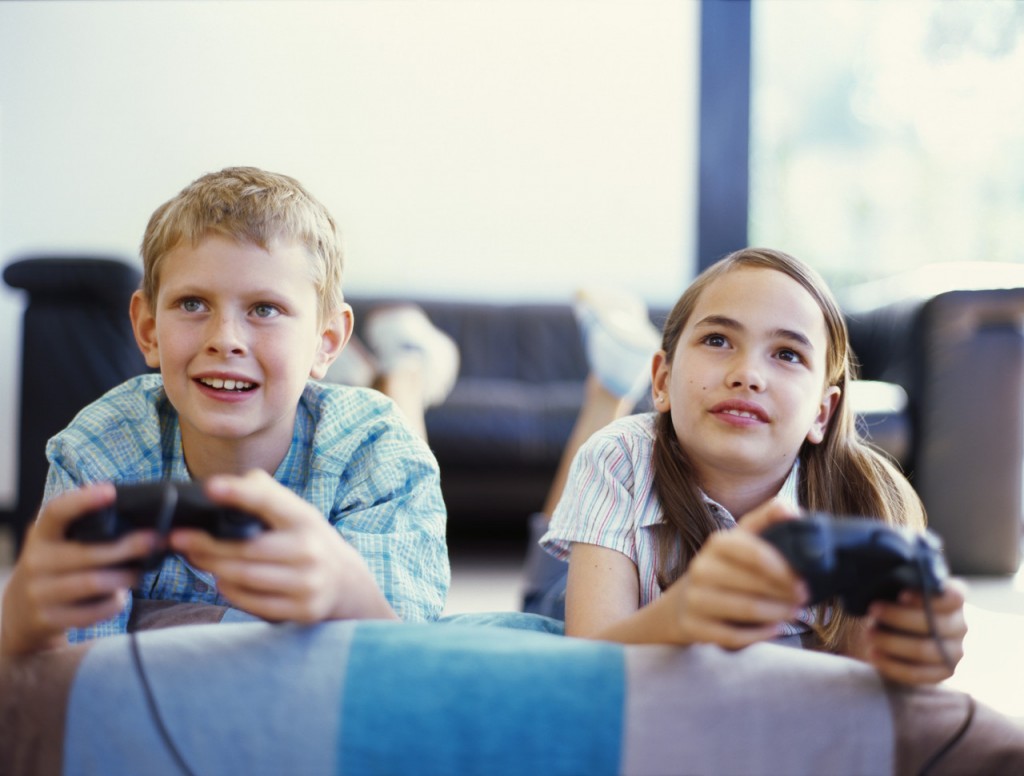 Here is an idea for limiting your children's television/computer/gaming time that has worked very well for my family.  I have used this method for 8 years now and it still works great!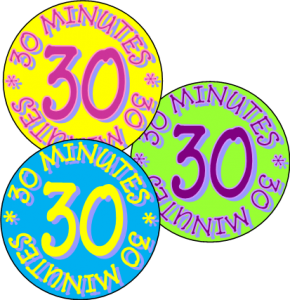 I made some "tokens" that we use to monitor how much time they spend playing with electronics.
Children love having the opportunity to make their own choices. I wasn't sure how well it would work when we started. I assumed that it would force them to watch an hour of TV every day since they would never want to let their tokens go to waste.
Ironically, just the opposite happened. Okay, not for one of my kids, who lives for video games, but the others rarely use both tokens every day. There are some days when they just choose to play and totally forget about playing on electronics!
It is wonderful not to have to keep saying "no" when they ask to watch yet another video, show or play video or computer games. I just ask, "Do you have any tokens left?"
Here is how it works:
1.  Every week I give my children a set of 14 tokens (you can download them below).
They receive 2 for each day of the week. I have found that 30 minute increments work very well since many kids' videos and TV shows are 30 minutes.  I do make some exceptions occasionally for feature length films (more on that later).
2.  I purchased a plastic coin holder at a local toy/hobby store and taped some magnets on the back with clear packing tape.
We keep it on the fridge so the kids can check the status of their tokens at any time.  The kids names are written above their tokens, but are smudged out in this picture for privacy. 🙂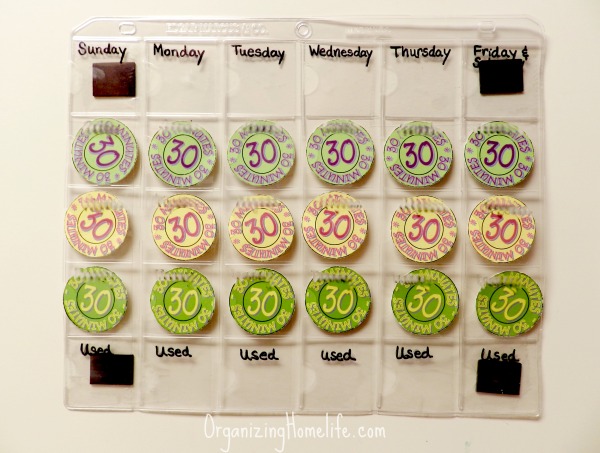 3.  Every Sunday, we fill up the slots with tokens (two in each slot).
Throughout the week, they are allowed to use their tokens at their own chosen time. But, they must follow a few rules:
When they want to use a token, they need to move it from the daily slot to the "used" slot.
They (or I) set a timer for 30 minutes (or 1 hour if using both tokens).
Since we homeschool, and I don't want them racing through schoolwork to watch videos or turn on the Wii, they are not allowed to do anything electronic until 4:00 p.m. (aside from what is required with school). Saturdays, and Sundays after church, they are allowed to use their tokens at any time during the day as long as it doesn't interfere with other plans.
Sometimes, all the children want to use their tokens at the same time for the same electronic. If that happens, they must agree on what they will watch or play and fairly decide who goes first. In that case, they may only use one of their 1/2 hour tokens at a time (not both).
In addition, sometimes, there is not enough time for everyone to use their tokens depending on our schedule. In that case, as in the previous point, they must agree, and share the time.
I do have to let you know there is a quirk that you will have to figure out with your own family.
In my home, tokens do not "roll over" to the next day. If a token isn't used, it cannot be used on another day. You can tweak that rule however you wish, but I have found that they wanted to save four, five or six and have a "marathon" day. You could try letting them roll over two extra tokens for a maximum of two hours for a feature length film, if desired. Usually, what I do is just let them watch the longer video all together as long as it isn't happening too frequently.
Bonus!
Occasionally, I will give them some "extra" tokens if I have a lot going on or they deserve a special reward for some reason.
Another thing I do is take the tokens away as a punishment. For a minor offense, often I will only take one token. For other offenses I will take two or more. Once in a while I have needed to take the entire week's worth. Added benefit to this punishment: more time spent with their family. 😉
Click on the color token of your choice to download in PDF format.  There are 18 tokens on each page: 2 for each day of the week with 4 extras.
***I had mine printed (by a printer) on card stock for extra sturdiness and bright colors.
Copyright: These printables are copyright © 2012 OrganizingHomelife.com.  Printables are for personal use only. Please do not distribute in any format for free or for profit. Please do not link directly to the downloadable pages, but feel free to link to this page's URL.  Thank you!