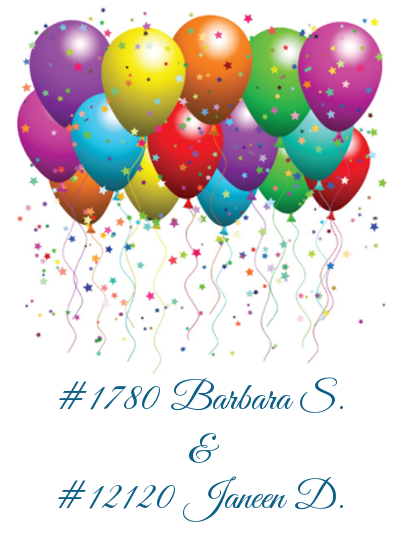 I am so excited to tell you about another fantastic organizing product this week!
I was so happy when the folks at Staples contacted me about reviewing the Martha Stewart Wall Manager, but I was thrilled when they offered to give away TWO Wall Manager systems to my readers!  Woo hoo!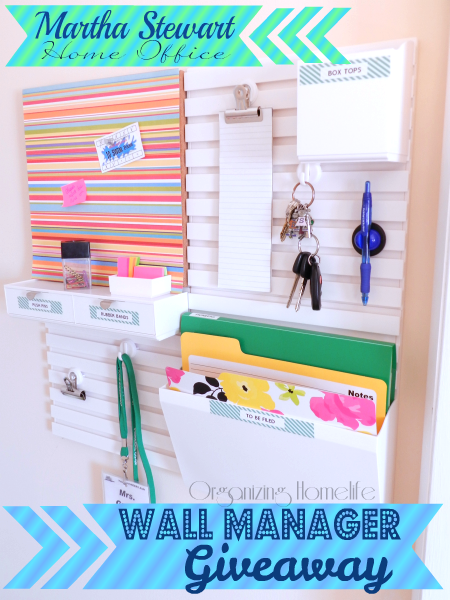 I have been looking for a product that will enhance my kitchen command center and making filing paperwork a little easier.  As soon as I saw the Wall Manager, I knew it was exactly what I had been looking for.
You may know if you've been reading my blog for a while that I don't have a lovely office space that I can call my own.  My "office" is tucked in the corner of our basement playroom/homeschool room.  It's where I keep my filing cabinet, office supplies, etc.  But, most of the time, I work upstairs on the couch or at my dining room table.
I like to deal with incoming paperwork and mail immediately so it doesn't get lost or pile up, so I created a mini office in my kitchen that acts as my "command center".  When bills arrive that need to be paid, I file them in my "to be paid" file.  I also keep other important paperwork there.  That way, I don't have to run up and down the stairs 20 times a day (although it probably wouldn't hurt me, but I'm lazy like that. ;))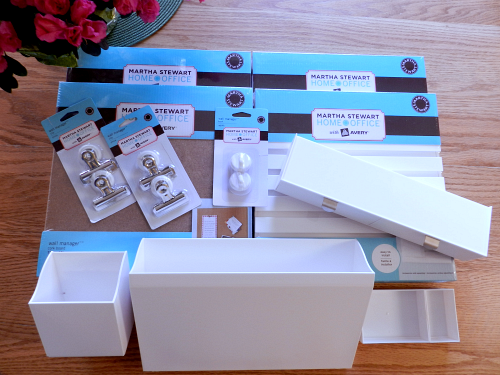 I knew when I saw the Wall Manager that it was going to be perfect for my needs.  You can easily set up any configuration you want!  The accessory boards are great.  You can choose the unique track system, a cork board, a magnetic dry erase calendar, or a magnetic dry erase board.  It's easy to get the functionality that best suits your situation with the variety of accessories they offer.  They are so easy to pop into a new spot, but lock down so they don't get easily knocked off.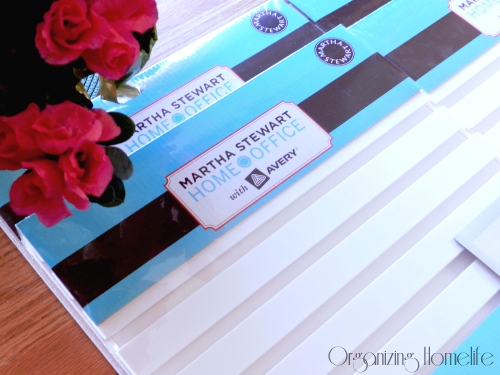 Since my command center space is limited, I don't file paperwork there.  I usually keep important paperwork in a file that I occasionally take down to the basement filing cabinet.  The problem with that has been that I'm too visual.  Out of sight, out of mind is so absolutely true of me!  I always remember after I get down the steps that there was something I wanted to bring (like my paperwork).  When the file gets too full to forget, I'll take it to file, but I would much rather have a spot that is easily accessible so I can remember to file those papers before they get out of control.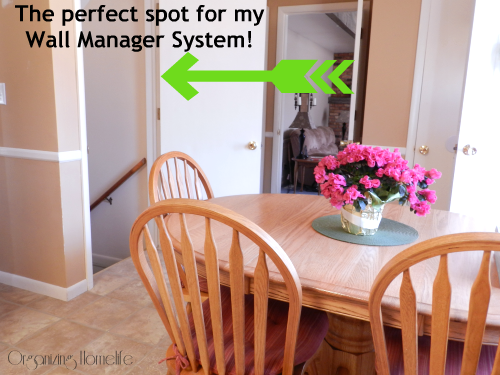 I cannot even begin to tell you how easy it was to hang this!  I was done start to finish in 10 minutes – and I was taking pictures for this post!
Each board has two pieces of sticky tack on the back side.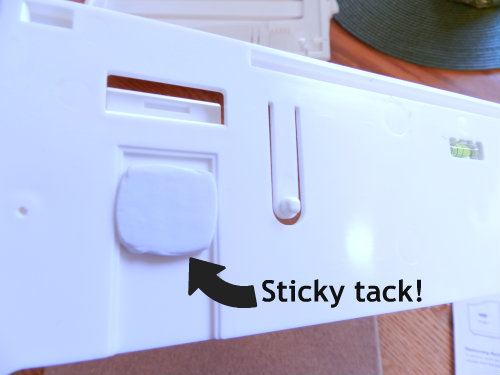 Simply hold the board up to the wall, use the built-in level to make sure it's lined up correctly, and press onto the wall.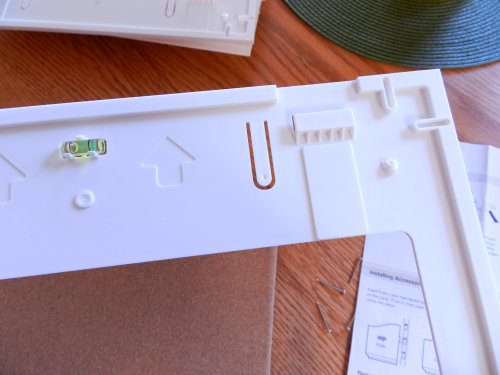 All four of these boards are hanging without nails.  It's easy to reposition them if you want to change the placement before nailing.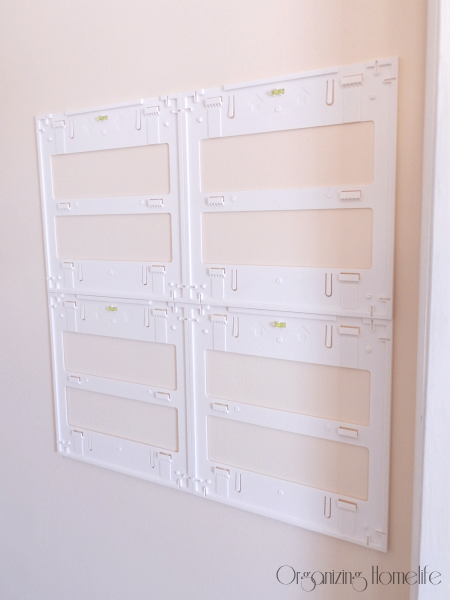 I absolutely loved the little slots for the nails, too!  Have no fear of pounding your thumb!  These hold the nail perfectly while you hammer them into the wall.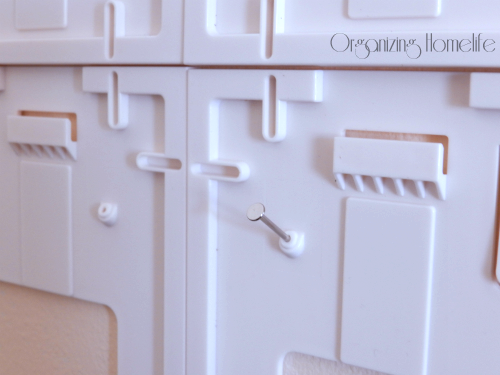 After nailing the board backings onto the wall, simply slide the tracks, cork, or board onto the front.  Voila!  All done.  That was simple! 
Now it's time to accessorize!  I'm not a huge fan of brown cork boards, so I grabbed a piece of 12 x 12 scrapbook paper to cover the cork.  I used some tacks to hold it in place.  So much better!  I also used some washi tape and my label writer to label the drawers and bins.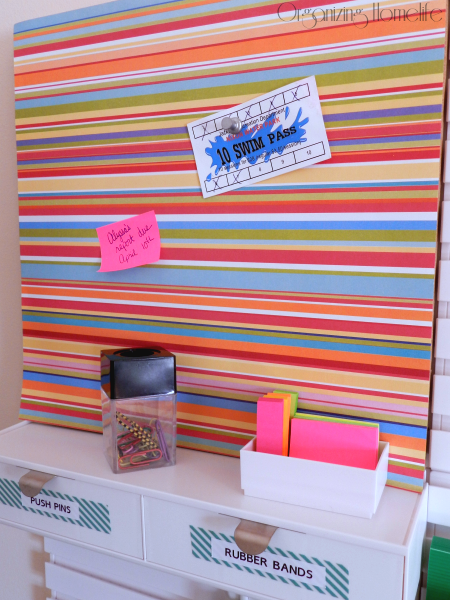 My favorite accessory is the inbox.  THIS was the reason I really wanted the Wall Manager.  It's perfect for holding my papers that need to be filed in the basement.  Now, when I run down the steps, it's simple to grab my file and get that paperwork put where it belongs!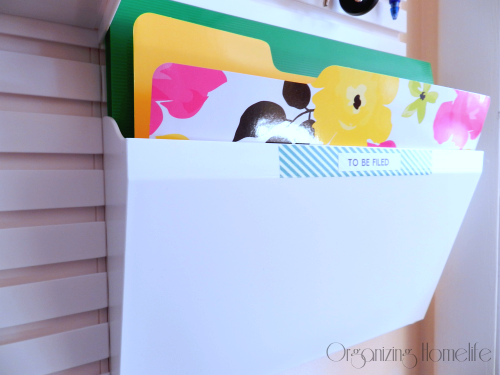 I also started keeping the kids' school paperwork, my teacher's lanyard, box tops, notes for school, etc. there.  Now it's all in one spot so I never forget those things when we're running out the door to school!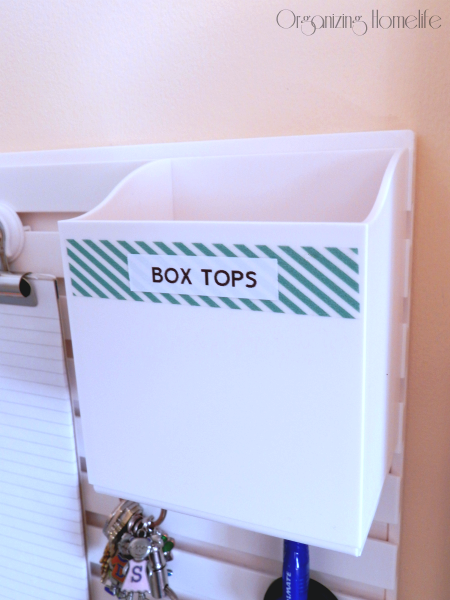 I am so thrilled that TWO OF YOU have the chance to win a Martha Stewart Wall Manager!!  I just know you'll love it.
Please note that the giveaway winners will each receive: 1 Wall Manager Cork Board, 1 Wall Manager Accessory Board, 1 Drawer Set, 1 Package of (2) Hooks, and 1 Tall Caddy. 
And there's more great news!  For the next two days (through April 13), Staples is offering the Wall Manager accessory boards at 40% off!  Check out the Wall Manager system HERE.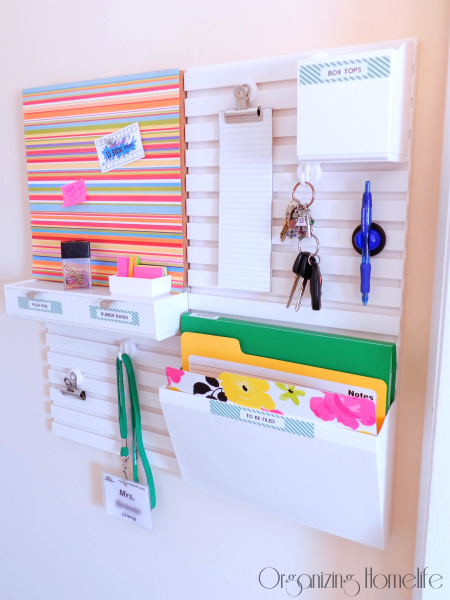 The Fine Print:
Two winners will be chosen randomly using Rafflecopter.com to receive a Wall Manager System which includes the following pieces: 1 Wall Manager Cork Board, 1 Wall Manager Accessory Board, 1 Drawer Set, 1 Package of (2) Hooks, and 1 Tall Caddy.
No purchase necessary.
Giveaway is open to U.S. residents only.
Entrants must be 18 years or older.
Giveaway begins Thursday, April 11, 2013 and ends at 11:59 p.m. eastern time Friday, April 19, 2013.
Winners will be e-mailed and announced here on Saturday, April 20, 2013.
Winners have 7 days to respond to e-mail.
Entries are super simple: log into the Rafflecopter below with your Facebook name, or just use your email address.
a Rafflecopter giveaway