I am beyond excited to share today's post with you! If you are new here you might be wondering what I'm talking about, but if you're a regular reader, you probably noticed a big change!
Organizing Homelife is now a responsive, mobile friendly, much easier to use website!
This has been in the works for a long time and has been one of the most time consuming, tedious experiences of my blogging career. So, if you were wondering why you haven't seen many posts lately, now you know why.  I am so excited about this and think you will love the new site.
I'll let you poke around and discover what's new, but I wanted to share a few things so you don't miss them.
First, I thought it might be fun if we take a walk down memory lane and see the different looks Organizing Homelife has had over the last nearly 4 years. *This is sort of like showing your kids what you wore in high school – you thought it was cool at the time, but now you're wondering what you were thinking.
Are you ready to see what Organizing Homelife looked like in the very beginning?
Just slightly different now, huh?  Everyone had a big ol' graphic sort of like that big ol' hair in high school, right? 😉
and then later in the year…

on to 2012…

and we were finally over the lady design and moved onto our label…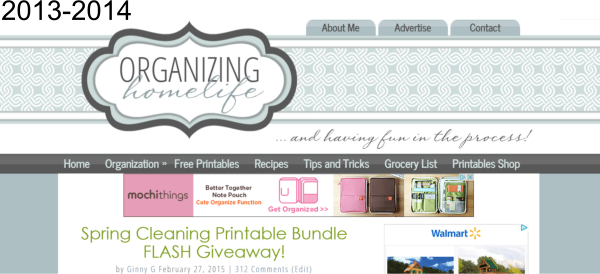 and here we are in 2015…

So what do you think?  A bit more modern and a lot more user friendly!
What's New?
We're totally responsive!  What does that mean?  It means that you can check us out on any device (phone, tablet, desktop) and the design, images, and text size will automatically adjust to your screen size!  I know.  Nice, right?  Goodbye old design!
There are now three main areas of the site.
The Home Page – a synopsis of the latest and greatest goings on inside the blog.

You'll find featured posts in popular categories as well as most recent posts.
You'll see all the latest printables in a new slider.
And, you'll find it easy to keep up with me on social media with the interactive social media widgets.

The Blog – these pages are the bulk of the site where you'll find all the posts, tips and ideas, and pages to inspire you.
The Printables Shop – redesigned and much easier to use, you can now sort for printables you love by category such as:

planners, calendars, kids, home management, financial, etc.
New Features
Have you seen the Free Printables and Recipes pages?  They are SO much fun, better organized, and up to date!  Just click on the sub-menu to categorize by your interest so you don't have to scroll through the whole list!
Coming Soon
I am changing the direction of Organizing Homelife slightly, and I hope you'll enjoy it.  In my "real" life, my hubby and I are big DIYers (Do It Yourselfers) and always have a home improvement project going on.  While not always organizing related, I hope you'll glean some ideas from our adventures in DIY.  And don't worry, I'll still have tons of organizational ideas coming!
Favorite Products Page – one thing I hear from my readers is that you love when I share great products with you, but you also like when I tell you where you can find them.  Look for this page very soon with all kinds of products that I find to be exceptional in organizing.
Tons of new printables are on the way – both free and in my shop!  Stay tuned.  If you haven't signed up to receive email updates on new printables and special discounts for subscribers, you can do that here.  I won't spam you, I promise!
Well, I hope you enjoy the brand new, easier to navigate, Organizing Homelife.  If you notice any quirks, please shoot me an email.  We've gotten most of the wrinkles out, but there may still be a few lurking in the pages that we haven't found yet.