Welcome to My Favorites Friday!  This week I am highlighting some of my favorite cleaning tips.  I hope you are inspired and your spring cleaning is made a bit easier!
The first seven tips are courtesy of Real Simple.  I just love Real Simple – they offer tips that are so aptly reflective of the company name.
One of my most favorite smells is the fresh scent of sheets that are right out of the dryer (or just off the clothesline if you are really an amazing mama)!  But they sure do get that "stale" closet smell after they've been in the linen closet for a while, don't they?  I thought Real Simple shared such a great idea of putting a box of baking soda in the closet.  I'm definitely going to try this!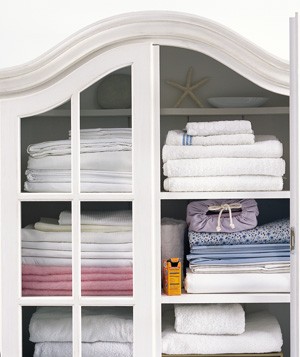 My sweet Aunt shared an amazing cleaning product with me (you can see it here) for cleaning my garbage disposal.  But, here is another 'simple' and natural idea from Real Simple:  use vinegar ice cubes to clean and freshen your garbage disposal.
With four girls and a dog in our house, the vacuum roller is always wrapped with hair and strings.  I love this idea from Real Simple of using a seam ripper to clear the roller!
I don't get out for manicures very often, but it sure is a bummer to have a beautiful set of nails ruined by too much washing or cleaning, isn't it?  But what is a mother to do?  You can't trade pretty nails for a clean house, right?  Here is a fabulous idea to save your rubber gloves from getting 'nail holes' poked in the tips: put a cotton ball down in the finger tips of the glove.  I bet it sure would make cleaning a bit more comfortable, too!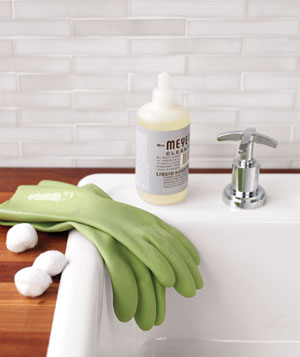 I've been cleaning windows with newspaper for years.  It really does work even though you would think the black ink would rub off.  It doesn't!  Okay – it does on your fingers (so use your cotton ball stuffed gloves ;)), but it leaves glass and mirrors super shiny without streaks.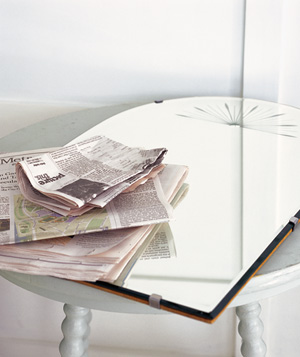 I've seen this idea flying around Pinterest and I've heard that the Lemonade Kool Aid is the only type of Kool Aid that will actually clean your dishwasher.  I'll be trying this one soon and I'll let you know what I think!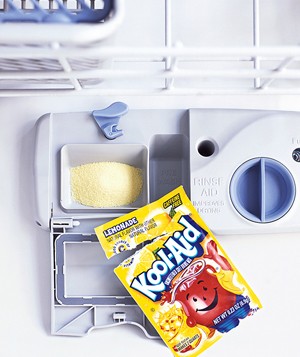 I thought this was another genius idea from Real Simple!  I usually only wash one bath mat at a time for lack of drying space.  This fabulous idea is so simple, yet so effective.  Love it!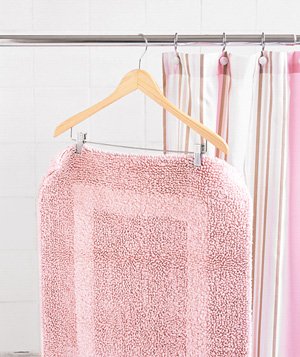 I absolutely love cookies.  They are my downfall.  But I can't stand the way my pans look!  They are 'well loved', but not exactly shining beauties anymore.  I can't wait to try this great idea from Jillee at One Good Thing.
She used an all-natural cleaning product she had under her sink forever.  It turns out it's a great product and really works, but it's sold by a direct marketing company and isn't available in stores.  I checked Amazon and it's available there!  There's only one thing – it's $20 for an 8 oz. bottle. : /  I'm trying to convince myself that having gorgeous pans is worth it.  I'll let you know. 🙂
I hate cleaning grout.  I Really. Hate. Cleaning. Grout!  Maria Isabel from Agape Love Designs shares a great tip on making your stained grout look like new with a Clorox bleach pen.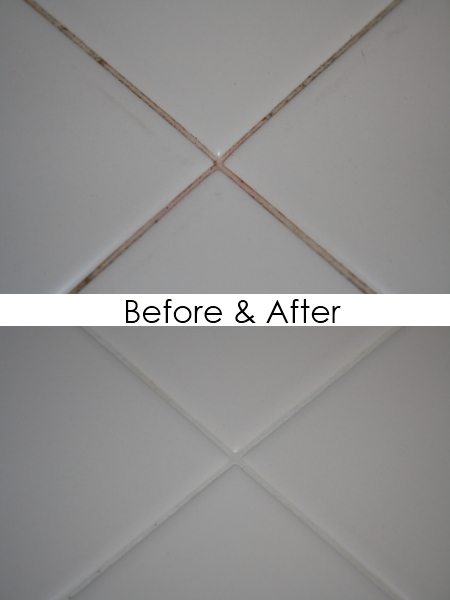 When we bought our family room furniture, we decided on durable microfiber.  With four kids and a dog, it gets its fair share of wear!  I love the tutorial that Robin, from Chris and Robin's Nest, shared.  It's really quite simple to clean and the results are amazing!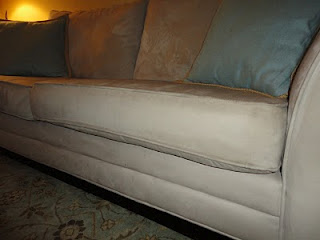 Kim from A Real Life Housewife shares how to clean the lime buildup from your shower head.  Simple and easy – my kinda cleanin'!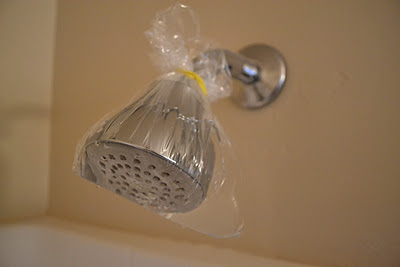 Did you know that you can use fabric softener, dish soap, or shampoo to remove hairspray from walls and other surfaces in your bathroom?  Add a few drops of whichever one you choose to a cup of water.  Wipe with a clean damp cloth dipped in solution.  Rinse clean with water.

I just hopped over to one of the blogs I follow, Joyful Homemaking, to look for Margo's post on cleaning the shower door with a dryer sheet (see below) and saw that she JUST posted this fabulous post on removing mineral deposits from your sink, so I had to share it, too!  We have super hard water here, so I'm always struggling with mineral deposits.  I can't wait to try this!!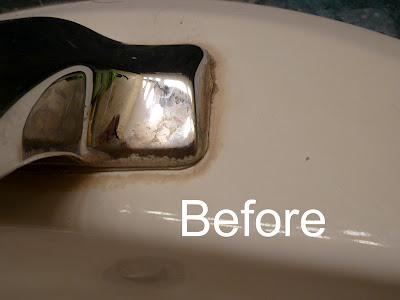 And here is the post Margo wrote about using a dryer sheet to clean the shower door (she also shares a few of the same tips I mentioned earlier from Real Simple – great minds think alike ;)):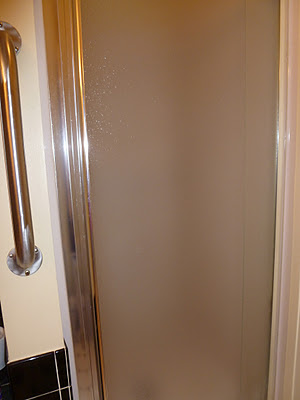 I found many of these great ideas via Pinterest. I would love to have you follow my pinboards to keep up with my latest pins!