This giveaway has ended. Winners are announced here.
Have you heard of Fridge Coasters before?  I had seen them advertised and have friends who use them, but I have to be honest: I wondered what all the buzz was about.  When something spills in my fridge, I wipe the glass shelf clean.  Why would I need a "coaster" in my fridge?
Recently, Fridge Coasters contacted me about reviewing their product.  My friends who use them absolutely love them, so I decided I'd give it a whirl.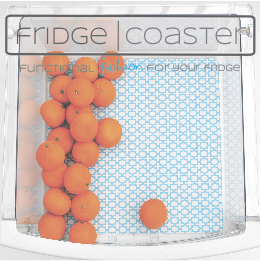 Fridge Coasters are super absorbent "liners" that fit on the shelves and in the bins of your refrigerator.  They are designed to fit in any fridge no matter the manufacturer, and they're guaranteed to fit in your fridge, or you get your money back.
They come in numerous colors and beautiful, modern designs.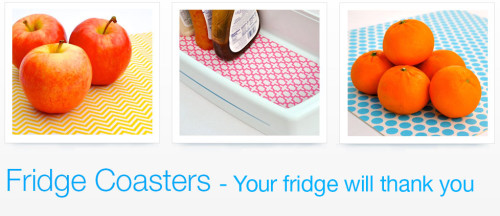 Fridge Coasters are made of a dense super-absorbent 30% recycled wood pulp.  When I first learned that they weren't plastic, I thought, "Wood pulp?  Won't that get ruined quickly?"  And the answer is, no!  These things are really amazing.  I never believe what I hear without testing it, so I dribbled water on one just to see what would happen.  I was really impressed!  It absorbed the liquid without swelling, the colored design stayed put, and after it dried (which happened amazingly fast), you could not tell there had ever been liquid on it!
And you know what is really awesome?  If you have a spill on your Fridge Coaster, you can wipe it clean!  The liquid absorbs, and the crumbs or sticky residue can be washed away.  Here's what I found on fridgecoasters.com:
How do you wash Fridge Coasters?

A wet soapy sponge can be used to wipe down your Fridge Coasters for the occasional jelly or chocolate syrup spill. Fridge coasters are not dishwasher safe, but that's a good thing! If they were rubber, silicone or plastic, they wouldn't absorb any condiment drips. Fridge Coasters eliminate build-up that eventually leads to scrubbing. We don't like scrubbing.
For more answers to Frequently Asked Questions, check out Fridge Coaster's FAQs page here.
I wipe out my fridge pretty regularly and save the full-fledged cleaning for when it becomes really necessary.  When I emptied my fridge to put in the Fridge Coasters, I was actually pretty surprised at how much gunk had accumulated on the shelves.  So, I spent the next 45 minutes scrubbing my fridge shelves and bins.  Not fun.  While I was scrubbing, I kept thinking how wonderful it will be when I don't have to do that anymore!  The Fridge Coasters will absorb spills so they don't run into the edges and crevices of my fridge!
Here's my fridge before: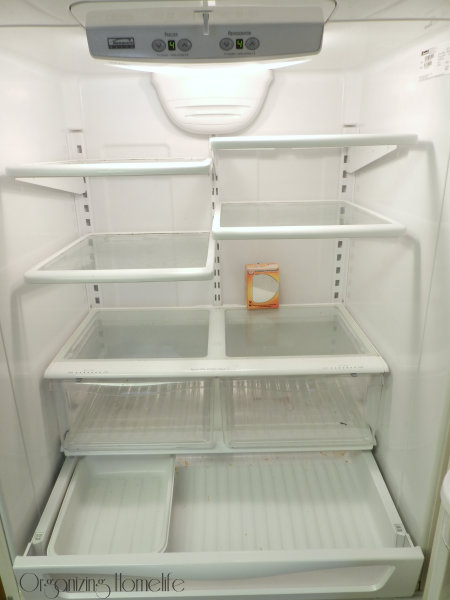 Yuck!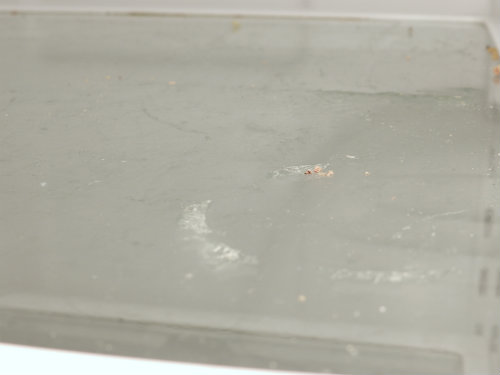 And here it is cleaned up, looking all stylish and pretty with its new Fridge Coasters: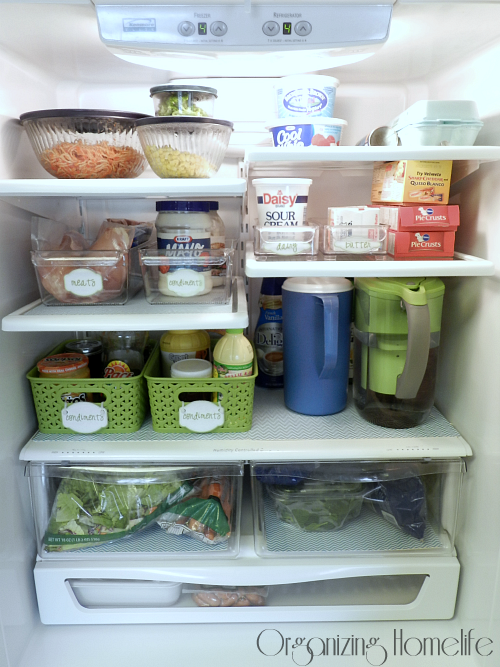 The Fridge Coasters were so easy to fit into my fridge.  The standard sizes fit perfectly on my shelves.  Each coaster has several perforated lines where you can snap off (easily, I might add!) the excess so it fits just right in your fridge.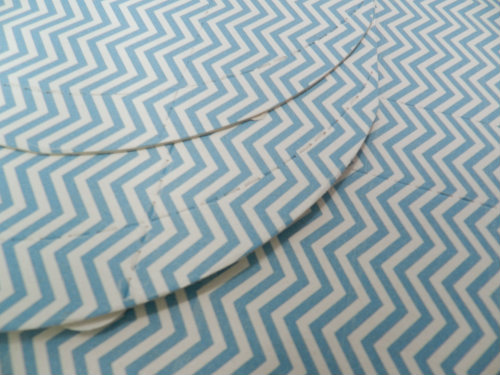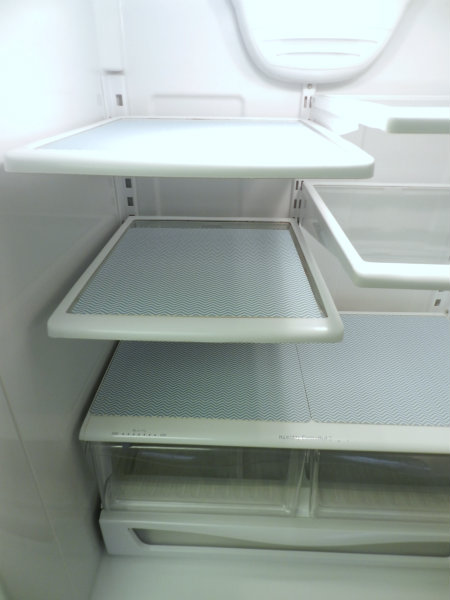 Apparently the shelves in my fridge's door are a little shallow, so I just trimmed them a little with my scissors, and they look fab!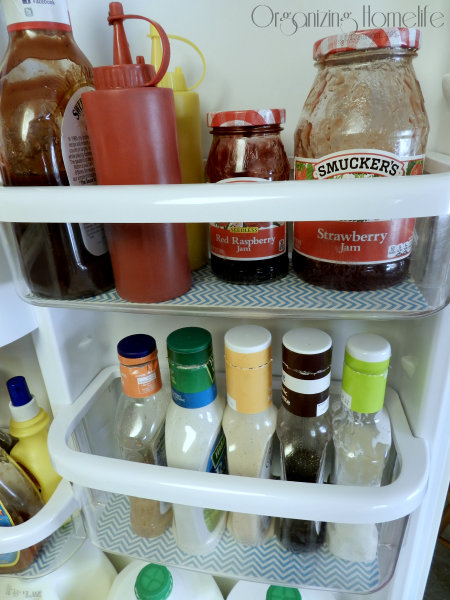 I must tell you that after using the Fridge Coasters I fell in love.  There are 3 things that drive me crazy about my fridge that Fridge Coasters solved:
#1.  My kids love cereal.  I mean LOVE.  We go through about 9 gallons of milk in one week, so one of the reasons we bought this particular fridge was because of the fact that 4 gallons fit perfectly in the door.  However, there are always drips left in that bin.  It almost always looks dirty because of the number of times it's used every day.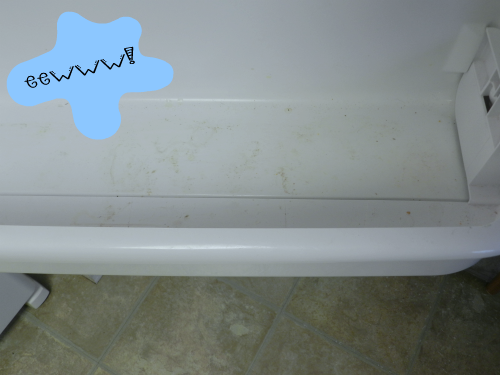 After cleaning it, I put two Fridge Coaster shelf liners next to each other.  I LOVE it!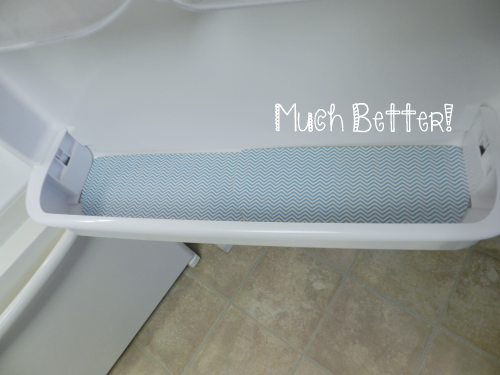 #2. The main glass shelf in our fridge has gotten so many scratches.  Our fridge is only about five years old, but already, that shelf is covered in hairline scratches.  It wasn't the easiest thing to get pictures of scratches on clear glass, but believe me, they are all over that shelf.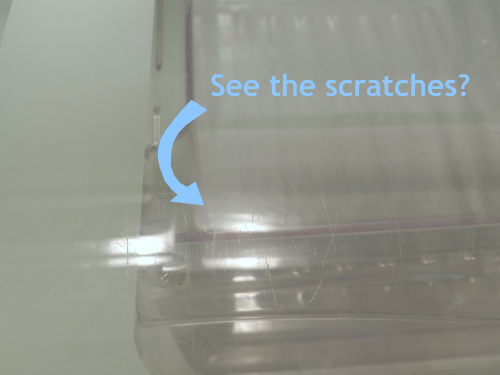 #3.  This shelf started "peeling" not long after we bought the fridge.  Grrr!  It has a thin layer of plastic covering the main plastic support.  I guess it's from people dragging the water pitcher across it, but it looks awful.  Dirt can collect there, so I'm constantly having to keep up with that.  Plus, it's front and center when you open the door.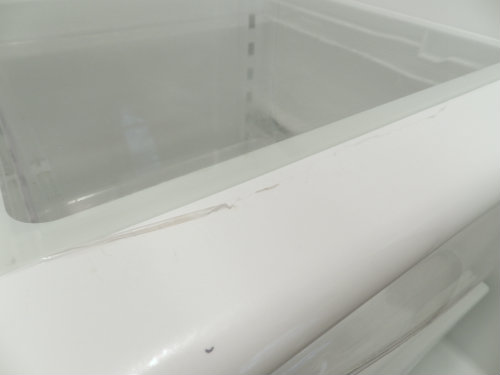 I put 2 large coasters on that shelf, and not only do they cover (and help prevent) the scratches, they cover the peeling plastic!  Woo hoo!  Did I mention that I love these things? <3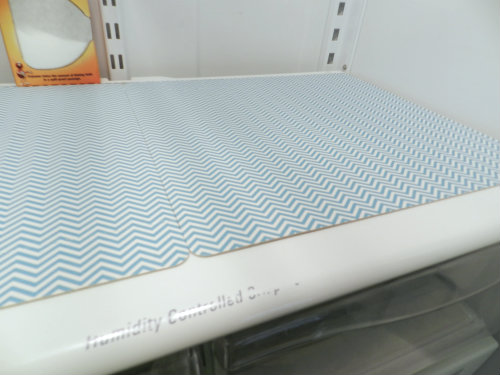 No more scratches, and no more peeling!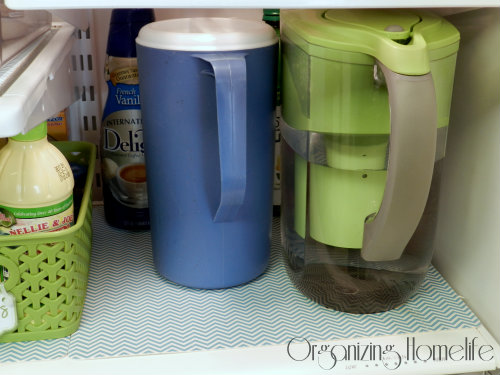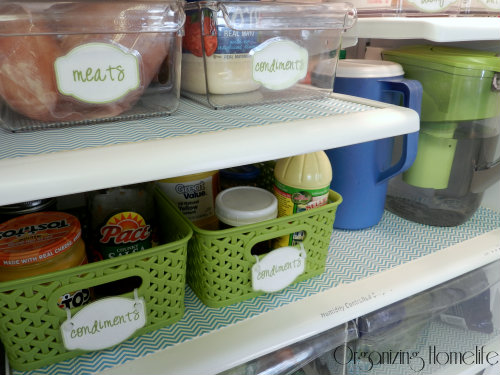 Remember that picture at the top of the post where I showed you the "gunk" on the shelf?  That is one of my most used shelves where I keep leftover food.  How pretty is it now!?!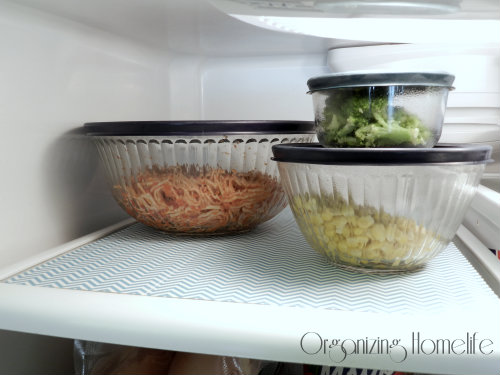 One trick I started doing years ago to prevent meat juices from leaking all over my fridge is to keep the meat contained in a bin.  I can easily remove the bin to wash it and clean up meat juices which always seem to find a way of leaking, don't they?  By the way, if you like those labels and the bin, you can see more about them and get the free printable labels in this post.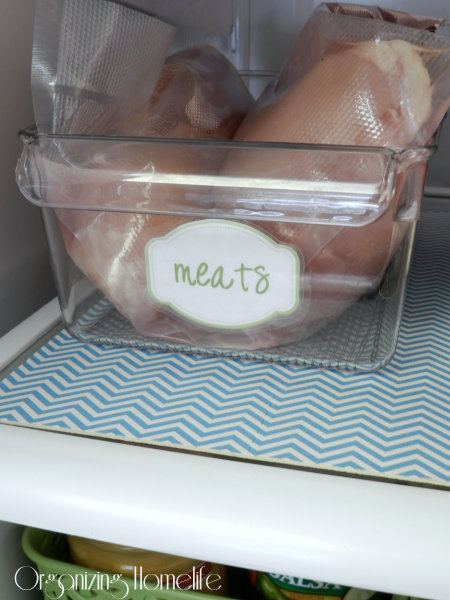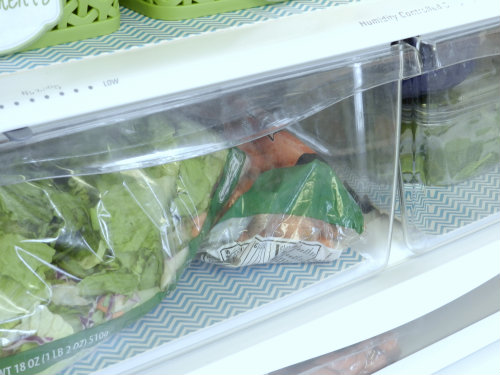 Another problem area in my fridge is actually in my freezer.  The bottom drawer and the pull out top drawer have pretty widely spaced wire baskets.  Not a great design in my opinion.  Food can easily become unbalanced and fall in every direction making it hard to stay neat and organized.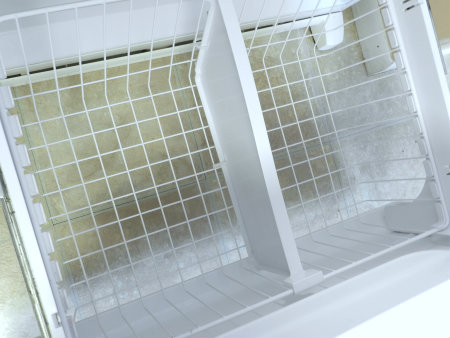 Because of the different sizes the Fridge Coasters come in, I was able to easily snap the perforated areas to create a "custom" size.  They now fit perfectly in my freezer bins, and I don't have to worry about food falling through, or falling over.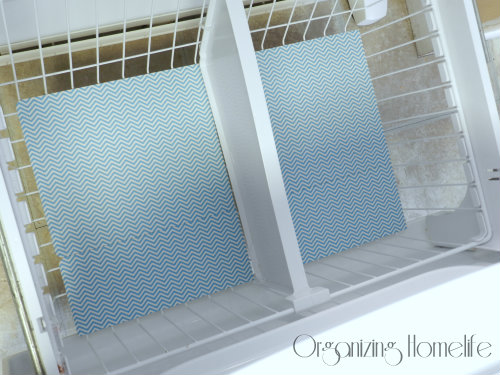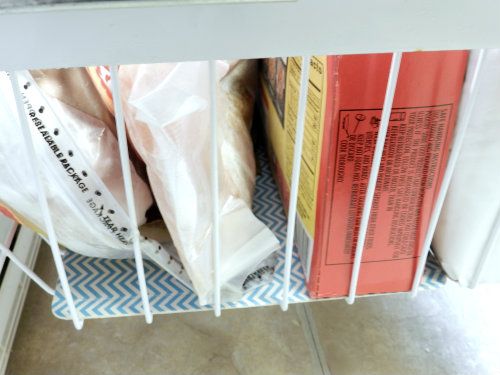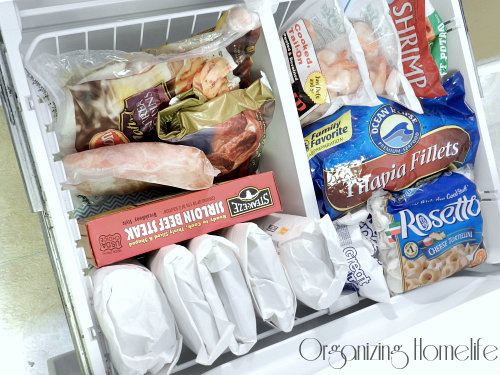 I am so happy that I had the opportunity to review Fridge Coasters.  And I'm thrilled to tell you that YOU could win a set in the design and color of your choice!!  3 WINNERS will be chosen to win a complete Fridge Pack valued at $25!!
And there's more great news!
Fridge Coasters are so reasonably priced, especially when you consider the time saved in scrubbing down your fridge.  They only need to be replaced once or twice per year, depending on the level of use.  In my opinion, it's totally worth it!  And, from now until March 11, 2013, Organizing Homelife readers will receive a 10% off discount using the code: OrgHomelife5
Entries are super simple: log into the Rafflecopter below with your Facebook name, or just use your email address.
The Fine Print
Three winners will be chosen randomly using Rafflecopter.com to receive one Fridge Pack ($25 value) each.
No purchase necessary.
Giveaway is open to U.S. residents only.
Entrants must be 18 years or older.
Giveaway begins Friday, March 1, 2013 and ends at 11:59 p.m. eastern time Sunday, March 10, 2013.
Winner will be e-mailed and announced here on Monday, March 11, 2013.
Winners have 7 days to respond to e-mail.