I love organization and cannot imagine homeschooling without a teacher's planner!
However, lots of planners are geared toward school classrooms for many children, not homeschools for a few children at different grade levels.
There are lots of homeschool planners that have become available over the past few years, but I have found many to be ineffective in simplifying my planning efforts.
If the method you're using is burdensome, find another one!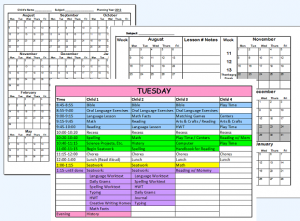 My goal is to streamline my organization – even in school planning.  I haven't found a planner that I love, so I created my own!  I will be sharing how I use my Homeschool Mom's Manual so other moms can benefit.
Be sure to check back often for free downloadable forms and details on how to create your own Homeschool Mom's Manual.