Congratulations to the 3 winners of last week's New Year's Organizing Revolution Kitchen Challenge!
1

s

t

Place
W

I

N

N

E

R

:

5 Dinners One Hour
2

n

d

Place
W

I

N

N

E

R

:

Fridge Coasters
3

r

d

Place
W

I

N

N

E

R

:

Clean Mama Printables

Feel free to check out all the organized kitchens from last week here.

If you weren't one of the "winners" last week, keep on trying! You really DID win in that you now have a wonderfully organized space in your home!! Be proud of yourself, and try again this week.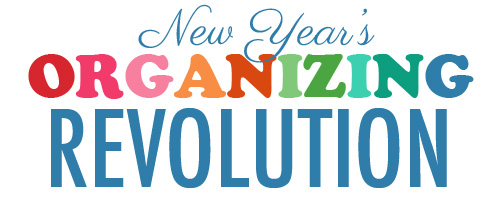 Welcome to the third week of our New Year's Organizing Revolution! This week we are focusing on getting our closets organized.
One of my favorite projects that I've done since we bought this house was organizing our front hall closet.  It's kind of a "catch-all" closet and houses a lot of stuff for my family of six.  We don't have a lot of closets, nor are they very large.
It was way too easy for my kiddos to pitch their things because the bins, hooks and general set-up wasn't working for us.  I didn't have a lot in the budget to purchase a closet organizational system, so I had to get creative.
Here is what our pitch-it-all closet looked like before: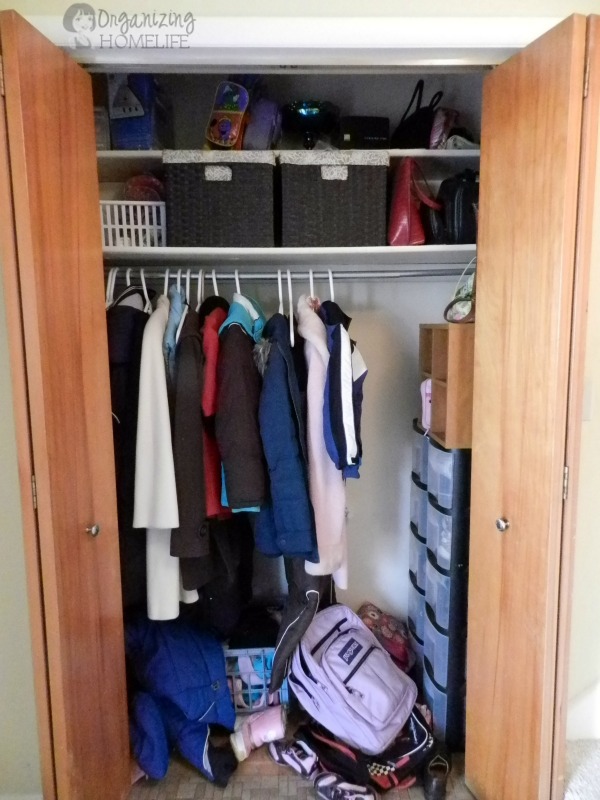 And here is what it looks like after we put my idea into action!  We spent about $50 on the project (part of that was the expensive hooks I chose).  We cut the second shelf and installed two coat hanging rods.  We added hooks for the kids' lunch bags and school bags, and a bin to store their hats and mittens, etc.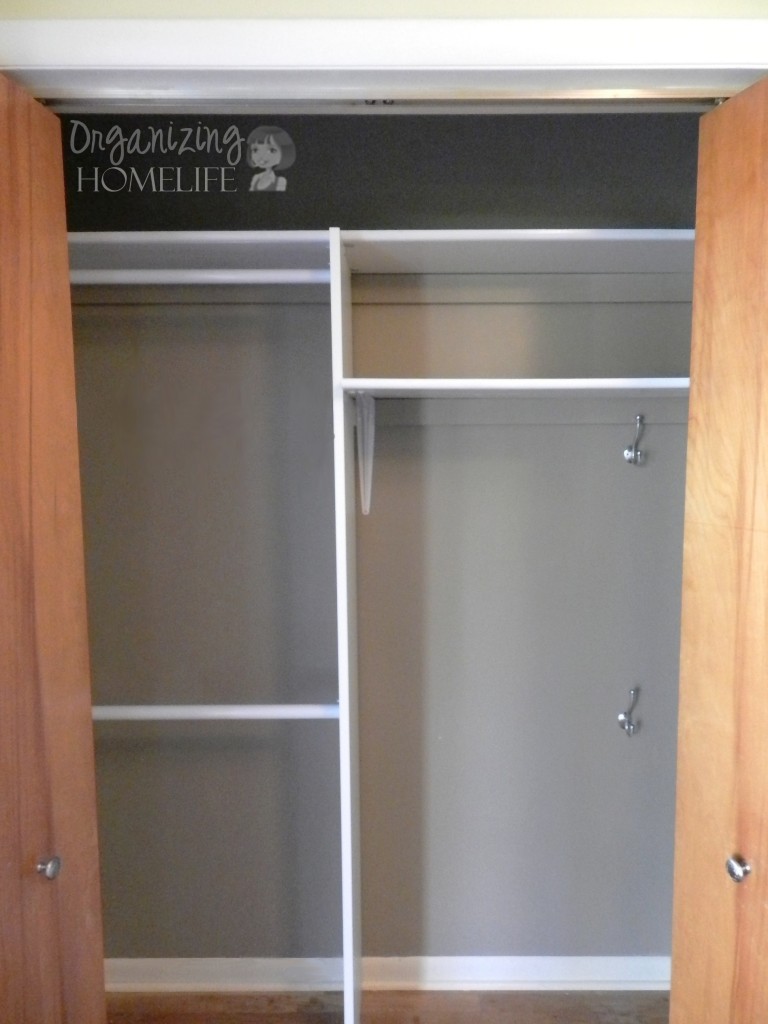 And this is what it looks like now.  I absolutely love how well it works for us.  By adding a few simple changes to our closet, it has become a fully functioning, organized space that is easy for my whole family to keep neat and orderly.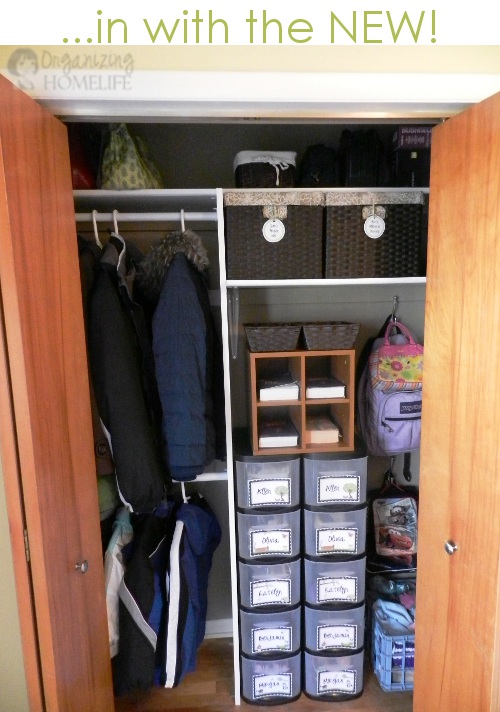 The kids can now easily hang their own coats, put their shoes away, and have a easy to reach place to store their backpacks and lunch bags.
Feel free to check out the entire post on organizing my front hall closet here.  It includes printable labels. 🙂
And now it's time for you to get started on your closets! I can't wait to see how you organize them!
If you are new to this Organizing Challenge, check out the Tips on Getting Started post here. You can also check out all the details including all of the prize sponsors here.
The

R

U

L

E

S

:
1. Organize your office space (check the weekly schedule here for next week's space)
2. Take a picture of your organized space. For beginner tips on taking great pictures, check out Ask Anna's post here.
3. Upload your photo to the internet. If you don't have a blog, learn how to easily upload a picture to Pinterest in Becky's post here. Becky also explains how to link your picture to a link party.
4. Visit Organizing Homelife here and add your link to the party. Feel free to link up your pictures anytime from Monday thru Friday at 5:59 a.m. PST.
5. From Friday thru Sunday, stop back to vote for your favorite organized space.
6. Use ONLY pictures that are from your home/space. Do NOT use pictures that are from other sources – those spaces will be removed from the link party. You may link up until Friday at 5:59 a.m. PST and start voting on at 6:00 a.m. Friday thru Sunday at noon PST. If your blog is set for private use only, you MUST change your setting or you will be removed.
**Note: If you are an iPhone or iPad only user, check out the information at the end of the post to learn how you can link up your pictures.
Be sure to like all the Top Organizing Bloggers and follow them on Pinterest so you don't miss their great posts and inspiration!
And now for the

P

R

I

Z

E

S

!!!

:
1

s

t

Place will win: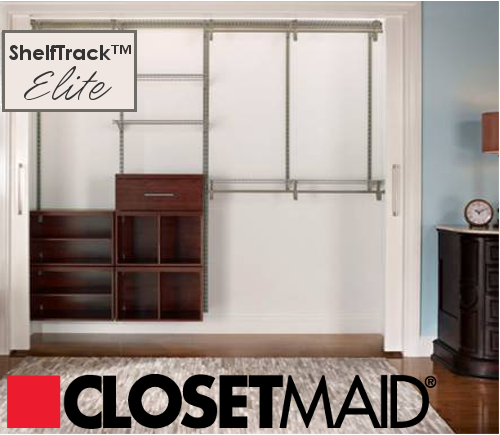 $250 toward a ClosetMaid ShelfTrack™ Elite Closet System!
ClosetMaid works hard to provide products that help people maximize the storage spaces in their homes.  The first prize winner of this challenge will win $250 toward ClosetMaid's new ShelfTrack™ Elite customizable closet system.  It is a beautiful combination of both wire and laminate.  A ClosetMaid specialist will work with you to design a system that functions efficiently in your closet.  ClosetMaid's ShelfTrack™ Elite is sold exclusively select Home Depot stores and online at HomeDepot.com.  Please note that the winner is responsible for installation.
2

n

d

Place will win: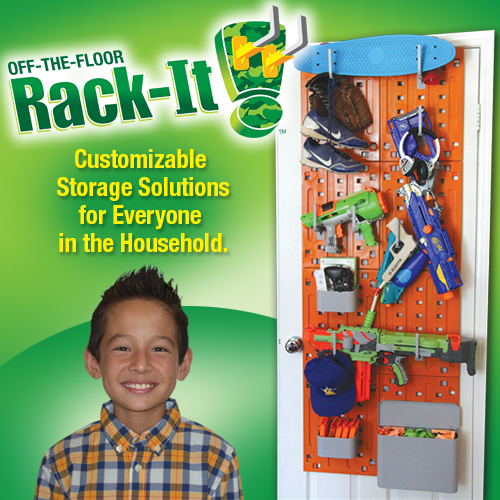 ');
// ]]>