You know how sometimes you have one of those weeks that is so busy you don't have a chance to make it to the grocery store?
You start scrounging around in your mostly empty pantry, and look in the bare fridge for the third time hoping an easy dinner will just magically appear?
Well, that was our week here!  And the other day, that's exactly where I found myself right before dinnertime.
You may be thinking, "Why didn't you just order a pizza?"  Sorry, we did that the night before.  Yep, it was one of those weeks.
I actually did have something in the freezer, but didn't have the two hours that it took to bake it.
No matter how much I love organization, disorder creeps in from all angles!
Finally, after poking around in my half empty pantry once again, I saw something hiding on the back shelf – a bottle of (generic) V8.  Viola!  Problem solved!  Dinner was on the way, and it would only take 15 minutes!  Perfect!
And, do you know what the great thing was?  My family had NO idea that I didn't have a plan!  I know this may look like a lunch to some of you, but we love soup and sandwiches for dinner.  The only thing I would love to have changed was the bread to a big crusty roll!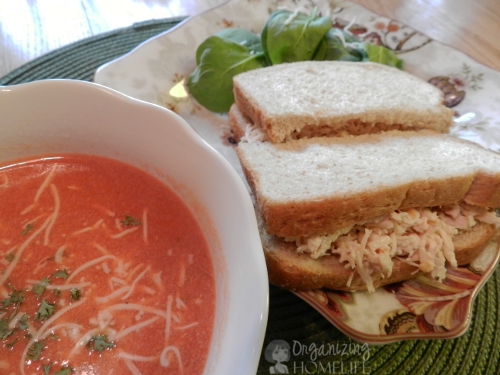 Can I just begin with letting you in on a little secret?  I have always loathed tomato juice AND tomato soup!  I'm sorry to offend any of you veggie lovers out there, but I have to force myself to eat most vegetables.  Yes, I have acquired a taste for a number of them, and I do eat them regularly, but they are almost always the last thing on my plate (except for my salads!).  There, I admitted it, don't send me hate mail.  And my mother is proud that her efforts paid off and I do actually eat them and force encourage my kids to eat them, too. 🙂
So back to dinner…
Quite a while ago, I found a recipe for Creamy Tomato Soup.  Do not ask me what in the world possessed me to actually make it – AND eat it (see how well I'm doing with my veggies now, Mom?), but I actually loved it.  Wow.  I never thought in a million years I would actually admit to liking, tomato soup!
It turns out to be one of the easiest and yummiest soup recipes I have.  I have tweaked it a bit over the years to suit my tastes.
Here is what you need:
2 Tbsp. flour
1 Tbsp. sugar
2 Cups milk, divided
4 Cups tomato juice
1 Tbsp. dried parsely
Pepper, to taste
Dash of cayenne pepper (optional)
Shredded Mozzarella cheese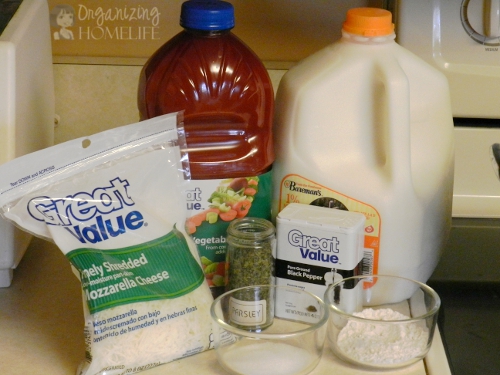 Mix 2 Tbsp. flour and 1 Tbsp. sugar into 1/4 cup milk until smooth: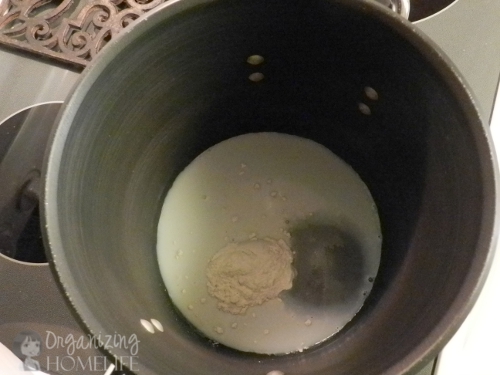 Add remaining milk.  Heat to boiling stirring constantly.  Cook for 2 minutes: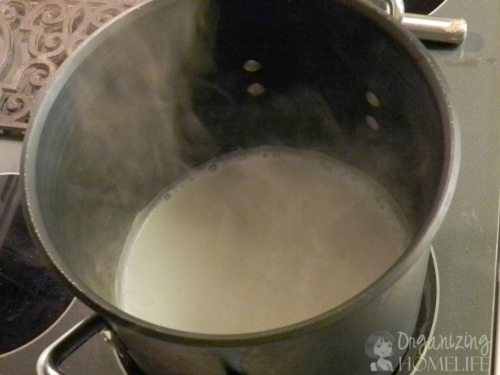 Add 4 cups (half of a 64 oz. bottle of tomato juice) to the milk mixture.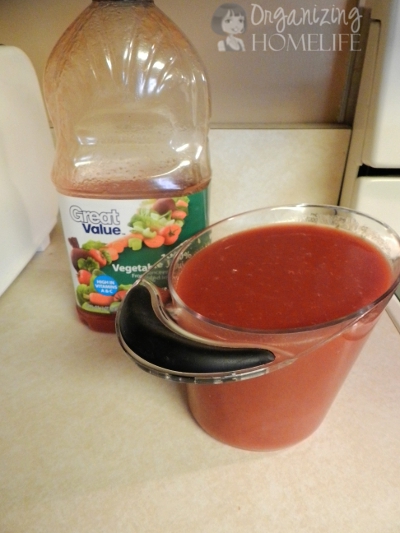 Cook and stir until heated through.  Add parsley, pepper and cayenne pepper (if desired).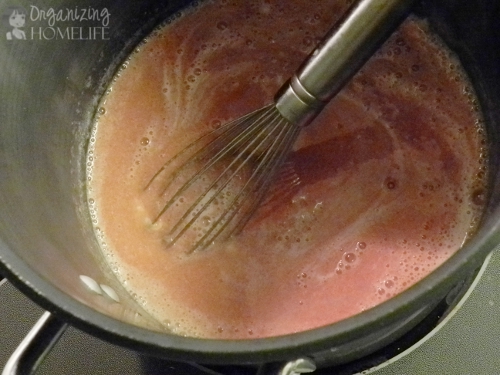 Serve it up and top with shredded mozzarella cheese.  The cheese really sets it apart and makes it Oh. So. Delicious!
Here is the other part of our meal that "saved" me dinnertime.  I don't normally use canned chicken, but while I was walking through Sam's one day, I stopped at one of their sampling stations.  They were making the most delicious looking chicken salad.  I tried it and was totally amazed.  It wasn't what I thought canned chicken would taste like at all!  It was fabulous!
The secret is in the seasoning.  Have you tried Weber's Kick'n Chicken?  It is so good!  I love a lot of flavor in my food and this has got it!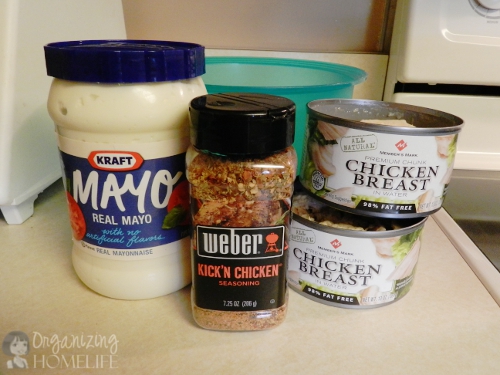 Simply drain the chicken, add a bit of mayo and some seasoning.  As you can see, I like my seasoning. 🙂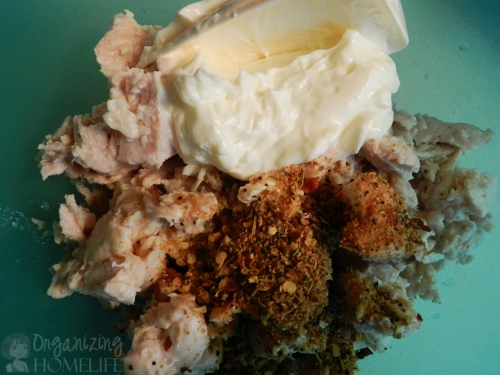 Mix it up and serve on your favorite bread or a crusty roll.  I love it with spinach (see I really DO eat my veggies)!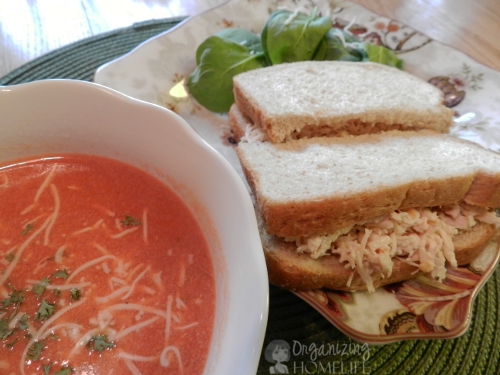 Click here for a PRINTABLE RECIPE CARD: