Winners are announced HERE!
I recently did a month long series on building a home management binder (since I LOVE binders and printables!), but I knew I needed something unique for keeping my blog's paperwork in order.
I was asked to review a product called the Duo Multitasking Binder. It's a combination of a binder and accordion file.  As soon as I saw it, I just knew that this would be the perfect binder for organizing my blog planning printables!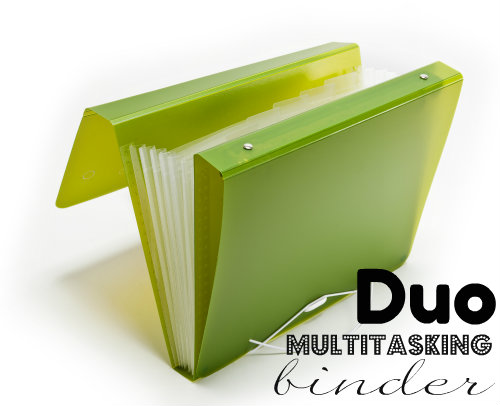 It's a combination of a 1″ 3-ring binder, and a 7 pocket accordion file.  The cool thing is that there are two separate elastic bands to keep each section closed.  If you're working on something in your binder, you don't have to worry about papers falling out of your file.  Simply strap the elastic band over the little clasp, and your file will stay closed.  If you're filing papers, your binder can easily be strapped closed.  It's super simple to hook the elastic over the clasp, and it holds tight.
A few weeks ago, I was walking through Walmart and found these file folders.  I was so excited!  I knew they would be perfect for my new binder.  Do you ever feel like doing a happy dance when your shopping alone, or is it just me?
Aren't they perfect?  Okay, maybe it's just me, but I love plaid.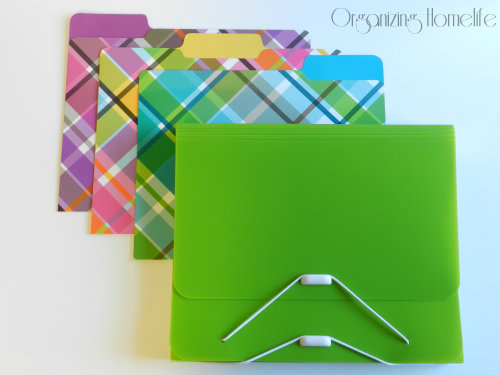 I whipped out my trusty label writer and used the clear label cartridge I got for Christmas. (You know, that's a perfect stocking stuffer!)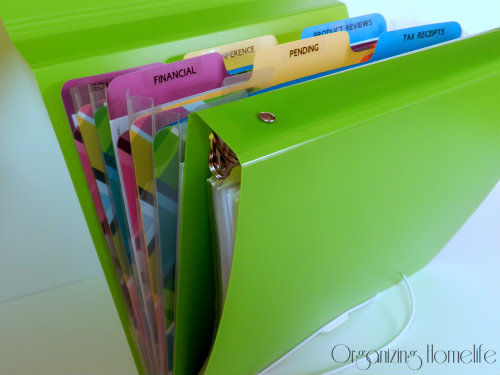 This little gem is exactly what I needed to keep all of my blogging paperwork together in one place!  I love that I can keep my planner, blog calendar, and business contacts in the binder side, and still have plenty of space for files on the other side.  It's a great spot to keep my tax receipts, copies of bills and other financial paperwork, giveaway and product review information, conference paperwork, and any other papers I need to keep that are associated with my blog.
On the binder side, I keep my blog planning printables.  I love having my planner together with other information I need related to my blog.
Sometimes you have paperwork that is best kept in a binder, and sometimes you have paperwork that needs to be filed.  This is the perfect combination of both, kept neatly together in one spot!
It would also be excellent to use for:
Coupons, grocery lists, and meal planning pages
Family medical information, shot records, allergy information, hospital and insurance information, etc.
School contacts, homework assignments, upcoming events, school projects, etc.
Budgeting, financial paperwork, bank statements, investment information, tax receipts, etc.

Household projects, estimates, contractor contacts, home/appliance warranty information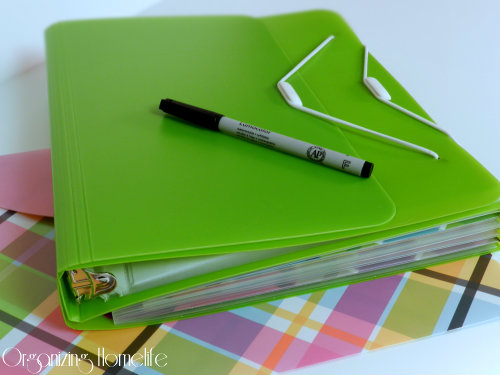 Are you curious about the printables that I keep in my blog planner?
How about if I give you the inside scoop on some

B

I

G

news!!!
You know I just LOVE sharing things with my readers, so…
…are you ready?
…are you sure?
I'm thrilled to announce that I now have a new Printables Shop!!
You can check my new shop here.
Since I'm just starting it, there's not much there…yet.  I've got big plans for it and will be offering some of the most requested printables for very reasonable prices.  Does this mean I'm dropping my free printables?  No way!
Throughout the week, I'll be offering 5 days of FREE blog planning printables (you can see them HERE) from my Basic and Complete Planners.  Plus, at the end of the week I'll be giving away 5 Complete Blog Planner Kits!  If you're a blogger, you definitely don't want to miss this giveaway!
With all of this big news, I've got you covered on the type of binder you need for your blog planners or other home binders!  And, you'll be happy to know that you can find the Duo Multitasking Binder on Amazon, Walmart, Sears, or Wayfair.  The price is great considering you're getting two things for the price of one!  There are also color and style choices to match everyone's tastes:

But there's more sweet news!
I have teamed up with the makers of the Duo Multitasking Binder and will be giving away binders to
F

I

V

E

F

a

b

u

l

o

u

s

W

i

n

n

e

r

s

!
Entries are super simple: just log into Rafflecopter with your Facebook name, or just use your email address.
The Fine Print
5 winners will be chosen randomly using Rafflecopter.com to receive one Duo Multitasking Binder in their choice of color.
No purchase necessary.
Giveaway is open to U.S. residents only.
Giveaway begins Saturday, January 26, 2013 and ends at 11:59 p.m. eastern time Sunday, February 3, 2013.
Winners will be e-mailed and announced here on Monday, February 4, 2013.
Winners have 7 days to respond to e-mail.