Welcome to Day 16 of my month long series "How to Organize Your Kitchen Frugally in 31 Days".  Every day during the month of October I will be sharing an organized space in my kitchen with you.  My goal is to inspire you and give you ideas on how you can organize your kitchen.
If you missed it, you may want to read why I'm embracing my outdated kitchen.  It might give you a little perspective on why the pictures of my kitchen organization won't be "magazine worthy", but helpful for real life organization.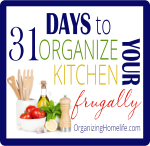 Today I'm showing you how I organize the corner cabinet in my kitchen.  It's funny how a "round" cabinet makes me want to store "round" things in it, but it totally works!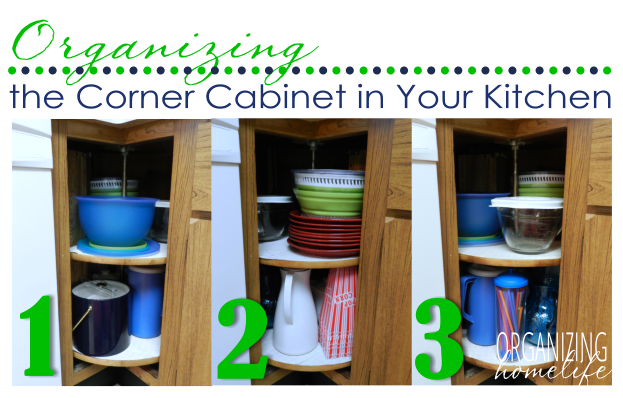 I like to think of the bottom shelf as a place to keep "beverage" serveware.  Except for the popcorn containers, everything on this shelf has to do with serving beverages.  I keep my ice bucket, pitchers, carafe and a container of straws on this shelf.  I keep the popcorn containers there because they are tall and it's a spot where the kids can easily reach them.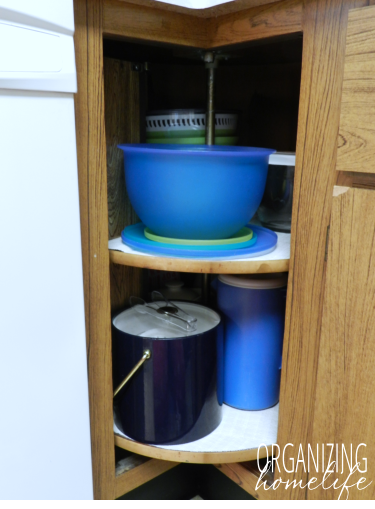 On the top shelf, I keep bowls that I use for food prep and serving, my salad spinner, and extra plates that I like better than my Corelle, but don't use every day.  They don't clutter up my dishes cupboard, hardly take up space here, and are so easy to grab when I'm planning a nicer dinner.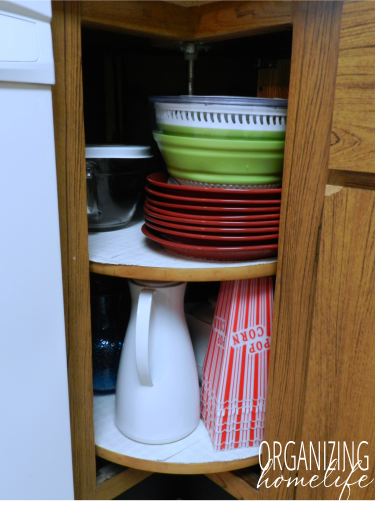 I also keep my large liquid measuring bowl easily accessible since I use it regularly.
There you go!  Try to keep like things together, get rid of what you don't use, and enjoy organizing your kitchen!