Welcome to Day 15 of my month long series "How to Organize Your Kitchen Frugally in 31 Days".  Every day during the month of October I will be sharing an organized space in my kitchen with you.  My goal is to inspire you and give you ideas on how you can organize your kitchen.
If you missed it, you may want to read why I'm embracing my outdated kitchen.  It might give you a little perspective on why the pictures of my kitchen organization won't be "magazine worthy", but helpful for real life organization.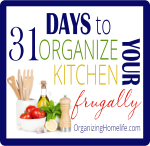 Today we're looking at how I organize my bakeware cupboard and how I made space for my stand mixer.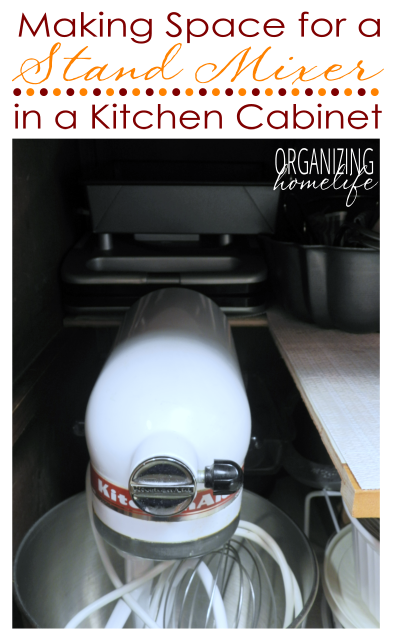 The other day when I told you how I cut one of my cupboard shelves to make space for organizing wraps and foils, I showed you how we supported the shelf with these brackets: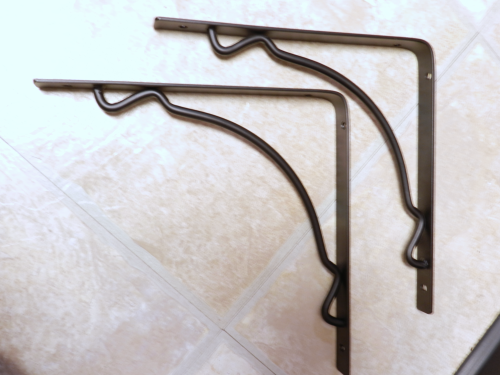 Well, there is a reason that there are 2 brackets in the picture.  One thing I have always had trouble storing is my stand mixer.  It's huge and heavy and doesn't fit into any cupboard in my kitchen.  I could leave it on the countertop, but I don't like to have too many things out.  To me it looks cluttered.
Since my kitchen is old, I decided it wouldn't hurt to cut a space out of one of my shelves.  I realize that this may not be the solution for many of you, but I decided that no matter how much technology advances, in my lifetime, I will probably always have some sort of tall stand mixer and need an easy place to store it.  I don't want it hidden away in my pantry on the other side of the kitchen.  I want it where I use it.  And I LOVE how easy it is to grab now.
Note: If you are not interested in cutting your cabinet shelf, you could always take it out and make a new shelf with the cutout space using a piece of plywood like I did with my baking pans.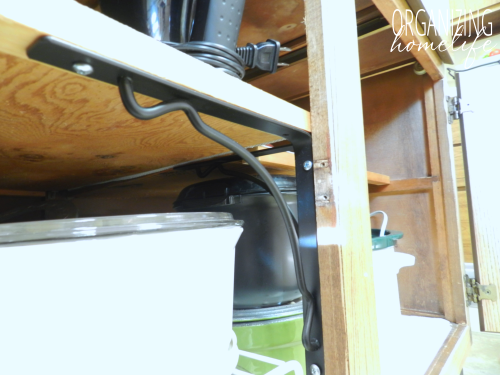 So how did we do it?  It was pretty simple actually.  I measured the width of the base of the mixer and the length.  We marked the measurements on the shelf and used my hubby's table saw to cut out the space.  If you try this, make sure to measure the base, not the top, because you will need the cut out space to be wide enough for your hand to get under the top to lift it out.  Then, we attached the shelf support (above) to hold the weight of the front of the shelf. Voila!  Now my mixer has a place of it's very own.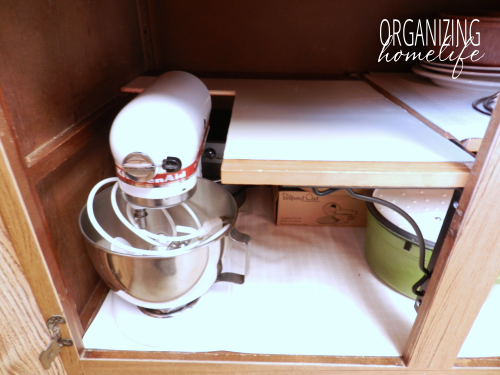 You can't tell from the above picture, but there is actually plenty of space left on the back of the shelf to store some of my baking pans and a waffle maker.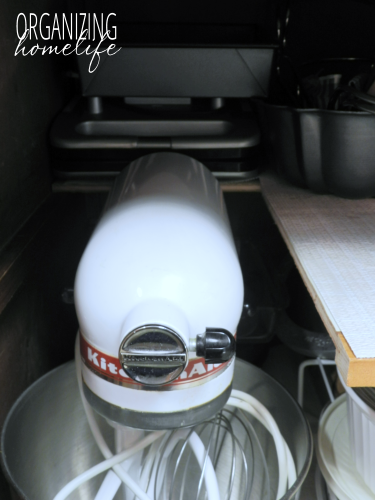 Under the shelf I keep some of my baking dishes.  This cabinet is in my "Food Prep Zone", so it's a perfect spot to keep dishes I bake with and use to prepare meals.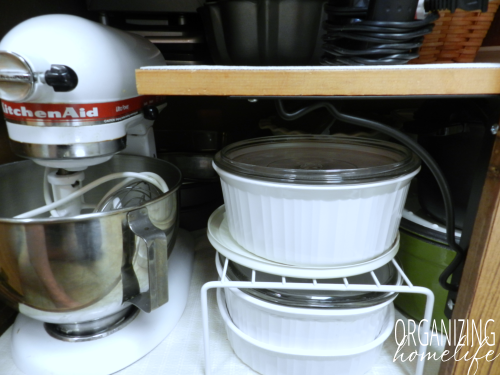 If you're wondering if I keep anything behind the mixer, I do.  I keep baking pans that I use infrequently like my springform pan and pie plates.  I keep my hand mixer on the upper shelf right next to the stand mixer.  The hand mixer attachments are in the gadget drawer right above this cupboard.
In the right cupboard, I keep my crockpot, rice cooker, and my favorite enamel casserole dish.  On the top shelf I keep a large serving platter, a bread basket, and a tortilla warmer.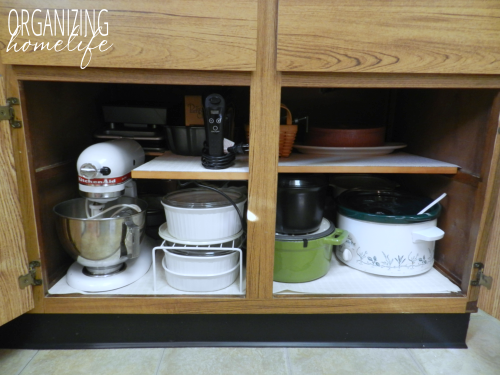 So there you go – a plan that may work for some of you and a few ideas for the rest of you.  Tomorrow we'll be looking at how I organize my corner cabinet.