Welcome to Day 24 of my month long series "How to Organize Your Kitchen Frugally in 31 Days".  Every day during the month of October I will be sharing an organized space in my kitchen with you.  My goal is to inspire you and give you ideas on how you can organize your kitchen.
If you missed it, you may want to read why I'm embracing my outdated kitchen.  It might give you a little perspective on why the pictures of my kitchen organization won't be "magazine worthy", but helpful for real life organization.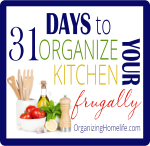 One way I keep my family organized is to put our schedules and chore charts in the most visible place possible: on the front of the fridge.  I realize that this is totally a personal preference and some of you hate having papers on your fridge.
I am not a fan of clutter, especially all over the fridge, so I try to make my schedules look as attractive and orderly as possible.  Our kitchen is centrally located in our home and we spend a lot of time in or near it, so it makes sense for us to keep our schedules there.
One schedule I keep on the fridge is my school lunches planner.  It makes it so easy to jot down what each of the kids want for lunch so prep time before school is a cinch.  You can get the free school lunch printable here.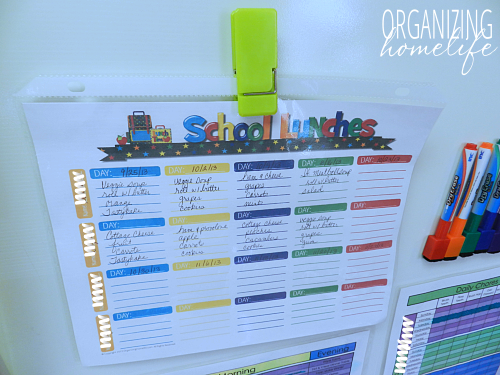 I keep my grocery list front and center so any member of the family can quickly check the box next to the item which needs to be replaced.  Did you know I have an editable version of the grocery list in my shop?  You have the option of a blank list to completely fill in your own frequently purchased foods, or the filled in version that you can make all kinds of changes to.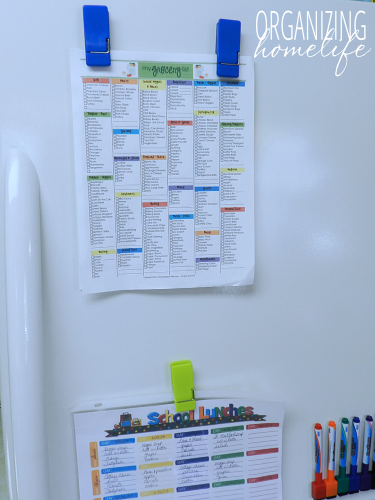 I also keep my kids' chore charts on the fridge.  I keep my own cleaning schedules in my Home Management Binder.  I have coordinated my kids' chores with my own so we can work together to get our jobs done efficiently.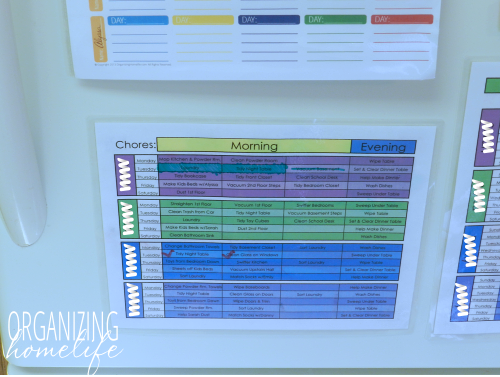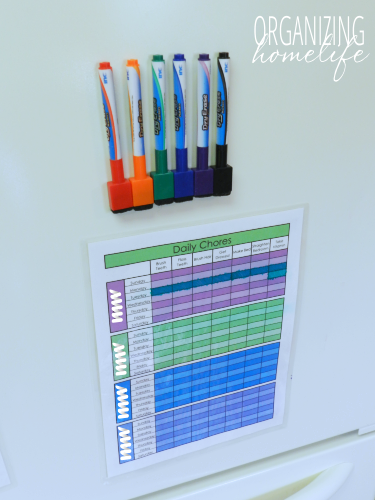 I keep my kids' screen time tokens on the side of the fridge.  These are how we solved the issue of our kids begging to play more videos games, watch endless TV, or play on the computer for hours.  It's a method that has worked great for us for years.  The tokens are also available to print for free here.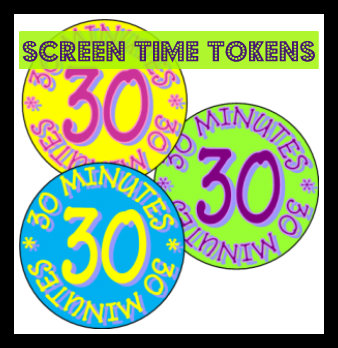 Lastly, I also keep my menu planning printable on the side of my fridge.  If you haven't printed one, you can check out the free printable here or the Seasonal Menu Planning Kit and the Themed Menu Planning Kit in my shop.  They are just $3 for a set of four different designs.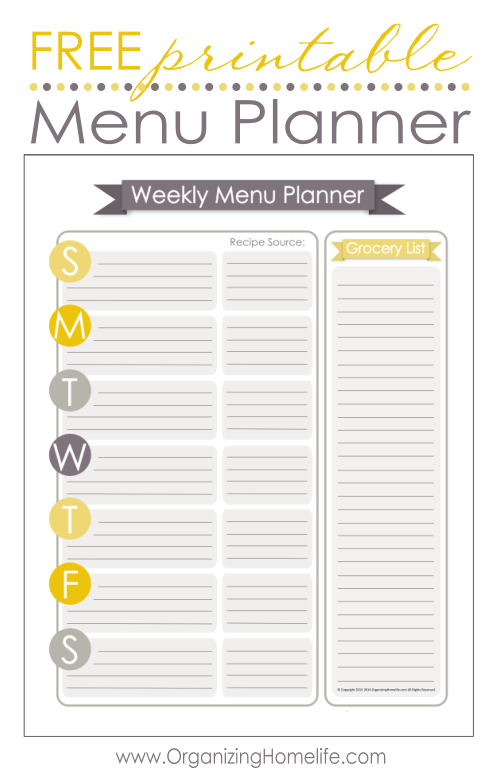 If you are wondering what the sunflower on the top right of my fridge is, that is where I keep emergency phone numbers in case my kids ever needed a number.  It flips up to reveal a list of numbers.
I'm so excited for tomorrow's post: we're looking into my fridge organization and I have a fab giveaway for you!!