Welcome to Day 25 of my month long series "How to Organize Your Kitchen Frugally in 31 Days".  Every day during the month of October I will be sharing an organized space in my kitchen with you.  My goal is to inspire you and give you ideas on how you can organize your kitchen.
If you missed it, you may want to read why I'm embracing my outdated kitchen.  It might give you a little perspective on why the pictures of my kitchen organization won't be "magazine worthy", but helpful for real life organization.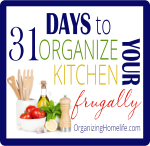 I'm so excited for today's post, because not only do I get to show you how I keep my fridge organized, but YOU have the opportunity to win one of my favorite products!!
When I was planning this series, I decided to ask my long time sponsor, Fridge Coaster, if they would like to sponsor the post.  They said yes and I would like to send a big shout out to them!  They are super generous and are offering $75 worth of Fridge Coasters to one of YOU!!!!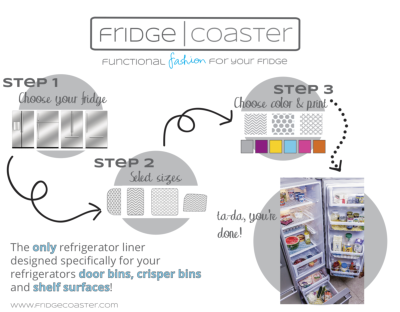 I have to admit that this isn't the way a blogger normally shares a product they like, but since I'm the skeptical type and like to be told WHY a product works or doesn't, I thought you might like to know how Fridge Coasters have held up in my fridge.  They get constant use in this house!  I homeschool my four kiddos, so with 5-6 of us taking things in and out of the fridge all day, every day, you'll get to see how Fridge Coasters stand up to such "high-traffic".
Let's start with my cleaned out fridge.  It literally took me 10 minutes to have my fridge looking this clean.  I took out all the glass shelves and wiped them down, plus I wiped out the drawers.  I deliberately timed myself when I cleaned it so I could tell you how fast it went – 10 minutes.  Seriously.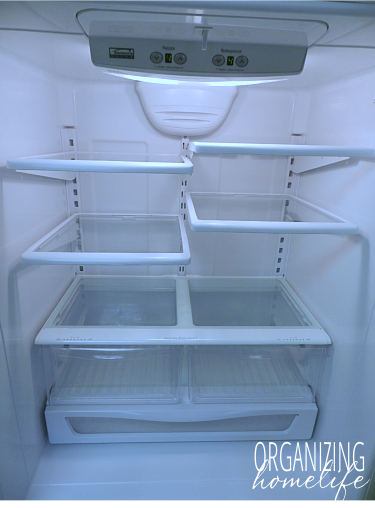 Are you thinking that my fridge must have been perfect beforehand?  Let me assure you it wasn't!  It turned out to be "perfect timing" if that's possible, but just the other day, one of my kids put a glass of milk on the TOP shelf of the fridge.  And of course – it got knocked over.
Before Fridge Coasters, I might have cried.  But if there was ever a test, that was it.  And they came through – big time!
Here is a picture of what the Fridge Coaster looked like after months of use when the glass of spilled milk on it: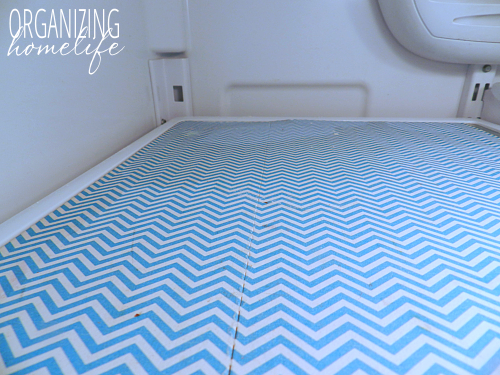 I know it looks gross, but I was THRILLED at how much milk that sucker absorbed!  Fridge Coasters are not plastic.  When I first heard of them, honestly, I thought I didn't need them.  I figured I could just as easily wipe a glass shelf as wipe a plastic liner.  But that was because I didn't understand that Fridge Coasters are not plastic – they are made of recycled wood pulp.  They are thick and super absorbent.  And that absorbancy was put to the test with the spilled glass of milk!
Instead of having to take every single thing out of the fridge and wipe them and the fridge down top to bottom, all I had to do was take the Fridge Coaster off of the shelf and wipe up the little bit of milk on the glass.
Want to know how my veggie drawer has held up?  Just as well.  We eat veggies frequently so the veggie drawer gets a lot of use.  Before I started using Fridge Coasters, my fruit and veggie drawers looked pretty gross.  For some reason it just seems like they are always dripping juice or dropping little leaves, etc. making a mess in the drawer.  Obviously it's time to replace this Coaster after months of use, but look how easy it will be to clean the drawer!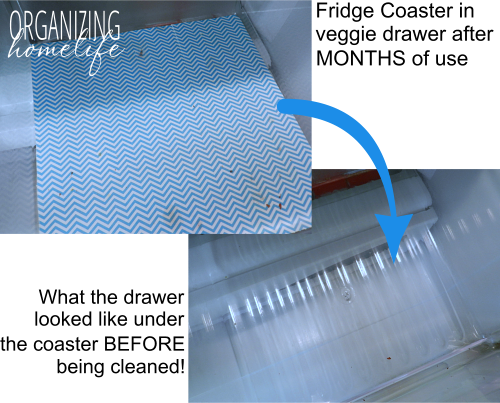 It is literally THAT simple to clean your fridge when you have Fridge Coasters.
After removing all the food, I took the shelves out, easily wiped them off and put them back in.  It took me more time to dry them than to clean them.
I'm having a lot of company this fall, and since many of them are staying at my house and will be using my fridge, I wanted it to look pretty and fall-ish, so I decided to replace my blue Coasters with yellow.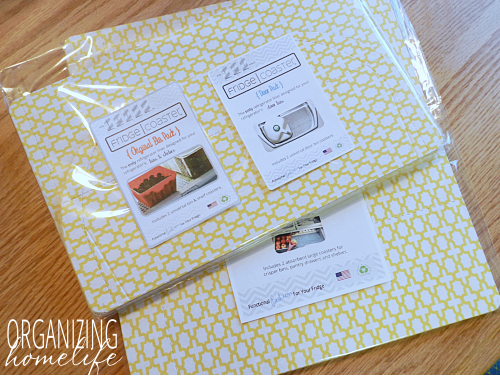 I love the designs Fridge Coasters come in, too!
Doesn't my fridge look so pretty?  I just love it!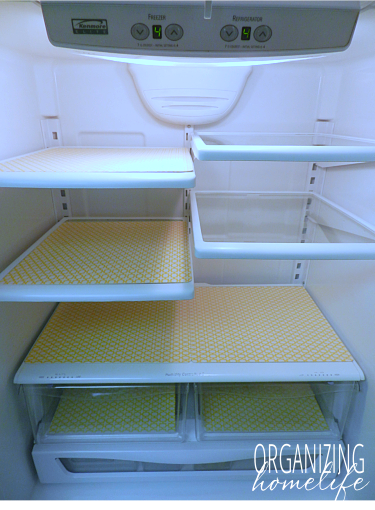 Are you wondering how long Fridge Coasters last?  Well, that depends entirely on how much your fridge gets used.  If you have lots of kids using it constantly like I do, you're going to have to replace them more often.  Is it worth $50 or so per year to me?  You bet!  I am not interested in scrubbing crusty spills from every crevice in my fridge.  If I have another big spill, it's a cinch to clean up.
I try to get the most use out of them as possible.  The right bottom shelf is the most highly used place in our fridge.  In our high traffic situation, that one lasts for 2-3 months.  But, the one on the left bottom shelf probably would last a year if I let it.  What I usually do is when the right one starts to look worn, I turn it around and switch it with the left one.  Since I keep bins on that shelf and the used part is in the back, it still looks great.  So I'd say I typically get 4-6 months out of a set.  The condiments in the door don't tend to drip much, so I'm saving those coasters for when I go back to using blue.  I probably get 9-12 months out of the door Coasters.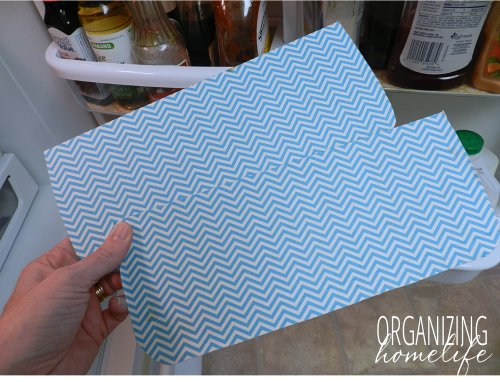 So are you wondering how I organize my fridge?
One of the best things I ever did was to put Fridge Binz in my fridge.  It's simple for my family to put things away because the bins are labeled and the items are always in the same location.  If we have lots of company and the fridge is crammed full of food, I move things around and make space.  So what!  It's easy to put back once we get back to a normal amount of food.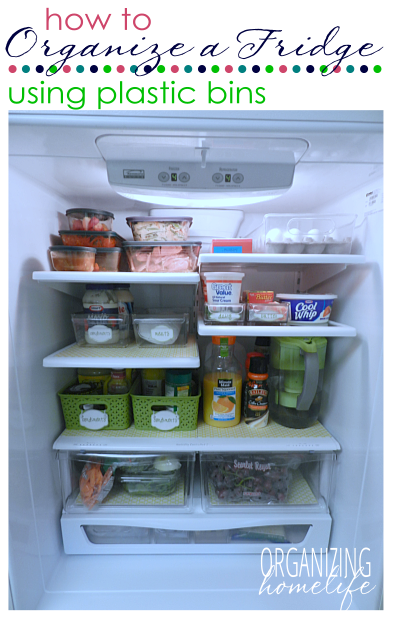 The top left shelf is where I keep leftover food.  I keep my leftover food in these dishes and label them with a dry erase crayon so I know exactly how long they've been in the fridge.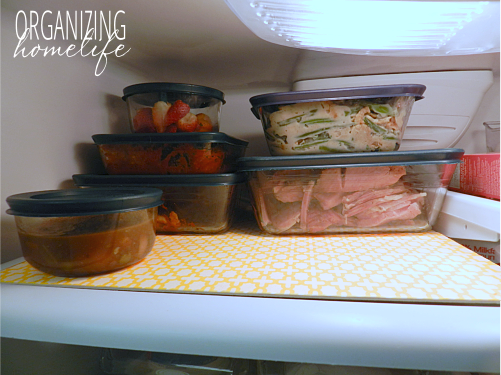 On the next shelf down, I keep condiments like mayo and miracle whip in one bin and meat in the other.  I keep my Fridge Coasters looking nice longer and my fridge clean as a whole by using bins for things like meat that is defrosting.  If it ever leaks, I simply take the little bin and wash it out.  It's simple and keeps the fridge clean.
I also have bins on the right side.  I decided not to use Fridge Coasters on that side because I rarely put food that could spill and make a mess on those shelves.  I keep eggs in a large bin and filled the inside of it with the egg packaging that came with a large box of eggs.  I also keep dairy items like cottage cheese and sour cream in their own bin.  I have a separate bin for butter (or margarine).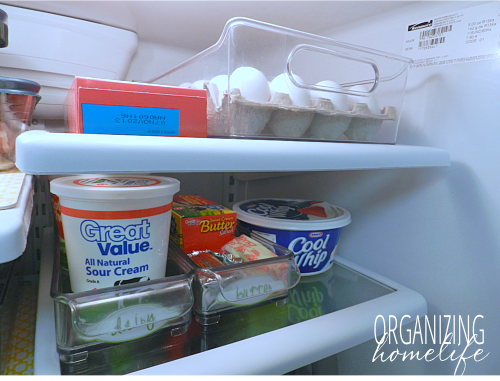 Whenever I have company, they can't believe my fridge.  It looks so nice and it's so easy for them to help put things away because they don't have to ask where things go!
On the bottom left shelf I keep other condiments like the large mustard refill, applesauce, Parmesan cheese, etc.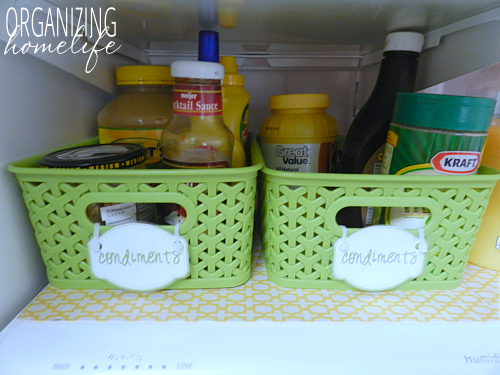 On the bottom right, I keep large pitchers, juices, coffee creamers, etc.  I keep our milk in the door because we use it so fast.  I realize that the door isn't the best place to keep your milk if you don't use it often, but we go through 9 gallons a week here, so spoiled milk isn't a problem!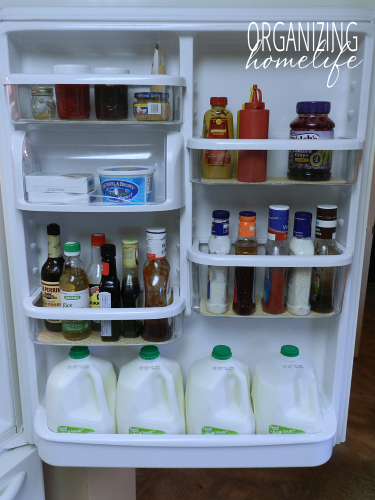 I keep deli meat and cheese and the kids' snacks in the pull out tray so they can easily access what they want.  I put long narrow bins in that space to keep the snacks and deli food organized.
So that's how I organize my fridge.  The bins have worked fabulously for years and I'll never go back to a bin-less fridge. 🙂
Don't you love how those Fridge Coasters add style and functionality to my fridge?  How would YOU like the chance to win $75 worth of Fridge Coasters?
How do I enter?
Simple!  At the end of the post, either use your Facebook or your email to log into the Rafflecopter entry form.  Entries are explained in the Rafflecopter form.
Do you want to try out Fridge Coasters and don't want to wait to see if you win?  Great news!  Fridge Coasters is having a "Fall in love with your fridge" sale!  You can pick up their best selling pack for just $18 here!  Does your hubby have a hard time choosing a present for you?  You might just want to give him a hint that you'd like to be free from scrubbing your fridge with Fridge Coasters!   But hurry, the sale only lasts through the end of this month!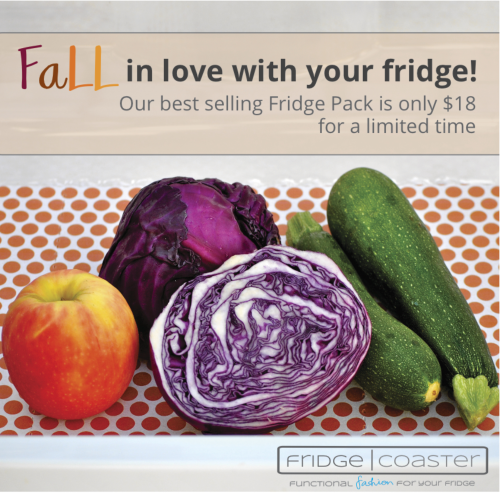 The Fine Print
One winner will be chosen randomly using Rafflecopter.com to receive $75 worth of Fridge Coasters from www.fridgecoaster.com.
No purchase necessary.
Giveaway is open to U.S. residents only.
Entrants must be 18 years or older.
Giveaway begins Friday, October 25, 2013 and ends at 11:59 p.m. eastern time Friday, November 1, 2013.
Winner will be e-mailed and announced here on Saturday, November 2, 2013.
Winner has 7 days to respond to e-mail or a new winner will be chosen.
a Rafflecopter giveaway
 

This post contains an affilate link.  I was compensated by my sponsor to do this review, but it in no way affected my opinion.  If I don't love a product, I'm not going to tell you to buy it.