As I was thinking about all that is involved with having a well planned Christmas, I thought about an area that is not my strength.  Thank you notes. They are just not something I do well.  I'm a techie sort of gal, so I much prefer writing digital thank you's as opposed to sitting down with a pen and paper.  While I definitely still love getting a hand written note in the snail mail, I am eagerly awaiting the day when digital thank you's become acceptable etiquette.
I know.  Call me unsentimental, but it IS the thought that counts, right?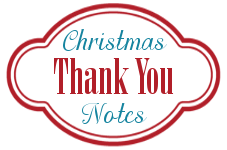 Whether you prefer digital or handwritten, the fact is that you need to keep track of gifts so you can send a note of appreciation to the giver.  During the holidays, there can be gifts coming and going in all directions and it becomes nearly impossible to keep track of it all without a good list.
On my printables page, you'll find lots of lists for keeping your Christmas shopping organized for family, friends and relatives.  But I think it's time for a list to help us organize our thank you notes. 🙂
So, I decided to make a printable to help you (and me!) keep track of our thank you notes this year!
You can use one list for everyone, or simply print out a sheet for each member of your family.  Put them in a little binder and jot down the gifts as they are opened.  If you have young children, you may want to print out my free Christmas Thank You Notes here.
Feel free to print the Christmas Thank You Notes Printable here, but please respect my copyright listed below the printable.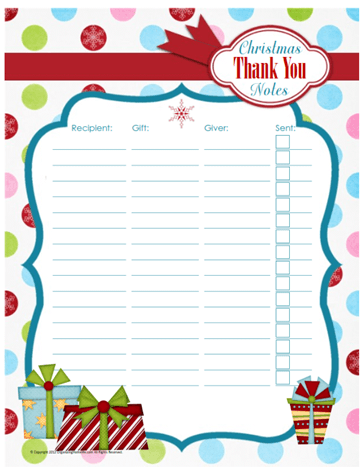 Copyright: These printables are copyright © 2012 OrganizingHomelife.com.  Printables are for personal use only. Please do not distribute in any format for free or for profit. Please do not link directly to the downloadable pages, but feel free to link to this page's URL.  Thank you!