Last night for dinner I made one of the most amazing vegetable dishes.  A friend gave me the recipe years ago and I have NO idea why I haven't made it more often!
I realize I just posted a great recipe for the best zucchini bread ever, and you may be thinking, "is this a cooking blog?", but I just had to share this recipe.
Only one of my four kids would actually claim to like vegetables.  For the rest of them, they eat veggies because they won't get dessert if they don't! 🙂
But, last night, even one of my non-vegetable-liking children had three, yes, THREE helpings!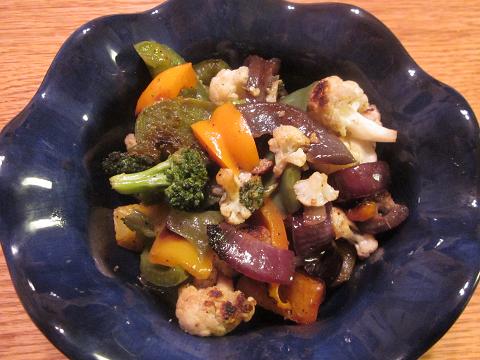 This is what was left of a huge batch.  (I had to put it in a pretty dish so I could post the picture) 🙂
It is so easy and clean up is a breeze, especially if you use a grill.
Roasted Broccoli, Cauliflower and Peppers
1 bunch broccoli, cut into florets
1 head cauliflower, cut into florets
1 medium red onion, sliced
1 red bell pepper
1 yellow bell pepper
1 orange bell pepper
1/4 cup vegetable oil
1 1/2 teaspoons sea salt
3/4 teaspoon pepper
Line 2 cookie sheets up the sides with aluminum foil.  Cut peppers into one inch strips.  Combine vegetables in a large bowl.  Sprinkle oil over vegetables.  Toss to coat.  Distribute vegetables onto pans.  Sprinkle with salt and pepper.  Grill over medium high heat for 15 minutes or until slightly browned, stirring once or twice.
Or, bake in 450° oven for 20-25 minutes, stirring once.  Bake until vegetables are crisp tender and are tinged with brown.
Enjoy!