One of my favorite things to do is streamline something that isn't efficient into a smoothly functioning way of life. I made a choice a few months ago, after being inspired by Rachael Ray, to lose a pound a week just by dropping 500 calories from my daily diet. I'm telling you, it worked!  I've lost 12 pounds since June.  Okay, I started exercising, too, but I have definitely noticed a difference in the way I think about food.  All I have to do is get to 500.  What's that, two less cookies?
One of the changes I made over the summer was to eat a salad every day for lunch. Although it is not difficult to make a salad every day, it is time consuming – especially on homeschool days! Then I saw this idea on Pinterest: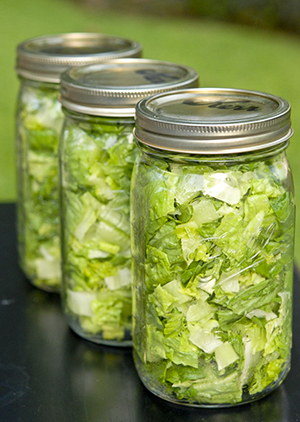 I like to eat baby spinach, which goes bad very quickly!  Now, I just fill enough jars for about a week, seal them, and presto! lunch is ready.  It also keeps cut lettuce (cut with a metal knife) from turning brown on the edges.  Seriously.  I read more details on Salad-in-a-Jar on their website, which is a great source.  I did note that the spinach started to look a little bad if it's kept for more than a week.  Also, cucumbers don't work  so well in the jar.  However, carrots, cranberries, etc. work great.
I didn't have a vacuum sealer, but I decided to take the plunge and get one. It was expensive for my budget, about $70.  I read a lot of reviews, and people said it saved them money over time since they didn't waste food.  I'm not sure what I think about that yet.  We'll see.  I got my Foodsaver from Amazon.  This is what it looks like:
The attachment you use to seal the jar was about $7 at Walmart.  This is what it looks like: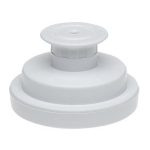 It takes literally about 6 seconds to pop the sealing attachment on the jar lid and press "seal".  I love it!