I love putting together a little "Back to School" gift pack for my kids each year.  Shopping for new pencils, binders, and backpacks, and just the overall feeling of starting fresh on a new school year is something I really enjoy.
Although I homeschool my kids, we also participate in a weekly co-op school.  Getting up at the crack of dawn to make lunches is not one of my favorite parts of Back to School season.  It's definitely not the time of day when I feel like being creative, but my kids get easily bored with the "same old sandwiches".
If you've been following me, you'll know that I love printable charts and schedules.  As I thought about what we could do differently this year to make packing lunches less of a chore and make lunches more appealing, I decided to make a printable to help make planning school lunches easier.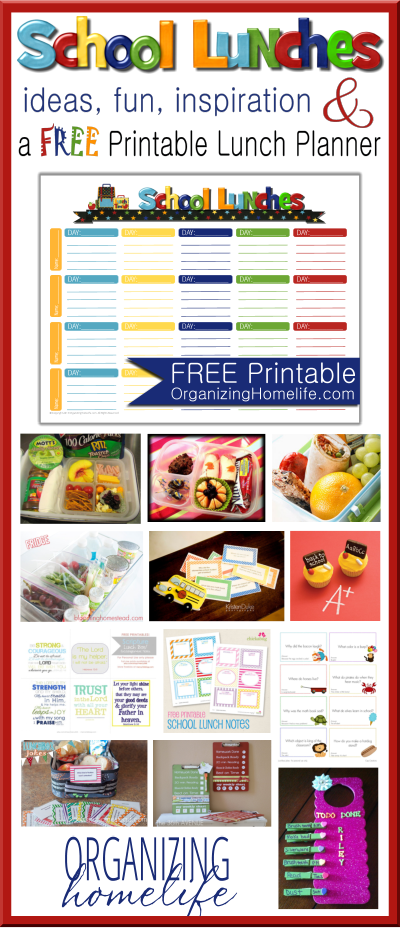 I put together a round up of Back to School lunches and ideas for making it fun.  There are also a few ideas to inspire your kids to keep up with their routines.  My kids and I will be using these resources to give us fresh new ideas.  After they decide what they would like to eat, we can use this printable to plan out our lunches to save time in the mornings!
****Tip: Print out one page and put it in a plastic page protector.  Tape magnets to the back of the page protector and keep it on your fridge.  Now you have a wet or dry erase surface so you don't have to print a lot of pages. I prefer to use these Staedtler wet erase markers.  They are the BEST wet erase markers I have found.  I love the fine point tip – it writes just as nicely as a regular pen and doesn't smudge once it's dry.  To clean: simply wipe with a damp paper towel.
And, I decided to share my school lunches printable with you!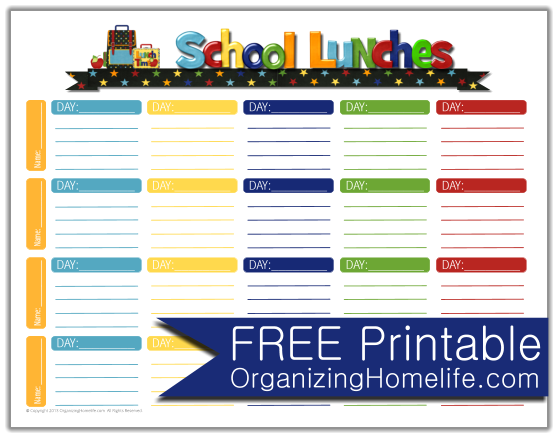 Feel free to download this printable, but please respect my copyright.  This printable is © Copyright 2013 Organizing Homelife and is intended for personal use only.  Please do not distribute this file for free or for profit without written consent.  Thank you!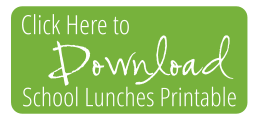 School Lunch Ideas:
Easy Lunchboxes is an incredible resource for lunchbox ideas.  There are literally hundreds of pictured lunches with descriptions of what is in each lunch and a link to the source.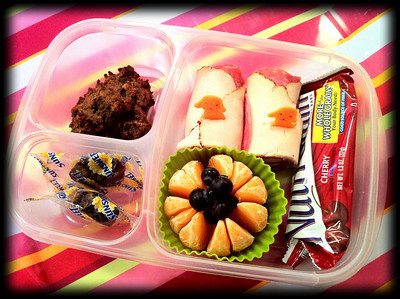 This one is also such a great resource!  This mom documented and took pictures of the lunches she made for her son when he was in Kindergarten and then again when he was in 1st grade.  There are LOTS of great ideas and healthy foods that my little ones will actually eat.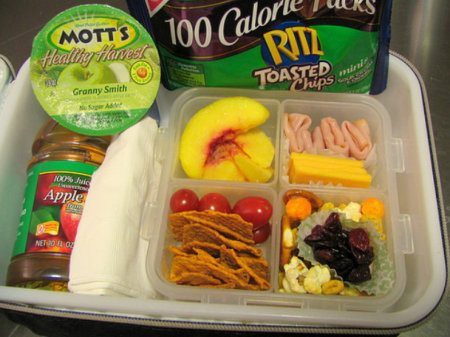 Family Fun also has some great school lunch ideas that kids love: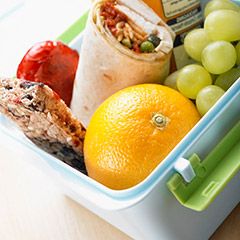 I love how Blooming Homestead organized refrigerated snacks in her fridge!  It makes packing lunches in the morning a breeze if you prepare the night before.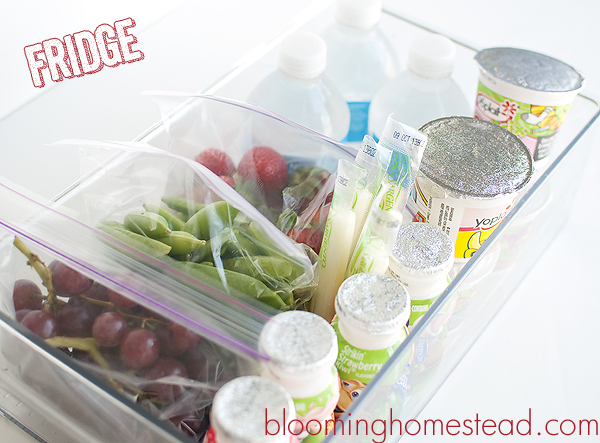 Jokes and Notes:
Want to get creative and make lunch time fun for your kiddos?  I LOVE the idea of putting jokes and lunch boxes notes in your kids' lunches.  Save yourself time and check out these great blogs for pre-made free printables!
I'm loving Blooming Homestead today!  She has some great lunch box jokes that will put a smile on your kids' faces.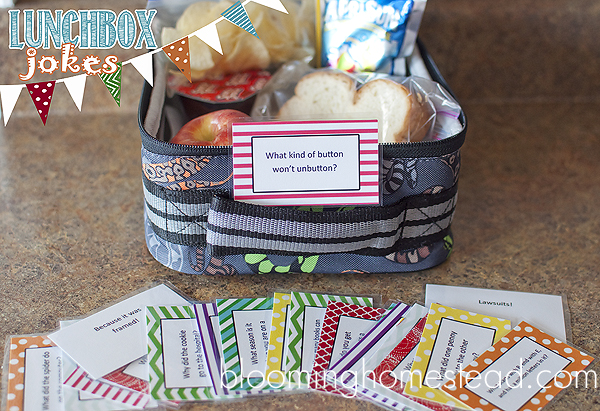 Cap Creations has these super cute joke cards: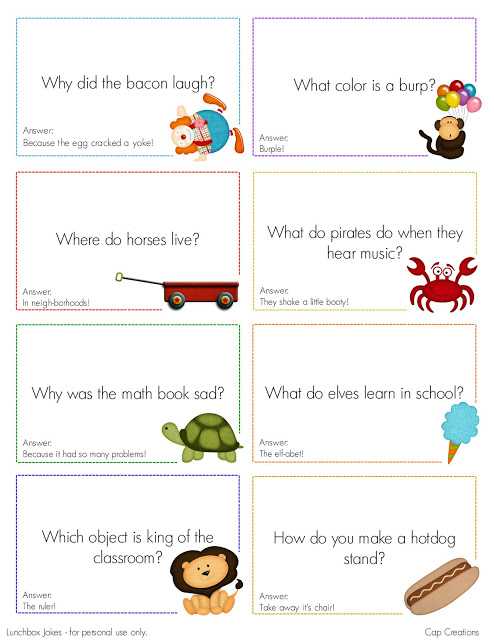 Kristin Duke Photography has a TON of joke cards and even decorated them for different seasons.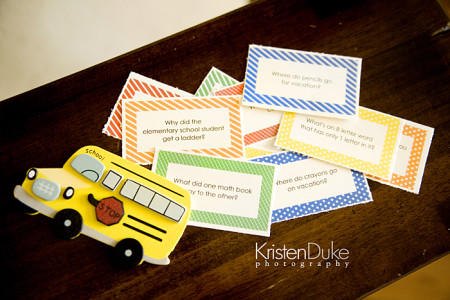 Want to encourage your kids? Mercy Ink has these great scripture verse cards.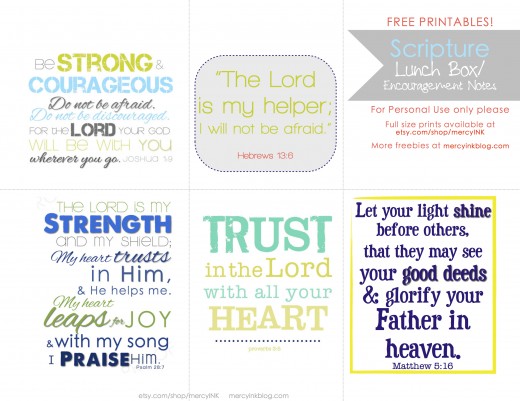 Chickabug has these adorable note cards that you can use to write your own message to your kiddos.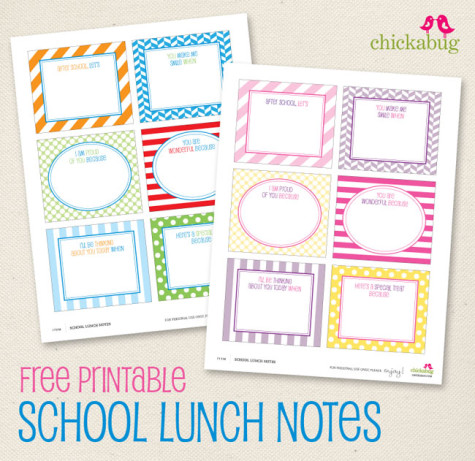 Routine Charts:
Are you Crafty?  I LOVE these ideas for helping your kids organize their routines!  Both are easy to make and super cute!
The 36th Avenue made these darling dry erase clipboards to help her kids with their routines after school.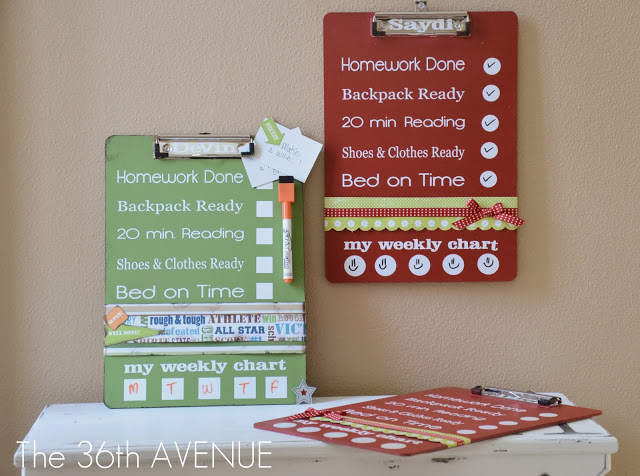 Unfortunately I couldn't find the original source of this photo, but I LOVE the idea and just had to share it with you!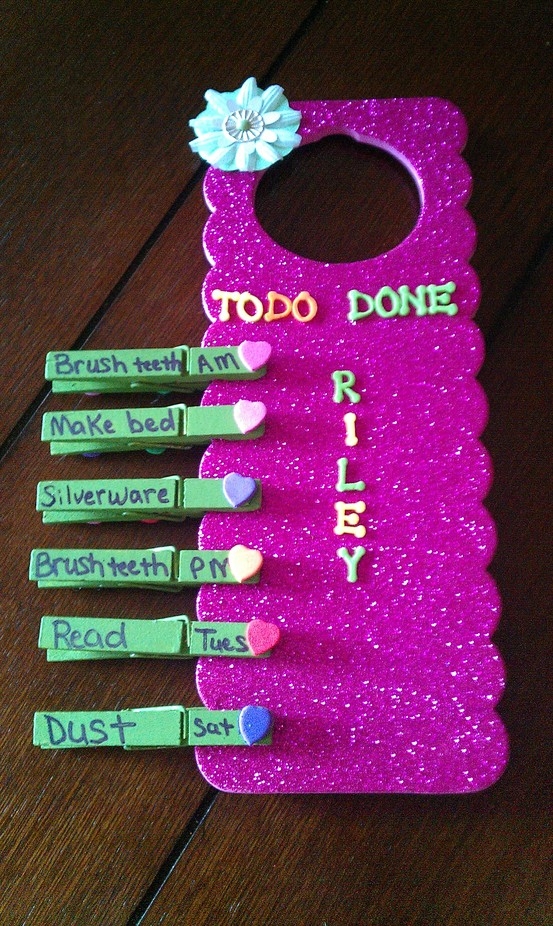 Just for Fun:
And here's one last resource for Back to School fun.  Do you like getting creative with food?  Spoonful.com has some cute ideas for making Back to School snacks fun.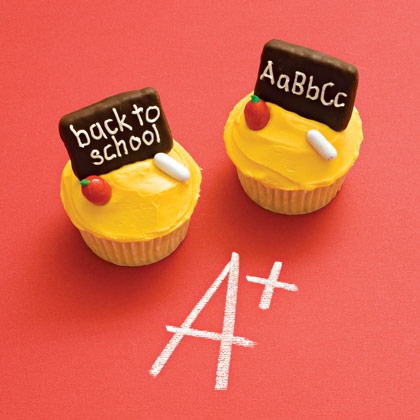 I hope these tips and ideas inspire you to make Back to School fun and less stressful for your family.  If you have a great tip or idea that makes your school mornings less hectic, I'd love to hear about it!  Share your ideas in the comments below.
This post contains an affiliate link.  I appreciate your support of Organizing Homelife!