Welcome to Day 23 of my month long series "How to Organize Your Kitchen Frugally in 31 Days".  Every day during the month of October I will be sharing an organized space in my kitchen with you.  My goal is to inspire you and give you ideas on how you can organize your kitchen.
If you missed it, you may want to read why I'm embracing my outdated kitchen.  It might give you a little perspective on why the pictures of my kitchen organization won't be "magazine worthy", but helpful for real life organization.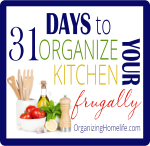 One thing you may have noticed if you have been following this series from the beginning is that I love organizing cupboards and drawers by filling the space with smaller bins, baskets, and containers.  It sets boundaries on how much you can store and forces you to recognize when you have too many things.
Some of the least used cupboards in most kitchens I've been in are the small cupboards above the fridge.  They are typically hard to reach so people tend to store stuff they don't use often in that space.  That's great!  Some things we don't use regularly so they don't need to be front and center in the kitchen.  However, did you ever think about how you store those little used items?  Even though they are out of reach, do you make it easy on yourself when you DO need to reach them?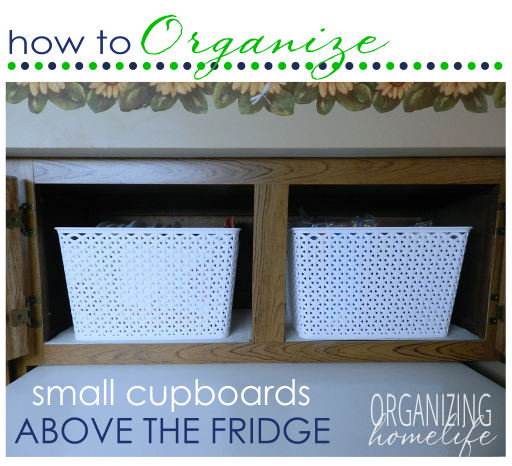 I had always kept my paper party supplies in those cupboards.  Since birthdays only happen in our house every other month, it was a good spot to keep it: out of the way, but still accessible.  But, it was a pain to sort through whenever I did have to get to it!
I knew I needed a simpler solution.  I found these great bins at Target and have used them in my pantry, so I knew they would be perfect for organizing the cupboards above my fridge – and they are!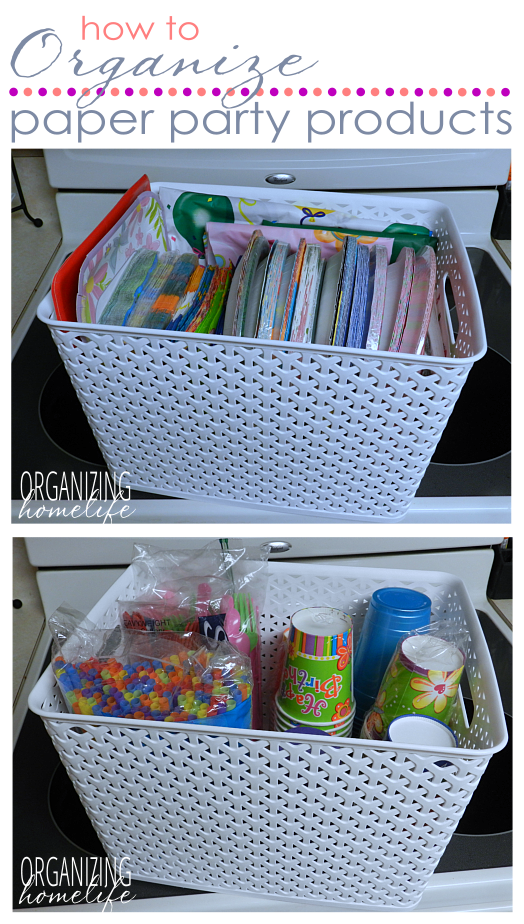 I can now store my party supplies neatly and easily grab them when needed.  The cupboard doesn't get overrun with supplies either.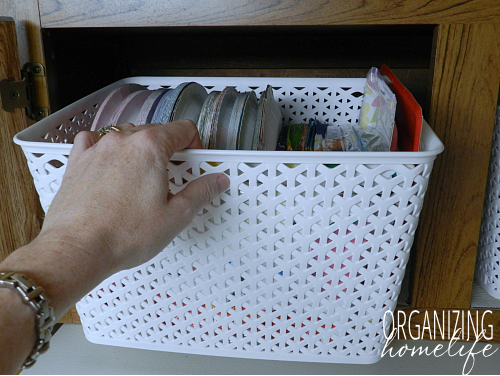 I store the plates and napkins on their ends so I can easily see what I have and what I might need for the next party.  I get most of my party supplies at a dollar store and since the patterns don't change very often, I usually save the leftover plates and napkins for the next party.  I can usually find the same pattern to supplement what I might need for the next party.
I also keep plastic party tablecloths in this bin.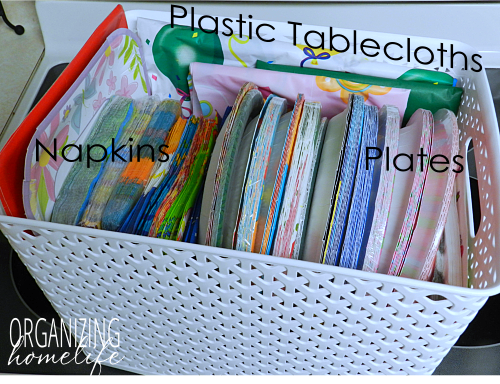 Whatever you store in the cupboards above your fridge, you should consider how to make it easier to access.  Using bins to fill the space also helps to keep things from getting lost in hard to reach places.