Welcome to Day 29 of my month long series "How to Organize Your Kitchen Frugally in 31 Days".  Every day during the month of October I will be sharing an organized space in my kitchen with you.  My goal is to inspire you and give you ideas on how you can organize your kitchen.
If you missed it, you may want to read why I'm embracing my outdated kitchen.  It might give you a little perspective on why the pictures of my kitchen organization won't be "magazine worthy", but helpful for real life organization.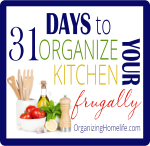 Yesterday I showed you how I organize the food in my pantry.  Today I'm going to show you how I organize non-food items.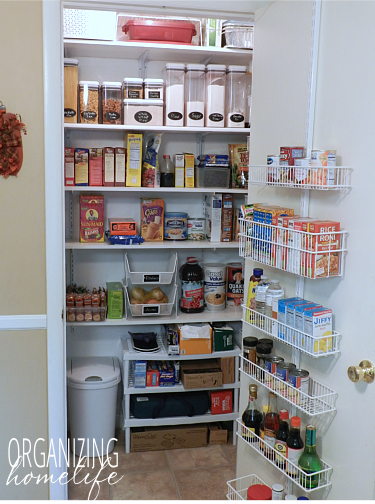 When I redesigned the storage space in my pantry to make it work effectively, I deliberately left space on the lower left side as well as on the floor in the center.  I don't like storing food close to the floor and this is a perfect space to organize non food items.
Instead of listing everything I store here, I decided to label the picture.  I wish I could tell you where I got the plastic stackable organizer, but I've had it forever and can't remember.  It's perfect for keeping "extras" organized.
I keep kitchen trash bags and large black trash bags on the top shelf so we can grab them easily.  I have been know to change the arrangement of my furniture on a regular basis, so I like to keep my furniture movers in an easy-to-grab location.  My hubby would probably like to toss them. 😉
I also keep the dog food in a small trash can (bought just for the food) so the kids can reach it easily.  We assigned each of our kids a day of the week to feed the dog.  It works for us and they love taking care of him.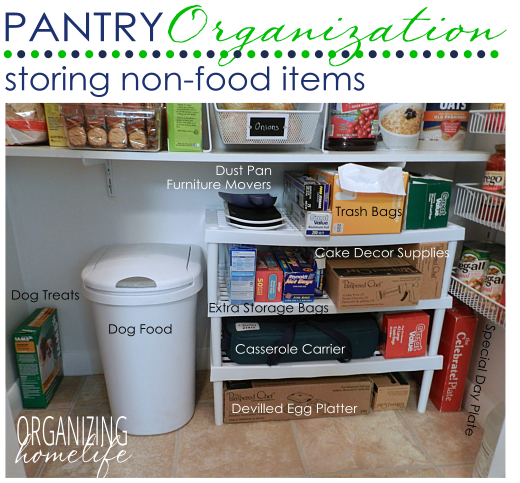 I installed this battery organizer low in the pantry because my 8 year old son is a master at changing batteries and loves to do it.  It's easy for him to reach so he can make sure every toy is in working order.  🙂
I keep a small kitchen fire extinguisher in an easy to grab spot in case of emergency.  I also have a flashlight tucked in the corner of the bottom shelf so it's easy to grab when the power goes out.  I installed our plastic baggie holder low so the kids can reach them, if needed.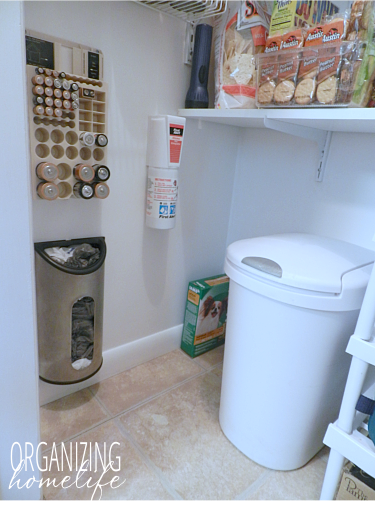 Way up on the top shelf I keep my Get Better Bin in case of sickness.  We are always prepared with sick foods, just in case.  Next to that I keep a large plastic bin that contains paper plates and plastic cups.  It's a great, easy to reach spot for when we want a meal with a quick clean up.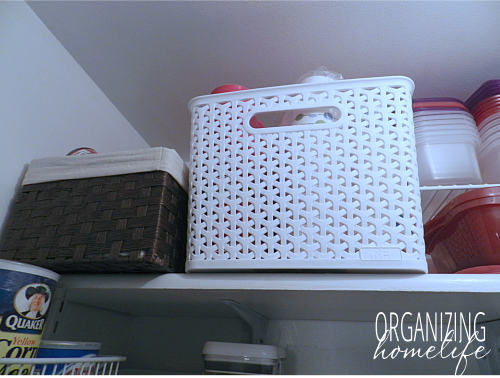 Next to that I keep a wire rack with plastic disposable food storage containers.  I never mix these in with my regular food storage containers.  These are here specifically for sharing food with guests or making dinner for someone in need.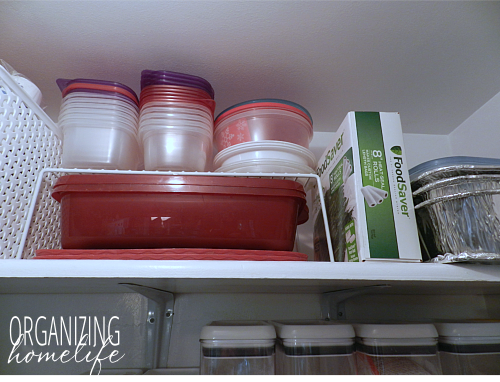 So there you go.  Effective pantry organization on a budget.  I hope you're inspired to organize your pantry!