Last week was my "whimisical" daughter's birthday party. She loves anything creative, and doesn't mind a mess at all. Oh my. We always love having a craft at our birthday parties because kids love to make things, and they are so excited to have something to take home in addition to the usual goodie bag.
There was one big problem, however. I had a very busy week and no time to plan the craft for the party.
So, we searched online and The Chocolate Muffin Tree solved our problem big time.  Bubble printing: a semi-messy, super whimsical, easy to pull together craft!  Yes!
We made cards, but you could really make just about anything made of paper: homemade oragami paper, bookmarks, cards, envelopes, art to be framed, etc.
Start with a little dish or bowl for each color of paint.  I used 2 for each color. 
Fill each dish with 1/2 cup water. 
Add 2 Tbsp of tempra paint (yes, you need that much or the bubbles will be very faint)
Add some dish soap.  I used 1 pump of Dawn Direct Foam because it is super sudsy.  If you are using other dish soap, you may want to add a couple more squirts.
Mix it up!
Each kid was given a set of straws of the same color (1 for each color of paint) so they weren't sharing straws.  For example, my daughter got 4 green straws.  One for the blue paint, one for the green paint, one for the red paint and one for the yellow paint.
Tell the children to blow gently or the bubbles will go everywhere!  I had a plastic tablecover on the table and I was very glad.  Have some paper towels handy, too.
Once the bubbles start to come over the top of the dish, lay the paper over the bubbles.  At first it may look a little faint, but wait until the bubbles start popping!  The paint dries darker, too, so don't be discouraged if it looks too light.  If it is very light, add a little more paint to the dish.
Everyone had so much fun.  Here are some of the results: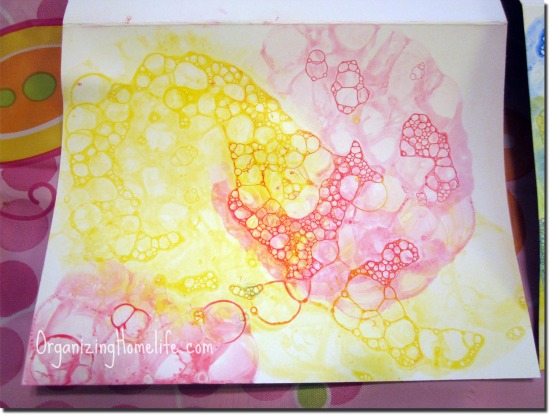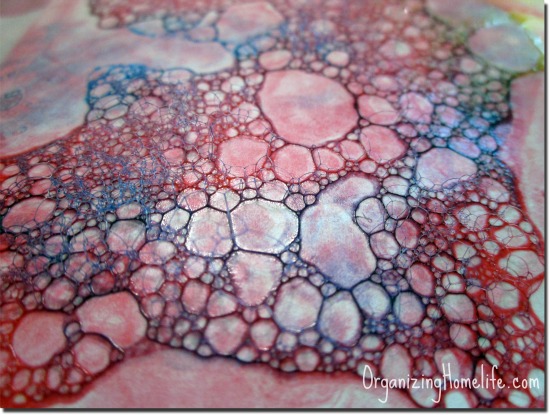 And, here are all the cards: