I don't share a many recipes on the blog unless they are truly a favorite.  My daughter and I were hanging out this week and we decided to whip up a batch of our favorite strawberry rhubarb muffins, so I grabbed the camera so I could share the recipe with you!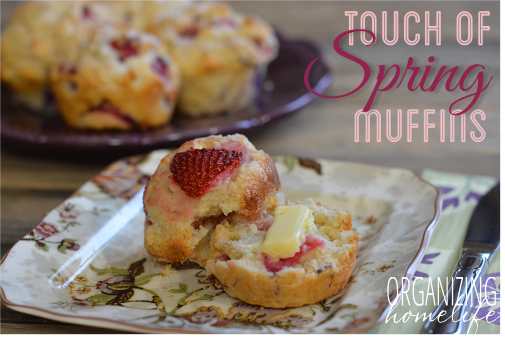 If you're not a fan of rhubarb, I encourage you to give these a try anyway.  My hubby thought he hated rhubarb, but he definitely approves of these!  If you really don't like rhubarb, simply double your strawberries and omit the rhubarb. 🙂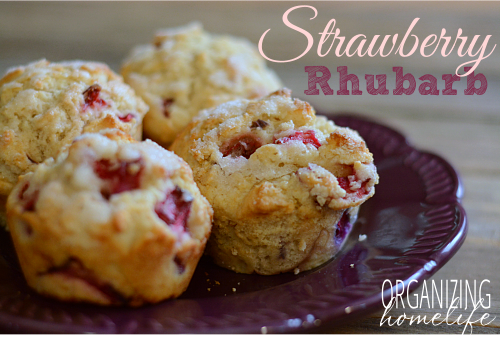 Start by coarsely chopping your strawberries and rhubarb.  (There's a reason this looks like a lot of fruit.  We tripled the recipe for our large family.)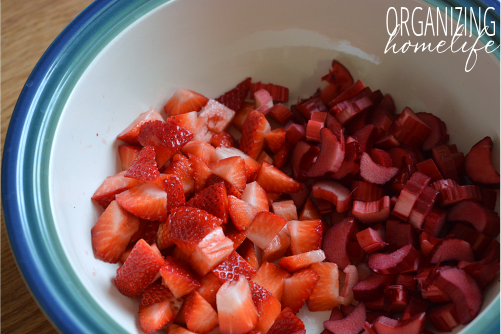 Grab your sugar.  (Do you like my label?  See how I organize my pantry and what labels I use here.)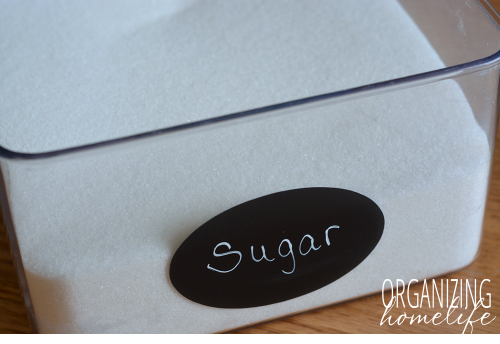 Mix up the dry ingredients.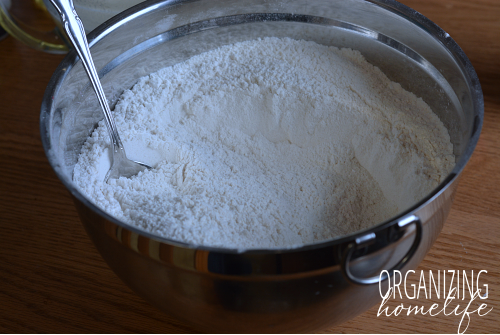 After beating the eggs and oil into the milk, pour it into the dry ingredients.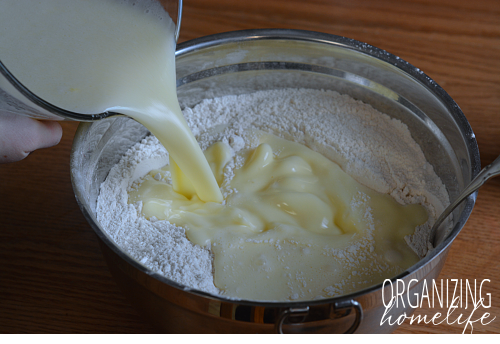 Mix just until the dough is moist.  I'll warn you…this dough is very thick.  In fact, it's the thickest muffin mix I've ever made.  Every time I make them I wonder if they're going to be too tough, but they're not.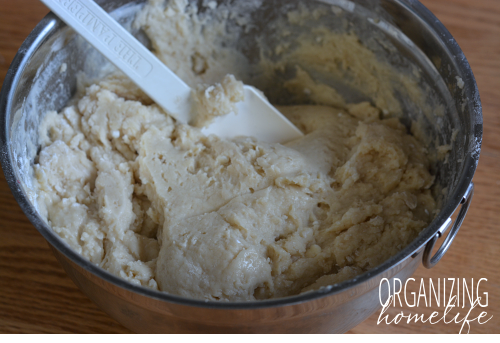 Fold in the fruit.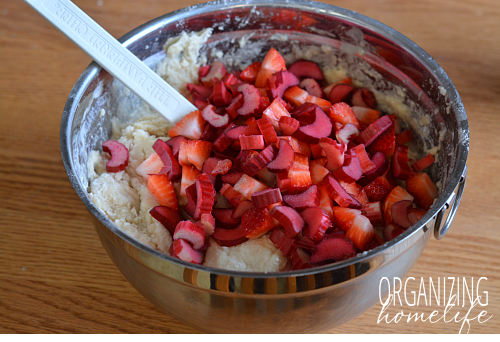 Scoop it into greased muffin pans (or have your little helper do it 😉 ).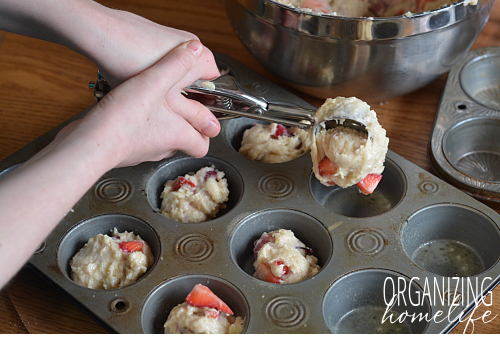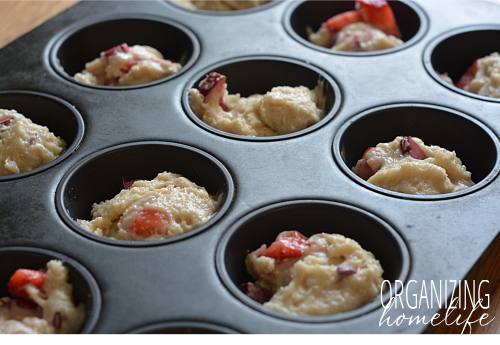 After filling muffin pans, top each muffin with a slice of strawberry and a sprinkle of sugar. Mmmm.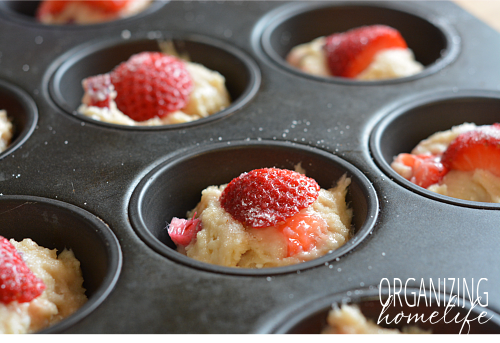 Bake at 375 for 22-25 minutes and this is what you get…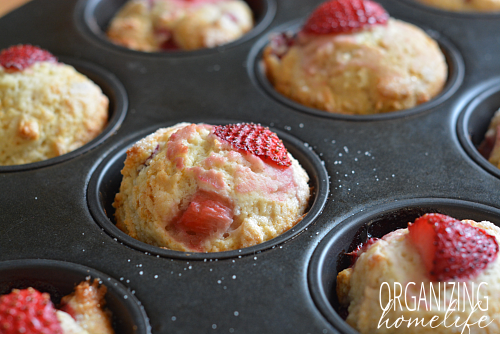 Oh, so delicious!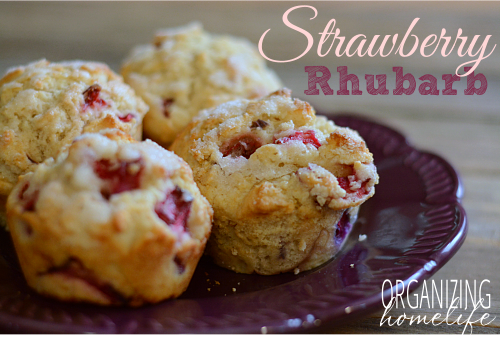 Enjoy them hot out of the oven with a touch of butter.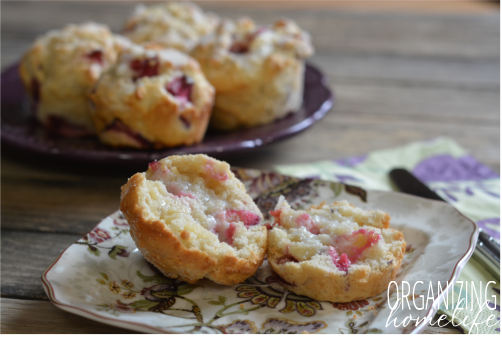 I hope you enjoy them as much as we do!  Check out some of my other favorite recipes here.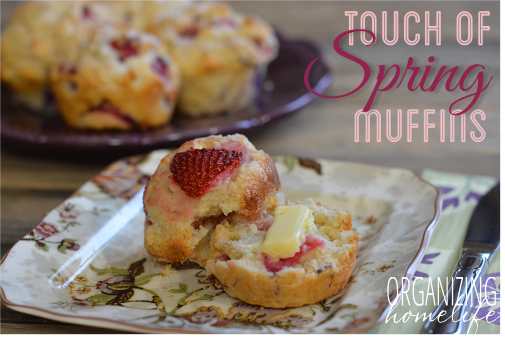 2 cups all-purpose flour
1/2 cup sugar
1 tablespoon baking powder
1/2 teaspoon salt
1 egg
3/4 cup milk
1/3 cup vegetable oil
1/2 cup chopped fresh strawberries
1/2 cup chopped fresh rhubarb
TOPPING:
6 small fresh strawberries, halved
3 teaspoons sugar
In a large bowl, combine flour, sugar, baking powder and salt.  In another bowl, beat egg, milk and oil until smooth.  Stir into the dry ingredients just until moistened.  Fold in strawberries and rhubarb.  Fill greased or paper-lined muffin cups three-fourths full.  Place a strawberry half, cut side down, on each.  Sprinkle with sugar.  Bake at 375° for 22-25 minutes or until muffins test done.  Cool for 5 minutes before removing from pan to a wire rack.  Serve warm.  Makes: 1 dozen.
Recipe source: Taste of Home 2001 Annual Recipes (recipe slightly adapted)