The end of the school year has arrived in our house, so what better time to tackle a project that's been on my plate for a while! When we bought this house, our son had just turned two. We had two girls and I was pregnant and in the third trimester with our third daughter.
Moving 600 miles from home while pregnant with your fourth child is somewhat of a challenge.
Out of necessity, we settled in as quickly as possible before the baby arrived. We painted the girls' bedroom, and that was about it for upstairs renovations. But gradually, as things began settling into "normal", my hubby and I started working on updating our 1960's house into a more modern home and have been continually working on updating ever since.
Our son is now ten. Yikes! Where did the time go?!?
Over the years as we've been working on different rooms in the house, his room has gone through a few very minor transformations. His furniture has gone through some changes as well, like going from crib to toddler bed to twin bed and finally graduating to the queen bed that my hubby and I gave up for our king size bed.
But the decor has been lagging behind his age. His room had been decorated in a transportation theme with little cars, trucks, airplanes, and boats. But as he's grown, I've been slowly getting rid of those things and replacing them with sports themed decor. I added a few wall decorations, new bedding, and a new lamp, but there are still traces of "transportation" and "little boy" decor hanging around.
So I decided it was time to update to a tween room, but wanted to do it without breaking the bank.
Here are the "before" pics: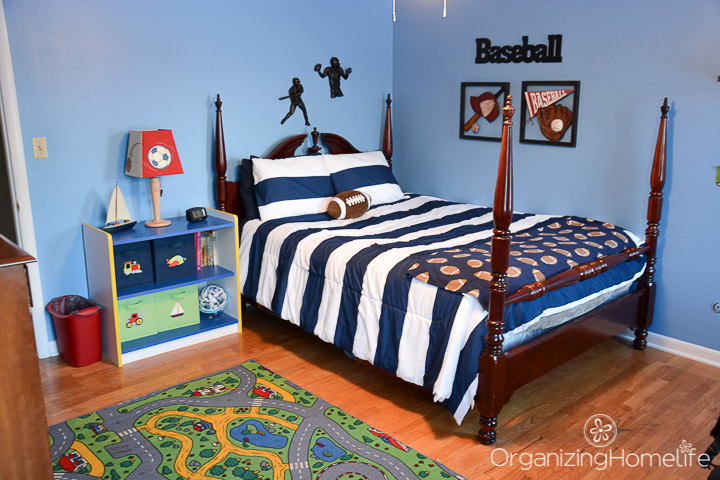 One of the first things on my agenda is to get carpet installed. While I love hardwood floors and am totally blessed to have original hardwoods in our house, I think things are a little backwards – we have carpet on the first floor and hardwoods upstairs. I plan to reverse that. I love hardwoods in the main living areas, but I also love carpet in bedrooms; it just feels more cozy. Plus, the hardwoods really need to be refinished.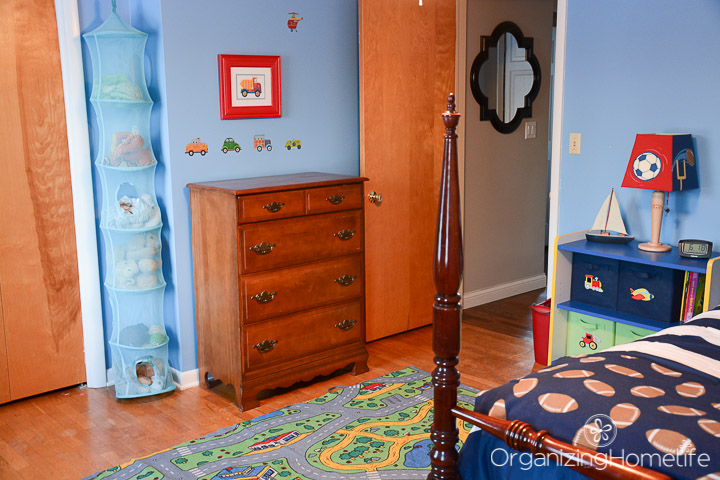 My son is at a transitional stage of his life, so I don't want to make huge changes now when I know he'll have his own opinions on his style in just a few short years. But for now, he's still happy with my choices, so I'm going for it. 😉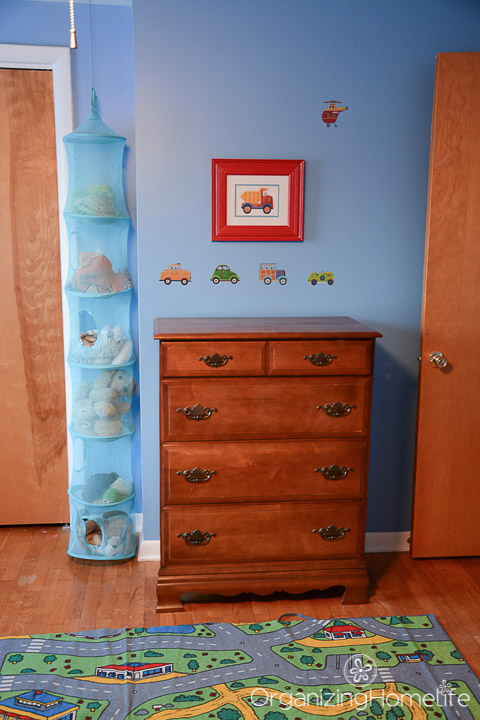 One BIG change that I'm really excited about is right behind those old honey oak doors! More about that in a few days!!!
I can't believe how hard it is for me to say goodbye to the transportation theme he's had since he was little. It's just another reminder that my baby is growing up way too fast.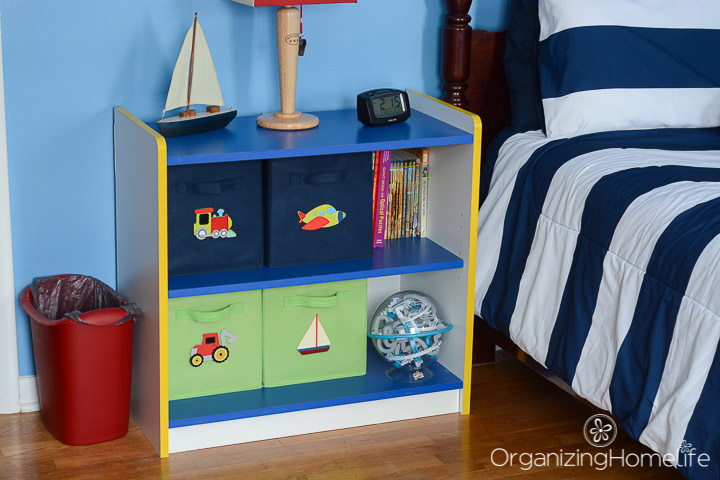 Checklist for Tween Room Update:
New Carpet
Update Decor
DIY Shelves
Fix & Update Closet
Replace Dresser
Update Closet & Room Doors
Update Outlets & Light Switch
I'll be posting several times this week with updates as we go along. I hope you enjoy it and find some inspiration.