How many times have you gone to wipe down your toilet and wondered about the last time you cleaned.  Did you use the green sponge for the toilet and the blue one for the sink, or vice versa?  Or was it the pink?
I use a toilet brush to clean the bowl and a sponge to wipe all around the outside, seat and top.  After wiping that down, I definitely want to use a different sponge to clean the sink!
It doesn't seem like it should be a big deal to remember, in fact it seems a little OCD to devise a way of keeping sponges organized.  Am I right?  I'm sure I'll probably get some pretty. crazy. comments about this, but I thought some of you might benefit from this little tip.
If you're as busy as I am, I know you don't have time to remember the color of your cleaning sponges, especially if you throw them out fairly often.  So what solution did I come up with?
A mini letter sorter!
I found it at Target for a few bucks.  Who knew that an office supply product would be the perfect solution to keeping cleaning sponges organized and become an ideal space for them to dry?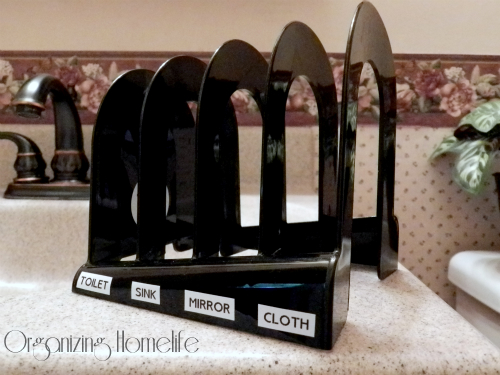 I used a label maker to print out some labels for each slot.  Now it's a cinch to remember which color sponge cleans which part of the bathroom.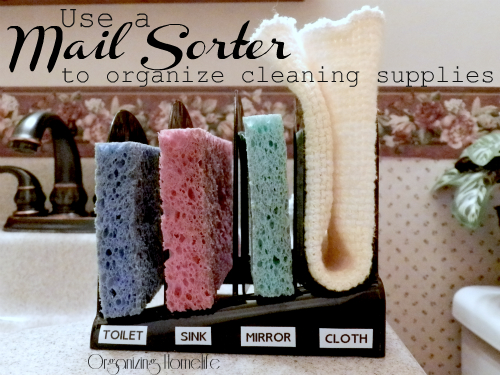 Easy, clean and simple ~ my favorite way to organize and find solutions for everyday problems.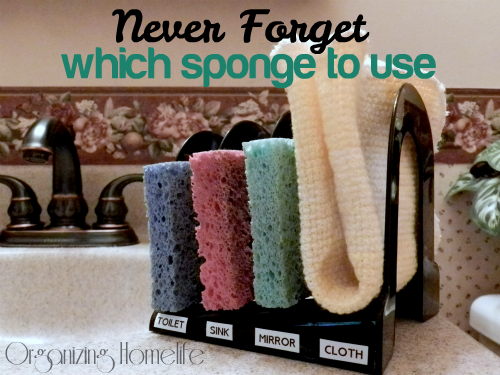 It also keeps the inside of the vanity looking a little OCD neat, doesn't it? 🙂