Welcome to Day 17 of my month long series "How to Organize Your Kitchen Frugally in 31 Days".  Every day during the month of October I will be sharing an organized space in my kitchen with you.  My goal is to inspire you and give you ideas on how you can organize your kitchen.
If you missed it, you may want to read why I'm embracing my outdated kitchen.  It might give you a little perspective on why the pictures of my kitchen organization won't be "magazine worthy", but helpful for real life organization.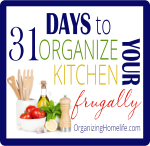 This post may surprise you a little because I'm going to tell you right up front that this is NOT my favorite cupboard to organize.  I do not see a purpose in making a corner cupboard that is deep and can only be accessed by one door.  You have no choice but to bury things.
I do not like burying things!
Here's a visual so you know what I'm talking about.  That corner cupboard (labeled in the picture) has one door, but is very deep on the right side.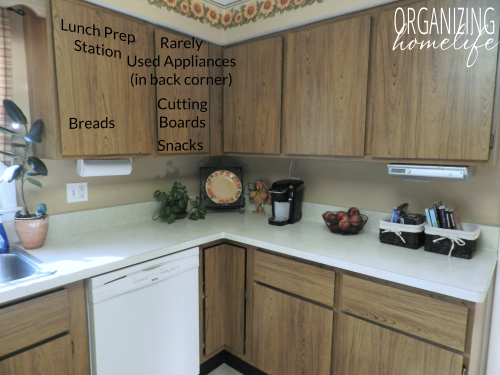 I don't love this cupboard, but I am thankful for the space I have, so I try to make the best of it.  Is my solution a great one?  No.  If you have a solution for this type of cupboard, I'd love to hear it.
So, what do I keep in that hidden space in the back?  I keep small appliances I don't use very often, and serving bowls that only come out when I have a large crowd.  That's it.  I don't store things I use regularly in a space that is hard to get to.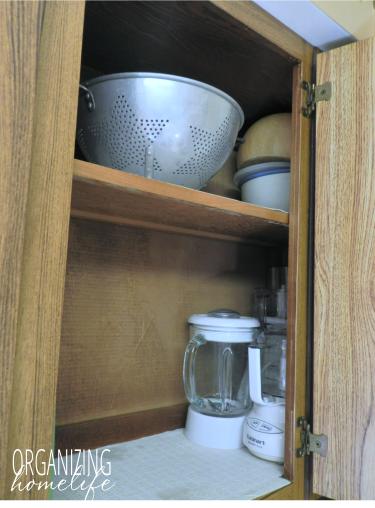 The other thing I must tell you before you start thinking I am really strange is that I keep my junk food snacks in this cupboard.  What?!?  Why?
I'm glad you asked!  Confession time once again: I love snacks.  I have tried keeping snack foods in a number of places in my kitchen: in a basket on top of the fridge, in my pantry, in other bigger cupboards.  Apparently I don't have enough will power not to buy junk food, but what I have done is to limit the space in which I can store it.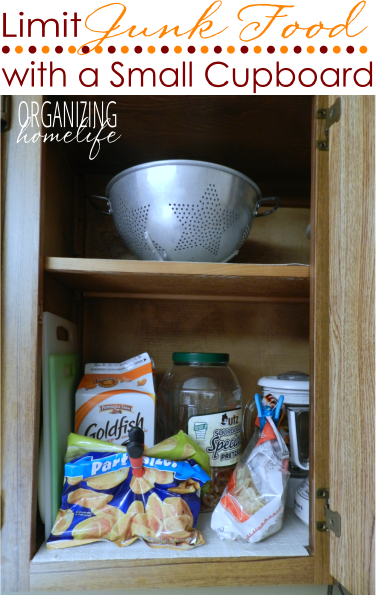 You know how in the movie Field of Dreams (ok, I might be dating myself here), Kevin Costner hears a mysterious voice that says, "If you build it, he will come"?  Well, for some reason that's the way I think of my junk food cupboard.  If I make space for it, it will be there!
I deliberately moved our snack foods to this cupboard because it isn't very large.  It's easy to grab for school lunches since it's right next to the lunch station, but it's also small enough that it forces me to limit how much I buy.  I know I can't buy 6 bags of Doritos just because they're on sale.  I only have space for 1 or 2, so that's all I can get.  Maybe it seems weird to you, but it works for me. 🙂
The other thing that might seem out of place to you is that I keep my small cutting boards stacked on the side.  They're easy to get to, are right in my food prep zone, and never seem to fall over since there is always junk food there to hold them up (((blushing))).  I also keep my colander on the top shelf.  I stack it with one smaller colander because I use both of them regularly.
Tomorrow I'm going to share some of the things I keep on my countertops including my Message Center.