I am so excited about today's giveaway!!  After all the expense and exhaustion the holidays bring, how about a little treat for you!  Ok, it's not really "little"  it's HUGE!  Just wait until you hear about this!

I was recently contacted by Grace Adele, a Scentsy company, about reviewing a purse and hosting a giveaway.  Honestly, at first I thought, "I don't really need another purse".  Then I checked out their site.  Wait!  Did I just say I didn't need a purse?  What was I thinking!?!
I'm the type of gal that loves interior pockets and separate sections in my purses.  I like keeping my sunglasses and phone easily accessible without the danger of being scratched by my keys.
When I saw that Grace Adele bags have an "Intelligent Interior™" with numerous pockets of all sizes, some with zippered closures, I knew I wanted to check it out.  There's even a plastic pouch to protect your purse from any liquid or makeup leaks!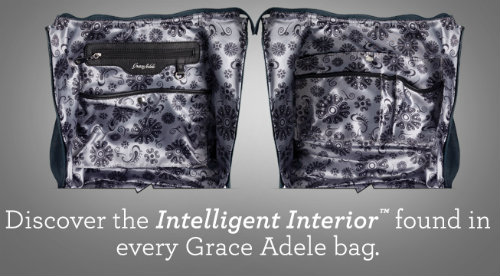 I was not disappointed!  I was impressed with Grace Adele before I even opened my purse.  You should see the packaging!  It's classy and simply gorgeous.  And, I absolutely love my purse!  The Intelligent Interior™ is exactly as I wished for – lots of interior pockets to keep my things organized.  I just love an organized purse!  I am so happy I decided to review this purse.  I love it, and I have received a number of compliments on it already.
As for the design, it's amazing how many choices there are!  I kid you not, I think I spent over an hour choosing which purse I wanted.  There were so many pretty choices, it took me forever to decide.  Grace Adele's Style System™ makes it a breeze to choose the purse color and combination that is perfectly suited to your tastes!  It is a step-by-step process that lets you create a designer look all your own using mix-and-match accessories organized around color.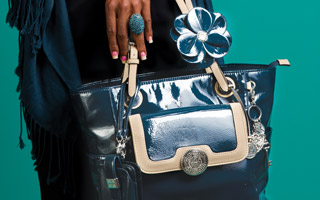 #1.  Pick your favorite color.
#2.  Choose the bag you love.  I chose the Sarah bag.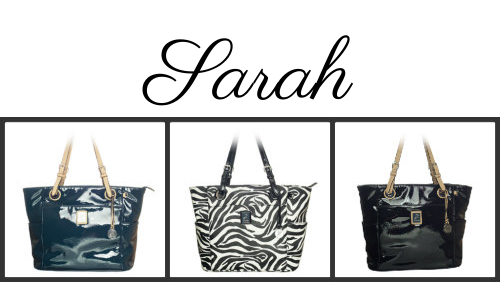 #3.  Choose a coordinating clutch to compliment your bag.

#4.  Style your bag with gorgeous clip-ons and accessories like wallets, notebooks, and makeup bags that coordinate with your bag and your style.

#5.  Style YOU with beautiful jewelry and other accessories.

It's so easy to create your own unique look to match your personal style.  I had so much fun styling my purse but I was a little concerned that my style may not be your style.  But, Grace Adele is SO generous and I'm thrilled to tell you that…
…the winner can style their OWN purse!!!!!!
Yes, you read that right!  Not only do you have the opportunity to win a beautiful Grace Adele purse with an Intelligent Interior™, but you get to choose your favorite faux leather purse in a style that is just right for you!
But wait!  The news gets even BETTER!!!
The winner also gets to choose:
…a clutch
…a wallet
…and $60 worth of accessories!
That's over $200 worth of Grace Adele products!!!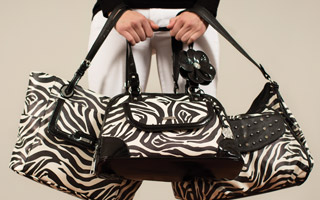 If you would like to check out Grace Adele bags, click here to find a consultant near you.   There are so many choices, and so many beautiful options, I just know you won't be disappointed.  Have fun playing with their Style System™ . 😉
The Fine Print
1 winner will be chosen using Rafflecopter to win a Grace Adele faux leather purse of the winner's choice, a clutch, a wallet, and up to $60 worth of accessories.
No purchase necessary.
Giveaway is open to U.S. residents only.
Giveaway begins Tuesday, December 18, 2012 and ends at 11:59 p.m. eastern time Sunday, December 23, 2012.
Winners will be e-mailed and announced here on Monday, December 24, 2012.
Winners have 7 days to respond to e-mail.
Disclosure: I received a Grace Adele purse, wallet, clutch, accessory, and bracelet to review.  My opinions are 100% my own, and I was not influenced to write a positive review based on product value. I only share products with my readers that I truly love. If I don't like it, I won't promote it. 🙂 See my full disclosure policy here.