This time of year we spend a lot of time outside.  Our winters are long and cold here, so when the weather finally turns nice, we can hardly stay inside. The kids love roller-blading, riding bikes, swimming, and running around.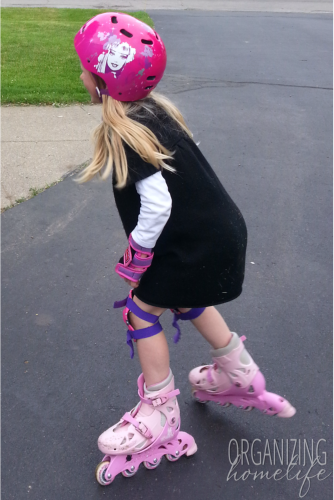 But, along with the fun comes the occasional skinned knee and stubbed toe.  Ahhh, summertime.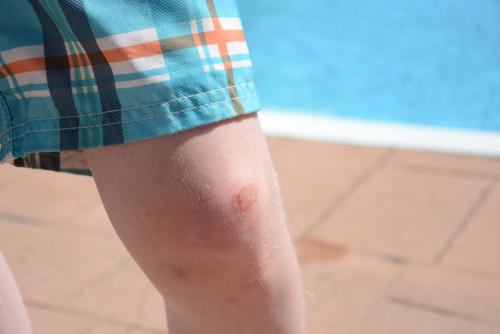 I was recently contacted by Nexcare Bandages to try some of their waterproof bandages.  We go through bandages like campers go through s'mores, and I thought some of you might be in the same boat, so I decided to try them and let you know what I think.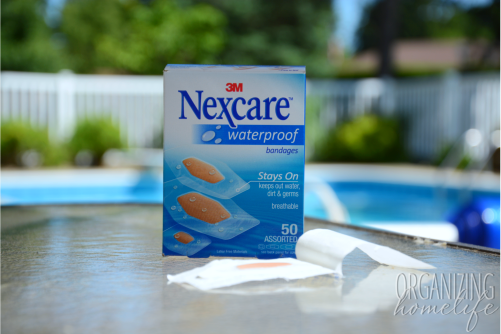 If my kids aren't swimming, they're getting dirty in the sand or mud and then washing off in the tub.  I feel like I should buy stock in bandages for how many we go through!
I think part of the problem is how easily the bandages fall off when they get wet.  With the kids constantly swimming, sweating, and bathing, it's a tough job for a bandage to stay put!
Nexcare Waterproof Bandages have a 360-degree seal which provides a protective barrier to keep out water, dirt, and germs.  They came up with some pretty hilarious videos to make the point that their bandages are tough!
Check out the "Nexcare Nana" in this dramatized product test and see how her bandage handles getting blasted with a full-pressure firehose…

In another dramatization, Nexcare Nana's bandage also has no problem with dirt or germs…

So what did I think?  I was impressed.  My son scraped his knee the other night when we were mini-golfing.  The next day I took him to our neighbor's pool, and I put one the Nexcare Waterproof Bandages on his sore before he went swimming.  It was easy to apply, and it stayed on very well.   I recommend gently pressing all around the clear adhesive to ensure a proper seal.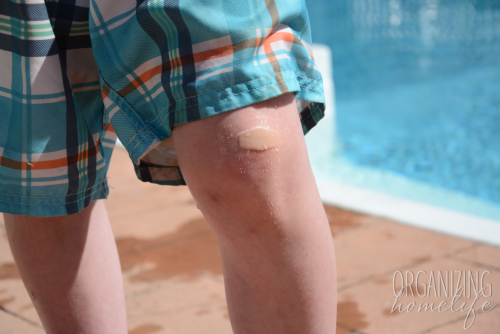 I didn't say anything to him about my testing the bandage except that I wanted to take a picture of the bandage on his leg.  The next thing I knew he was in the pool yelling out to me, "Hey, Mom!  This thing really stays on!"  There you have it.  Nexcare Bandages even impressed my 9 year old. 🙂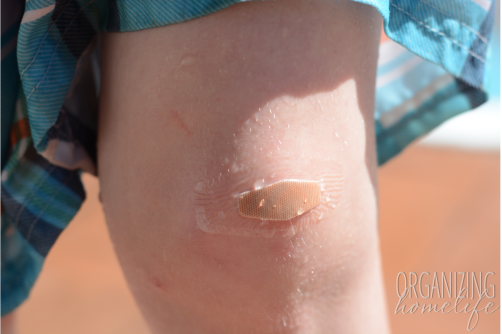 I was curious to see how long it would actually stay on, and was pleased that it not only made it through playing and swimming, but was still holding tight the next day.  Most bandages would have been long gone, especially being used on the knee!  I love how flexible the material is so it's not uncomfortable or pulling on his skin.
3M products have been trusted by doctors and nurses for over 60 years.  Check out 3M Nexcare Waterproof Bandages and keep out the dirt, water, and germs.  Follow them on Facebook for all the latest information and deals.
Head over to nexcare.com/nana to view other Nexcare Nana videos and nominate someone special in your life that is as daring and tough as Nexcare Nana in the Tough-as-Nana Sweepstakes, for a chance to win one of three trips.
How would you like to try some?
I'm teaming up with Nexcare Brand to give away 5 boxes of Nexcare Waterproof Bandages to three winners!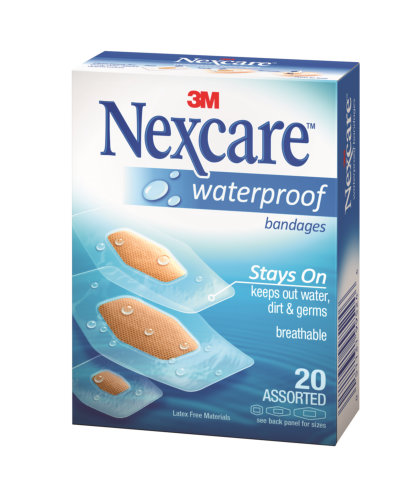 How do I enter?
Simple!  Just use the Rafflecopter entry form at the end of this post to enter.  Log in using your email address or Facebook account.  Worried about spam?  No problem.  I hate spam as much as you!  Your email will simply be used to contact you if you win – nothing else!
(If you are reading this post via email or RSS, you'll need to enter in the post here.)
The Fine Print:
Three winners will be chosen randomly using Rafflecopter to win 5 boxes of Nexcare Waterproof Bandages each.
Products will be shipped to the winners by Nexcare Brand Products.
No purchase necessary.
Entrants must be 18 years or older.
Open to U.S. residents only.
Giveaway begins Wednesday, June 18, 2014 and ends Wednesday, June 25, 2014 at 11:59 p.m. EST.
Winners will be e-mailed and announced here on Thursday, June 26, 2014.
Winners have 7 days to respond to e-mail.
Disclosure: I was given product samples and compensated in exchange for a review of this product.  I never recommend products to my readers that I do not use in my own home.  My opinions are 100% my own and I was not influenced to offer a positive review.  If I don't like a product, I won't ever recommend it to you.  See my full disclosure policy here.