Are you all as excited as I am to begin building your home management binders?
Today, we'll be starting right at the very beginning: the cover.
I realize that people have many different tastes and styles, so I am going to be offering you 3 different color options plus a step-by-step tutorial on how to customize your very own!
Start by choosing a binder.  For this project, I'm using a plain old 2-in. cheap-o I got during Back to School season.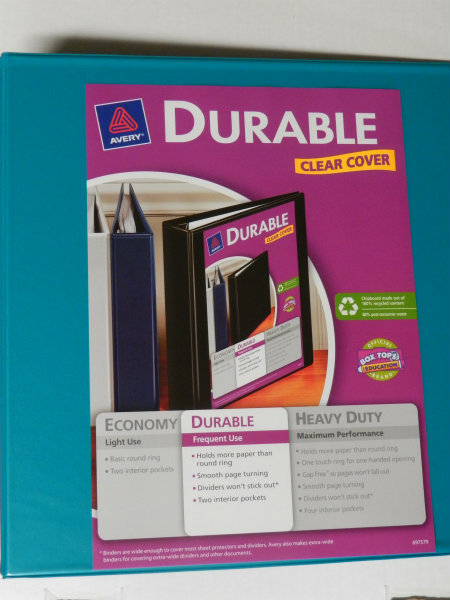 To decorate it, I used some scrapbook paper that I had in a coordinating color.  All I did was print the cover (available below), cut out the label, and paste it onto the scrapbook paper.
I thought you might like to see it so you can customize your binder to your own style like I did.  Or, you can simply print out the pre-made binder covers below!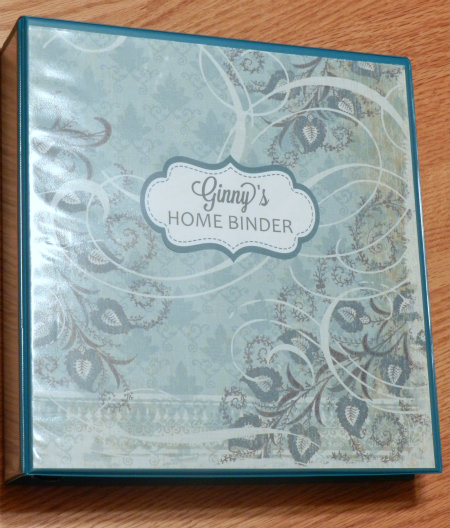 Some people like to include their favorite recipes in their home binder.  I personally like to have a separate binder for my menu planning and recipes.  If you would like to include those printables in your home binder, go for it!  I made a separate cover for those of you who like to keep a separate recipe binder.
You must have a PDF reader installed in order to view these printables.  If you haven't already, please visit adobe.com and download their latest version of acrobat reader.  It's totally free.
Simply click on the cover of your choice to open the PDF file for download.
Our Home Binder
Home Management Binder
Family Recipes
Binder Sides
For those of you who are a little bit techie, I'm also offering a blank label that you can style yourself. I'll give you a short tutorial using iPiccy.com. You can also use Pic Monkey or other editing software if you would like.
However, please respect my copyright and do not distribute this label or these covers for sale or profit of any kind. They are intended for personal use only.
Instructions for customizing your own label using iPiccy.com:
1.  Right click on the label and save it to your desktop.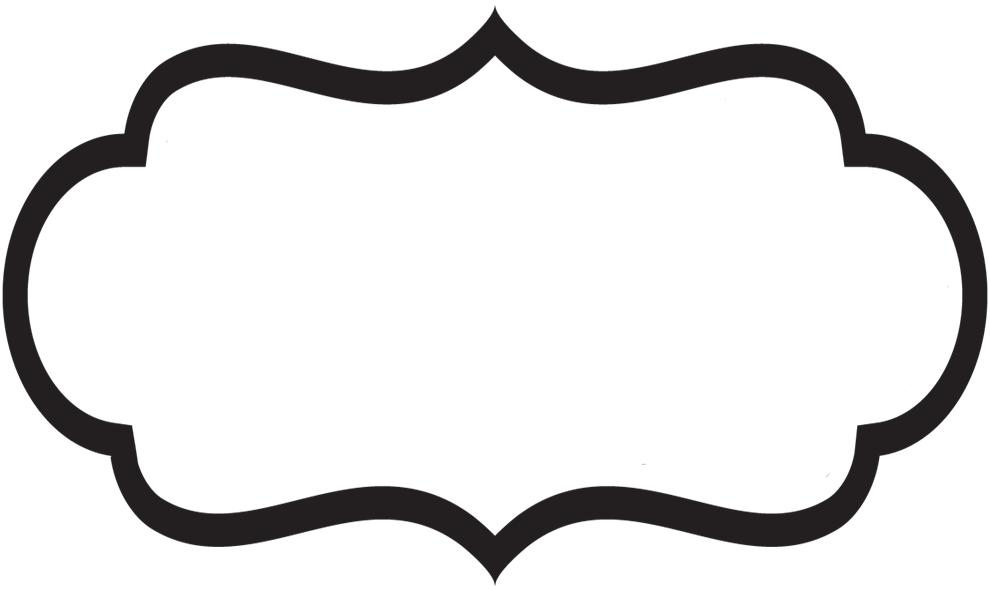 2.  Open iPiccy.com and click "Start Editing".  Then click "Upload Photo".  Choose the label and click enter.
3.  Once the label is uploaded, double-click on it to open.
4.  On the left side of the screen you will see many photo editing options.  Scroll down until you see "Color Tint".  Click on that to open the color choices.  Drag the little white circle around until you find a color you like.  Click Apply.
5.  Now click on the blender tool (the tab at the top that looks like a little stack of papers, next to the person).  Now click on "Text" right under the stack of papers tab.
6.  A box will appear that says "Your Text Here".  You will type into the little box in the upper left hand corner of the screen.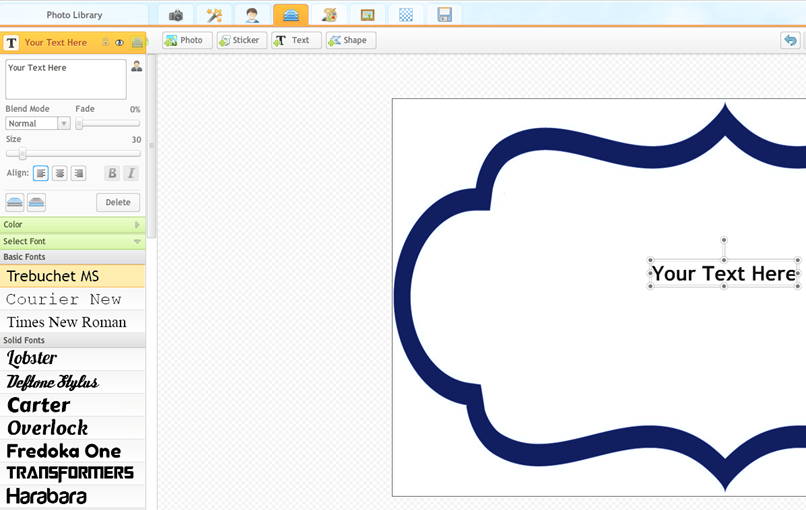 7.  Adjust the size of the text by dragging the size slider on the left menu, or simply by clicking and dragging a corner of your text box.  You can also adjust the color by clicking on "color" in the left menu.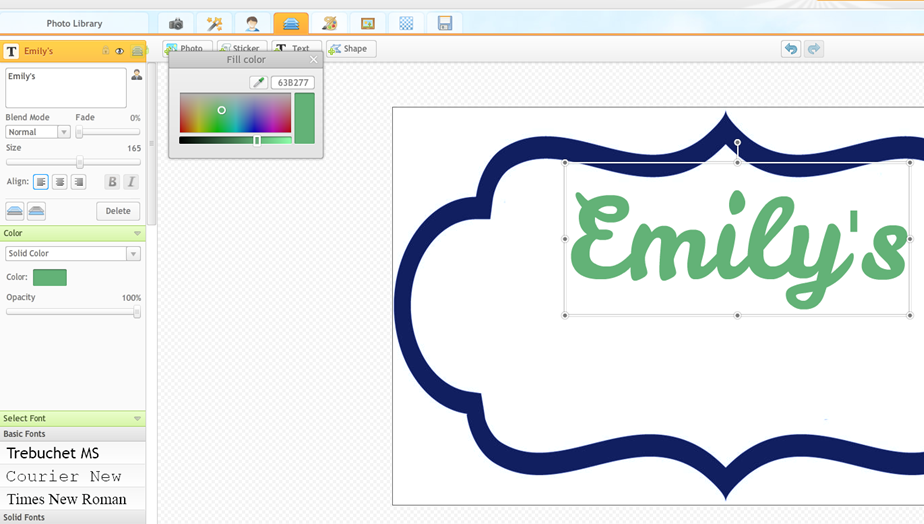 8.  To add a new text box, click on the "Text" button at the top again.  Drag your new text box into position and style as before.
9.  Click on the disk tab to save your image.  You must first click "merge layers" to blend the text and your label.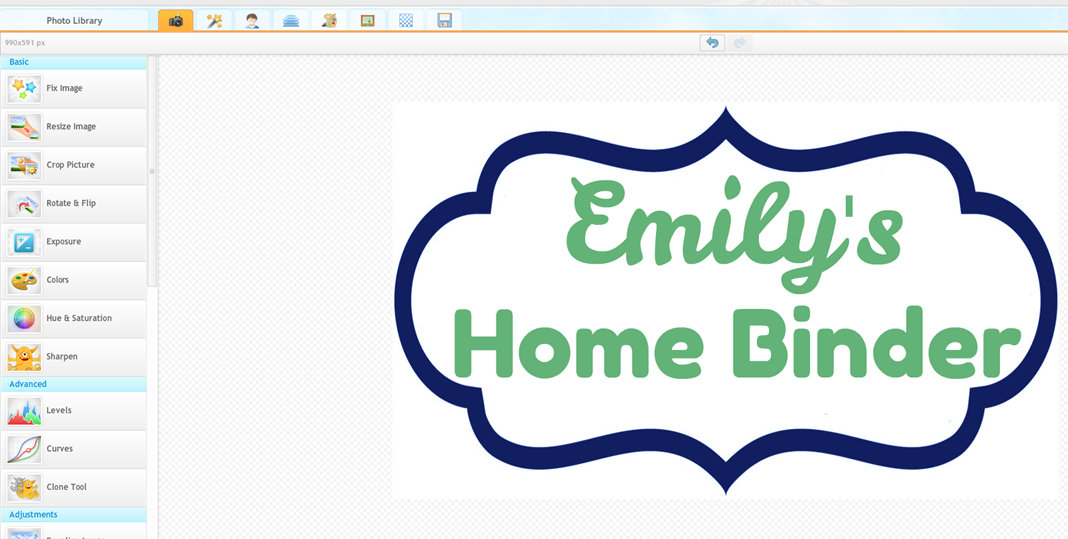 10.  Save your new label to your computer and have fun getting your binder started!
31 Days of Home Management Binder Printables: