Welcome to Day 20 of our series on building your Home Management Binder.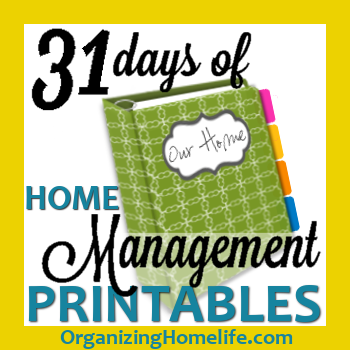 If you met my hubby and asked him to tell you one thing about me, he would tell you I'm a project person.  I can't help it, I LOVE projects! 🙂  And, opposites attract, right?  You know what that means…my hubby is NOT a project person!
This schedule is a great help to both types.  For us project people, it helps us to be realistic in planning what can actually be accomplished in a time frame that works within our families' schedules.  For non-project people, it helps them to actually see it on paper and plan in order of importance.
At the top of the printable, list the projects you would like to complete in the next year.  At the bottom, use the monthly spaces to have a general plan of when you would like to work on/accomplish each project.
Feel free to download this printable, but please respect my copyright. This printable is © Copyright 2012 Organizing Homelife and is intended for personal use only. Please do not distribute this file for free or for profit without written consent. Thank you!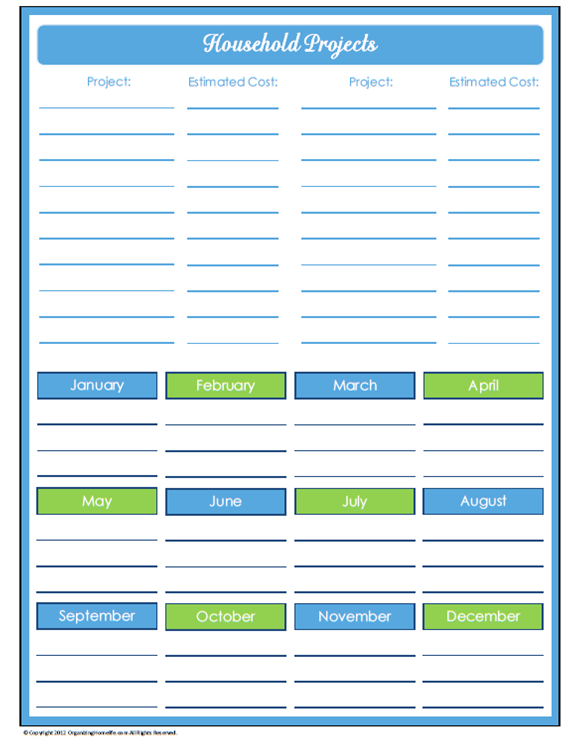 Tips for downloading successfully:
You must have a PDF reader installed in order to view these printables. If you haven't already, please visit adobe.com and download their latest version of acrobat reader. It's totally free.
Printables are viewed the best in Google Chrome, Safari, or Firefox internet browsers. Internet Explorer seems to have trouble with printables.
Feel free to click through to all of the 31 Days below, or you can purchase the entire set in one downloadable file here.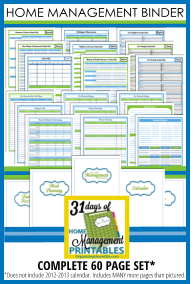 31 Days of Home Management Binder Printables: