Welcome back to Day 3 of our series on building your Home Management Binder.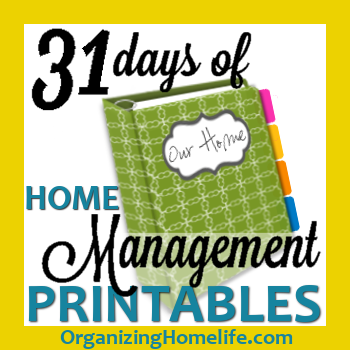 U

p

d

a

t

e

!
You can now find this printable in EDITABLE format in my Printables Shop HERE.
Today's printable is a To Do List with a Daily Time Schedule.  I am such a list oriented person, and this is my most favorite way to organize my time!  I made a sample for you to show you how it works.
1.  First, I write down everything that I know I need to do, buy, or calls I have to make that day.
2.  Next, I fill out the time schedule with things I know are not flexible like ballet lessons and school time (I homeschool my kids, so I have to plan it in :)).
3.  After the "essentials" are filled in, I begin to plan out the things on my to do list.  I try to estimate the time each item on my list will take as best as I can.  Sometimes, it doesn't work out like you plan, but that's life!  Roll with the punches and adjust your schedule.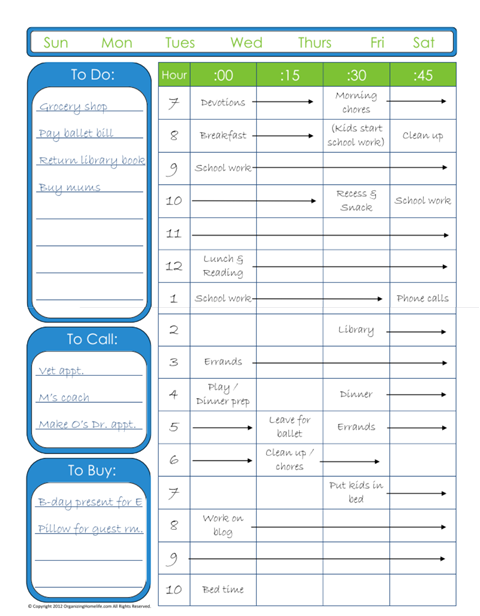 Now, just so you don't think my life is perfect (because it's not! :)), this is a sample, intended to show you how to use it.  Our schedule flexes every day, and some days it's hard to keep a schedule at all!  However, I find that when I plan out the things I know I need to get done by assigning a time to them, I am much more productive than if I just write an unending "to do" list.
Feel free to download this printable, but please respect my copyright.  This printable is © Copyright 2012 Organizing Homelife and is intended for personal use only.  Please do not distribute this file for free or for profit without written consent.  Thank you!
To download the To Do List, click on the image below.  A .pdf file will open in another screen.
P.S.  A little tip to keep you from having to print this out a zillion times:  Print out one for each day of the week, put them each in a plastic page protector, and write on the plastic with a dry erase marker.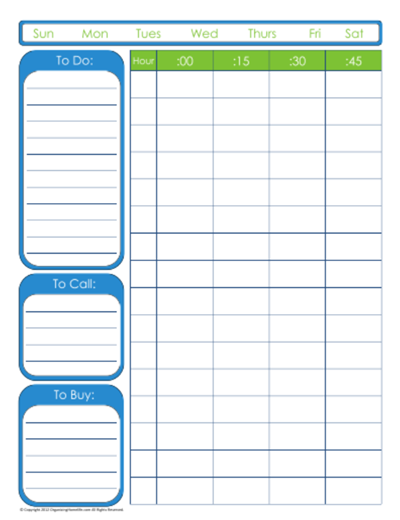 Tips for downloading successfully:
Click on the BLANK image to download the file (not the sample image).
You must have a PDF reader installed in order to view these printables.  If you haven't already, please visit adobe.com and download their latest version of acrobat reader.  It's totally free.
Printables are viewed the best in Google Chrome, Safari, or Firefox internet browsers.  Internet Explorer seems to have trouble with printables.
Feel free to click through to all of the 31 Days below, or you can purchase the entire set in one downloadable file here.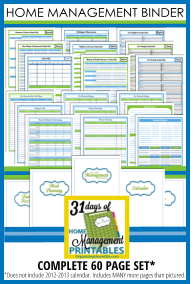 31 Days of Home Management Binder Printables: