Welcome to Day 6 of our series on building your Home Management Binder.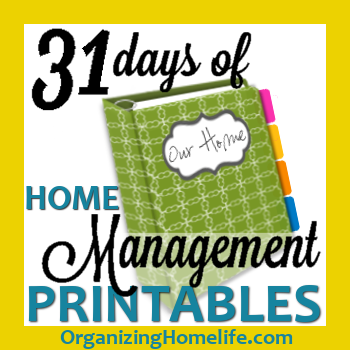 U

p

d

a

t

e

!
You can now find this printable in EDITABLE format in my Printables Shop HERE for just $3.
Today's printable is my Monthly Bill Pay Schedule.  Have you ever forgotten to pay a bill on time?  I have, which is exactly why I came up with a schedule that listed ALL of my bills for the year and when they were due.
I keep my schedule in the front of my bill organizer.  As I go through the month, I check off the box when the bills are paid.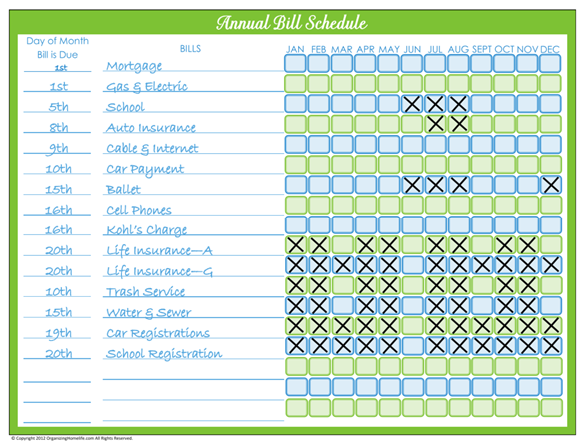 How to use this schedule:
1.  Print out a copy and fill in ALL of your bills for the year.  If you need two sheets (hopefully not! 🙂 ), print them out.
2.  Start by listing your bills by the day of the month that they are due.  For example, our mortgage payment is due on the first of the month, our cable is due on the ninth, etc.
3.  In this example, I listed the bills that are due quarterly and annually at the bottom of the page.  You could do it that way, or just mix them in to the list according to their due dates.
4.  Cross off months that the bills do not need to be paid.  For example, for some reason our auto insurance is on a ten month bill schedule.  Therefore, we don't have to pay that bill in July or August.  So at the beginning of the year, I cross out those two months.  Additionally, I don't have to pay school tuition or ballet lessons during the summer, so I cross out those months.  Some bills only come quarterly or annually, so cross out the months that you don't need to pay them.
5.  Each month as you pay your bills, go down the "month" column and check off the boxes.  If you pay bills once or twice a month, simply check off all the bills you paid at a time.
Now you'll never miss a bill or forget those bills that only pop up quarterly or annually!
Feel free to download this printable, but please respect my copyright.  This printable is © Copyright 2012 Organizing Homelife and is intended for personal use only.  Please do not distribute this file for free or for profit without written consent.  Thank you!
To download, click on the image below.  A .pdf file will open in another screen.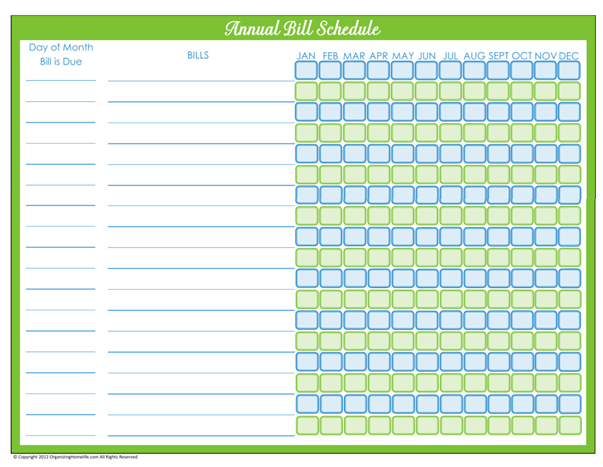 Tips for downloading successfully:
You must have a PDF reader installed in order to view these printables.  If you haven't already, please visit adobe.com and download their latest version of acrobat reader.  It's totally free.
Printables are viewed the best in Google Chrome, Safari, or Firefox internet browsers.  Internet Explorer seems to have trouble with printables.
Feel free to click through to all of the 31 Days below, or you can purchase the entire set in one downloadable file here.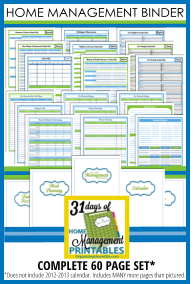 31 Days of Home Management Binder Printables: