Welcome to Day 7 of our series on building your Home Management Binder.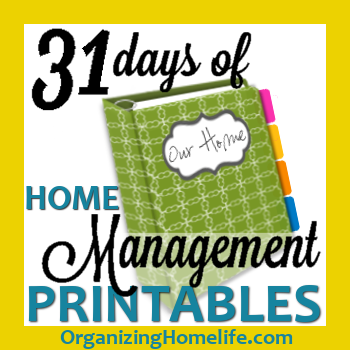 U

p

d

a

t

e

!
You can now find this printable in EDITABLE format in my Printables Shop HERE.
Today's printable is my Monthly Budget.  I realize that people use all types of budgets and share many different opinions on the subject of budgeting their money.  I do not intend to offer financial advice or suggest that this is the only way to budget.  Nor do I wish to offend anyone who is struggling financially or is out of work.  I hope this budget will be an inspiration to you to help you gain control over your money so it doesn't control you!
I decided to share with you the budget I use and how it has helped my family.  It is based on Dave Ramsey's Total Money Makeover.
I didn't think I could live with a budget, but after reading the inspirational stories of real life families in his book, I was willing to give it a try.  I am SO glad I did.  It takes a little getting used to, but I began to realize very quickly how much money I was spending on unimportant things.  I thought I was frugal and didn't waste money – until I read the book. 🙂
Now, just in case you're wondering, I'm not turning this post into a preaching session on how Dave Ramsey saved us from financial ruin.  I am going to tell you that setting up a budget for your family is one of the best financial choices you can make, but it has to be a personalized budget that works for you!
Here is what my budget looks like.  Feel free to download it, but please respect my copyright (listed below).
To download my budget, simply click on the image.  There is a blank one at the end of the post, too!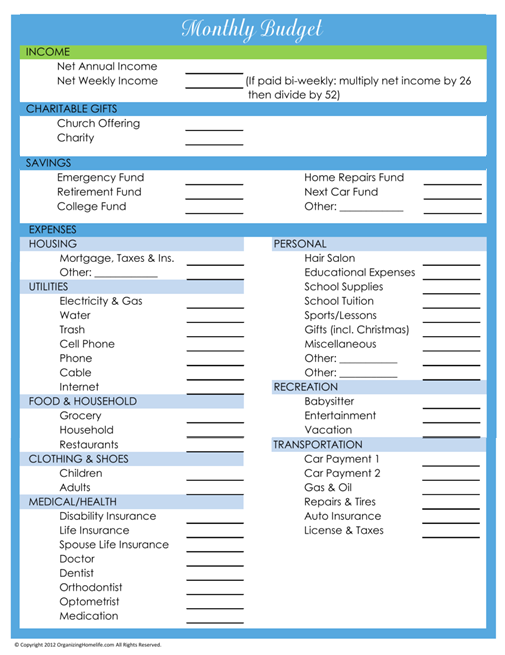 Here is how I set mine up:
1.  Write your net annual income on the first line.  If you are paid weekly, you already know what you earn each week. 🙂  If you are paid bi-weekly, multiply your net income by 26, then divide it by 52.  That will give you the total amount of money you have to save and spend each week.
2.  We give an offering out of every paycheck, so I take that out first.
3.  From here on out, you will be subtracting from what is left of your weekly income.
*Note* This may take some time and adjustments over the course of weeks or months until you come up with a budget that works for you!
4.  Using the same method as described for your income, you need to figure out how much money will come out of your weekly pay for ALL of your expenditures (even your trips to Starbucks).  If it's a monthly bill like your mortgage, multiply it by 12 and divide it by 52.  For example: If your mortgage is $1,000 per month, you would multiply it by 12 = $12,000/year.  Then divide by 52 = $231/week needs to come out of your weekly pay.  If you have a quarterly bill, multiply by 4, divide by 12.  Get it?  If you spend $15 bucks a week on coffee, budget it in!
5.  Fill in all of your essential, non-flexible expenses first.  That includes your mortgage, car payments, etc.  These are bills that you know are the same every billing cycle.
6.  Next fill in your essential bills that have fluctuations in expense, like your gas and electric bill.  Look at your bills over the last 12 months.  Add them up and divide by 52.  That will give you an average of how much you spend per week on gas and electric.  If it looks like you're taking way too much out each week, just remember, winter heating bills are coming (or summer's air conditioning)!
7.  Next, begin to fill in the categories that you have some control over like groceries and clothing.  They ARE necessities, but you obviously aren't going to spend $100 on a new pair of shoes if you need new tires on your car in the same week.  You might need to shop at a discount store for shoes if you must have them that week.  There IS flexibility there.
8.  Definitely plan in the fun!  Don't forget to budget for your favorite things!  No one can stick to a plain ol' boring diet, and no one can stick to a too-tight budget, either!  If you know you're tight on money, but you really want to go to lunch with your friend this week, plan for it!  Have spaghetti for dinner, or skip those extra trips to McDonald's this week.
9.  Remind yourself that you can do it!  This budget works for me because although there are definitely weeks where I'm bummed because the money is gone before the week is out, I know it will reset for the next week.  We get paid bi-weekly, but since our budget has been set up weekly, the amount of money I am allotted to spend is renewed every week.  Some things must purchased, but most things can wait for a week. 🙂
10.  Most importantly, when you begin to budget, you are making sure you know where your money is being spent.  You know you are paying your bills responsibly, not racking up debt, and you don't have to feel guilty about having fun!
I cannot recommend Dave Ramsey's books highly enough.  He explains all of this in much greater detail than I can get into in this post.
Best wishes as you begin your new budget!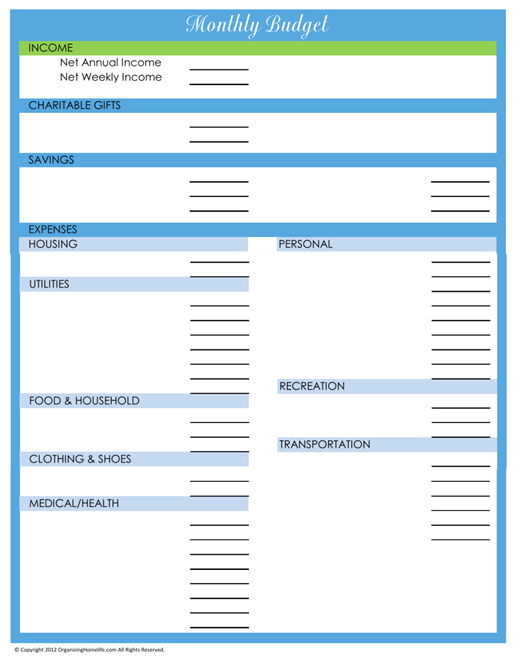 Tips for downloading successfully:
You must have a PDF reader installed in order to view these printables.  If you haven't already, please visit adobe.com and download their latest version of acrobat reader.  It's totally free.
Printables are viewed the best in Google Chrome, Safari, or Firefox internet browsers.  Internet Explorer seems to have trouble with printables.
Feel free to download this printable, but please respect my copyright.  This printable is © Copyright 2012 Organizing Homelife and is intended for personal use only.  Please do not distribute this file for free or for profit without written consent.  Thank you!
Feel free to click through to all of the 31 Days below, or you can purchase the entire set in one downloadable file here.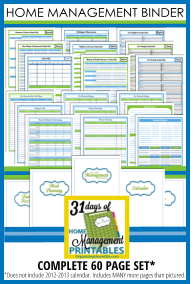 31 Days of Home Management Binder Printables: