For the month of October, we had a blast building our Home Management Binders.  I personally wanted to update mine, so it was a perfect opportunity to get it done.
It's hard to believe how many printables can fit in one binder, but building a detailed binder is oh, so helpful, isn't it?  Today, I'm going to show you how I assembled my binder.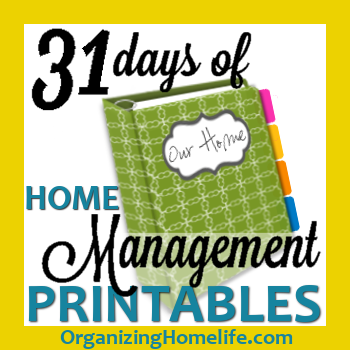 Starting off, I'm going to show you an easy solution to a common problem.  We all love plastic page protectors, don't we?  They are great for protecting our documents, but they are awesome for making any paper reusable with a wet or dry erase marker.
But, there's a little problem.  Have you ever tried using tabbed dividers to organize a binder with page protectors?  I have no idea why companies haven't discovered yet that we want some tabbed dividers that are large enough to stick out past the page protectors!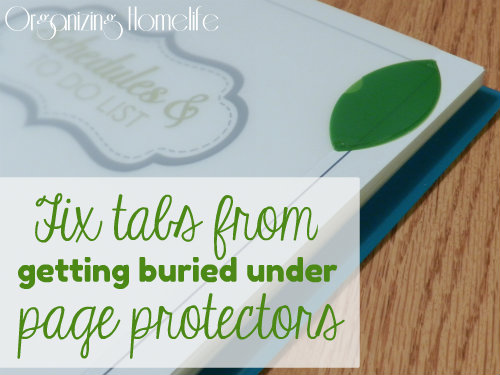 There is a simple solution, it just takes a little extra time…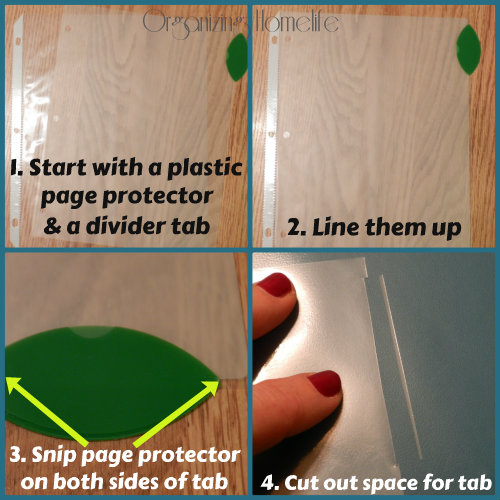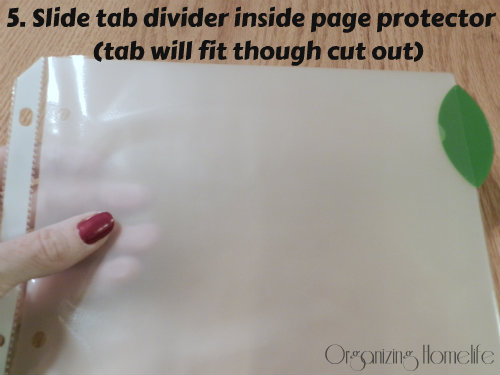 Repeat the process with each tab so your alignment is right for each one.  Insert your Section Dividers to cover the plastic dividers.  Label your tabs.
Problem solved!  Now your tabs will extend past the page protectors.  Don't you just love simple solutions?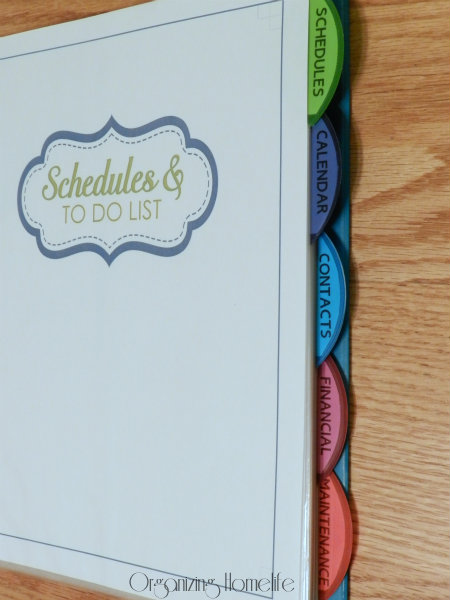 Do you like the tabs I used?  I found mine at Walmart, but they are also available on Amazon.  I used my label maker to label each tab.
As I mentioned throughout the 31 Day series, I like to keep my menu planning and recipes in a separate folder.  I will write another post to show how I put that binder together.
Here is how I put together my Home Management Binder:
I like to use a little pen/pencil pouch in the front to store things like my fine tipped wet erase markers, post it notes, stamps, etc.  I like this one because it has two separate sections.  I keep the pens in the front for easy accessibility.
***Note: I prefer WET erase markers so the writing doesn't smudge off accidentally.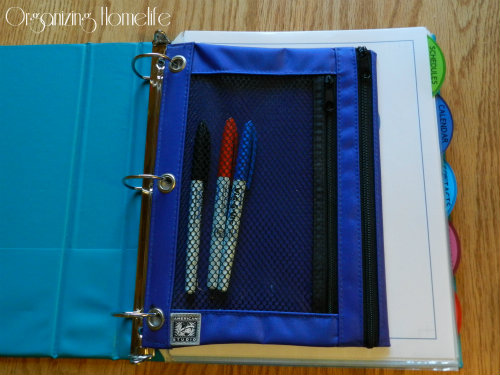 I'm going to show you the order of my binder, but definitely assemble yours in a way that works for you!
I like to put my Schedules & To Do Lists first.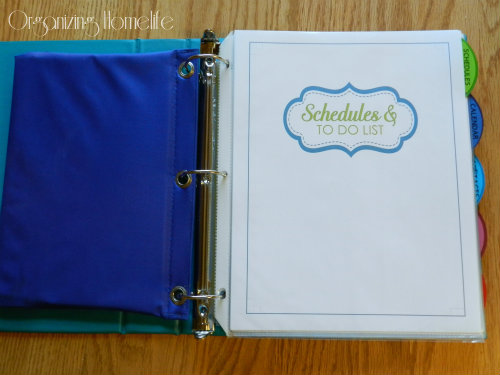 I use my Daily and Weekly Chore Schedule and Monthly Zones Schedule frequently, so for me it makes sense to have them first.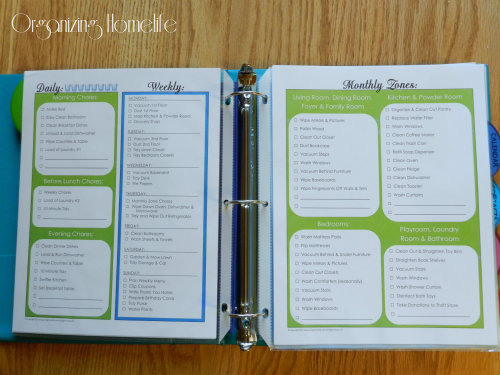 I thought about neatly re-writing my "to do list" so you would see how neatly I can write, but this is real life, so welcome to my chicken scratch, I mean writing. 😉
I like to use pocket dividers at the end of each section to hold papers pertinent to that section.  At the end of the Schedules tab, I keep papers that I will need like the schedule for my daughter's Christmas ballet performance.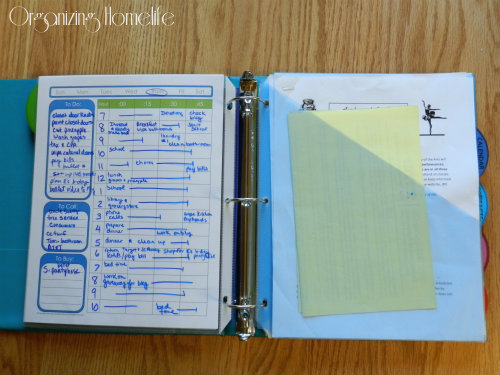 Next is my Calendar.  I put mine in page protectors since I deal with everything in my kitchen, but you could just print them out double-sided and hole punch.  I sometimes need to refer to months past, so instead of removing them or flipping through many pages, I use a paper clip to easily access the current month.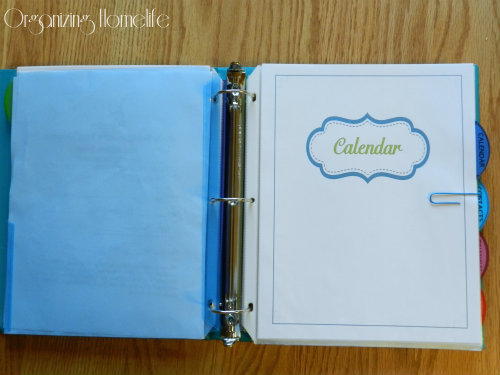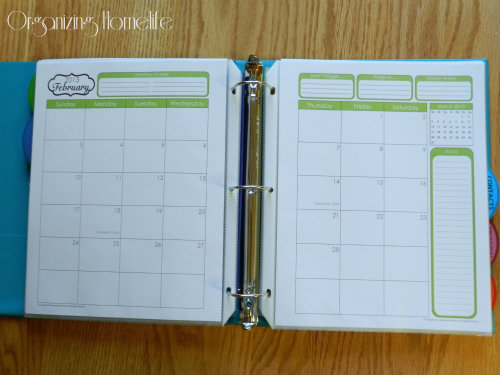 At the back of the Calendar section, I have my Birthdays and Anniversaries printable.  I put cards for upcoming special days in the pocket divider.
Right behind the divider is the Contacts section where I keep the addresses of my closest family and friends – typically, the ones I would be sending cards to. 🙂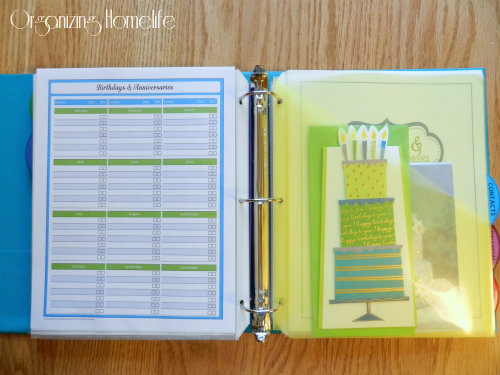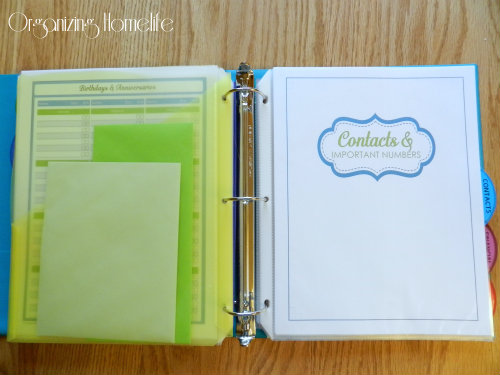 In the Contacts section, I keep all of the important phone numbers and contact information for:
Insurances, Medical Information, Utilities, Family, Friends, and Neighbor Contacts as well as important information like Website User Names & Passwords.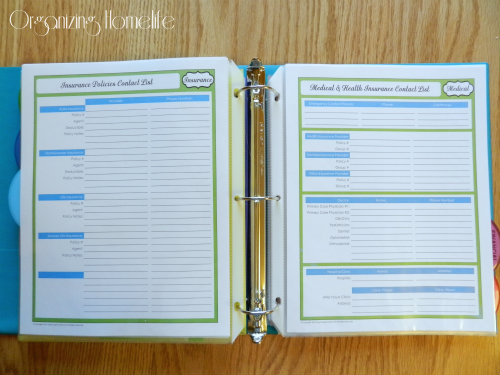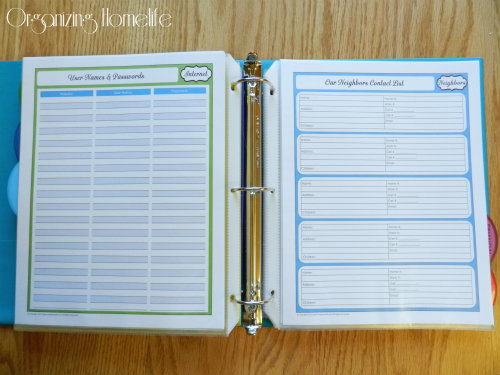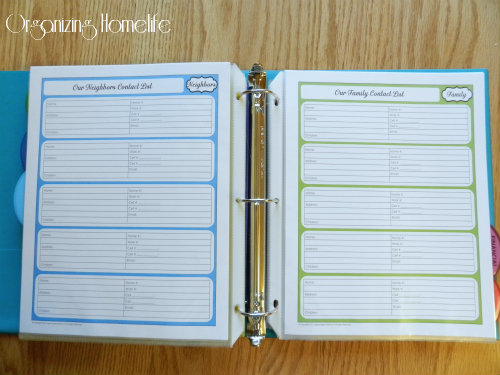 At the back of the Contacts section, I have the Babysitter Notes printable.  When the sitter comes over, I can easily pull this page out of the binder so she doesn't have access to all of my other important information.  In the event of an emergency, she could be directed to the binder for medical information if needed, or those pages could also be taken out if desired.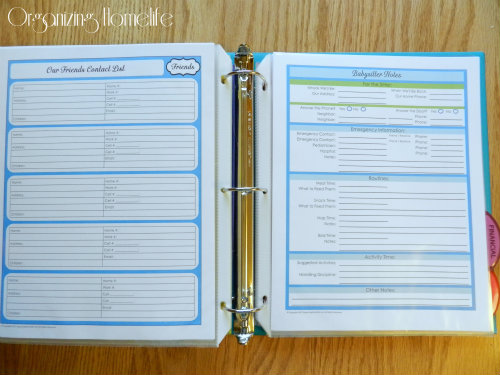 Next in my Financial section, I keep my Annual Bill Schedule, Monthly Budget and a pocket divider for bills that need to be paid.
Lastly, I have the Maintenance section where I keep my Home Maintenance Schedule, Household Projects and Auto Maintenance schedules.  Occasionally I refer to the home maintenance schedule and enter tasks on my calendar in the "Monthly Chores" section.  I enter the date on this printable for reference.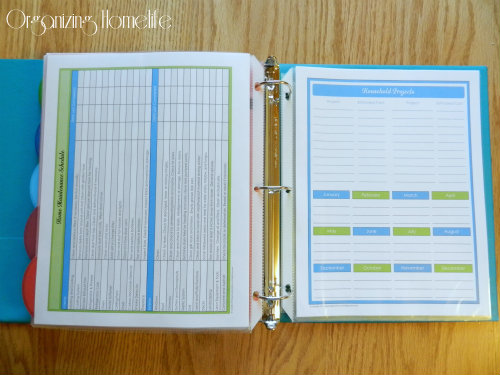 I created a section divider for Goals as that is something I am planning to add to in the future…a real live goal, haha! 😉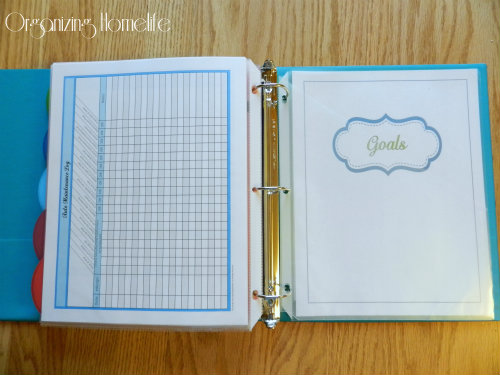 Since I homeschool and our situation is a little different than "normal", I keep a separate homeschool binder, but you could definitely add a school section to your binder with the School printables, if applicable.
I will be adding more printables occasionally to continue building our binders.  If you have suggestions for future printables, I would love to hear them.
And speaking of printables…
Check back tomorrow for an oh, so fabulous giveaway!!!  You're gonna love it! 😉
The 31 Days to Home Management Binder Printables Series: