Beginning on October 1st, The Nester will be hosting a "31 day" event where bloggers choose a topic and blog about it for 31 days in a row.  Whew!  Just in case you're wondering how in the world anyone could keep up with it, the posts are intended to be short and sweet.
I have decided to participate this year, and I'm so excited about the topic I chose!  I'm going to be offering FREE printables for your Home Management Binders!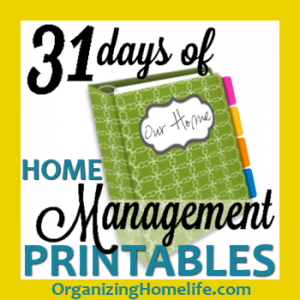 I have been wanting to update my personal binder for a long time, and I thought this would be the perfect opportunity to get moving on that project.
So what will happen?
Every day for the month of October, you will find a new printable for your binder.  I'll begin with the cover and take it all the way through to the end.  Obviously, not all of you will need every single page, but you are welcome to print out those that apply to you and build your binder right along with me for the next 31 days.
At the end of each post, there will be links to all the other pages in the series (in picture form), so if you come along after the start of the series, you'll be able to find all the printables easily.
Will I be posting anything else in October?
You bet!  I have some other posts planned, and they will be scattered throughout the month.  If you follow me by email, some days you may get two emails if I post twice.  Be sure to check both of them because they will be different!
I hope you'll join me on the challenge to build a new and updated Home Management Binder!
If you would like to follow the series and put a button on your blog, I'll love you forever! 😉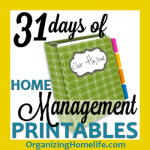 <a href="http://www.organizinghomelife.com/archives/4275" 
target="_blank"><img src="http://96.30.21.56/~organiz
/wp-content/uploads/2012/09/31DaysButton-150x150.png" 
alt="OrganizingHomelife.com" width="150" height="150" /></a>
31 Days of Home Management Binder Printables: