This giveaway has ended.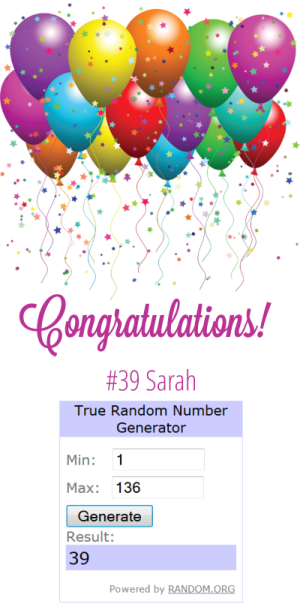 A few weeks ago, I introduced you to Scotch-Brite's new Stay Clean product line and I'm happy to tell you about another great new product this week!
You're probably familiar with dishwands and also with Scotch-Brite's heavy duty scouring pads, but did you know that the folks at Scotch-Brite combined the two and have a new product called the Clean Curve Dishwand?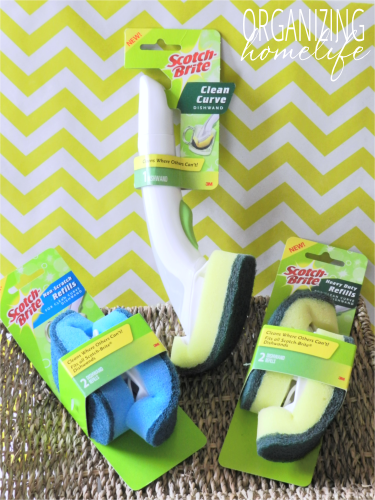 Scotch-Brite had a super "brite" idea in my opinion when creating this dishwand! These brand new Clean Curve dishwands have a unique curved pad shape that makes it a cinch to clean hard to reach places all over your kitchen!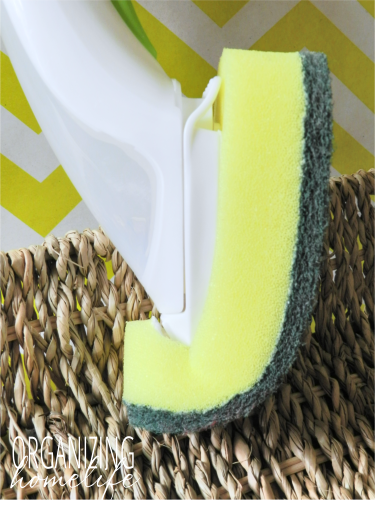 We have super hard water where I live and even with a water softener I can hardly keep my sink looking clean.  I don't mind wiping it down regularly, but I don't love scrubbing it!  One of my favorite products for cleaning and shining my sink is Bar Keeper's Friend, but it does a number on my nails ~ especially when I'm scrubbing the corners of the sink.
When I saw the Clean Curve, I immediately began thinking of all the uses I would find for it.  But one thing I was so excited about when I tested it was how well and easily it cleaned my sink – without ruining my nails (and we all know how important that is! 😉 ).
Here is a picture of my "clean" sink before using the Clean Curve Dishwand.  I try to keep it pretty clean, but can you see those hard water stains?  Ugh.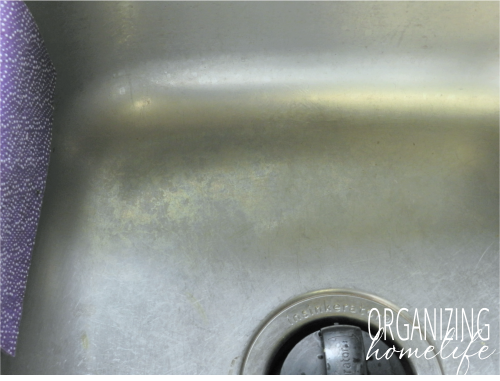 I used about 1 Tbsp. of Bar Keeper's Friend and mixed it together with 1/4 cup of water.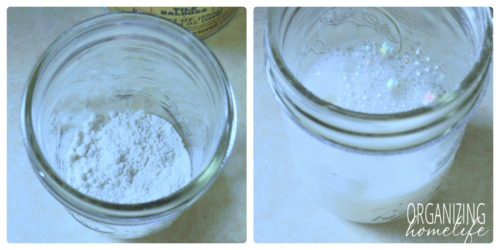 Then I unscrewed the cap on the Clean Curve Dishwand and poured in the mixture.  It spilled a little because the hole is not very large, but I think it's probably intended for dish soap more than the mixture I used.
Cleaning the corners was SO easy and didn't mess up my nails at all!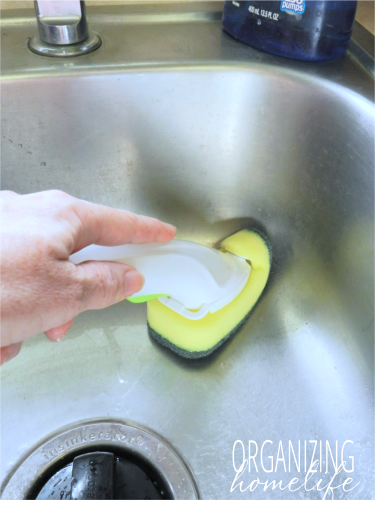 I was thrilled with the results, to say the least!  It was so easy and turned out so well, my sink is going to shine much more than it did before.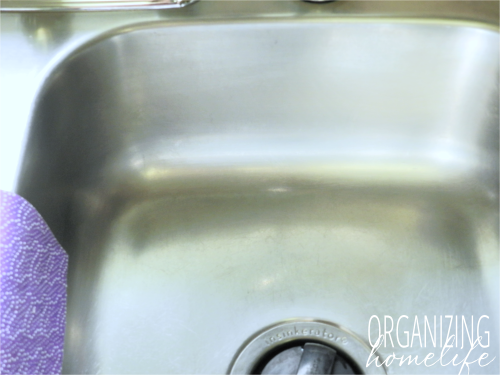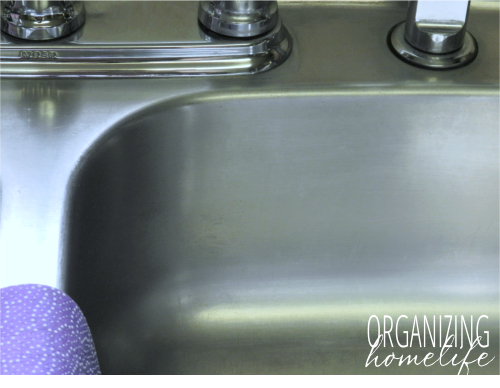 I used the heavy duty sponge attachment for this job, but there is also a non-scratch lighter duty attachment (the blue one) for cleaning glasses.
I tried it out on a tall coffee mug, and it was simple to get way down to the bottom of the mug.  With a few swishes, the mug was clean.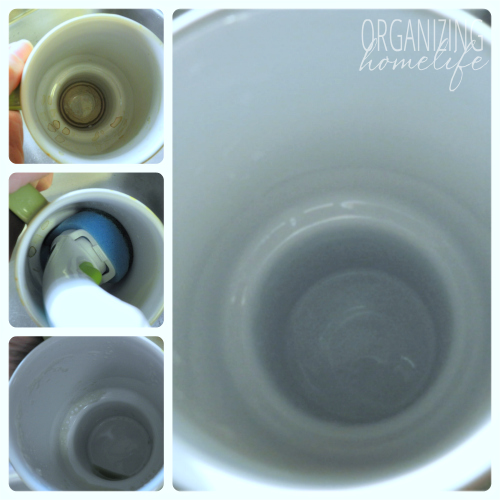 I did have one more idea that I wasn't sure would work, nor did I plan on testing it for this post, but I'm SO glad I decided to take pictures before and after I did it.
I'm sure you've seen amazing before and after pictures all over Pinterest of how people cleaned and shined their baking pans.  Well, I have this one pan…this pan is SO ugly.  I use it on my grill and therefore it has taken a beating.  Now, just in case you think I'm fanatical about my nails, I'm not, but I really don't love scouring things until my nails are worn down to nothing.  I'm the only one who has to look at this pan, and I never thought I'd put a picture of it on my blog, but here goes.  By the way, it's the pan that I use to make my Roasted Grilled Veggies that ALL four of my kiddos eat.  You can see that recipe here.
No matter how much scrubbing I have given this pan, I have never been able to get off the fired-on grill "grunge".  I do admit that I never thought to use Bar Keeper's Friend on it before, but I could. not. BELIEVE! how simple it was to get that off with this dishwand!!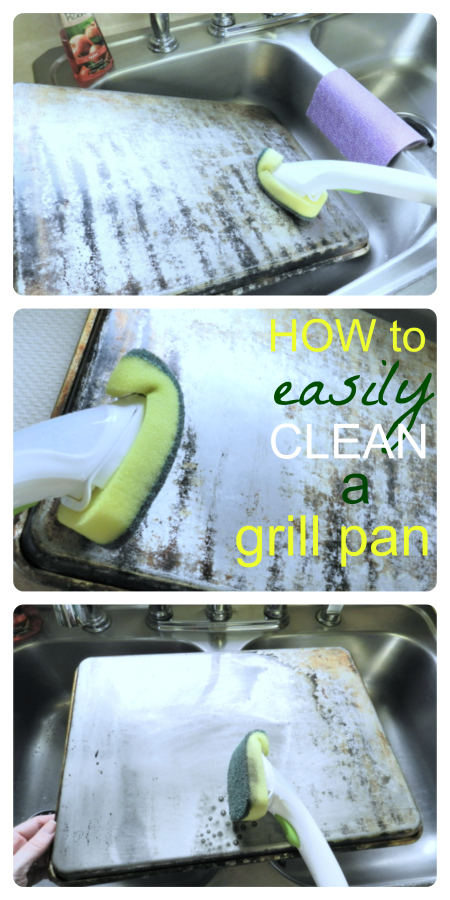 This literally took me about 30 seconds to clean it this much.  I'm not kidding.
So, I decided to tackle the edges.  Again ~ 30 seconds, no damaged nails and a pan that looks SO much better!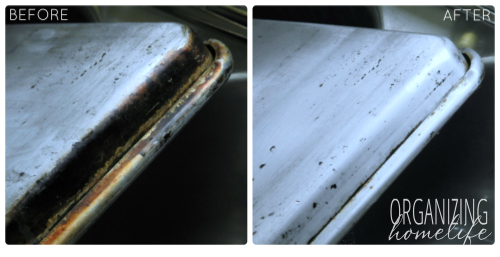 Here are some of the great features of the Clean Curve Dishwand:
It has a clear handle that allows you to see your soap level, and also has a soap-release button for easy dispensing.  To refill with soap, simply twist off the cap, fill it with dish soap, and twist back on the lid.  When your sponge starts to wear out, simply replace the sponge with a refill.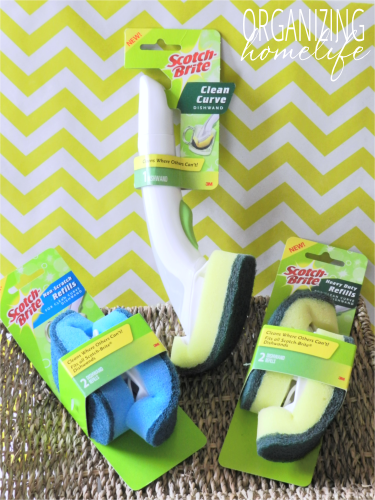 How Would You Like to Try It?
I've got a challenge for you!  Since most people hate the necessary evil of cleaning, tell me how you make cleaning fun?  Simply leave a comment below with your best tip and you'll be entered to win a Scotch-Brite Clean Curve bundle including:
Clean Curve Dishwand
Clean Curve Heavy Duty Refills
Clean Curve Non-Scratch Refills
Set of 4 Glasses
Package of Paper Straws
The Fine Print:
One winner will be chosen randomly using Random.org to receive a Scotch-Brite Clean Curve bundle including a Clean Curve Dishwand, Clean Curve Dishwand Heavy Duty Refill, Clean Curve Dishwand Non-Scratch Refill, a Set of 4 Glasses, and a Package of Paper Straws.
No purchase necessary.
Open to U.S. Residents only.
Entrants must be 18 years or older.
Giveaway begins Saturday, August 31, 2013 and ends at 11:59 p.m. eastern time Sunday, September 8, 2013.
Winner will be e-mailed and announced here on Monday, September 9, 2013.
Winner has 7 days to respond to e-mail.
This post was sponsored by 3M Scotch-Brite.  My opinions are 100% my own and I was not influenced to write a positive review.  If I don't like a product, I'm not going to tell you to buy it!