Are you ready for spring?  I KNOW I am!  The bright sunshine, longer days and warmer weather always inspire me to get so much done!
My friend Becky of Clean Mama just released her brand new ebook, Cleaning Around the Seasons: Deep Cleaning On Your Schedule.  It's an ebook that will help you get your home well cleaned no matter what the season!  She sent me a copy, and once again, she has totally inspired me!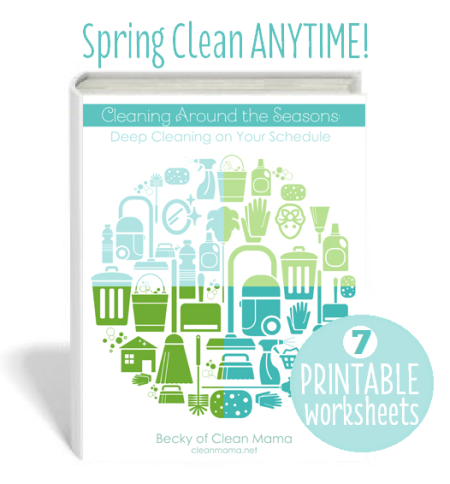 I have a very busy schedule, and deep cleaning isn't something I have much time for.  It's hard enough keeping up with my daily cleaning schedule.  But, Becky's book will help you get started where you are.  Busy schedule?  She's got you covered!
This ebook is perfect for those who desperately need to get some deep cleaning done, but don't know where to start or how to fit it into their busy schedule.  It's an easy read with quick start approach to help you begin today.
I'd love to introduce you to Clean Mama's newest ebook…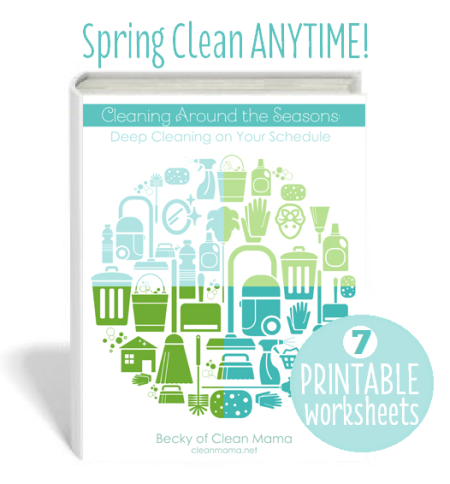 What's included in
Cleaning Around the Seasons: Deep Cleaning On Your Schedule?
6 quick read chapters
Chapter 1 The Motivation – Seasonal and Deep Cleaning
Chapter 2 First Things First – De-Clutter
Chapter 3 Choose Your Method
Chapter 4 Gather Your Supplies
Chapter 5 How to Start Deep Cleaning
Chapter 6 Ideas for working Deep Cleaning into a Full Schedule
7 printable guides to help you through the process: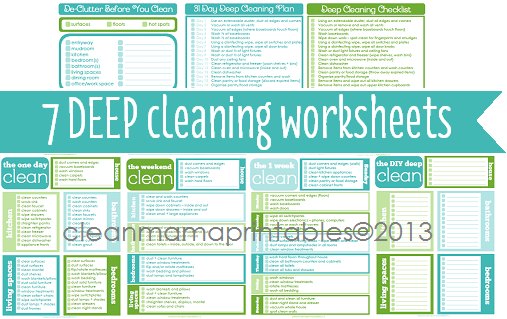 De-Clutter Before You Clean Checklist
The One Day Clean
The Weekend Clean
The One Week Clean
The 31 Day Method
The Deep Cleaning Checklist
The DIY Deep Cleaning Checklist
Clutter and chaos taking over your life? Need some motivation and insight to figure out the best way to do a little deep cleaning? Hop on over to the Clean Mama blog to learn more about Cleaning Around the Seasons: Deep Cleaning On Your Schedule and to purchase your copy today!
If you haven't had a chance to check out Clean Mama's first ebook, Pulling Yourself Together: Implementing a Cleaning Routine That Sticks, you should definitely check it out!  It's another great resource for helping you clean your home on your own schedule!
This post contains an affiliate link.  I will receive a small percentage of each book purchased through my site.  My opinions are 100% mine and are not influenced by potential income.  If I don't love something, I don't post about it!  Read my full disclosure policy here.