I've been working hard on updating my son's room and installing his new organizational closet system. See the "before" pics of his closet here. Today I'm going to show you the closet design I created for him and how I put it all together.
Yesterday I shared some awesome news with you. If you missed it, you have a chance to win a custom closet system, made by my favorite closet organizing company – EasyClosets! Watch for details coming soon.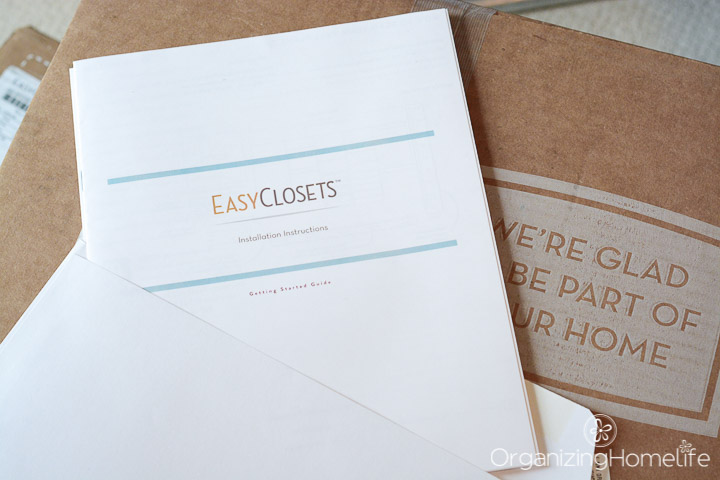 Once the boxes arrived, I had them carried to my son's room. There are a LOT of boxes, but I decided it might be easier to open them and organize the parts right in his room. This is our third EasyClosets system (see my girls' room closet here and our master closets here), so I'm kind of familiar with how many boxes there are.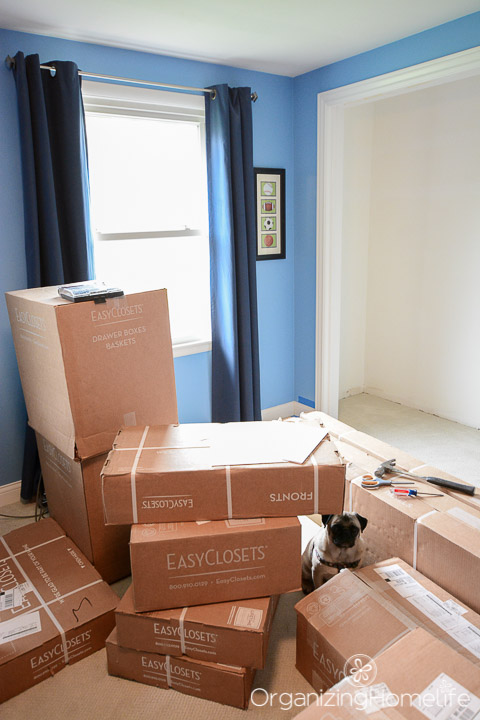 There's a reason for so many boxes, though. When I tell you the parts are packed with care, it is an understatement! Check it out…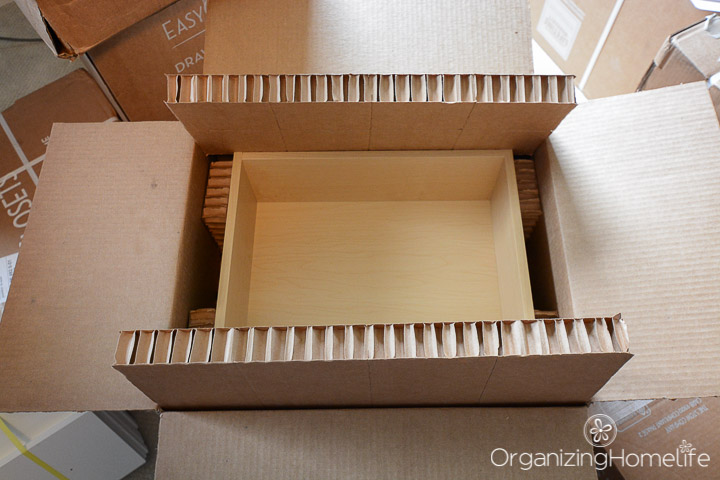 Seriously. They are packed so well is impossible to imagine anything arriving damaged. I was totally shocked that one of the drawers did arrive broken this time (a first), but was once again totally impressed by this company. I had the new drawer in my hands literally two days after I reported the damage.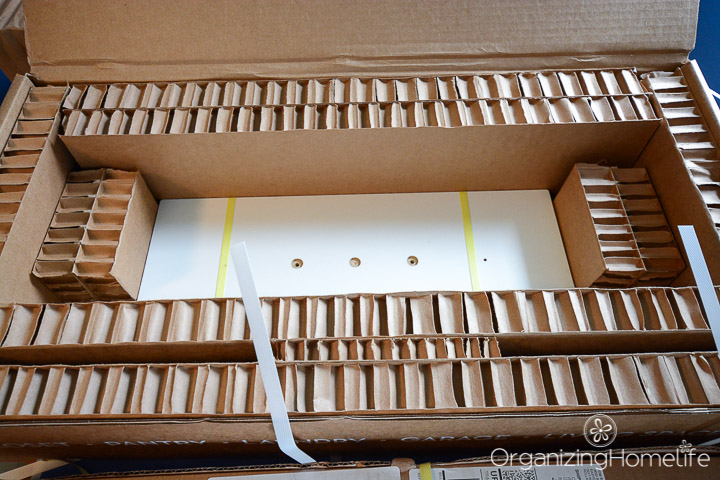 Once I took the parts out of the boxes, I organized them according to size. I highly recommend this step.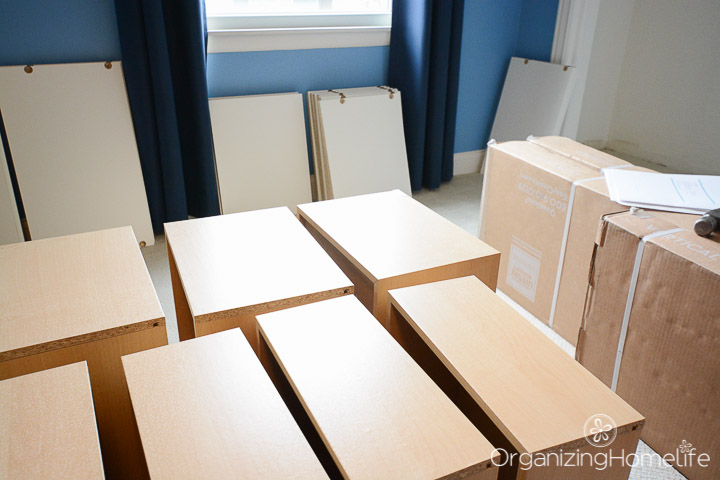 The instruction booklet that comes with it is customized according to YOUR closet so you're not reading through a multi-lingual manual looking for what applies to your "model". It's laid out step by step to make installation smooth.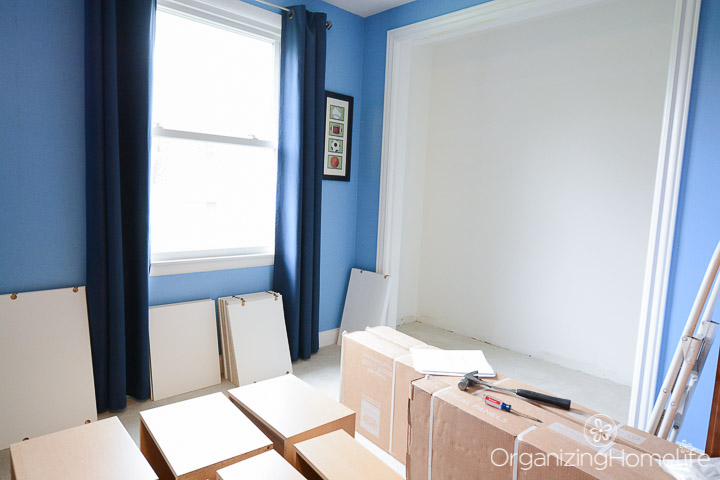 I chose soft close drawer glides as I did with my other closets because they are soooo nice and well worth the upgrade.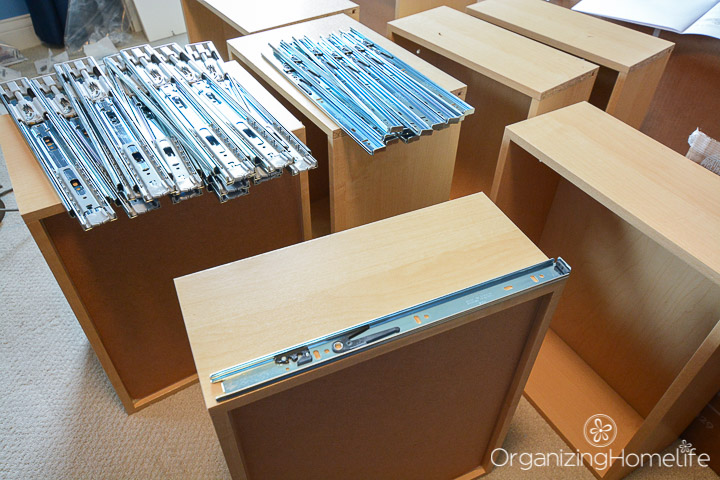 These may look a little intimidating if you aren't very handy, but they aren't bad to install. The two parts separate and attach with two screws each. One part goes in the closet, the other goes on the drawer box.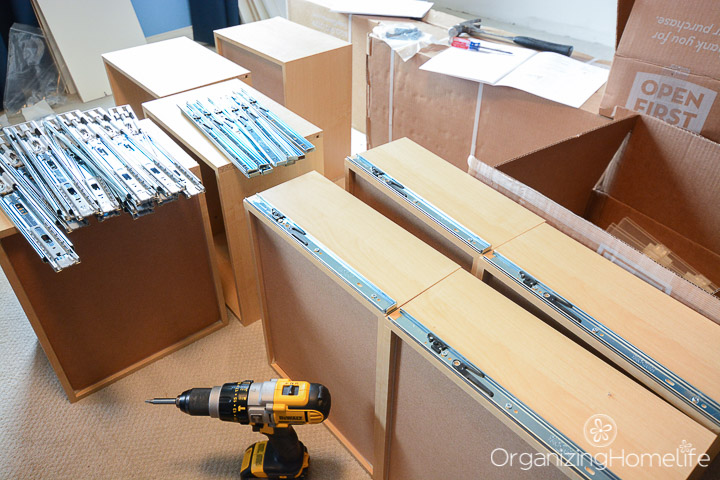 I screwed the glides onto the drawer boxes while my hubby measured.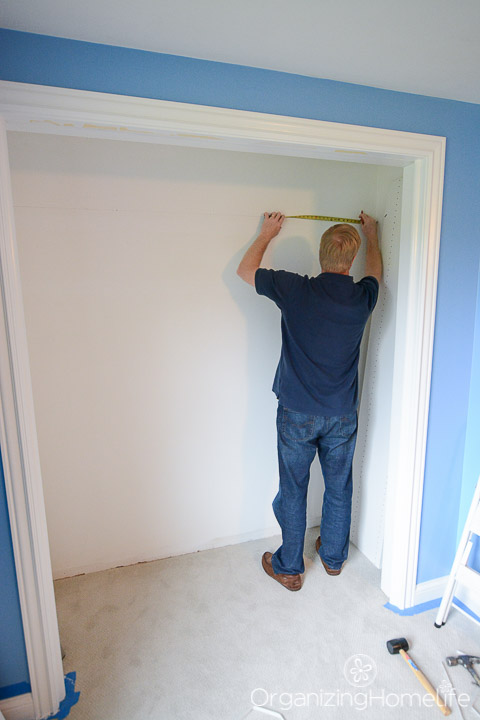 Once he was finished, I was off and running and handled the rest of the installation by myself.
Here are the second parts of the drawer glides being installed.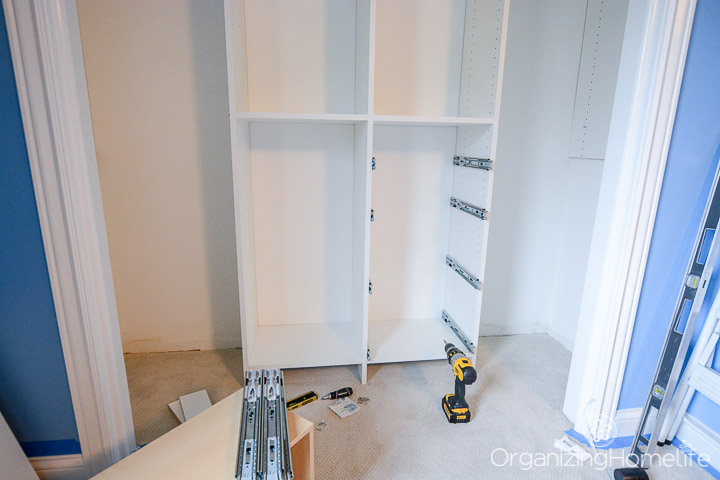 They're so easy, it's almost fun. Just level the glide and screw it in.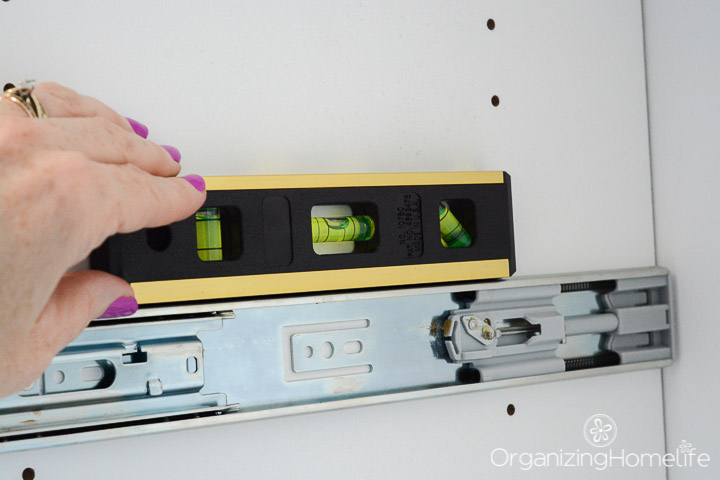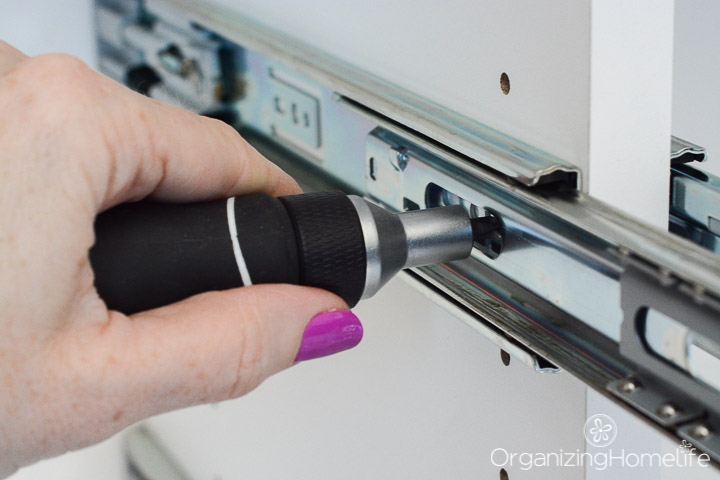 I prefer the look of the drawers going all the way to the floor in the closet. I think it makes good use of space and prevents kids from jamming stuff in the bottom of their closets. If you choose this option, you'll get a toe-kick for a finished look.
One tip I'll share to make the toe-kick installation easy is to put it on top of the bottom shelf and draw a line. Then you'll know how much space you have for your screw so it doesn't wind up too close to the edges of the toe-kick. Also, pre-drilling makes the screw go in easier and not cause damage to the wood. The line and the screws are hidden by the drawer once it's installed.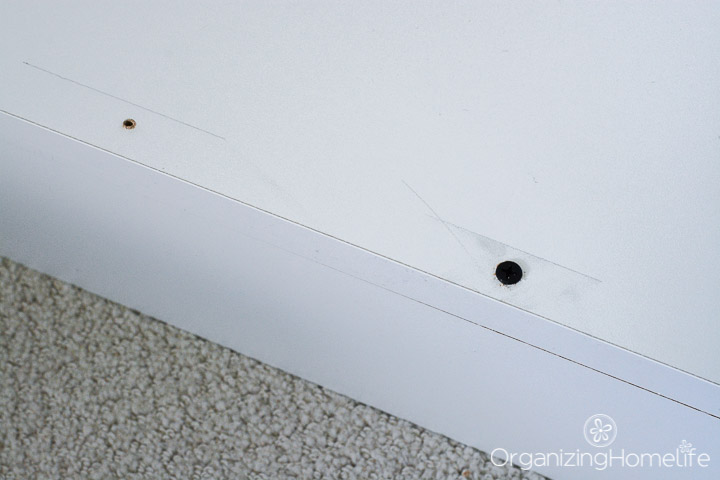 I love the extra features they offer. The valet pole is one of my favorites. It's so nice to have a place to hang your outfit for the coming day or just to have somewhere to put together an outfit.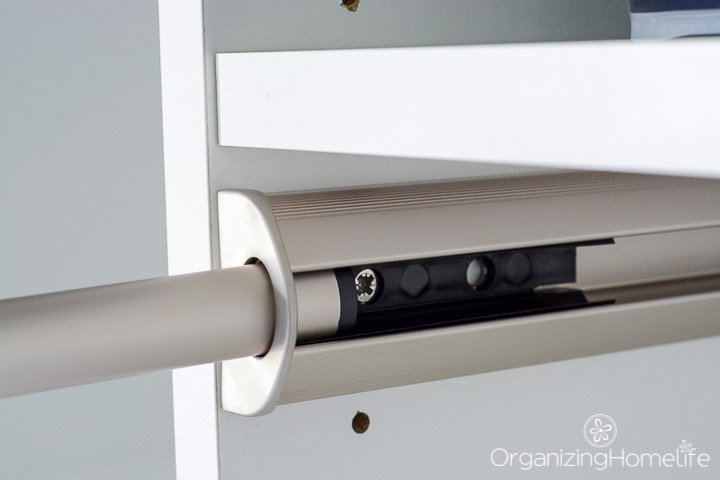 And here it is – ready for organization! What do you think? I am in love.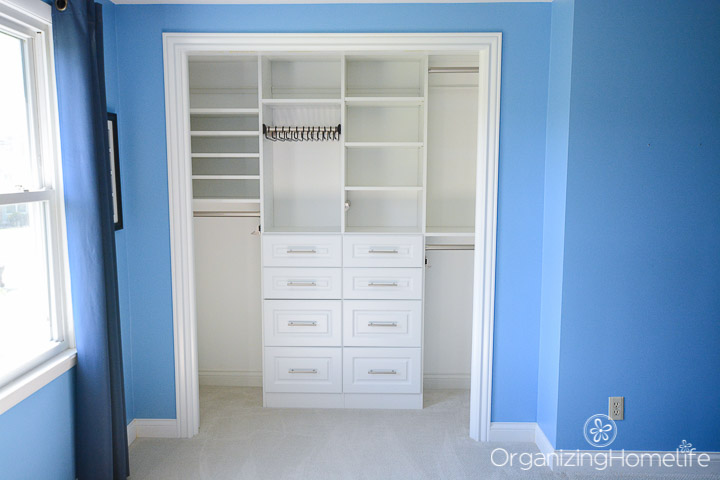 If you look closely, you'll see some added features that I'll show you in the final reveal. See you then!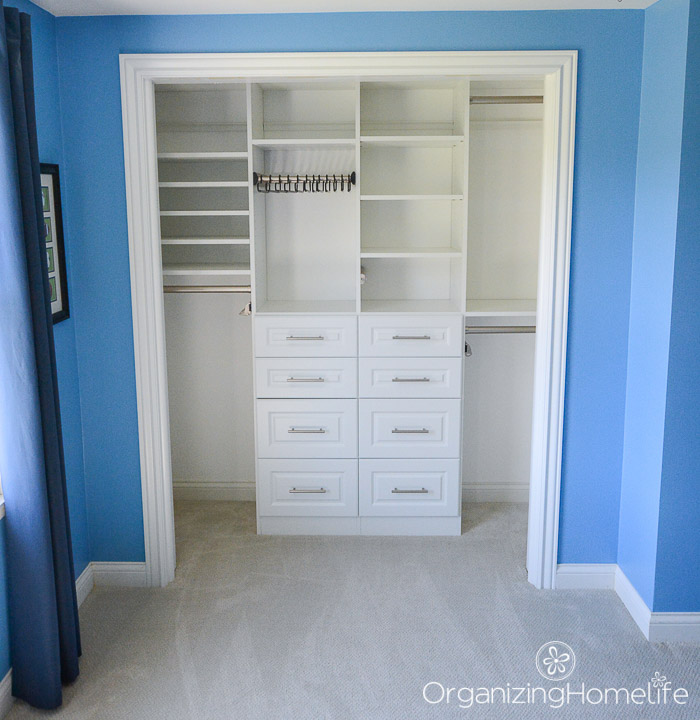 Disclosure: EasyClosets provided this closet for me in exchange for an honest review. I was not influenced to offer a positive review. All opinions are 100% my own. I only offer my readers reviews of products I love and use in my own home. See my full disclosure policy here.