CONGRATULATIONS to winners:
#66 – Lyn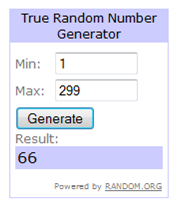 and
#5 – Laura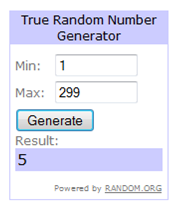 on winning Let. It. Go. and The Complete Guide to Getting & Staying Organized by Karen Ehman!
A few weeks ago, I attended a blog conference where I was given a number of books and other goodies in a "swag" bag.  When I had some down time, I sorted through the books and found a copy of Let. It. Go. How to Stop Running the Show & Start Walking in Faith by Karen Ehman.  After perusing it a bit, I put it straight to the top of my "to read soon" list.
Just a few short days after I returned home, I was contacted by Karen and asked if I would do a review of her new book.  I started reading the copy I had received and really enjoyed it, so I decided to join her blogger book tour and help promote her awesome new book!
I checked out Karen's blog and immediately felt a connection with her.  She is a woman with a heart for God, who desires to help women learn how to control what they can & trust God with what they can't.   Do you struggle with control—your kids, your hubby, your time and circumstances?  Then this book is for you!
LET. IT. GO. How to Stop Running the Show & Start Walking in Faith

By Karen Ehman

Foreword by Candace Cameron Bure

Women are wired to control. We make sure the house is clean, the meals prepared, the children are dressed, and everyone gets to where they're going on time. But sometimes our strength of being conscientious can morph into the weakness of being a slight—or all out—control freak! This humorous, yet spiritually practical book will help you to:

Take control of your schedule yet welcome interruptions from God
Draw the line between mothering and micromanaging
Influence your husband instead of manipulating him
Learn to control your emotions when you can't control the circumstances
Stop pursuing the appearance of perfection and start pursuing the person of God

NOTE: A 6-week teaching DVD and Bible Study guide is also available for group and individual use.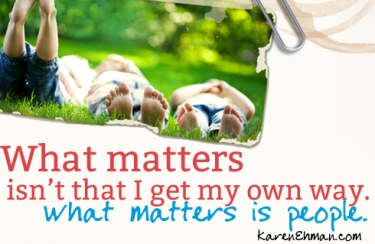 And I have some super-sweet news for you (oh, I just love sharing great things with you all!! 🙂 )…
Karen is offering 2 readers of Organizing Homelife an opportunity to win not one, but TWO of her books!
Yes, you read that correctly, two of my readers have an opportunity to win both Let. It. Go. AND one of Karen's other books, The Complete Guide to Getting & Staying Organized!
I know you love organizational tips, help with managing your time, and putting your family first, and that is exactly what The Complete Guide to Getting & Staying Organized is all about!
The Complete Guide to Getting & Staying Organized

The key to good organization is not a one-size-fits-all method. It is a unique plan that considers personality type, lifestyle, income level, and family schedule. Karen believes that with her simple step by step process moms can recognize their own personal style of managing their households successfully and develop a unique plan that gives them the freedom to:

manage their time wisely
de-clutter and organize their homes
plan menus, shop more efficiently, and become more comfortable and creative in the kitchen
get children involved in pursuing an ordered life and home
avoid the trap of overcommitment
use practical tools to assist in organization

Getting and staying organized means more time for the important things in family life — concentrating on cultivating a close, personal relationship with the Creator, drawing His word into every aspect of living, and ultimately tying their children's heartstrings to God.
BONUS!
And if winning both of these amazing books isn't enough, you also have an opportunity to…
Win a Kindle Fire!! Karen is giving away TWO Kindle Fires. One to a random reader who comments on one of the blog tour sites (Organizing Homelife is included!) and one to a participant who signs up for the 5-day free resource From Chaos to Calm: The LET. IT. GO. Christmas Challenge.

So, how do you win these two fabulous books?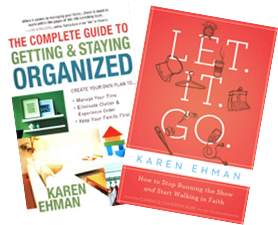 Simply leave a comment below telling me why you would like to win Karen's books! Simple, huh? 🙂
You can also purchase Let. It. Go. How to Stop Running the Show & Start Walking in Faith and The Complete Guide to Getting & Staying Organized if you don't want to wait to see if you win.
The Fine Print
2 winners will be chosen using Random.org to win one copy each of Let. It. Go. and The Complete Guide to Getting & Staying Organized by Karen Ehman.
No purchase necessary.
Giveaway is open to U.S. residents only.
Giveaway begins Monday, November 26, 2012 and ends at midnight eastern time Friday, November 30, 2012.
Winners will be e-mailed and announced here on Saturday, December 1, 2012.
Winners have 7 days to respond to e-mail.
Karen Ehman is the Director of the Proverbs 31 Ministries speaker team and the author of six books. Her passion is to provide practical inspiration and biblical encouragement to help women live their priorities and love their lives. She's been a guest on The 700 Club, Moody Midday Connection and Focus on the Family. She and her college sweetheart Todd are raising their three kids in the boondocks of central Michigan. Connect with her at karenehman.com
This post contains affiliate links. Read my full disclosure policy here.