One of my goals for 2013 was to create an organized blog planner.
As you probably know from my Home Management Binder printables, I'm a lover of details. 🙂  I blog about all sorts of things from DIY projects, tips and tricks, organizes spaces, sharing great ideas, printables (of course!), recipes, and much more.  But I also throw in things like giveaways, sponsored posts, and affiliate posts to help pay for the costs of running my blog.  There are a LOT of details bloggers need to keep track of!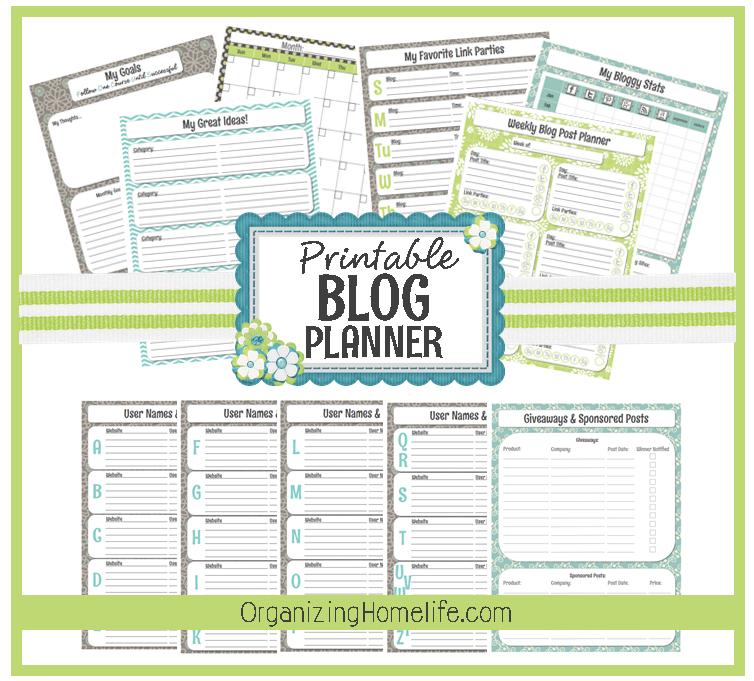 Did you know that most bloggers spend an average of 3-5 hours PER POST (oftentimes more) and that doesn't even include the time spent in doing the project, making the recipe, or taking the pictures?
Did you know that even after a post is published that bloggers spend a lot of time promoting their post via social media?
Did you know that if a blogger reviews a product, they have to pay taxes on the value of the product?
Did you know that for every giveaway, sponsored post, or affiliate sale there are required details to keep track of?
Did you know that blogging isn't free?  There are site hosting and domain fees, tech help fees, design fees, legal counsel, conference costs, computer equipment/software costs, and more?
Did you know that blogging often requires a near full time work schedule?
There is a LOT behind the scenes of blogging.  It takes a lot of organization to keep it straight!
And that is exactly why I needed a detailed planner to help me keep track of it all.
I have decided to offer 8 printables totally for free from my Basic Blog Planner and Complete Blog Planner over the next 5 days!
This first printable, my Weekly Blog Post Planner, is a great way to keep your blog schedule organized.  There are spaces to check off when you have scheduled your post, shared it via social media, and even has space to check off when you have linked it to you your favorite link parties.
There is separate printable (coming in a few days) that will help you keep track of your link parties (blog name, day and time they happen), but it's nice to have a "check box" at a glance on your weekly planner to remind you to link up.
Here is a sample with instructions on how to use it: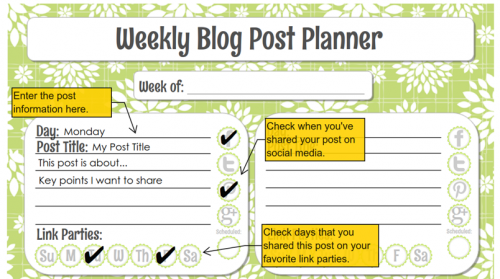 Feel free to download my printable Weekly Blog Post Planner HERE, but please respect my copyright listed below the image.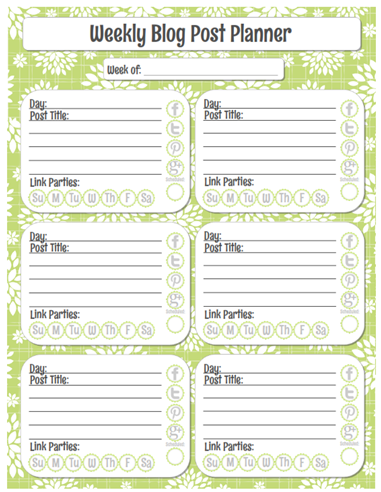 This planner is © Copyright 2013 Organizing Homelife and is intended for personal use only.  Please do not distribute this file for free or for profit without written consent.  Thank you!
I also have some big news…
I now have a new Printables Shop!!
You can check my new shop here.
Are you interested in my Basic Blog Planner?  It has 11 printables to help you organize your blog.  You can download the whole thing HERE for just $5!
Do you need to keep track of affiliate sales, sponsored posts, travel and conference expenses?  Do you have blog friends that you would like to keep information on like cell phone #'s, hubby's & kids names and more?  How about a full 12 page, 2013 calendar to keep next to your weekly post planner?  Check out my Complete Blog Planner HERE.  It has over 30 pages of detailed information to keep your blogging organized and on target!
I love offering free printables, and will continue to do so. However, many of you have requested that I make my printables editable. I was shocked when I researched and found that it costs $500(!!!) for the software to create editable PDFs, so I put it off for a while. But thankfully, my tech guy told me about Nitro PDF and I scored it for MUCH cheaper!! Plus it's fabulous PDF software and has better options than their competitors.
So what does this mean for you?
I will soon be offering my Home Management Binder printables and my Blog Planners in my shop in editable format!!! I will keep the free versions available, because I know so many of you don't have it in your budget to purchase them, and I really love sharing with my readers. I will be offering a single downloadable file of my Home Management Binder with bonus pages (so you don't have to click through to all 31 days) for a small charge.
If you are interested in purchasing my editable printables, I highly recommend that you download the Nitro Reader. It's totally free for the reader version and will allow you to use my editable printables AND SAVE your entries into the form on your own computer for future printing! Woo hoo!
Do you like the binder I used to organize my blog planner? I've got a sweet deal for you: You can get FREE SHIPPING on the Duo Multitasking Binder through the end of Feb. 2013! Click here for the free shipping code.