If you missed it yesterday, I announced a super exciting project I'm working on!  How would you like to win a $1,000 custom closet makeover by EasyClosets?
Oh, yeah!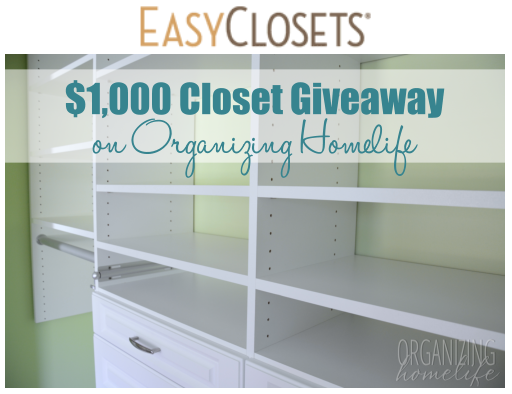 I'm teaming up with this awesome company to show you some fabulous organizational inspiration AND give one of you the opportunity to get your closet beautifully organized!
All three of my girls share the same bedroom and one closet.  It can get disorganized very quickly!  I have tried many things to help them over the years, but nothing solved the problems we were having.  Then I met EasyClosets.  Welcome, organizational heaven.

They have an incredible team of designers that work with you (for free!) to design the best closet for your needs. I poked around on their site and came up with a basic idea of what I was thinking.  Then I worked with Mikey, one of their incredible designers, who walked me through what would work the best, and what I should avoid.  Here's what we came up with.
By the way, check out their online design tool, it's just plain fun to see what possibilities you have for your closet.  All you need to do is enter your closet's measurements.  Their closets are totally customizable to your specific space, so your closet will be used to it's maximum potential.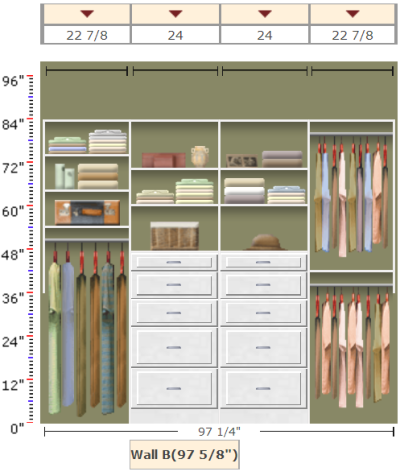 Isn't it amazing?  So let's get building!
Let me just tell you that I have unpacked a lot of boxes in my career as a blogger.  I get packages from companies all the time, both for work and personal items I purchase online.  I have NEVER encountered such care in packing.  I know it's not exciting to see a picture of a box, but even my husband said I needed to show this.  We were totally impressed with the attention to detail.  Of all the pieces we needed for this closet, not a single piece was damaged or missing.  It was incredible.
Every single box is clearly marked with its contents.  They even send an "open this first" box.  Are you starting to understand why their company is named EasyClosets? Uh huh.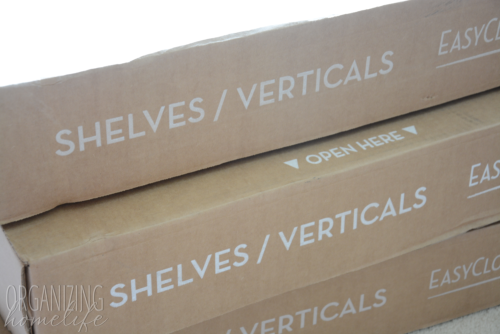 So after almost 7 years of living here, we finally took out those ugly shelves and painted the closet.  I normally like painting closet interiors white, but I thought the green would look so much nicer in the girls' room closet since we chose a white finish for the closet.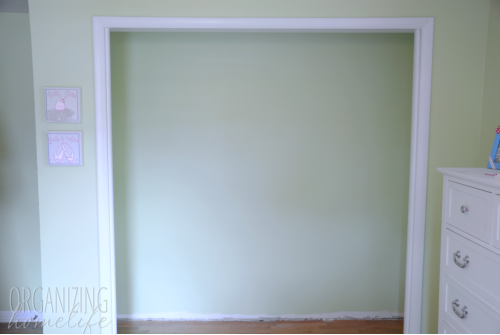 Although it's not necessary for many of the EasyClosets designs, we decided to take out the baseboard and put in new ones around the closet system.
After the painting was done, we prepared to hang the main track support by making sure we screwed into studs and our line was level.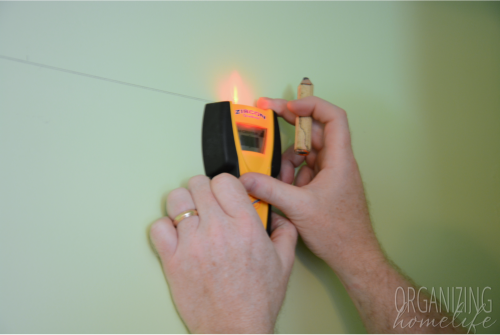 Once the horizontal support track was installed, we hung the vertical panels.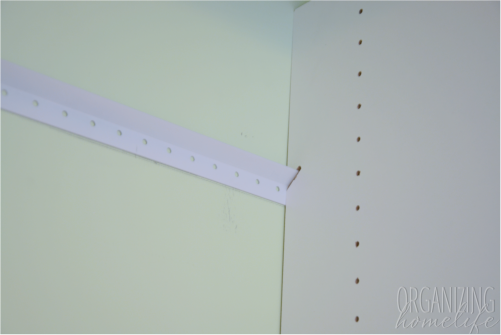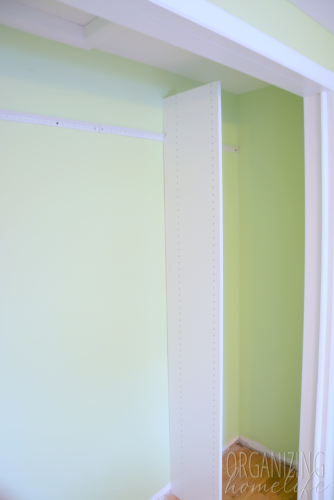 The parts were so clearly labeled it made putting this closet together very simple.  Time consuming, yes, but easy: definitely.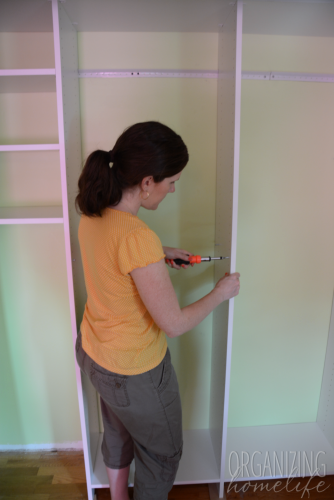 I wish these pictures could speak to tell you how nice the quality of this product is. I tried to get the best shots I could, but let me just assure you that the quality here is far superior to what you would find at a home improvement store.  Just saying.
The drawer tracks glide SO smoothly.  I chose the soft close drawers which is a feature that I love.  No more slammed drawers or pinched fingers!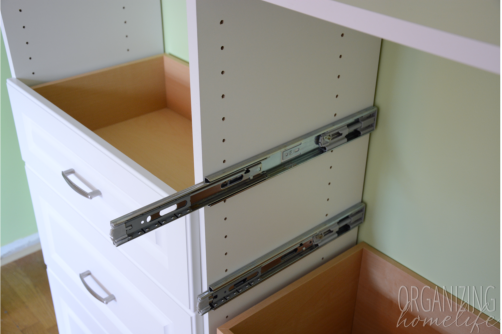 I will tell you that it took me about four hours to put the drawers together.  I took my time to make sure they went together well.  The instructions were easy to follow especially once I familiarized myself with the parts.  I would definitely recommend putting the tracks together on a hard surface (like the floor) and not on a carpet.  There is some grease in the tracks that you wouldn't want to get on your carpet, but it was also very helpful to line them up exactly even with the drawer.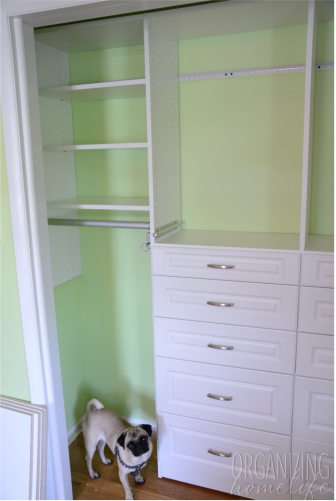 If you haven't met our dog, Bentley, he is by my side 24 hours a day and occasionally likes to photo-bomb my blog pictures.
So what do you think so far?  I know I'm in love!  I can see SO much potential for these drawers.  Check out the hosiery dividers.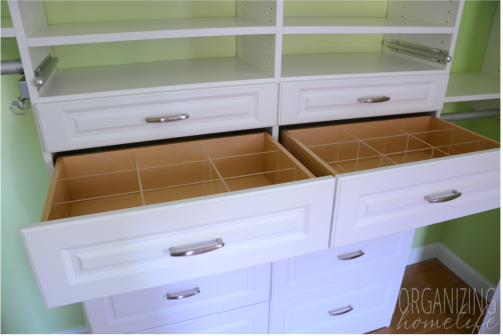 So there you have it.  Tomorrow I'll show you how I organized it.  And definitely don't miss Tuesday's post where YOU can enter to win a closet makeover by EasyClosets for YOUR home!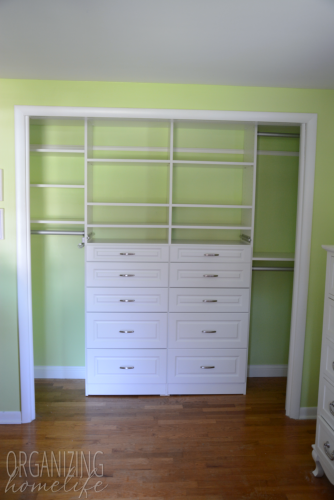 Disclosure: I was given an EasyClosets organizing solution to review.  All opinions are 100% my own.  I never post about products I do not recommend or use in my own home.  See my full disclosure policy here.