If you're a regular reader of Organizing Homelife, you may know that I've been working with the amazing EasyClosets company to transform the closet in my girls' room from disorganized and outdated to organized and beautiful.
Today I'm going to show you the transformation!
This is where we left off yesterday.  We took out the old shelves and baseboard and painted the closet to match the room.  Then we put the EasyClosets organizing solution together and were ready to start organizing!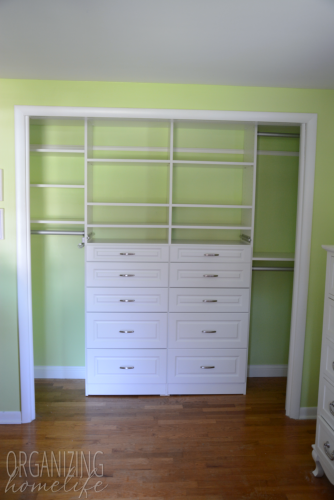 My two eldest daughters have dressers in the room, but since we have three girls sharing the same room, it's pretty tight, and a third dresser would make it too crowded.  So, when I worked on the design with Mikey, one of the fantastic EasyClosets designers, we decided that two sections of drawers and three hanging rods would be great.
So are you ready to see the transformation?  Check out our new and MUCH improved closet!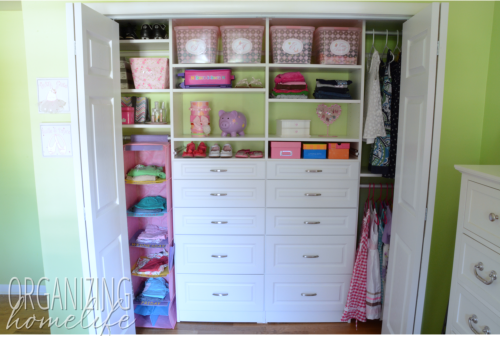 Since my 6 year old tends to make a mess of her drawers, I hung this weekly clothes organizer to set out her clothes for the week.  My teen daughter doesn't have too many long dresses, so it's not a problem right now.  If it gets too crowded later, we'll just simply take it off.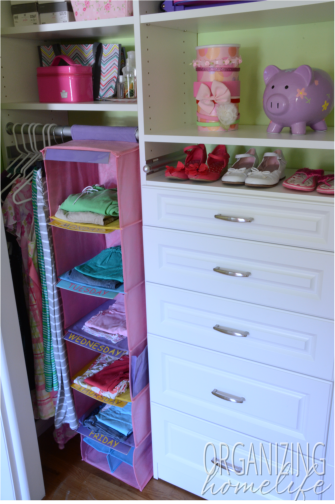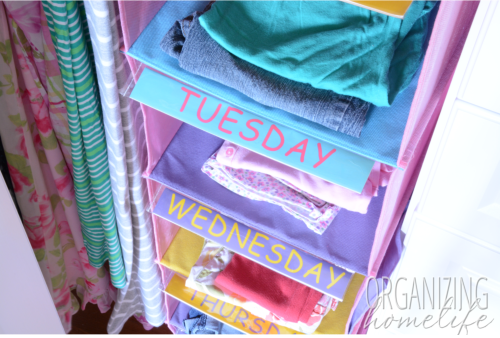 I love the new closet so much!  It's so nice for all of the girls to have their own little spaces.  My teenaged daughter loves having a spot for her bags, perfumes and lotions.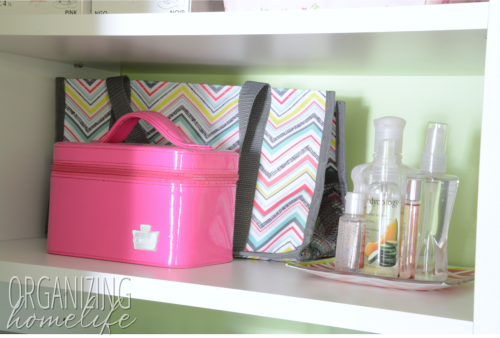 And I love having a designated spot for all the soccer cleats and ballet shoes.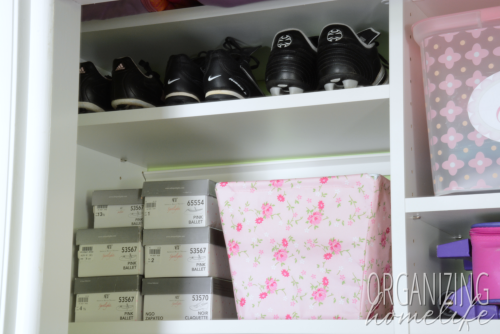 In the bin I keep extra tights and leotards for upcoming classes.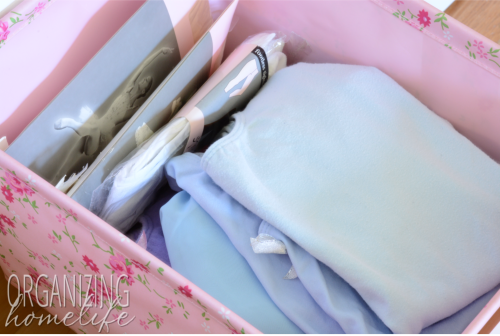 Keeping kids' clothes organized is an enormous challenge, especially when you are dealing with hand-me-downs and seasonal clothing changes.  Having three girls constantly growing in and out of clothes is something we deal with on a regular basis.
To make things easier, I keep a bin for each of the girls in the closet.  I keep a small stash of clothes for the next season in them so if we have a burst of early fall weather this summer, I won't need to make a quick dash to the attic to sort through the seasonal bins.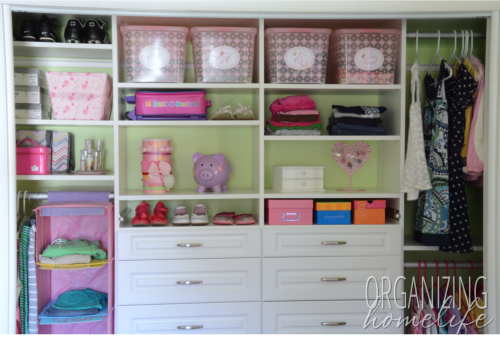 I like to keep three or four outfits for each of the girls in their bin.  When it's winter, I keep three to four shorts and t-shirts in their bins as well as their bathing suits.  You never know when you might need to have a bathing suit handy, even in the winter.
The suitcase is easily accessible for my youngest when she has sleepovers.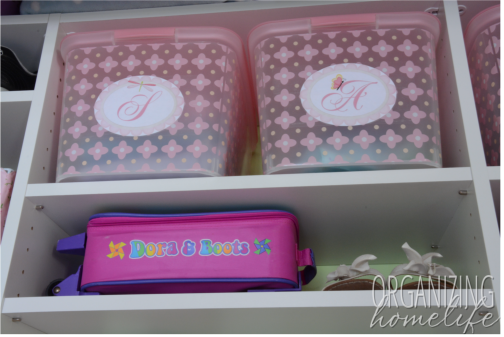 I love having a shelf for sweatshirts and sweatpants/jeans for cool summer nights.  It's so nice that the girls can grab them easily without sorting through their next season bins or getting them mixed up in their drawers.
The other bin I keep is for clothes they have outgrown.  There are a number of years between my second and third daughters, so hand-me-downs don't work that well.  But, I save lots of clothes from my first daughter for my second.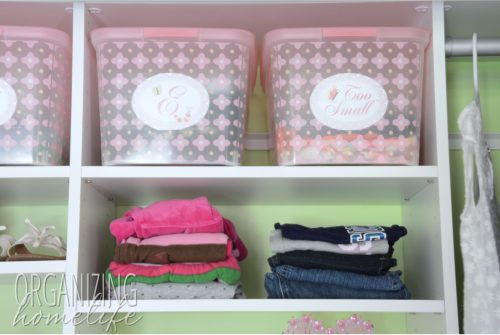 I tried keeping this in the laundry room at one point, but I can't remember when I'm washing clothes which things aren't fitting right.  When they're getting dressed in their room and we realize something is too small, it's easy to put it in the bin.  When I get time, I can take the clothes from the bin and put them in the attic with the rest of that size.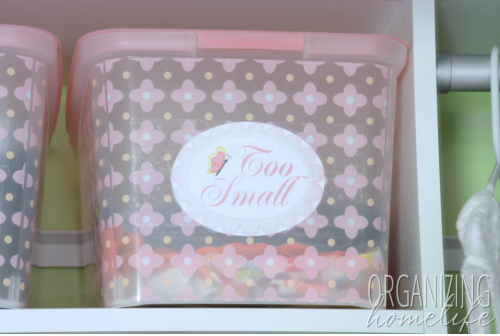 It's so nice to have so much usable space in the closet now.  We have space for the girls' jewelry.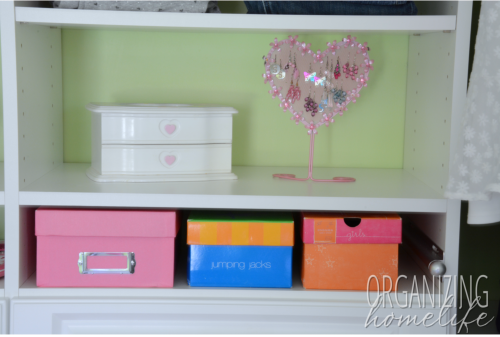 We even have space for headbands, piggy banks, and a convenient way to organize shoes.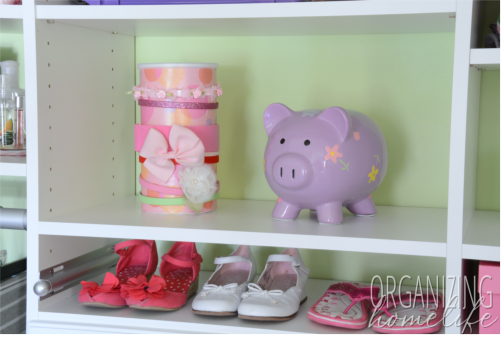 I love that there are so many options with the drawers.  I chose lots of drawers because I like organizing kids' clothes in drawers rather than hanging everything.  It's a personal choice.  Check out how deep these drawers are.  I have 4 – 12″ drawers, 4 – 8″ drawers, and 2 – 5″ drawers.
I fold my 6 year old's clothes vertically since she has so many outfits.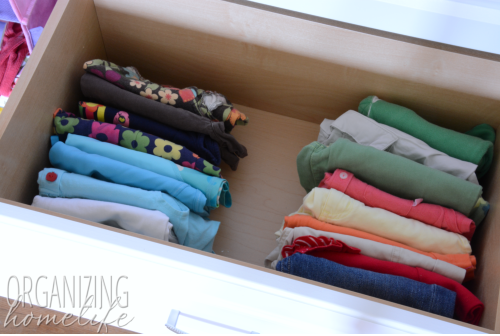 My older girls' clothes get stacked neatly.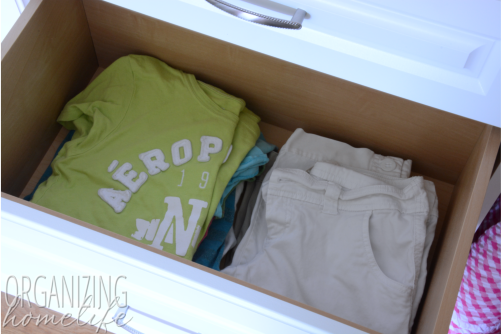 They love all the accessory pieces that are available from EasyClosets.  Check out the slide out belt rack.  We're using it for scarves and belts.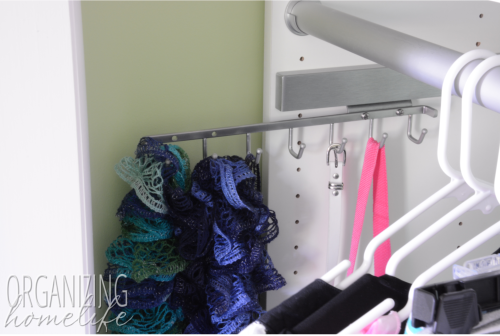 One of my favorite features is the 5″ drawer.  It's a perfect spot for organizing the hoards of hair ties and bows we have.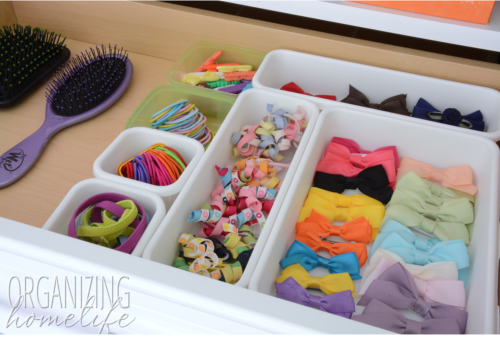 Another favorite feature we all love is the valet pole.  We installed two of these on opposite panels above the drawers.  It's perfect for setting out clothes for the next day.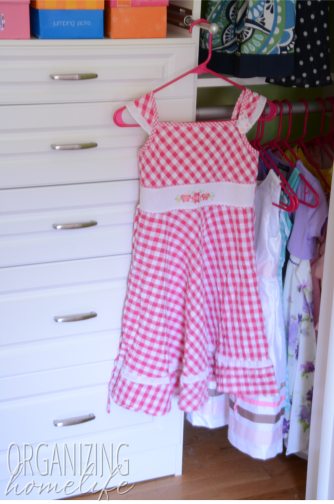 There is even extra space at the top of the closet where I can keep blankets for colder weather.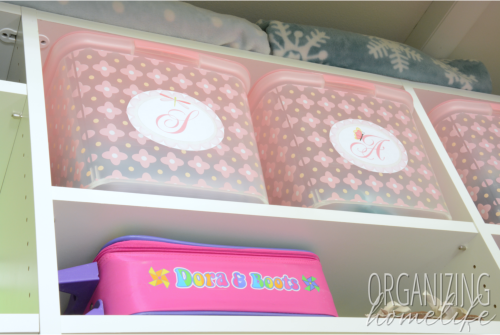 And sleeping bags for sleepovers.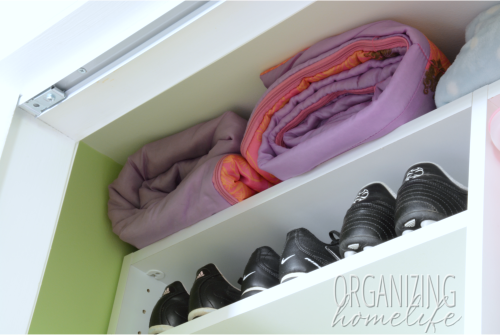 The quality of this closet is phenomenal.  I could not even believe how solid, yet smooth the drawers are.  They are very well made, and now I know why EasyClosets offers a lifetime guarantee.  I'm certain we'll still have this closet solution long after my kids are grown.
What do you think?  Isn't it amazing?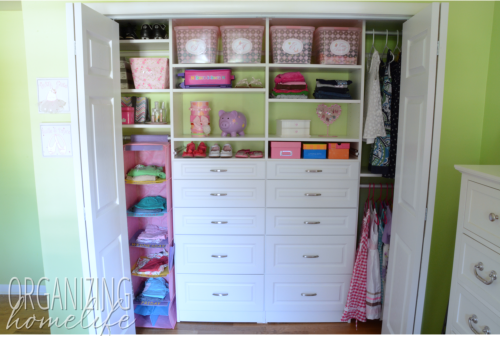 This use of space is perfect for our needs right now.  But, one of my FAVORITE things about the EasyClosets solution is that it grows and changes with you as your closet needs change.  It's simple to make adjustments.
If I wanted to, I could easily change the drawers into tall hanging sections with shelves for shoes.  I see that as a future possibility when the girls are older.
I took out the weekly clothes organizer in this picture to show you how much hanging space we have if needed.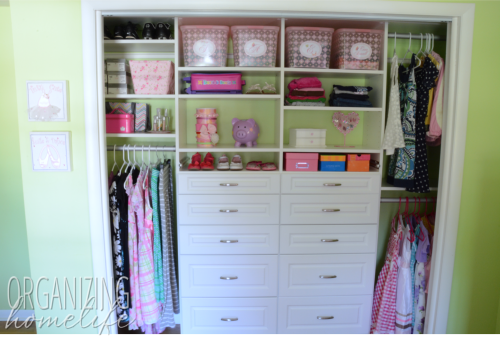 No makeover would be complete without some before and afters!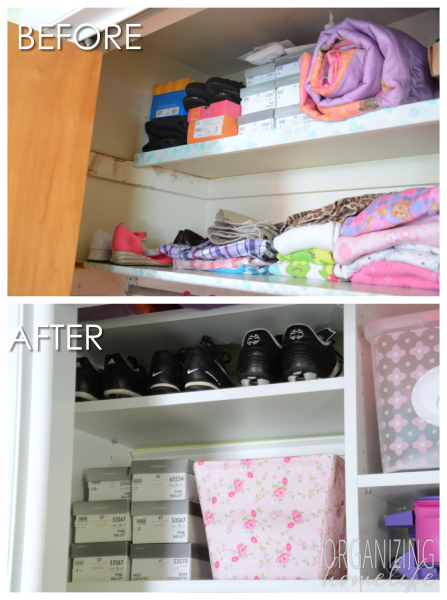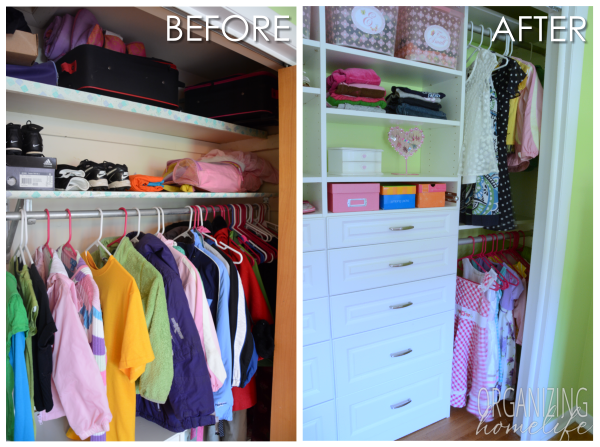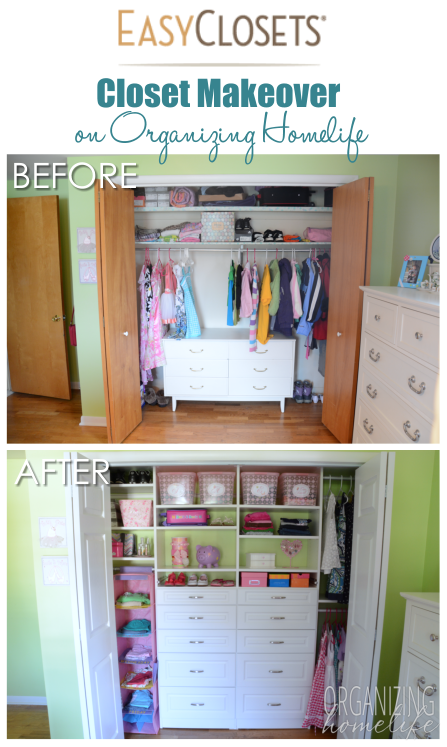 Don't forget to stop back tomorrow to enter to win YOUR OWN EasyClosets makeover!  Don't miss it – you are going to love this.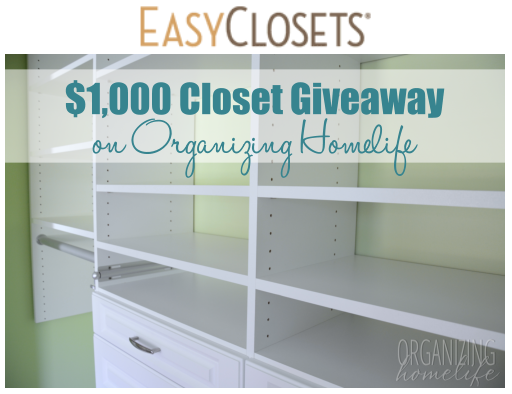 By the way, if you haven't already done so, you should check out the EasyClosets online design tool.  It is fun to look at all the possibilities for making the most of your space.  All you need are the measurements of your closet.  Don't know where to start?  No worries!  The EasyClosets design team is fabulous to work with and they'll help you work out a design that fits your needs and your budget.
Disclosure: I was given an EasyClosets organizing solution to review.  All opinions are 100% my own.  I never post about products I do not recommend or use in my own home.  See my full disclosure policy here.