If you've been following my blog for a while, you may know that I work alongside some other fabulous organizing bloggers fairly regularly.  We are working together once again to take you on tours of our homes to inspire you on your journey of getting organized!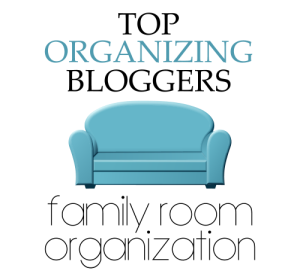 Yesterday I showed you an outdated built-in bookcase in a little recessed corner of my family room.  I have wanted to update it for a long time and I'm thrilled with the results!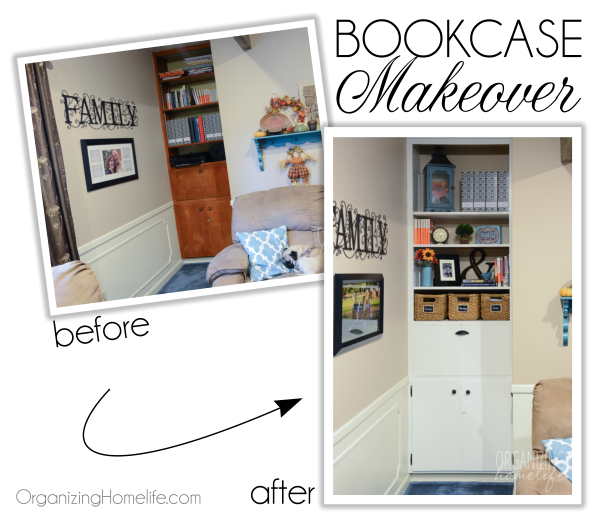 This built-in seemed to be more of an eyesore and "random stuff collector" than anything, and I thought about closing it off more than once.  But, I did like the additional storage, so I decided to update it with a little paint, new hardware, and some styling.
I think it made quite a difference, and now I'm SO glad I didn't get rid of it!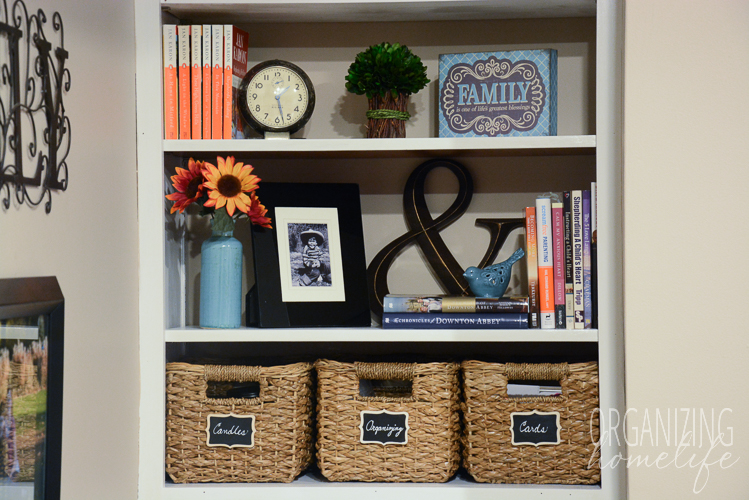 Remember that huge mess of old VHS tapes?  I made the kids sort it with me and we got rid of two huge boxes of videos.  I let them keep a few of their favorites and put them in some baskets I found at Target.  Now, it looks much better and is easy for the kids to get to.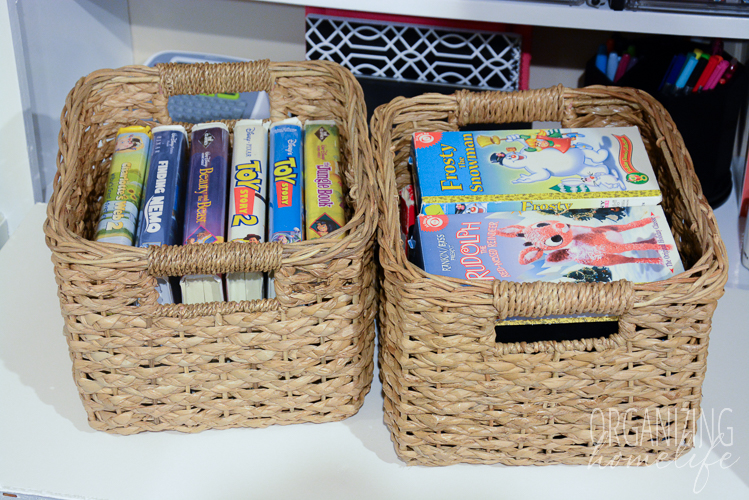 With all the added space, I was able to move our DVD and CD storage cases and photo albums in there.  At some point, we'll get rid of the rest of those videos and I'll have baskets for storing other things.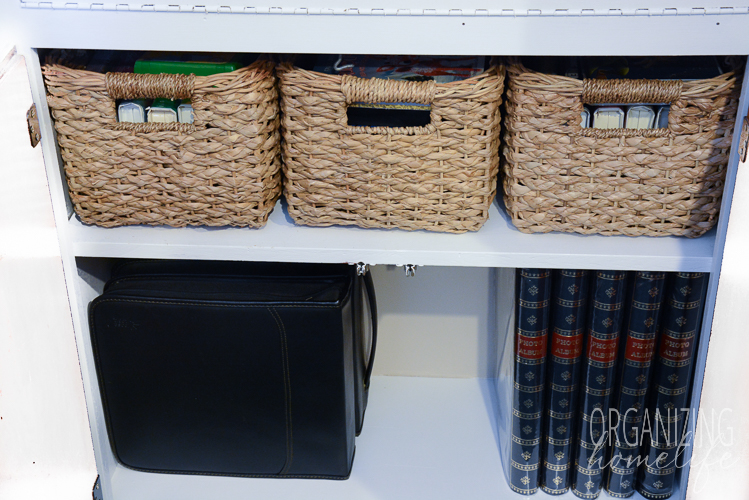 I also added three more baskets to one of the tops shelves.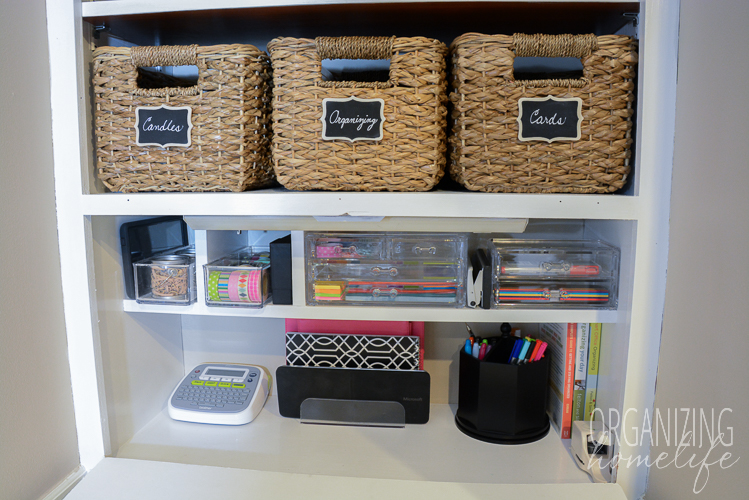 They fit so perfectly in the space, and offer great storage for things I use in this room – like candles.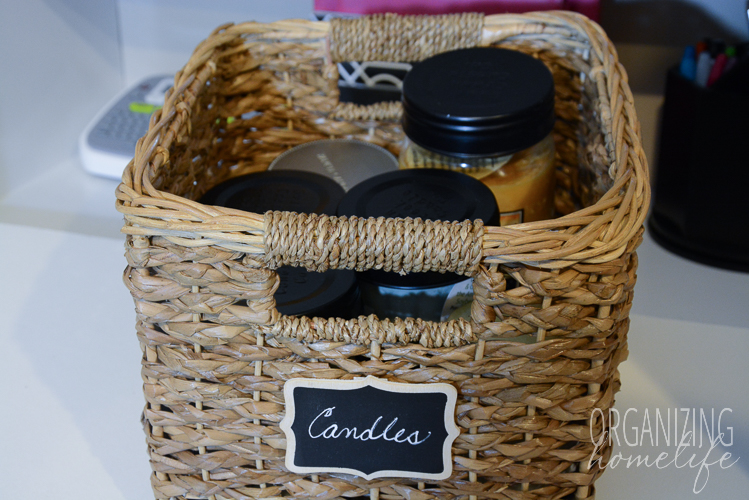 I keep organizing supplies in another basket.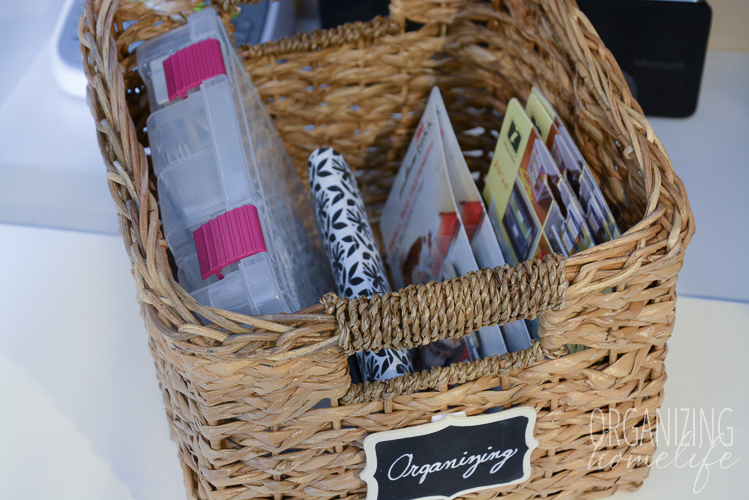 I picked up this little utility box at Hobby Lobby to organize my ever-growing stash of Command hooks and replacements strips.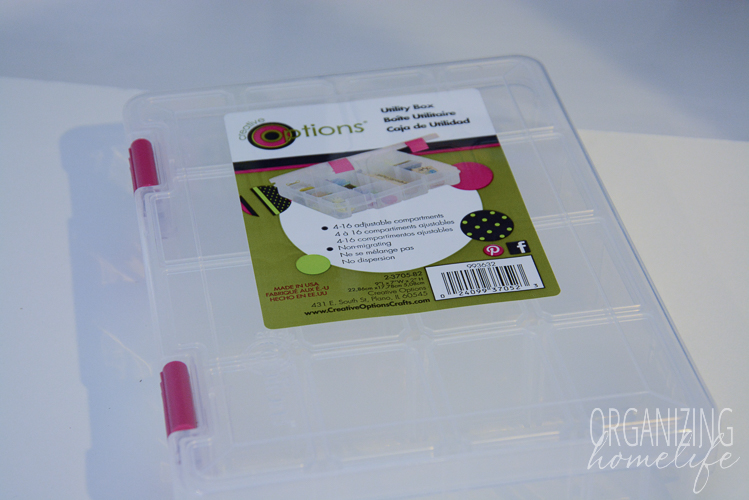 It has divided sections so I can make the spaces fit the hooks I have, but can easily change them if I need to.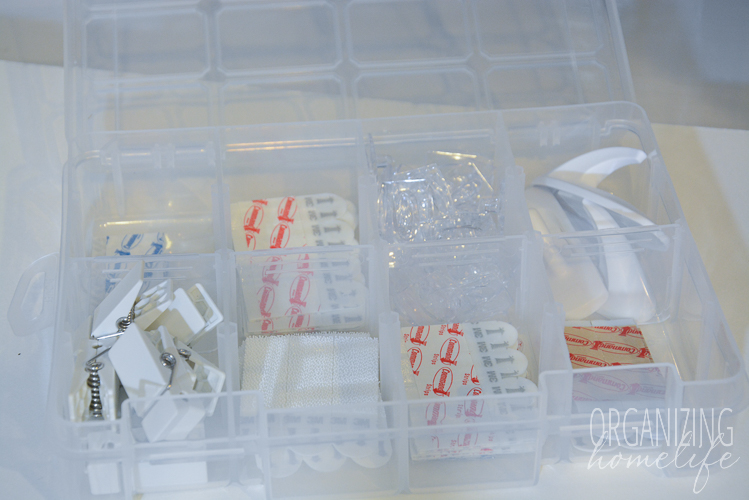 Of all the things I'm loving about updating this bookcase, I am so thrilled how the little desk nook turned out!  I finally found a space where I can keep my planner supplies.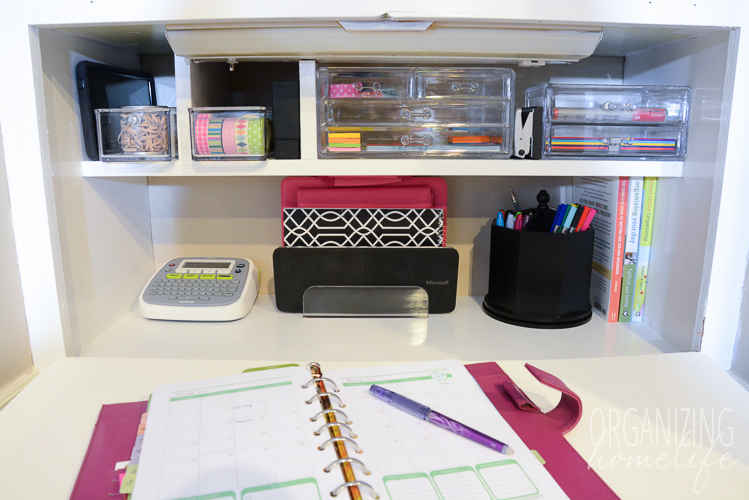 I kind of have an obsession with washi tape and Post-it notes for my planner and now I have a perfect place to organize it all.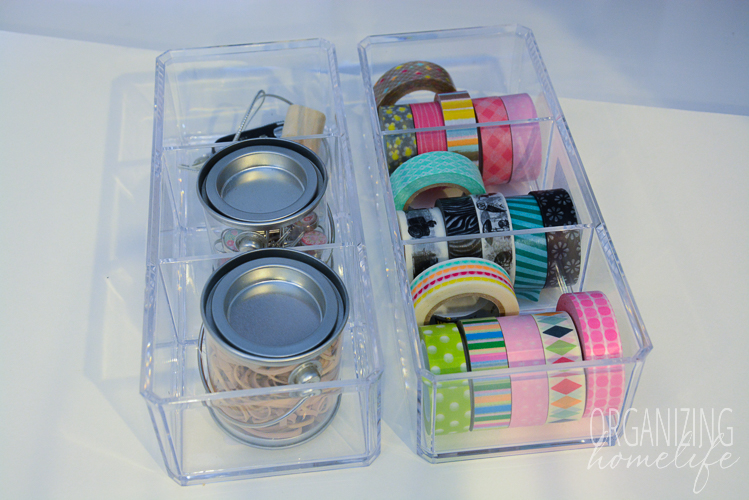 In searching for something to organize all the little pieces I have, I actually realized that the bathroom storage aisles had exactly what I needed.  I found these makeup organizers at TJ Maxx and they fit perfectly in this little nook.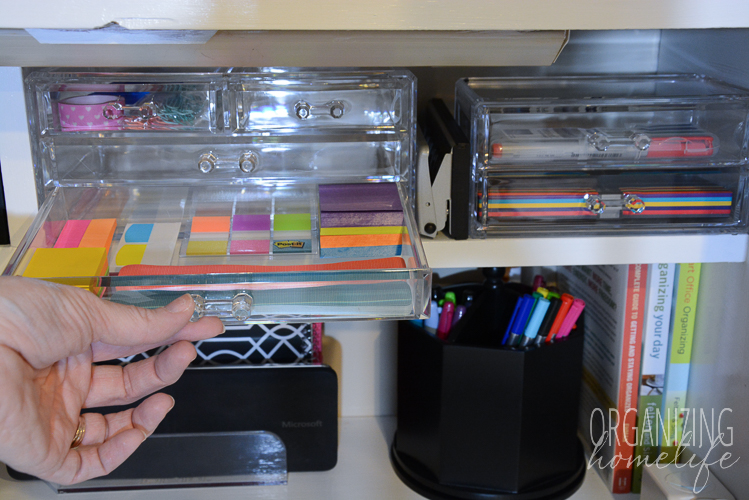 I also found the pen carousel at TJ Maxx.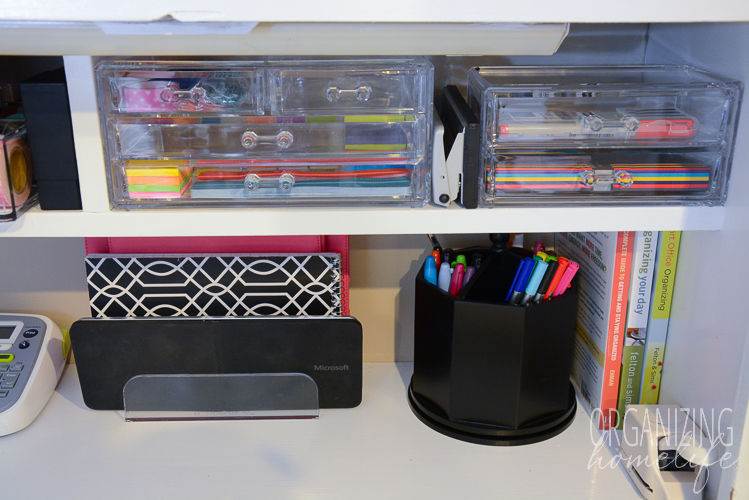 I loved de-cluttering the shelves from the original mess.  Since I mostly use my Kindle for reading now, I decided to only keep some of my favorite books on these shelves.  I kept the magazine files to store (what else?) magazines!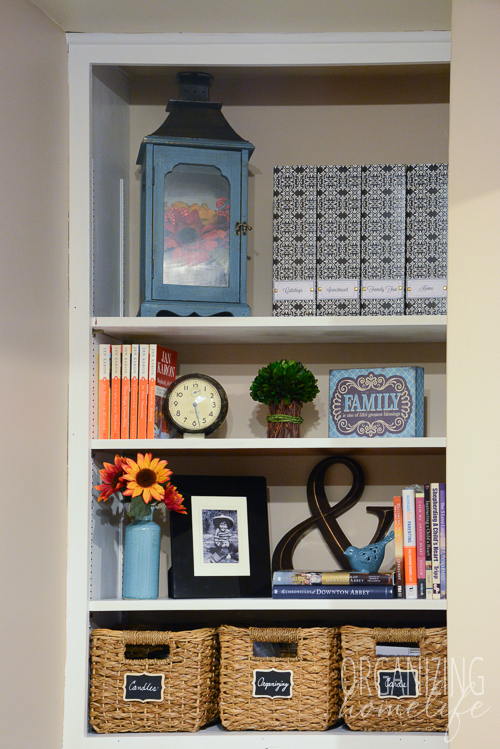 I had a lot of fun styling!  I absolutely love this picture of my dad with his little sombrero when he lived in Mexico as a boy.
A number of you asked about the "family" sign on Facebook yesterday.  It's wrought iron and I found it at Hobby Lobby.  You also might notice that we updated our family picture in the frame as well.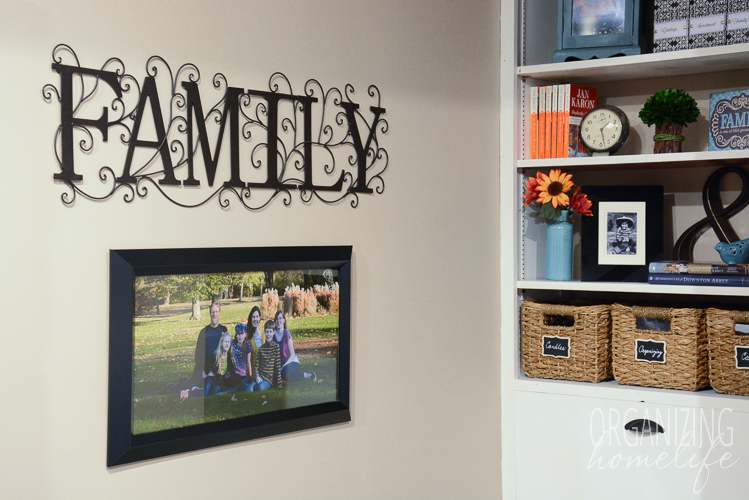 I am so happy with this update!  The family room looks so much better already.  I can't wait to show you the other updates I'm working on in this room.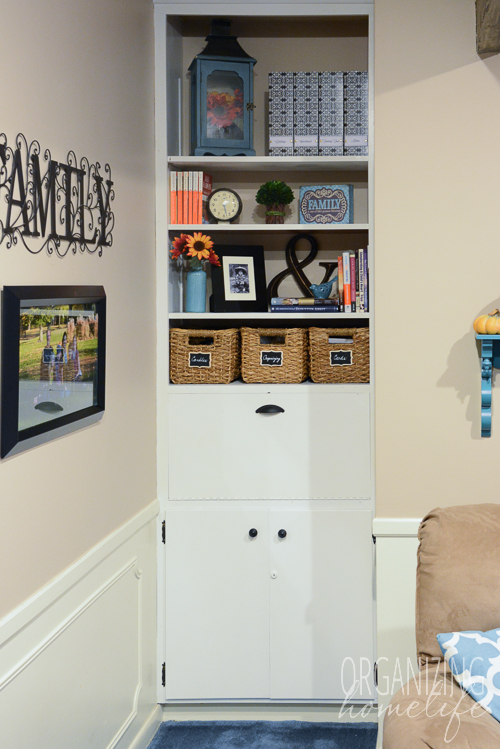 The Top Organizing Bloggers' Family Room Organizational Tour
Click on the links below to see the rest of our organized family rooms:
Books & Magazines – Goodbye House, Hello Home
TV Console Organization – Ask Anna
Quiet Time Corner Organization – Organizing Junkie
DVD Organization – Organize Your Stuff Now
Kids' Computer Station – Organizing Made Fun
Toys in the Family Room – Clean Mama
Organized Heirlooms & Collectibles – A Bowl Full of Lemons
And don't forget to follow our Top Organizing Bloggers Pinterest Board to see what we're pinning!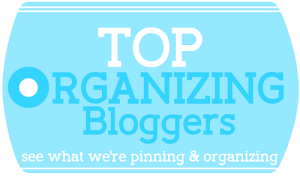 This post contains an affiliate link.  Thank you for your support of this site.