A few years ago, I was introduced to a company who created a product that is a game changer when it comes to storing and organizing paint cans and making touch-ups simple. Three years later, I am still loving their product.
You know I enjoy sharing products I use in my own home with my readers. Thanks to Dipsy Dabber for sponsoring this post and offering a giveaway for my readers!
If you haven't seen them before, it is my pleasure to introduce you to Dipsy Dabber!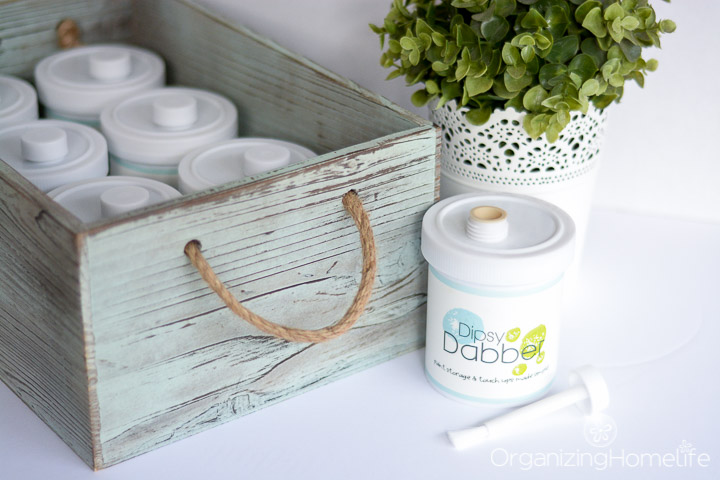 Have you ever wanted to touch up a small chip on the wall or cover up a nail hole but didn't want to drag out the paint can, drop cloth, paint stirrer, and then have a paint brush to wash? Then you need to check out the Dipsy Dabber.
If you are like most people, you probably have a shelf in your garage filled with old paint cans.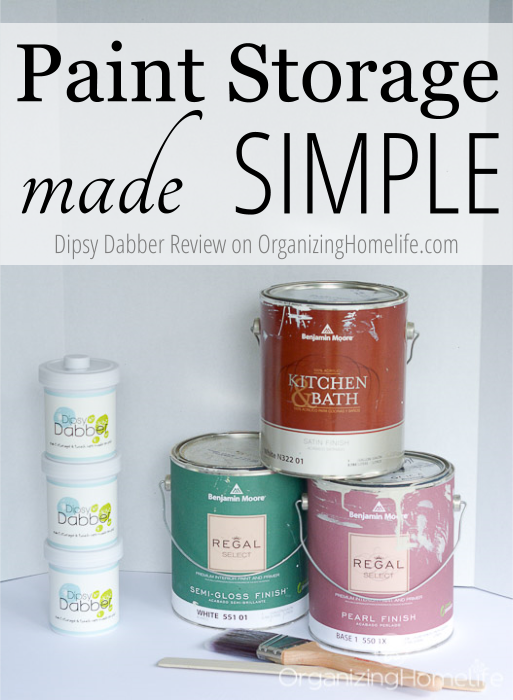 Why did you keep them? Most likely because you thought you "might" need the paint for touch-ups some day. But chances are high you'll never open those cans again. And if you did, what would you find? A rusty can with pieces that drop into the paint when you open the lid.
Some Fun Facts About the Dipsy Dabber:
Eliminates the need for storing large paint cans.
The gasket-sealed, screw-on cap allows for easy filling.
Holds 12 ounces of paint.
The valve in the lid prevents too much paint from coming out on the brush and helps to prevent dry-out.
The thick plastic container prevents discoloration from light.
No need to stir – simply shake the container.
No need to wash a paint brush – YAY!
Dipsy Dabbers can be stored on a closet shelf right in the room itself or stacked neatly with other Dipsy Dabbers (the bottom of the container is recessed for easy stacking ability).
Product dimensions: 3.5 x 3.5 x 4 inches
If for some reason you do have a larger area to paint with a brush, simply take the lid off and use a regular sized paint brush. Otherwise, the nail polish-like brush is absolutely perfect for quick and easy touch-ups!
Check out this video I made to see it in action…
Would you like to gain back the space you've lost storing old paint cans and make touch-ups simple?
I absolutely love sharing great products with my readers and I hope you enjoy using them as much as I do!  At just $5.99, they are super affordable. Plus, if you order 3 or more, the shipping is free.  You can't beat that deal!  Check it out on DipsyDabber.com here.
How would you like to win a set of 6 Dipsy Dabbers?  I have great news!  The folks at Dipsy Dabber are generously giving away a set of 6 Dipsy Dabbers (each) to FIVE of YOU!
How Do I Enter?
Simple!  At the end of the post, either use your Facebook or your email to log into the Rafflecopter entry form.  Entries are explained in the Rafflecopter form.
The Fine Print
Five winners will be chosen randomly using Rafflecopter.com to receive 6 Dipsy Dabbers each.
No purchase necessary.
Giveaway is open to U.S. residents only.
Entrants must be 18 years or older.
Giveaway begins Friday, October 14, 2016, and ends at 11:59 p.m. eastern time Sunday, October 23, 2016.
Winners will be e-mailed and announced here on Monday, October 24, 2016.
Winners have 7 days to respond to e-mail or new winners will be chosen.
Disclaimer: Dipsy Dabber sponsored this post and sent me additional Dipsy Dabbers to include in my review. I was not influenced in any way to provide a positive review. All opinions are 100% my own. I only recommend products to my readers that I use in my own home. See my full disclosure policy here.