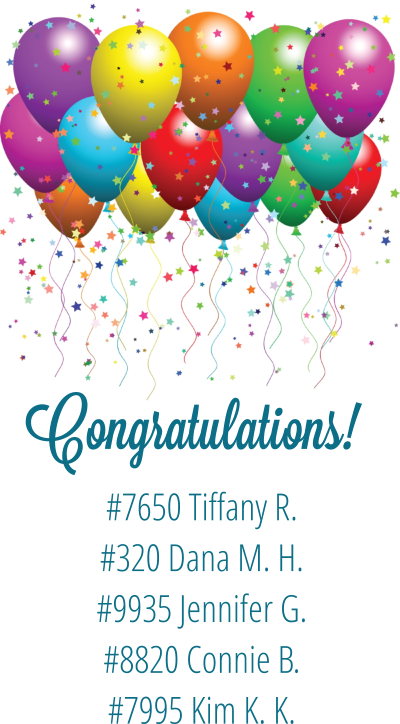 (winners have been notified by email)
This summer, my family is doing something we've never done before: taking a two week vacation traveling through 6 states.  I've been planning this vacation since January, researching, reading, asking YOU for recommendations on my Facebook (thanks for the great ideas – we're using a bunch of them!).
Planning a vacation this big has been a huge undertaking.  Trying to figure out where to go, what to see, what to do, and where to stay has taken a lot of effort.  A few months ago, I was so overwhelmed with the planning that I considered canceling the trip and taking an "easier" vacation.  That's when I realized I was missing something very important to the success of our trip – a great vacation planner.  So I made one!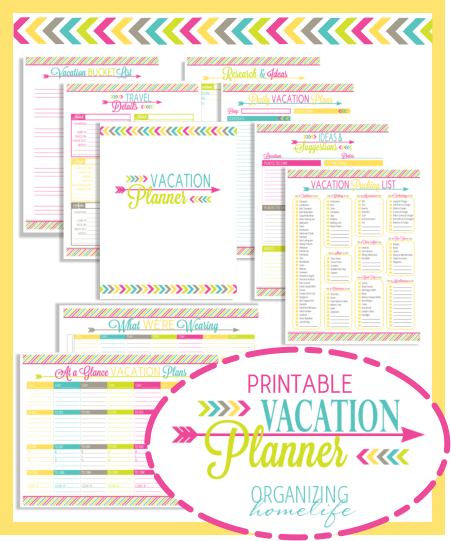 I started thinking about how I would organize all the ideas, schedules, events, reservations, coupons, brochures etc., and keep it all together in one place.
I've told you before that I'm a Brand Ambassador for the Duo Multitasking Binder and there is a reason for that.  I love this binder!  I just knew one of my Duo binders would be perfect for my vacation planner.  I talked with the folks at Inoventions (the makers of the Duo) and they thought it was a great idea, too.
So…
We're partnering together to give you a great giveaway!  FIVE of you will have an opportunity to win a Duo Multitasking Binder and my 9-page Vacation Planning printable pack!!!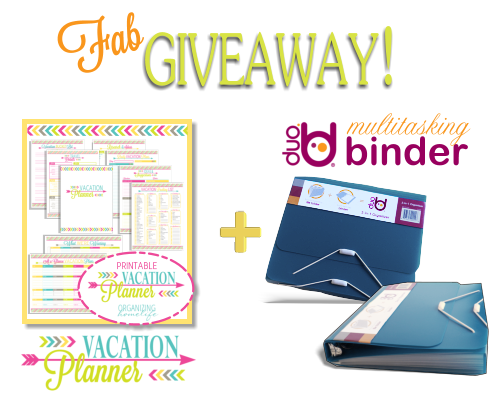 Why do I love this combo for planning a great vacation?  Let me tell you!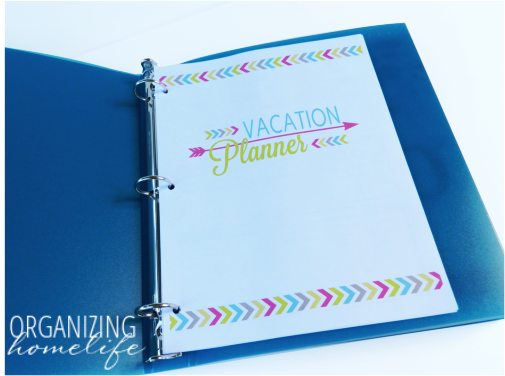 When I begin planning anything whether it's a vacation or buying a camera, I start researching.  I read reviews and articles, ask people for suggestions, and jot it all down.  When I asked you on Facebook for ideas for places to visit, you all came through with excellent suggestions!
The first page of the printable pack is the Ideas & Suggestions page.
We'll be staying in several cities on our trip, so I printed one for each location.  When I receive a suggestion that sounds good, I jot it down on this page.  This is a great place for writing down all the possibilities.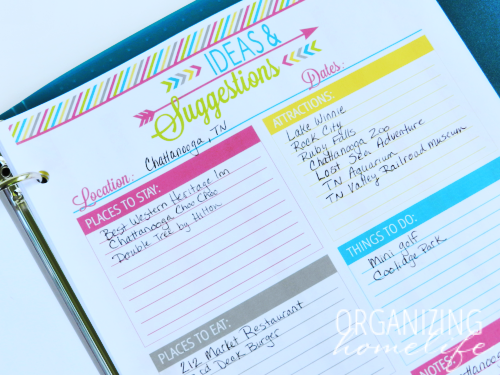 I use the Research & Ideas page to take notes on the suggestions I liked best.  As I find information online, I write down the location, hours, admission price, and website for future reference.  It's also a great spot to jot down general information about the attraction to make daily plans come together easily.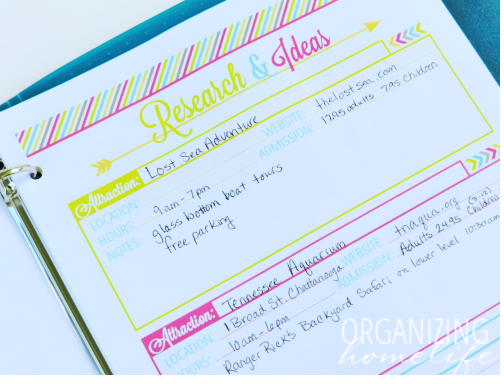 Once I finish researching the possibilities, I narrow down our choices and come up with a daily schedule.  Now, just in case you're thinking that I'm extremely OCD, you should know that daily schedules are meant to be used as a GUIDE.  They give us a plan for what we can do and what our options are.  If we find something along the way that we'd rather do, we definitely change the plans!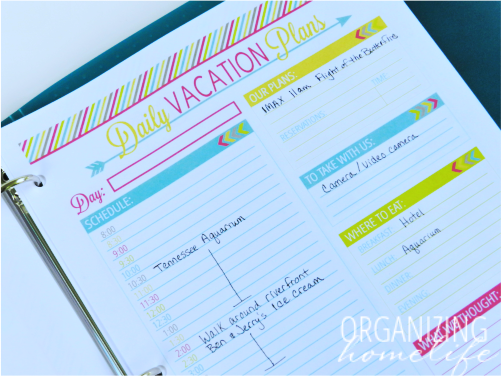 After I plan out the days, I fill in the At a Glance planning page.  This page is great for my hubby and kids to reference.  They constantly ask me, "where are we going today?", "where are we staying tonight?", "what are we eating for dinner?", etc.  This is a great spot to keep basic details.  There are 7 days on this page.  If you're vacation is longer, just print out two pages.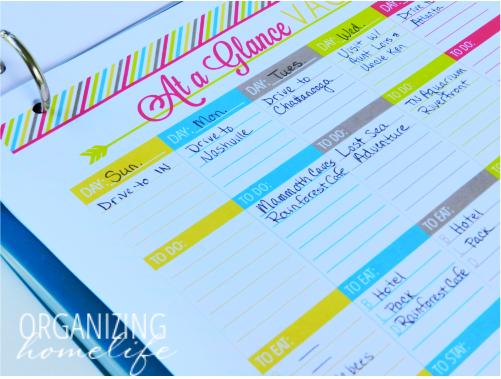 The Vacation Bucket List page is a fun place to jot down things you want to do on your vacation like read that book you've been meaning to read or go bungee jumping or something crazy you've been wanting to do!  I'll be the one reading the book. 😉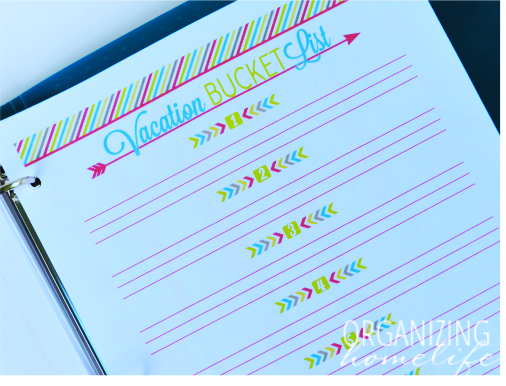 Next is the Travel Details page where you can keep track of your flights, hotels, and car rentals.  Incidentally, the trip we're taking this year is a road trip, so we won't be using this page.  The At a Glance page has a spot for hotel confirmation numbers and info., so I'll keep those details there.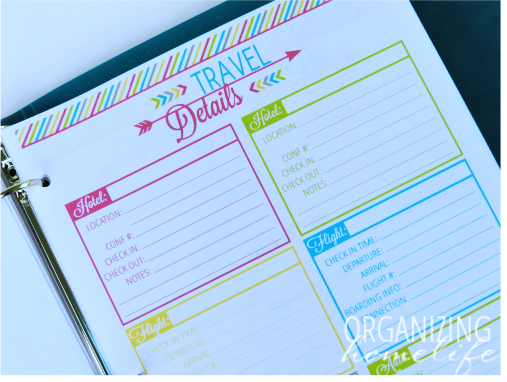 Now that the vacation is planned, let's get packing!  Over the years, I've made one packing list after another for the changing seasons of my family.  One thing that I've never liked about those super long lists is that every vacation is different and no one list can cover them all.  If I listed every thing we might need for an Alaskan cruise and then everything we might need for a camping trip, the list would be pages long.  Outfits and clothing needs vary so much that I decided not to put much in the "clothing" section of my new packing list.  Rather, I created a "What We're Wearing" page.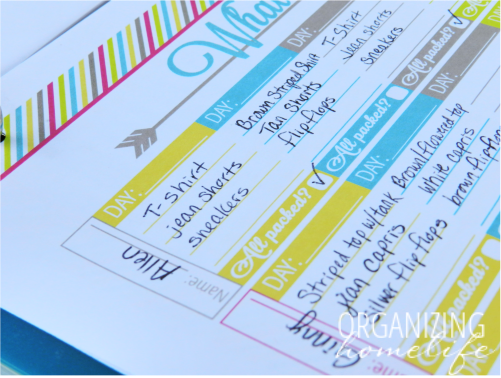 I'm so happy about this page, because usually when I'm packing from a list that says "7 outfits" or "7 jeans and 7 shirts", I have to put way too much mental energy into remembering what those outfits are for each member of the family.  And, the chance that every single piece of clothing we're taking is washed and clean when I'm packing is HIGHLY unlikely.  That makes it so hard to check off the "7 shirts" box even if six of them are already packed!
So, on this page, I check the box below each outfit when it is packed.  This page has spaces for four family member's outfits for seven days.  Have a larger family?  Print two!  Have a longer vacation?  Print more!
Before packing, I think about each member of the family's clothing, where we are going each day, and plan the outfits accordingly.  Curious how I pack for a large family?  Check out how I don't pack with suitcases here.
Finally, I use the Vacation Packing List to make sure I've got everything else we'll need from toiletries and shoes to outerwear and technology.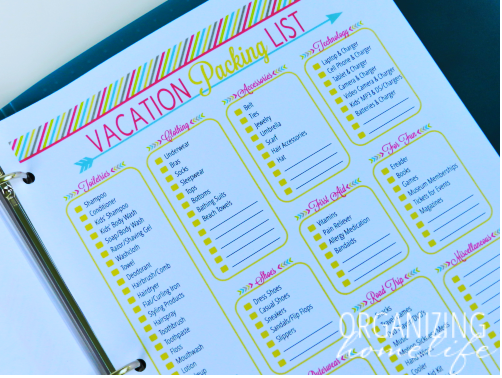 The Vacation Planning Printable Pack is now available in my shop for just $8.  As a bonus to this giveaway, you can get 10% off any order in my shop through 8/4/13! Use the code: DUOGIVEAWAY for the discount.  You can check out my shop here.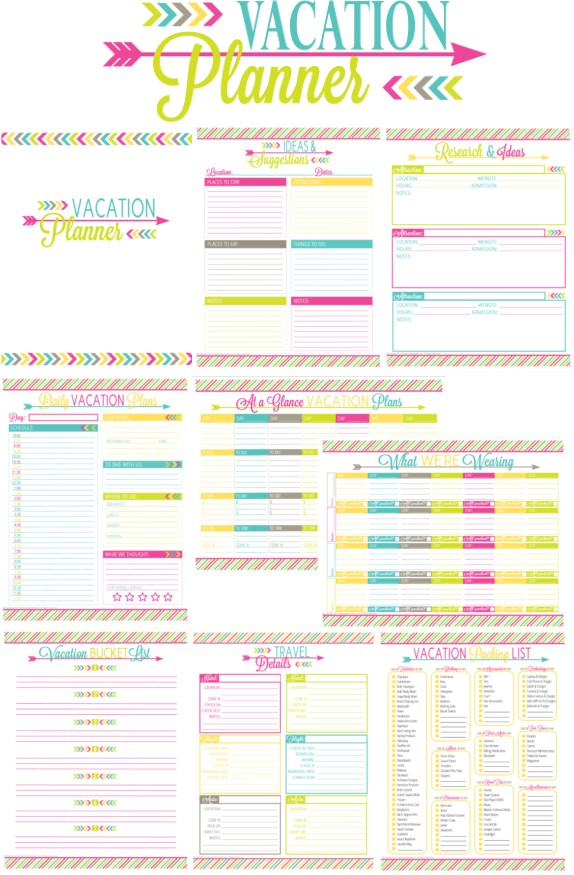 So why do I think the Duo Multitasking Binder is the perfect binder to take with you on vacation?  Well, the Duo not only has a 3-ring binder that's perfect for keeping my Vacation Planner, but it also has an attached 7 pocket accordion file that's perfect for keeping other travel documents.
I have a spot for local maps, travel brochures, reservation confirmation pages, directions, local coupons, and event tickets.  It's a perfect spot to keep everything organized!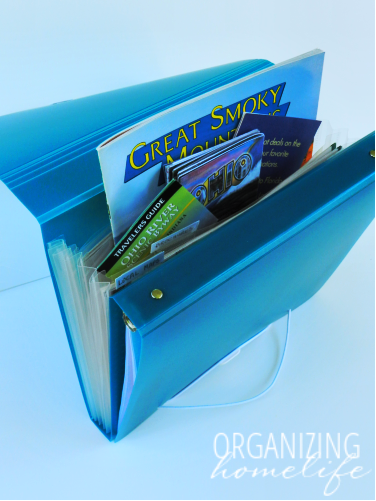 Another thing I use the 3-ring binder side of the Duo for is a notebook.  I always need paper to jot notes and info down, plus it's a great spot for journaling the fun!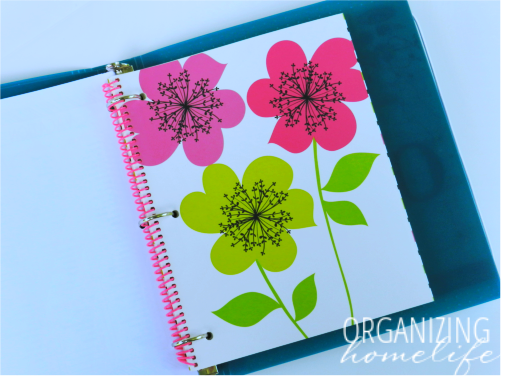 Are you interested in the Duo Binder?  You can now get FREE shipping with Amazon Prime!  The Duo is perfect for Home Management Binders, organizing school papers, bills, tax documents, medical information, and much more!  Check out the Duo Multitasking Binder here.
And now for the best part!!!  FIVE of YOU can win a Duo Multitasking Binder and a Vacation Planning Printable Pack!
The Fine Print:
Five winners will be chosen randomly using Rafflecopter.com to receive a Duo Multitasking Binder with a 9-page Vacation Planning Printable Pack included.  Winners will also be emailed the downloadable Vacation Planning Printable Pack in a digital zip file.
No purchase necessary.
Giveaway is open to U.S. residents only.
Entrants must be 18 years or older.
Giveaway begins Wednesday, July 24, 2013 and ends at 11:59 p.m. eastern time Monday, August 5, 2013.
Winners will be e-mailed and announced here on Tuesday, August 6, 2013.
Winners have 7 days to respond to e-mail.
Entries are super simple: log into the Rafflecopter below with your Facebook name, or just use your email address.
a Rafflecopter giveaway

Disclosure: This post contains an affiliate link.  I have been compensated by Inoventions in working as a Brand Ambassador.  My opinions are 100% my own, and I was not influenced to write a positive review. I only share products with my readers that I truly love. If I don't like it, I won't promote it.

See my full disclosure policy here.