Welcome to Day 30 of my month long series "How to Organize Your Kitchen Frugally in 31 Days".  Every day during the month of October I will be sharing an organized space in my kitchen with you.  My goal is to inspire you and give you ideas on how you can organize your kitchen.
If you missed it, you may want to read why I'm embracing my outdated kitchen.  It might give you a little perspective on why the pictures of my kitchen organization won't be "magazine worthy", but helpful for real life organization.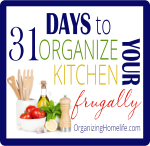 If you've been following this series from the beginning, you may be wondering why the posts ended on the 29th day.  Sometimes life just happens and you have to roll with it.  Sickness set in and prevent me from getting the last two posts published on time.  I hope you understand the delay and that you'll still enjoy the last two posts. 🙂
Today I'm showing you how I organize recipes.  One thing I really enjoy is trying new recipes.  I get so inspired whenever I look at recipe boards on Pinterest or peruse the tantalizing pictures in my recipe books.  Do you have stacks of recipe magazines, piles of printed recipes, or hoards of handwritten recipe cards?
There are so many ways to organize all those recipes, but one of my favorite ways is to keep a family recipe binder.  What is in my binder?  The recipes my family loves, the meals we eat frequently, and recipes we want to try.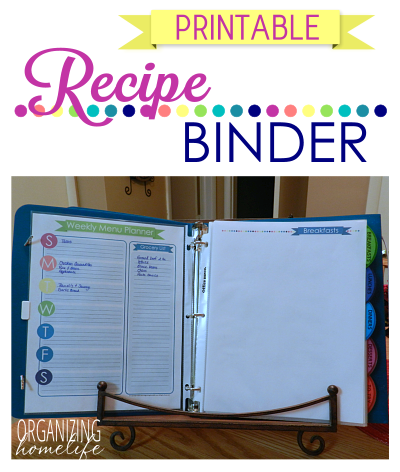 If you have been following my blog, you've probably heard me talk about the Duo Binder in the past.  If you are new here, I'm happy to introduce you to the Duo!  It is a dual purpose binder: a 3-ring binder on one side and a 7-pocket accordion file on the other side.  It is my FAVORITE binder to use for organizing recipes!
I work closely with the folks at Inoventions, and when I told them I was going to be sharing my recipe binder with you, they were happy to offer some Duo Binders (and a great bonus!) to YOU so you can make a recipe binder (or whatever other binder you wish) for your family!
I'm also giving away my new Recipe Binder Printable Kit for each winner of the giveaway!
Let's look at how I organize my binder.  These are the supplies I used: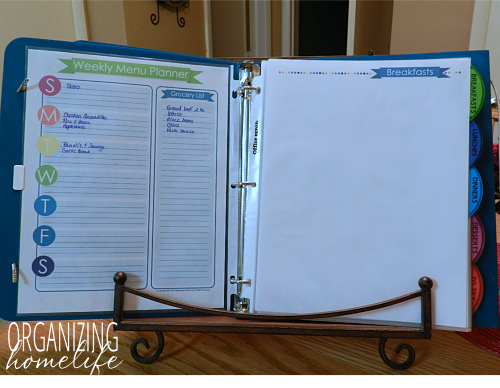 I labeled the dividers:
Breakfasts
Lunches
Dinners
Recipes to Try (front of tab)/Entertaining (back of tab)
Appetizers
Breads
Main Dishes
Sides
Vegetables
Desserts
The front section of the binder is where I keep our favorite meal plans for breakfasts, lunches, or dinners.  Why reinvent the wheel?  If something works well, why not make it simple?  It's surprising how difficult it can be to make an entire meal that all six of us like.  So if I make a meal that we all like, I definitely want to make it again!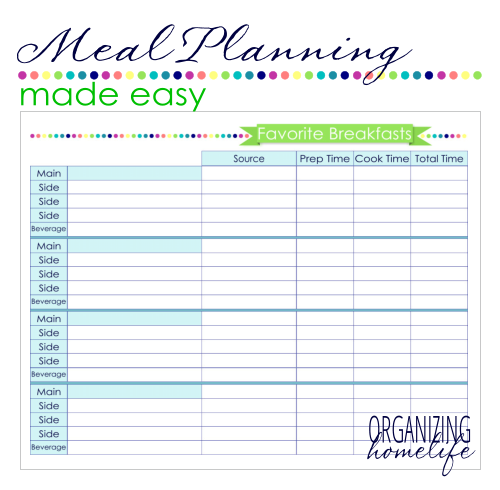 I made a planning printable for Favorite Breakfasts, Favorite Lunches, and Favorite Dinners.  I keep the printables in the front of each section accordingly.  It makes meal planning simple!  Behind the planning pages, I keep the recipes for an entire meal on a single page.  I only print the whole thing out if I have time, so not all of our favorite meal plans have made it to the binder yet.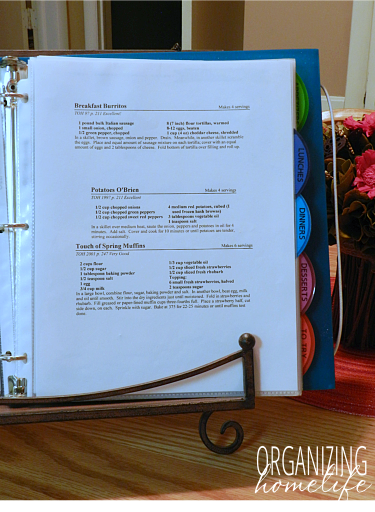 On the planning printable, there is a place to note the recipe source and the time it takes to prepare the meal.  It's a great reference and is easy to glance through when planning.  If I haven't had time to type up the recipes for a particular meal plan, I can still find the recipes since I noted the source on the printable.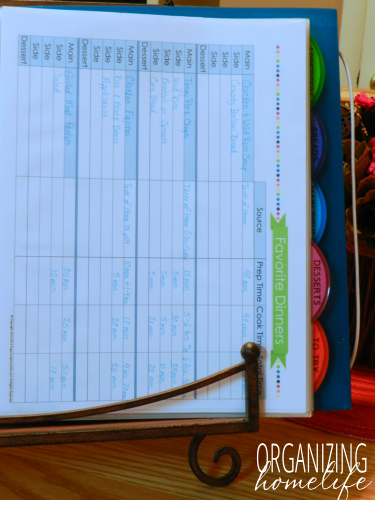 Since I keep our family's favorite meals in my binder, I put a copy of my Weekly Menu Planner in the very front.  When I'm planning my weekly menu, I don't need to constantly wrack my brain for meal ideas.  I can easily flip to the section I need, check out our favorites, and plan our menu simply.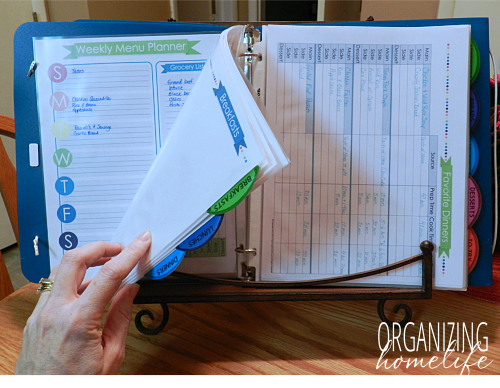 I keep my Quick Dinners printable on the left side of each page protector in the "Dinners" section.  When we're short on time or have a busy week, it's easy to choose from meals we like that don't take much time to prepare.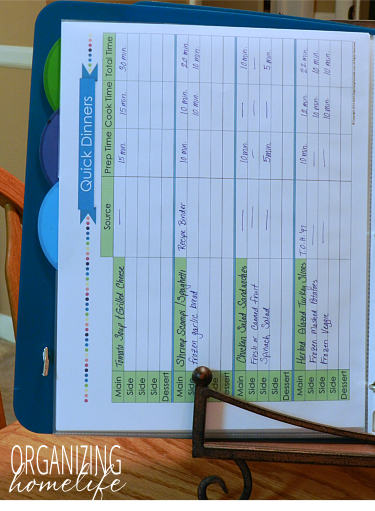 Now that we've covered what I keep in the front section of the binder, let's look at the rest of it.  As I said, I love looking at and trying new recipes.  I print them from online recipe sites or food blogs, and of course find things I want to try in my cookbooks.
I made a Recipes to Try printable where I can jot down the recipe, where I found it, what category it's in (main dish, veggie, etc.), and whether we liked it or not.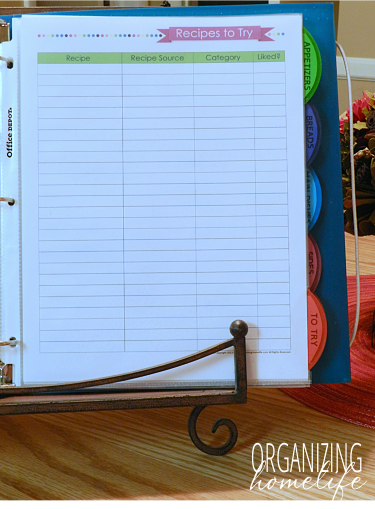 In the back sections of the binder divided by category, I keep recipes that I've made that we liked and are worth making again.
Some recipes I've printed from online sites: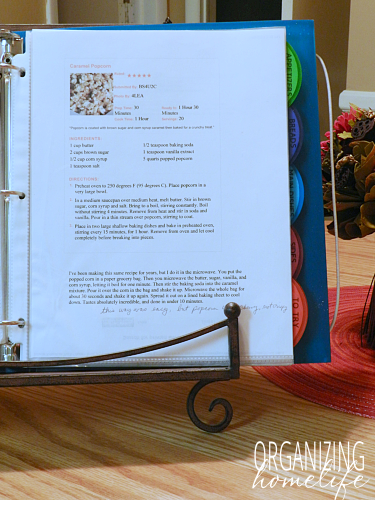 Some, I've torn out of magazines:
Some are fantastic recipes that friends have copied for me.  Each category has a printable section divider.
I also have a section for entertaining.  I like to keep track of holiday meals and meals I've made for entertaining guests that were successful.  Holiday meal planning can be stressful if not organized well.  My holiday meal planning printable helps keep track of the many parts of our special meals and who is bringing (or making) each item on the menu.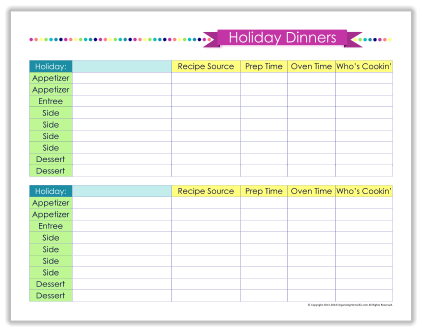 So why is the Duo Binder perfect for a recipe binder?  Because of the attached accordion file!  In the picture below, you can see the tabs in the binder side.  The top flap lifts up to reveal the accordion file.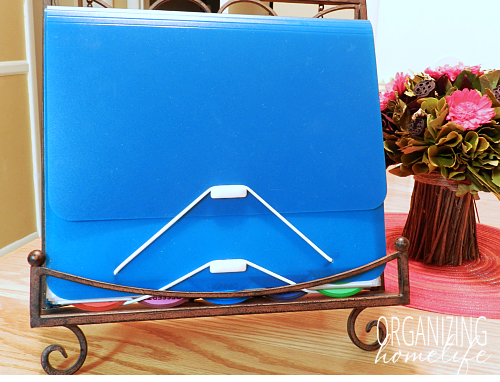 This is where I keep take out menus in case we have a night where we don't feel like cooking.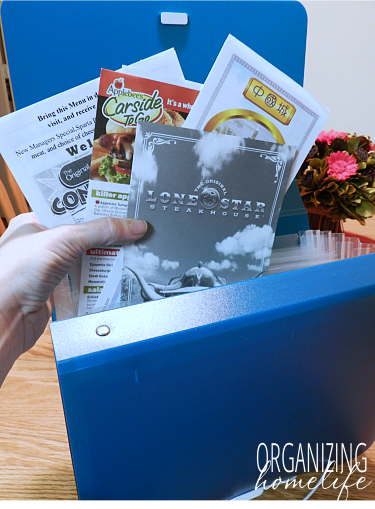 I labeled the remaining pockets with the same categories as I have in the binder.  Whenever I find a recipe I want to try, I print it or tear it out of a magazine and store it in the pocket.  When I feel like trying something new, it's simple to choose a new recipe from the file.  If we like it, I can put it in a page protector in the binder side.  If we don't like it – I toss it!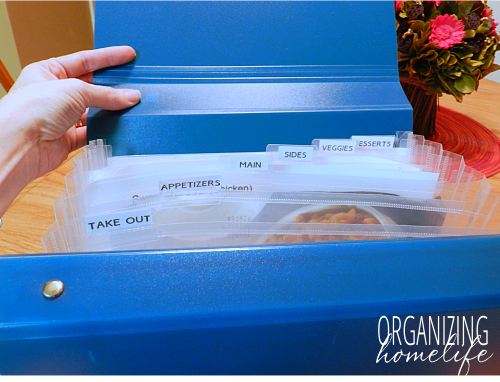 How would YOU like to win a Duo Binder and my 19 page Recipe Binder Printable Kit?  I have such wonderful news for you: 5 of YOU will have an opportunity to win, PLUS one of the five winners will be randomly chosen to receive a $50 Amazon gift card!  How's that for a great way to start your holiday celebrations?!?!

How Do I Enter?
Simple!  At the end of the post, either use your Facebook or your email to log into the Rafflecopter entry form.  Entries are explained in the Rafflecopter form.
Would you like to buy a Duo Binder?  You can find them on Amazon here.  If you are an Amazon Prime member, you can get free shipping!
Are you interested in the 19 page Recipe Binder Printable Kit?  It is available in my shop here.  Great news!  This week only, you can get 25% off your ENTIRE ORDER in my shop using the code: DUORECIPES.  Coupon expires 11/19/13.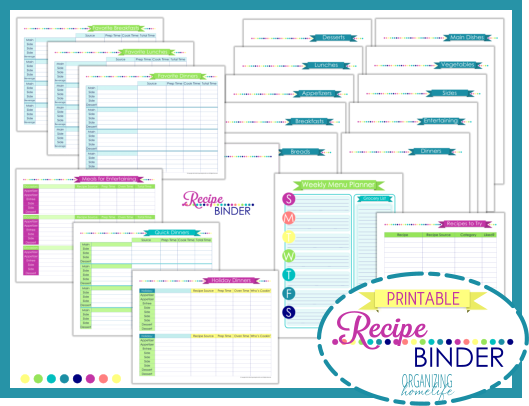 The Fine Print
Five winners will be chosen randomly using Rafflecopter.com to receive a Duo Binder plus the 19 page Recipe Binder Kit from Organizing Homelife.com.  ONE of the five winners will also receive a $50 Amazon gift card courtesy of Inoventions.
No purchase necessary.
Giveaway is open to U.S. residents only.
Entrants must be 18 years or older.
Giveaway begins Tuesday, November 12, 2013 and ends at 11:59 p.m. eastern time Tuesday, November 19, 2013.
Winners will be e-mailed and announced here on Wednesday, November 20, 2013.
Winners have 7 days to respond to e-mail or new winners will be chosen.
a Rafflecopter giveaway
*This post contains affiliate links. I have been compensated by Inoventions and given Duo Binders to review, but was not asked to write this post or give a positive review. I only share products that I truly love with my readers. If I don't like it, I won't tell you to buy it. See my full disclosure policy here.