Isn't it interesting how we sometimes find ourselves complaining about something we were once grateful for?
A number of years ago, while my hubby was looking for a new position as a pastor, he took a job working in construction for what we thought would be a short time.  We rented a little apartment thinking we'd only live there for a few months until he secured a job and we could buy a home.  We wound up living in that 900 sq. ft., two bedroom apartment for 5 1/2 years.  By the time we left, I was pregnant with our fourth child.  It was quite a challenge cramming three (soon to be four) children into a single, small bedroom.
I knew our time of living in that small space was supposed to be temporary, so I tried to make the best of it.  I thought I had a good attitude, but I definitely needed a few reminders along the way to be grateful for what I had.  We had moved from a three bedroom home with an attic and separate office for my hubby, so we rented a garage to hold all of our "stuff" we didn't have space for until we could move to something larger.
And then there was a day that changed my life.  I was busy lamenting how little space we had, jealous of my friends with their big, beautiful homes.  One day I decided to take my kids to the playground.  I met a lady who had moved to the States from another country who was also renting an apartment in our complex.  She and her hubby were also looking for new employment, and our kids were similar ages, so we easily struck up a conversation.
A few days later I met her again, but that time she invited me to come to her apartment for tea.  I agreed, and I will never forget what I saw when I entered her apartment.  The only furniture they owned consisted of two cheap, stackable lawn chairs and a small TV.  She graciously served me tea with spoiled milk, because that was all they had.  She and her husband shared their bedroom with their children, and I'm pretty sure they all slept on the floor.
When I walked home to my apartment, I suddenly realized how much I really had.  I had nice furniture, pictures of my family, artwork on the walls, beds for everyone and so much extra stuff, we needed a garage to contain it all!  That was an important milestone in my life because I realized how very much I had been given and what a gift it was – even if we were cramped in a small space.  I promised myself that I would always remember that experience in case I ever again decided to complain about how little I had.
Fast forward a number of years to where my hubby has his desired job and we own a modest home.  Coming from our small apartment, you can imagine how thrilled I was to have a "huge" eat-in kitchen.  It was pretty easy to look past some of the ugly things the previous owners had lived with because it was a much larger space and we were so grateful.
However, as the years have passed, I have noticed some discontentment in my heart.  It's so easy to look online, especially at Pinterest, and dream of what I don't have instead of being grateful for how much I do have.  Our home was built in the 1960's, and certain rooms still show it.  I constantly dream of how beautiful it "could be" if we could only afford it.
Almost for as long as I've been blogging, I have wanted to share pictures of how I organize my kitchen.  However, I was always hesitant to do it because our "big, beautiful kitchen" which I once thought was so great, wasn't pretty enough, or big enough, nor did it have granite countertops or beautiful cupboards.  It was "updated" in the 1980's with laminate cupboards and had blue carpeting glued to the front of the cupboards, not to mention the blue carpet on the floor.  Thankfully, we did take that out as well as replace the appliances, but I felt that I couldn't possibly show my outdated kitchen on my blog.  Yep.  I would need to wait until we could afford to tear out our entire kitchen and replace it with beautiful new things.
Wait just a minute!!!!  I'm once again doing what I thought I'd never do.  So, I have decided to embrace what I have and be thankful for it!  Is it the ugliest kitchen?  By no means!  It's not my taste, but it's definitely not the worst ever.  Is it the prettiest?  No way!  Am I grateful for it?  You bet!  And that's why I have decided to share it with you!
Last year during the month of October, I participated in a series with hundreds of other bloggers.  You may remember my series on building a Home Management Binder.  Once again, this October, hundreds of bloggers are planning to choose topics which we would like to blog about every day for the month of October.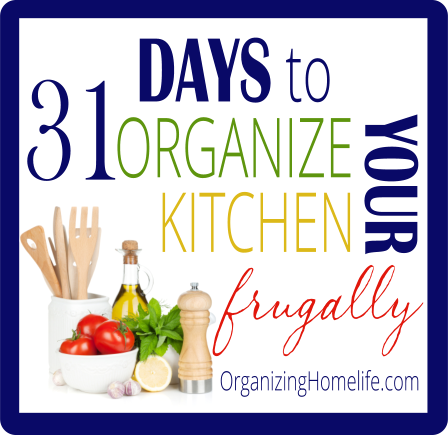 I have decided that I will embrace my outdated kitchen and share the goodness that is contained within it.  It is filled with organized spaces and I hope to inspire you.  The posts will be (mostly) short and sweet and are simply intended to give you ideas for organizing your kitchens frugally.
Am I a little hesitant?  Yes.  But I hope you'll join me in keeping it real and keeping it fun!  The series begins next Tuesday, October 1.  See you then!
Does your kitchen need updating?  Organization?  New storage ideas?