If there is one thing I LOVE it's a great solution for a common problem!  I was recently contacted by a brand new company called Dipsy Dabber about reviewing their product and I am SO happy to introduce you to it!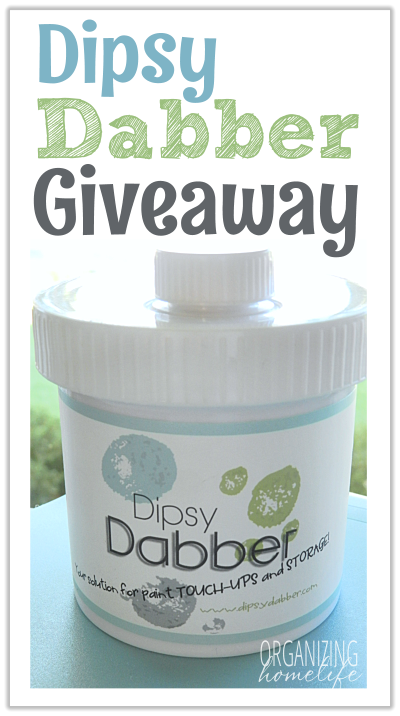 If your house is anything like mine, you'll know what I'm talking about when I say that it is such a pain to touch up scuffed walls or repair picture holes when you want to change your wall art.  With four kids, it seems like there is always a chip or scuff that just needs a dab of paint to touch up.
Call me lazy, but I do not like pulling out the paint stirrer, paintbrush, and lugging the gallon of paint into the house for a little touch up, not to mention the clean up after I'm done.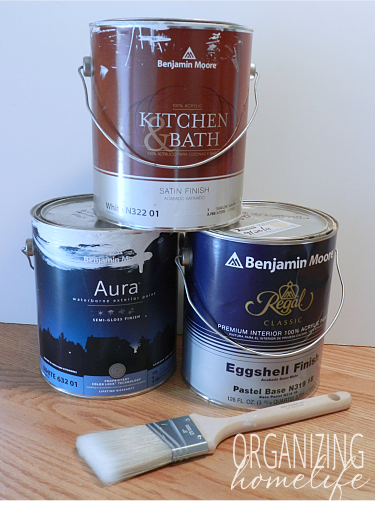 I love color on my walls and think it makes our home beautiful, but one downside to having different colors on our walls is the number of paint cans we need to store.  I've seen creative solutions all over Pinterest for keeping paint in smaller containers like mason jars, but I seriously would hate to accidentally drop that jar!
I was ecstatic when I received the Dipsy Dabber.  These folks came up with a GREAT solution!  They created a thick plastic, airtight container with a screw on lid that has a mini brush included, eliminating the need for washing your paintbrush and stirrer after touching up your walls! Woohoo!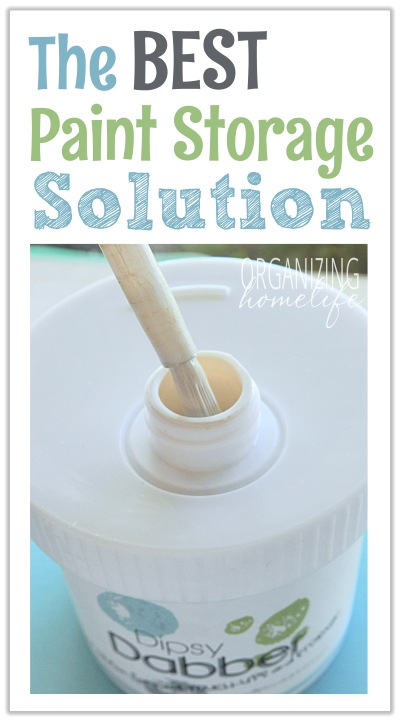 Simply shake the jar to mix, unscrew the paint brush, touch up your wall, screw the paint brush right back into the lid, and put it back on the shelf!  Simple!
The brush tucks right into a rubber valve to keep the paint from drying out and prevents too much paint from coming out with the brush.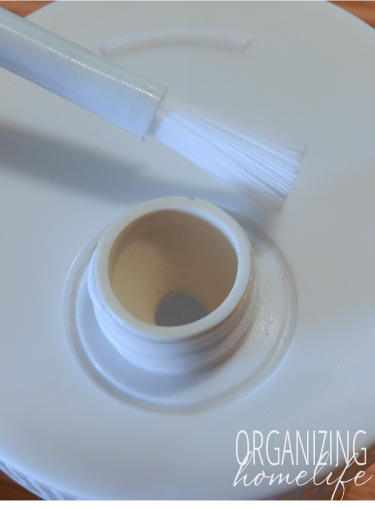 So what did I test it on?  I've had a large picture with brass sconces in my living room for years.  I know the "gold look" is coming back, but I've been over the look of this wall for a while!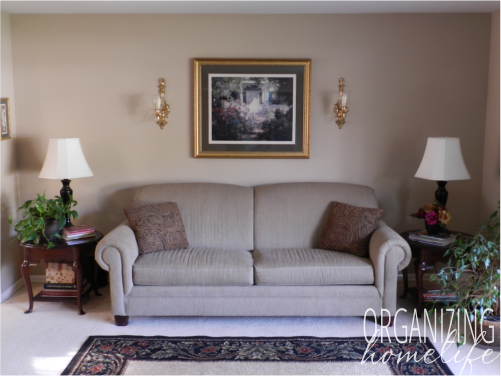 The problem was that I wasn't exactly sure what I wanted to replace it with.  Plus, those sconces were hung with large anchors, so the holes were huge!  I finally came up with a plan for the wall (which I'm so excited to show you once it's finished), but I started with taking the picture and the sconces off, spackling the holes, and hanging a large clock.  It looks a little lonely on the wall now, but it won't when I'm done with it. 😉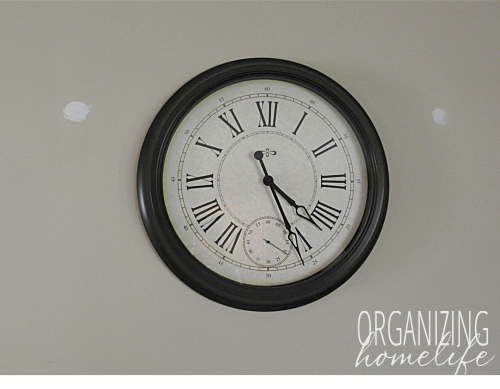 I cannot even begin to tell you how WONDERFUL the Dipsy Dabber is!  It was a cinch to touch up the paint!  It reminds me of a large nail polish brush.  🙂 The paint goes on smoothly and because of the valve in the lid, I never felt like there was too much paint that could drip – it held just the right amount.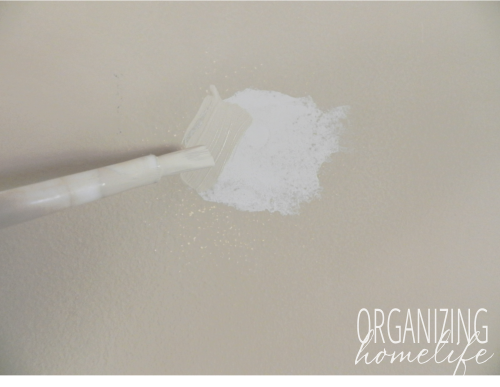 Here's the touch up with the paint still wet.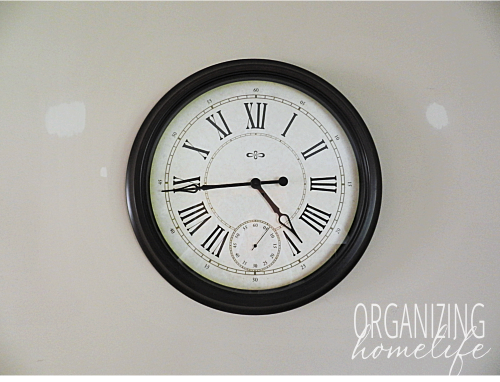 And here's the lonely clock on the wall with not a trace of what used to be there!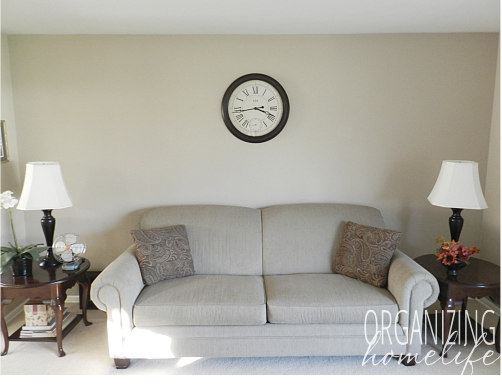 The folks at Dipsy Dabber really put a lot of thought into this product.  There is a spot on the label to dab your paint color as well as mark the details such as: paint name, brand, sheen, code, and room painted.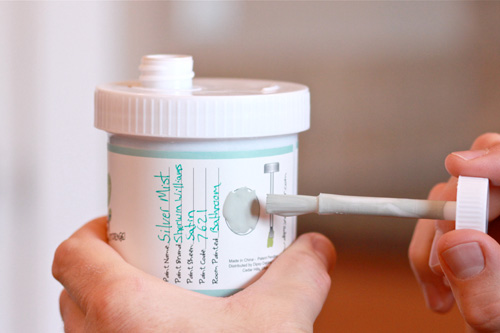 Image Source: DipsyDabber.com
Plus, they recessed the base so they can stack neatly despite the brush cap being raised on the lid.  Genius!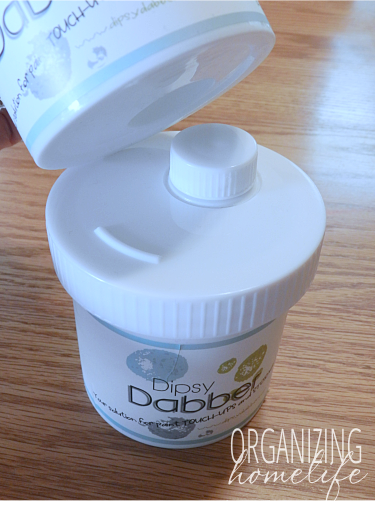 Now instead of having lots of gallon sized paint cans with only a little paint in each one, I can neatly store my paints and easily use them for touch ups when needed!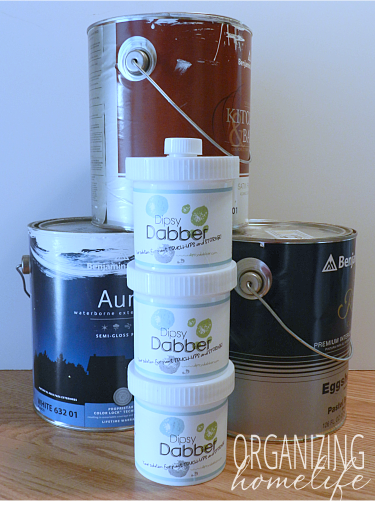 Why do I love the Dipsy Dabber?
It eliminates the need for storing large paint cans.
The screw on cap allows for easy filling (or if for some reason you do have a larger area to paint with a brush, simply take the lid off and use a regular sized paint brush).
The valve in the lid prevents too much paint from coming out on the brush.
The thick plastic container prevents discoloration from light.
No need to stir – simply shake the container.
No need to wash a paint brush – YAY!
Dipsy Dabbers can be stored on a closet shelf right in the room itself, or, stacked neatly with other Dipsy Dabbers.
I am thrilled to tell you about these and hope you enjoy using them as much as I do!  At just $5.99, they are super affordable and would make a GREAT stocking stuffer!  Plus, if you order 3 or more, the shipping is free.  You can't beat that deal!  Check it out on DipsyDabber.com here.
How would you like to win a set of 3 Dipsy Dabbers?  I have great news!  The folks at Dipsy Dabber are generously giving away a set of 3 Dipsy Dabbers to TEN of YOU!
How Do I Enter?
Simple!  At the end of the post, either use your Facebook or your email to log into the Rafflecopter entry form.  Entries are explained in the Rafflecopter form.
The Fine Print
Ten winners will be chosen randomly using Rafflecopter.com to receive a Dipsy Dabber 3 pack.
No purchase necessary.
Giveaway is open to U.S. residents only.
Entrants must be 18 years or older.
Giveaway begins Friday, November 15, 2013 and ends at 11:59 p.m. eastern time Sunday, November 24, 2013.
Winners will be e-mailed and announced here on Monday, November 25, 2013.
Winners have 7 days to respond to e-mail or new winners will be chosen.
a Rafflecopter giveaway

Disclaimer: I have been compensated by Dipsy Dabber and given Dipsy Dabbers to review, but was not asked to write a positive review. I only share products that I truly love with my readers. If I don't like it, I won't post about it and certainly won't tell you to buy it! See my full disclosure policy here.