Yesterday I showed you the outdated closets we were living with in our master bedroom.  They have long been in need of updating so I was very happy to team up with EasyClosets once again to get these closets under control.
Here's what we were dealing with.  Single rod, double high shelves.  Wasted floor space.  Yikes.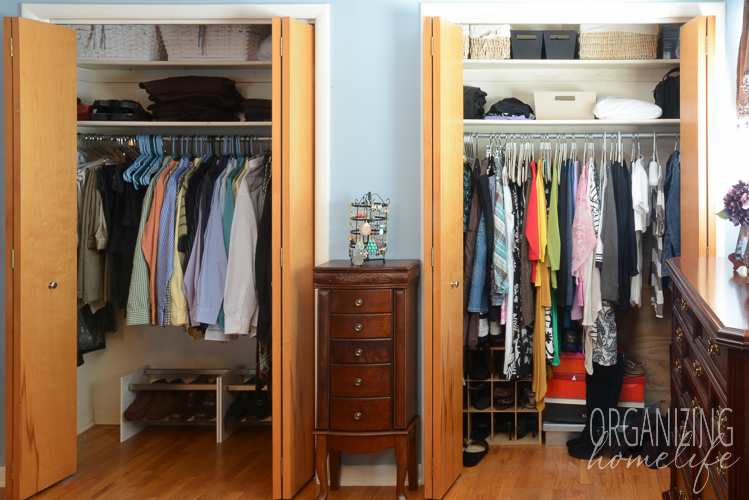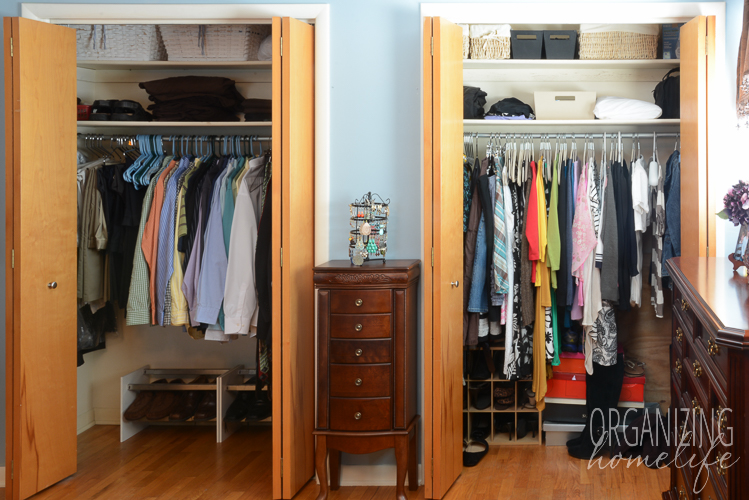 Let me just say for disclosure sake that there are perks to being a blogger.  One perk is that you get to review products.  I admit it is very nice and I am SO thankful to EasyClosets for providing the closet systems.  But, I will tell you the truth, if I weren't an organizing blogger with opportunities to test closet systems, I would buy an EasyClosets system in a heartbeat.  Trust me.  It's a great experience and an excellent, quality product.
The Plan:
I used EasyClosets' online design tool to come up with a basic plan for our needs.  Then I connected with Patricia, a design specialist, who provided free assistance and guidance to finalize our plans.  Excellent. Customer. Service.  I love it.
My hubby needed more hanging space, so we designed his closet to have four hanging rods and a fifth hanging space in the slide-out pant rack.  We added a few shelves for shoes and other things.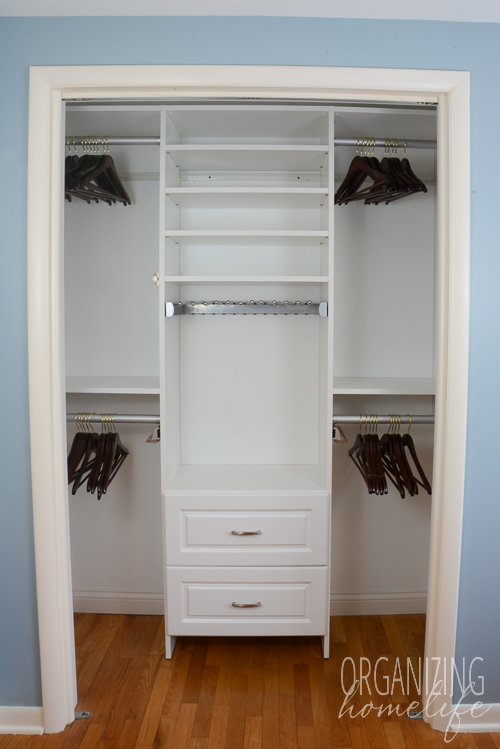 Since our closets are not huge and we can't keep all of our clothes for every season in our closets at one time, I like to store three or four out-of-season outfits in each closet in case the weather changes suddenly.  It gives me a chance to plan a seasonal clothing swap, and we all still have something to wear until I can make time for the swap.
I decided that drawers would be the perfect solution for this need.  There's even space for his sandals and flip flops.
I love the slide-out tie organizer.  It will be so much easier for my hubby to choose the tie he wants.  I ordered some new hangers for his closet, but honestly I wasn't very impressed with them.  They're just ok.  They don't seem to be of the same quality as the closets, but are still a major improvement over the cheap-o plastic hangers he previously had.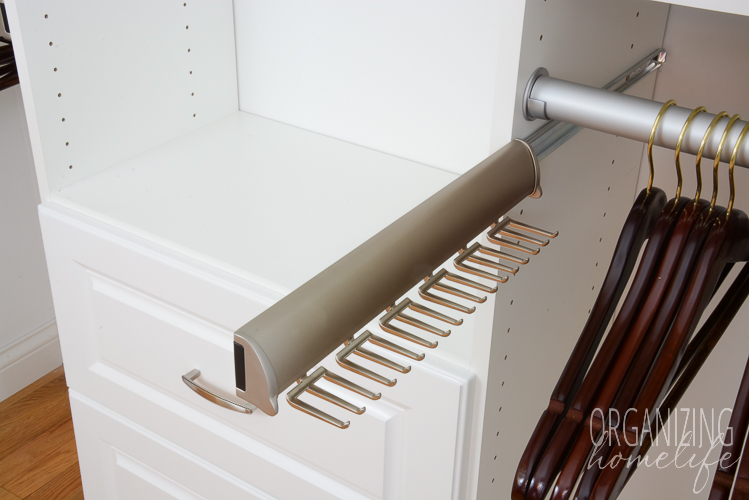 Part of our updating included repainting and putting new baseboards in the closets.  We decided to add a more decorative access panel cover which we are still working on (thus the ugly hole in my closet).
I use my dresser (to the right of my closet) for most of my everyday clothes, so I didn't need as many hanging rods in my closet.  I still gained space over what I had by putting the three rods at different heights.  But, what I'm really excited about are the adjustable shelves!  I have space for my shoes and don't have to get on my hands and knees and move clothes out of the way to find them!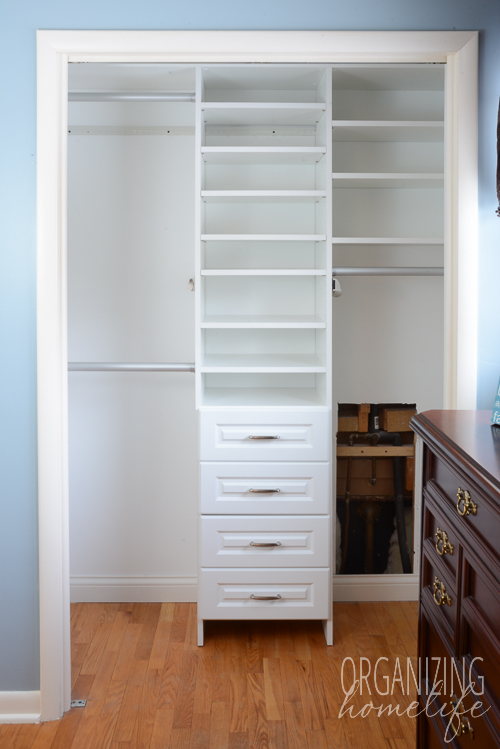 Are you ready for the reveal????
Look how these closets systems completely maximized the space in the closets!  Oh my, I'm LOVING how they turned out!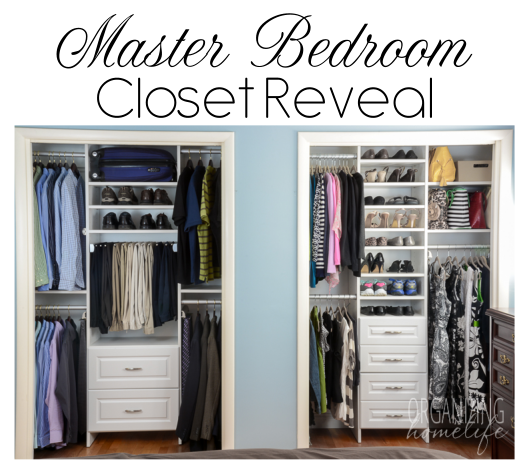 Every inch of space is maximized.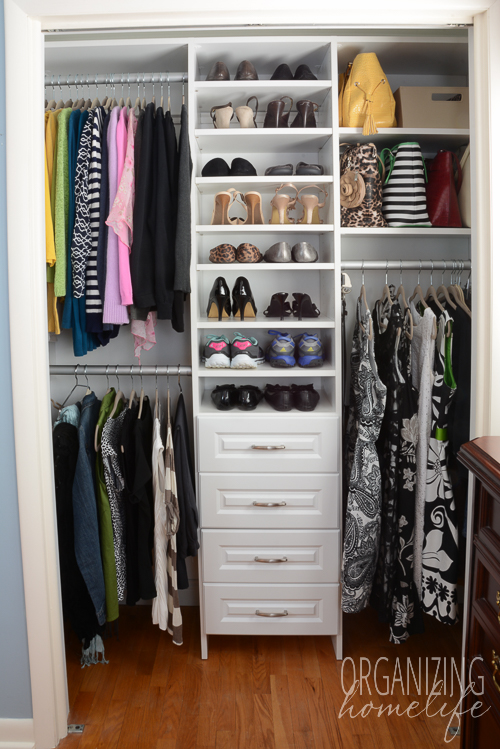 I brought up some of my purses from our DIY front hall closet and now have a perfect space for them in my room.  I keep extra wallets and clutches in the bin on the top shelf.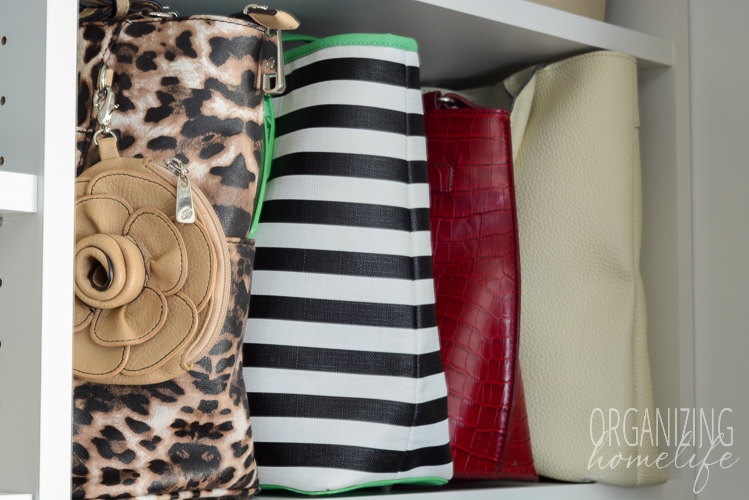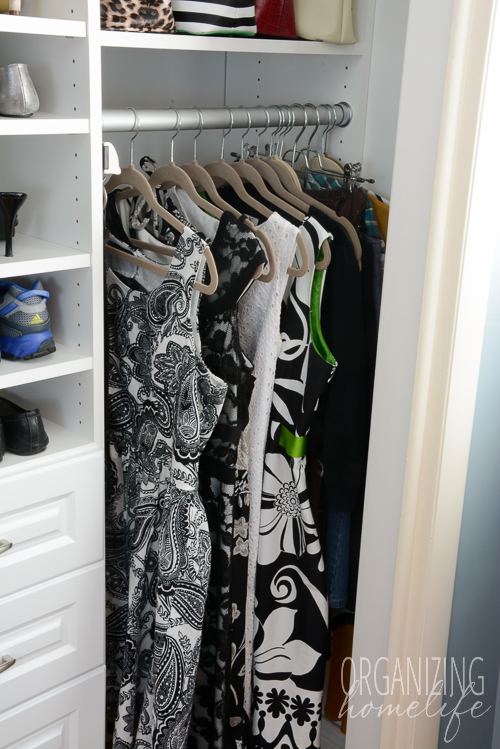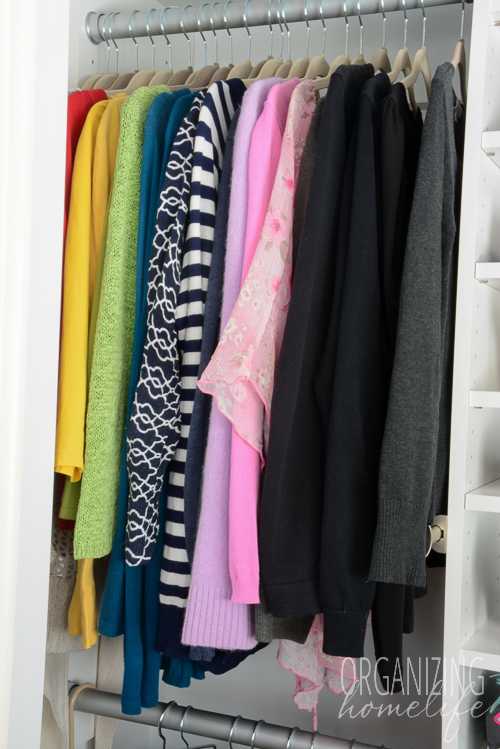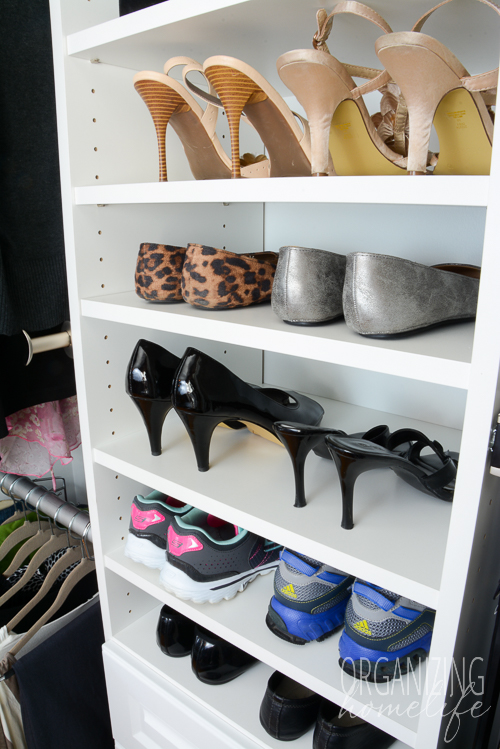 You may be wondering why I have my boots in a drawer.  I can now pitch those beat up boot boxes and store my boots in the drawers during warmer weather months to protect them.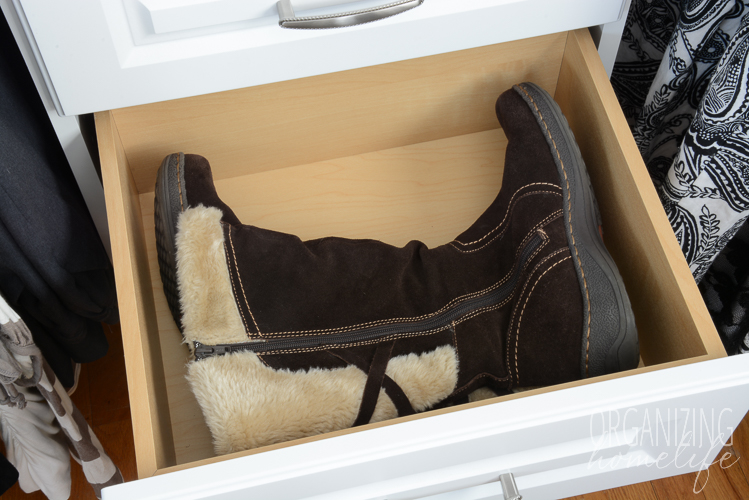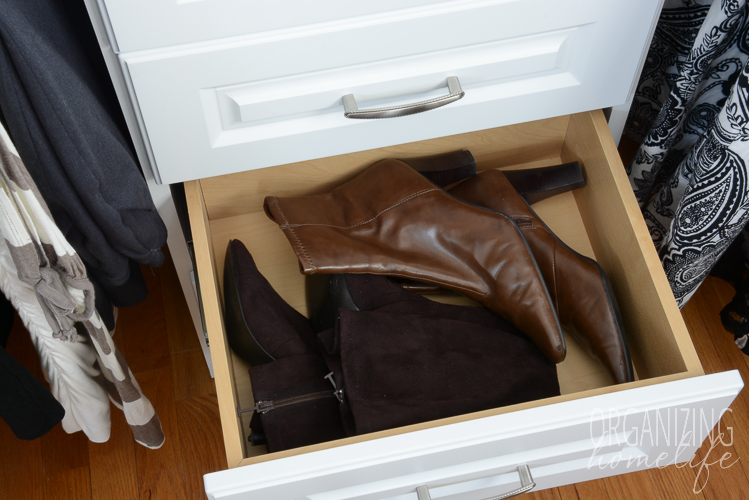 I hung my taller boots with clips attached to a hanger on the lower left rod.  I'll probably cover them with an old pillowcase during the summer to keep the dust off.
I also use one of the drawers to store my summer sandals and flip flops.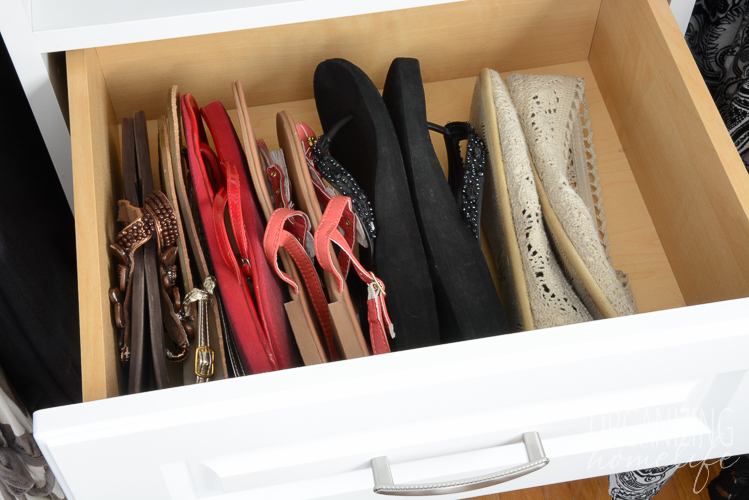 I am SO happy with how my hubby's closet turned out, too!  Now there is plenty of space in his closet for his clothes without having a wrinkled mess.  Should I go back to ironing?  Hmmm.  I'm kinda liking that he's used to it now. 😉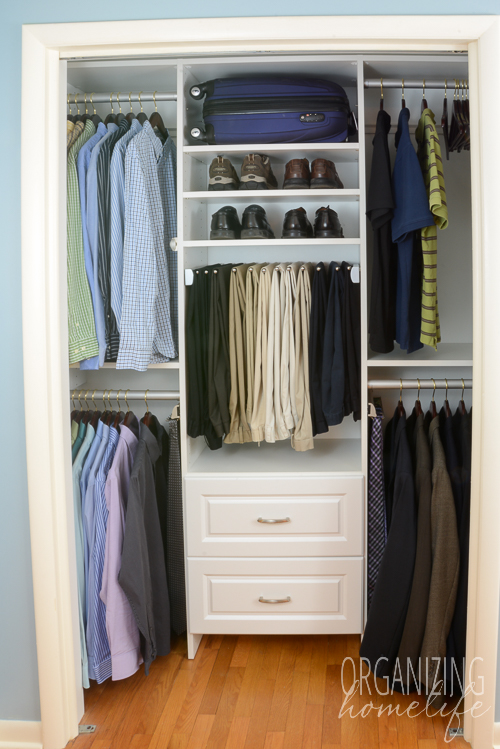 Not only does he have FIVE spaces to hang his clothes, he has just enough space for his shoes and we were even able to find a place for the carry-on suitcase which we regularly use.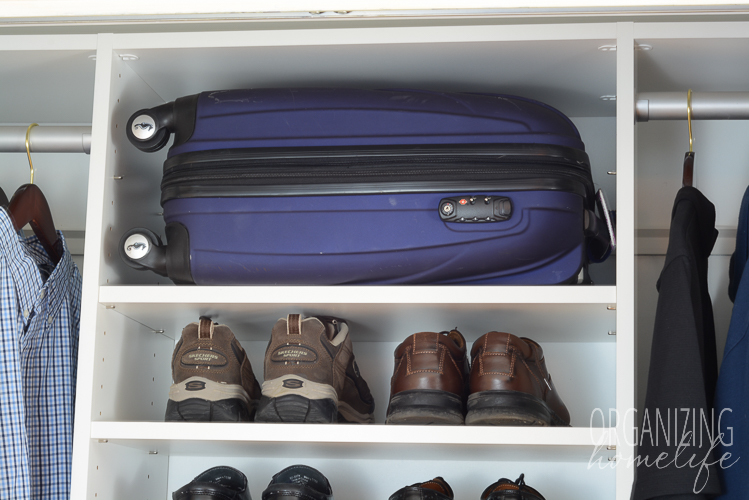 And, as I anticipated, the slide-out tie racks are perfect!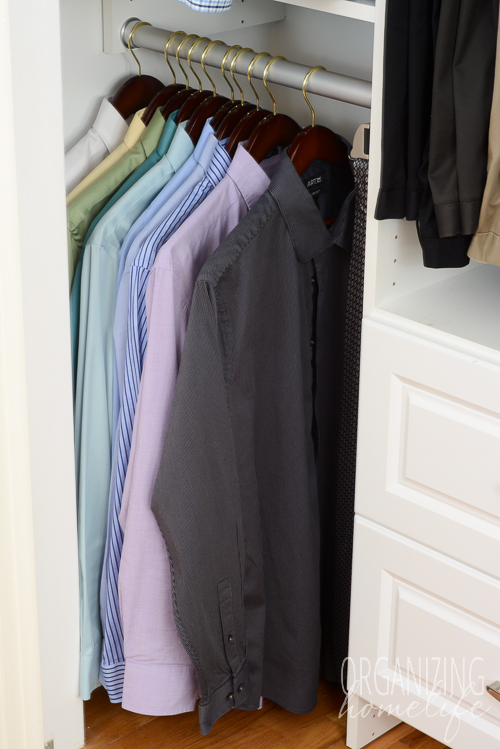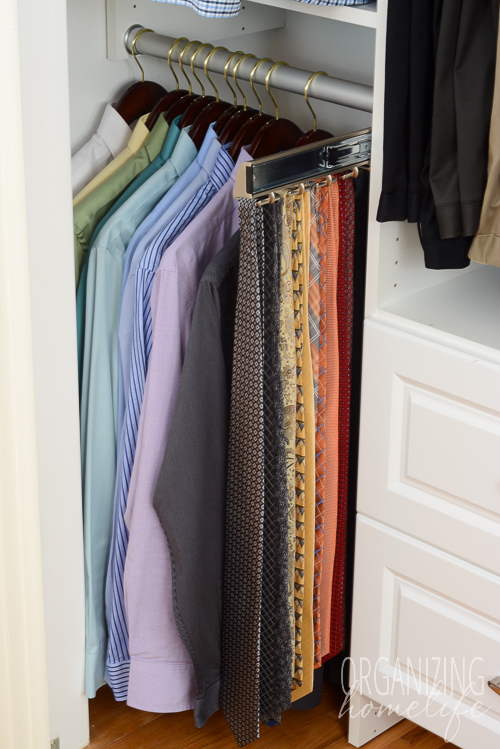 I also love the slide-out pant rack.  It makes hanging his pants so simple!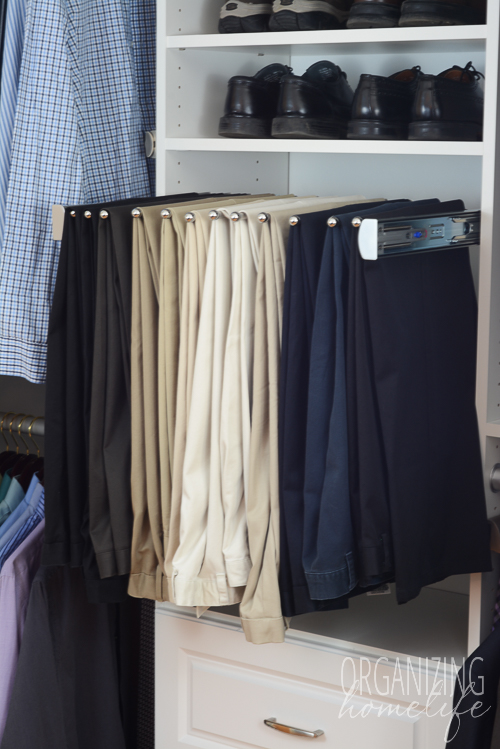 If you're considering a closet organizational system, I would highly recommend EasyClosets.  They are affordable and definitely worth the investment.
Here are a few of my favorite things about EasyClosets:
Free access to design professionals that help you create a design that's perfect for your unique needs
Incredible online design tool to design your own closet easily
Designs are customized to your specific closet and come with customized instruction manuals
Create an inexpensive basic closet solution or upgrade to "extras" like soft-close drawers and various accessories.
Quality, quality, quality.  Even the boxes the parts come in are superbly marked and packed with care.
So how about a good old before and after?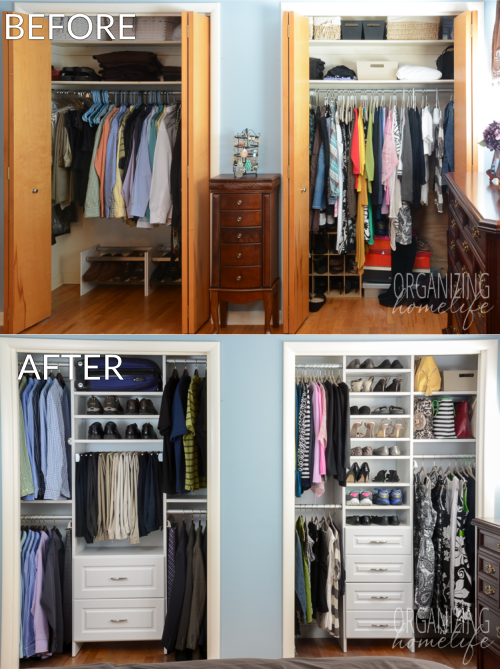 What a difference!
Guess what?  I have a HUGE surprise for you tomorrow!  I'm teaming up with EasyClosets to bring you the opportunity to win a $1,000 closet makeover for YOUR house!  Check back tomorrow – you do NOT want to miss this opportunity!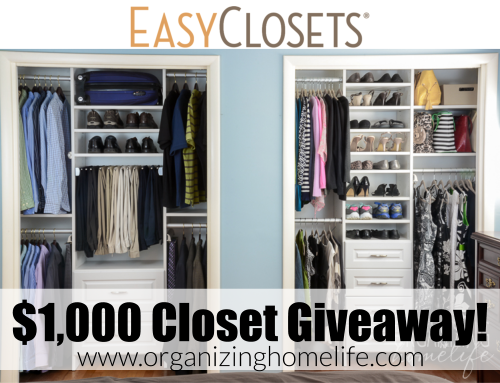 Are you interested in knowing how much my closet cost?  Here's a breakdown for you.  EasyClosets works with your budget.  Choose a basic layout similar to the closet I designed for about $350.  I like the clean look of the white, but you can choose from many colors (at a higher price).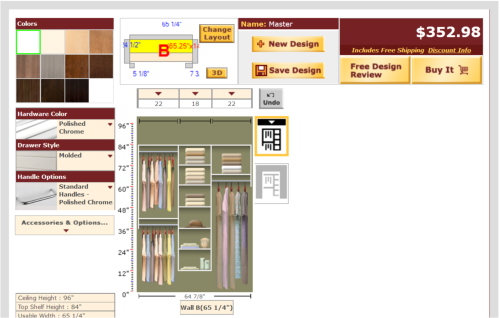 I personally love the drawers, but they definitely add to the price.  If drawers aren't in your budget, consider using baskets on the open shelves.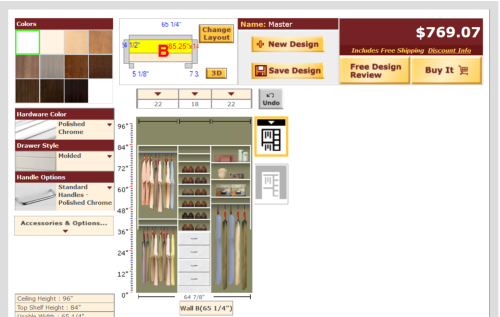 I added some "extras" like the tie/belt organizer and soft close drawers which will increase the price a bit depending on the options you choose.  I highly recommend using the free online design tool.  Enter your closet's measurements and have fun!  The price automatically updates for every change you make.
Is a closet makeover not in your budget?  Check out my DIY closet makeover here.  It's certainly not as elaborate as our new master closets, but you may gain some ideas for a place to start.
Don't forget to enter the giveaway tomorrow!  With $1,000 for an EasyClosets closet makeover, you will be able to design a beautiful, dream closet for your home!
Disclosure:  Thanks so much to EasyClosets for providing these closet systems.  All opinions in this post are completely my own and I was not influenced to write a positive review in any way.  I chose to work with EasyClosets again because I believe they are a superb company and I take pride in recommending companies and products that have proven excellence.  See my full disclosure policy here.