I have been having so much fun updating my son's room over the last few weeks. We've had carpet installed, updated some of his decor, installed new shelves, emptied his closet (see the before pics here) and made a plan for organizing his closet, and today I'm going to show you the organized closet reveal!
It is one of the most amazing and appreciated updates we've done. And if you haven't heard, you have a chance to win a custom closet system, made by my favorite closet organizing company – EasyClosets! Watch for the details soon!
Are you ready for the reveal? I'm so excited to share it with you!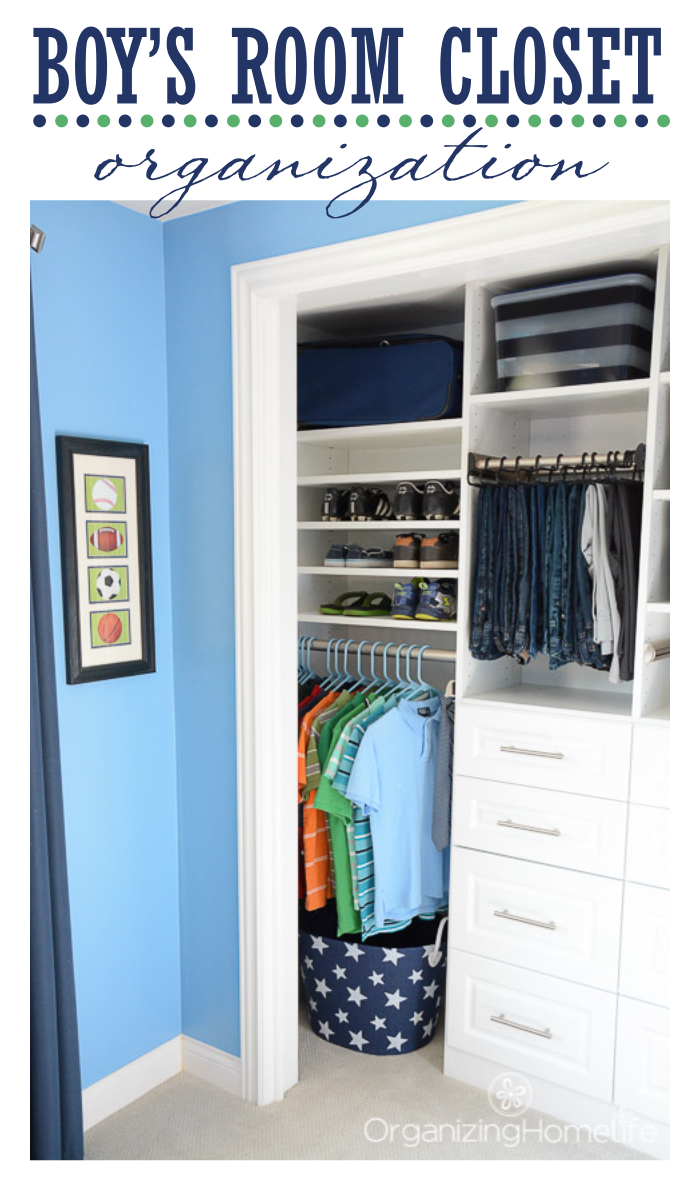 Organized Closet Reveal!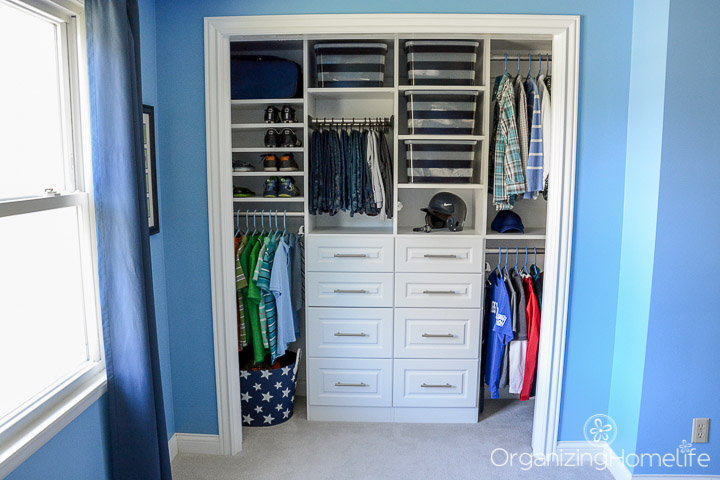 Eeek! I am so happy with how it all came together.
His previous closet, although a spacious size for one boy, wasn't being maximized space wise. I wanted to get rid of his small dresser and keep all of his clothes in his closet. Plus, I wanted to better organize some of the things he's using at this stage – like his sports uniforms and some of his equipment.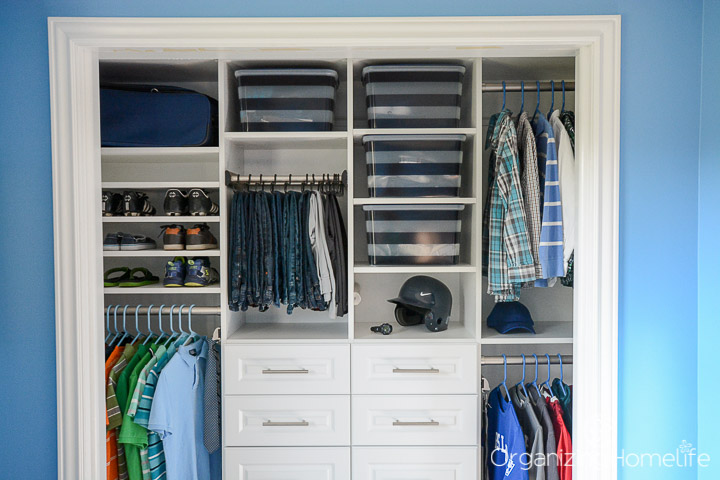 Now we have designated spaces for:
Shoes
Everyday clothing (in drawers)
Long-sleeved shirts
Short-sleeved shirts
Jeans and dress pants
Out-of-season clothing
Suitcase
Sports gear
and even toys
One thing I cannot recommend highly enough when organizing a kid's closet is to keep containers with out of season clothes available, but separated from everyday wear.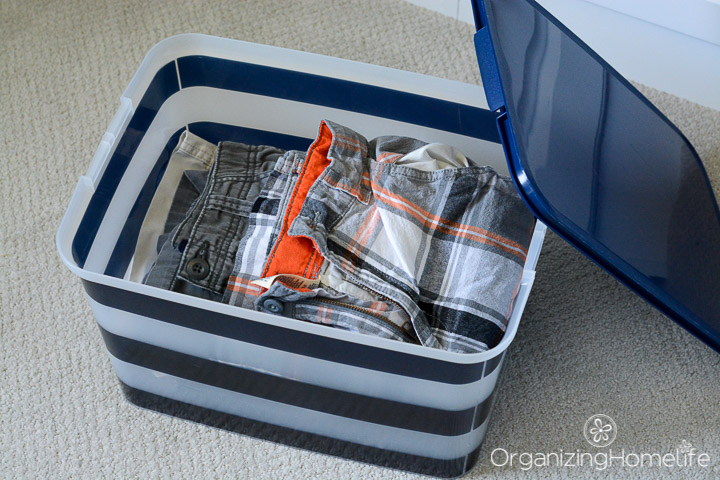 I keep several bins in my son's closet, some with clothes that are slightly too big, and some that fit but are out of season. That way if we have a quick weather change, he'll have some outfits to wear.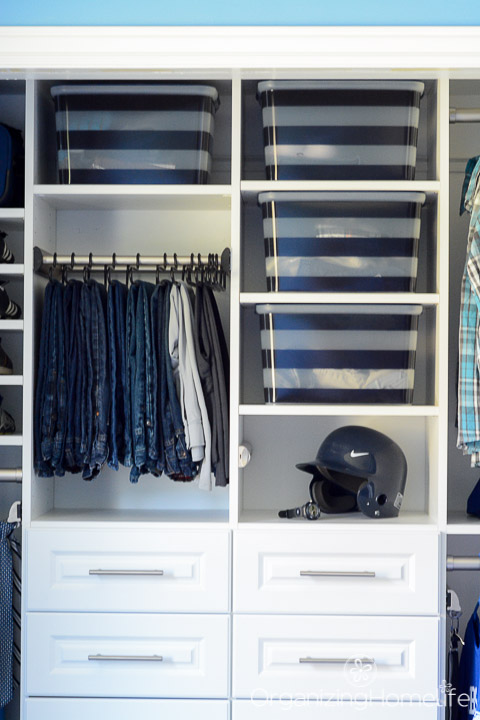 I love having drawers in his closet! They are bigger and deeper and offer more space than his old dresser, but still allow for more hanging space than he previously had since he has four hanging racks now (the end sections are wider than the center sections)!
I chose soft-close drawer glides because they are absolutely awesome for kids. No more slammed drawers and pinched fingers. They're so simple (and quiet) to close.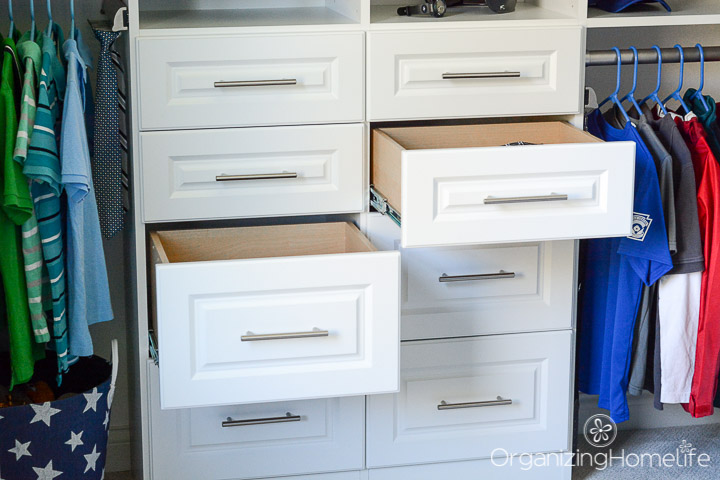 I chose two sets of 12″ drawers for the lower section and two sets of 5″ drawers for the top.
I also opted for drawer dividers so his socks could easily be separated. I use to ball his socks by folding over the tops, but he totally impressed me when I opened his drawer and found that he organized his socks like this!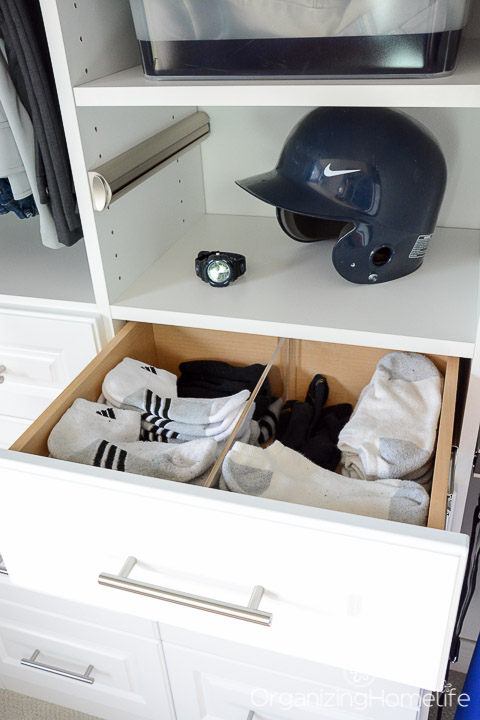 In the 5″ drawers, we're keeping his swim suits, socks, underwear, and pj shorts.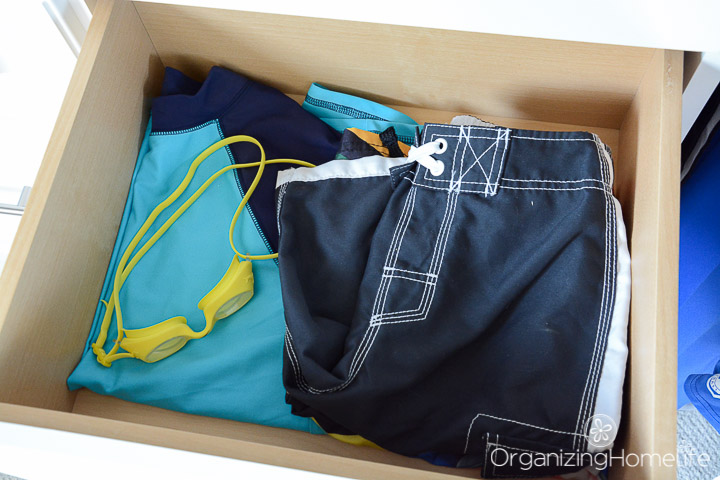 In the deeper 12″ drawers, we're keeping his athletic pants, t-shirts, and other everyday wear.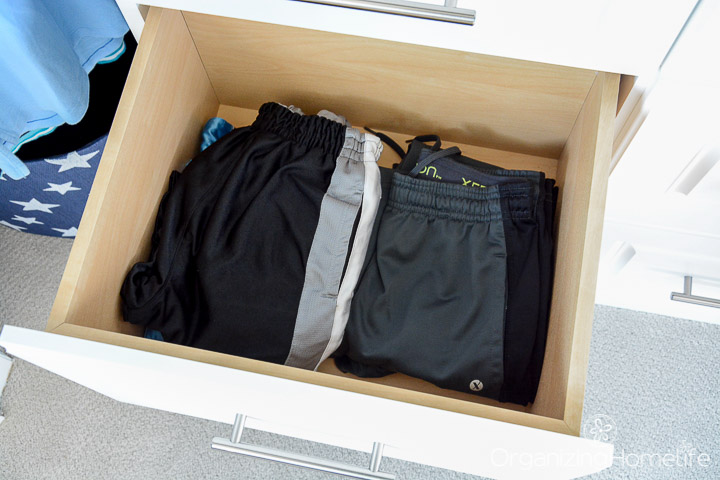 I also opted for a slide out pants rack so he can easily hang his jeans and dress pants.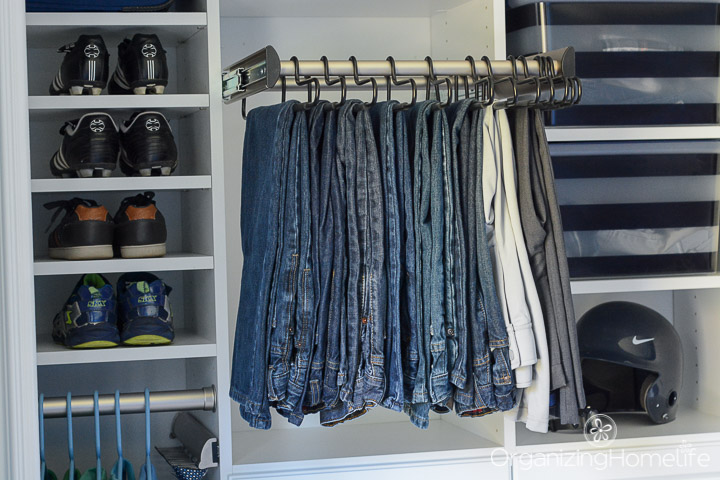 One of my favorite features is the valet pole. It slides out so an outfit can be hung front and center to make "setting out an outfit for the next day" as simple as possible.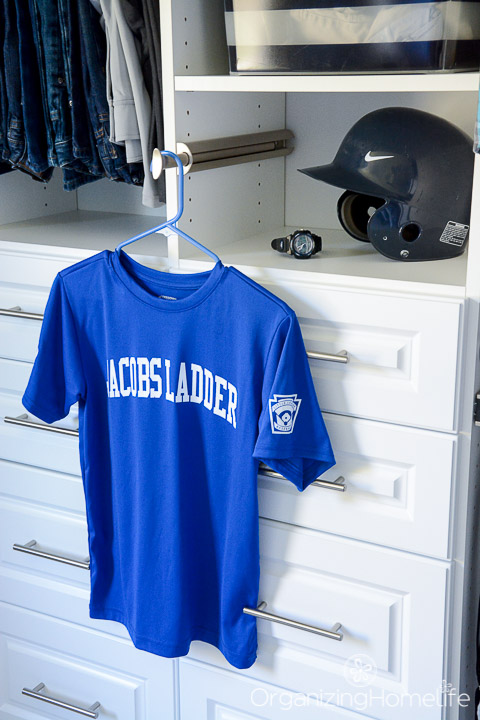 Since my son is at the in-between stage of being a "tween", he still has some things he isn't quite ready to part with, but doesn't play with often. I found a basket at Home Goods to organize his favorite stuffed animals.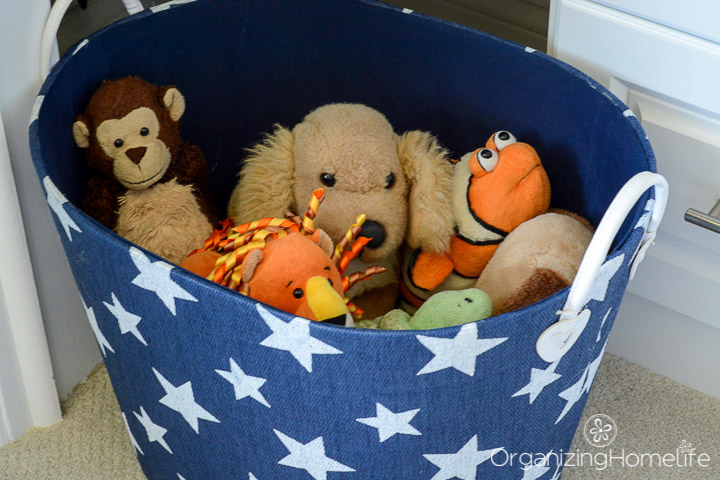 It tucks nicely right below his shirts.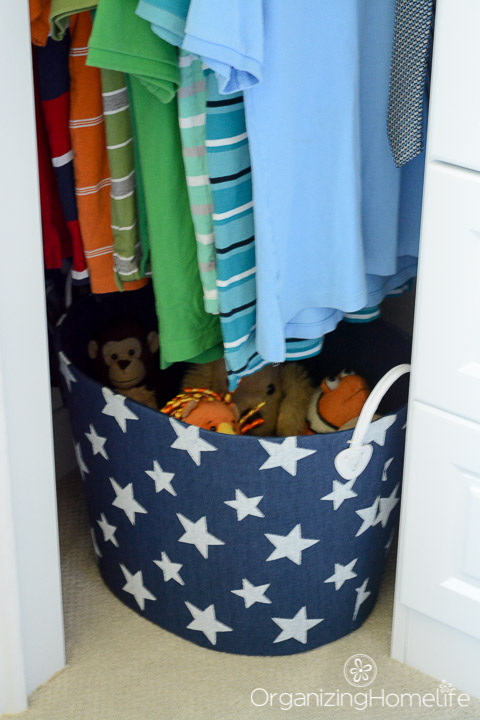 Another feature that will be more useful for him as he grows older is the slide-out belt rack. As you can see, he doesn't wear many belts now, but that's why I love that this closet will grow with him. When not in use, it tucks discreetly out of the way.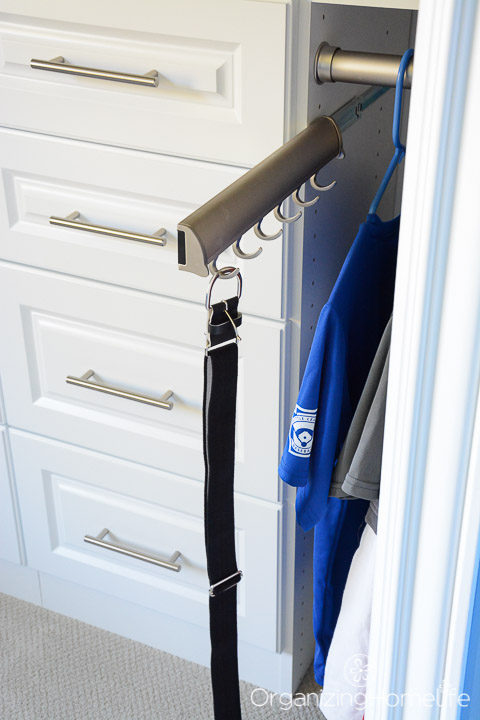 The same goes for the tie rack…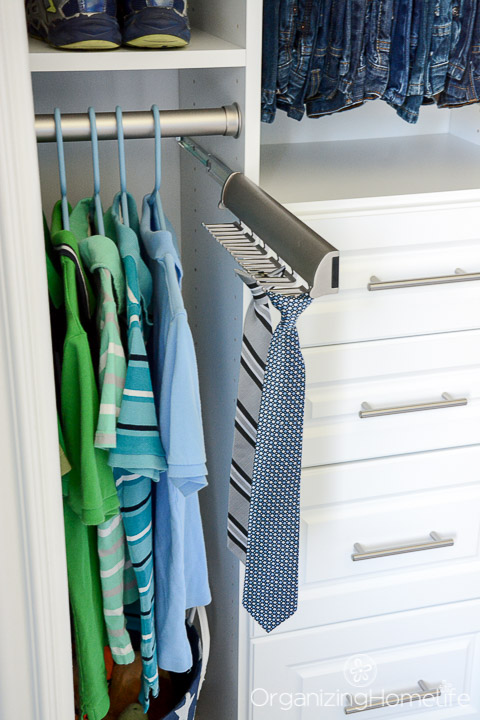 I love that there are different "sections" so I can organize his long-sleeved shirts separately from his short-sleeved shirts when the weather calls for both.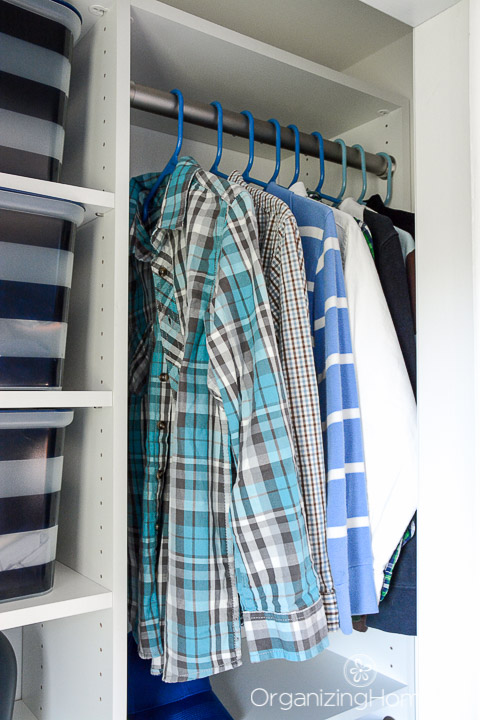 He also has organized spaces to keep his sports uniforms.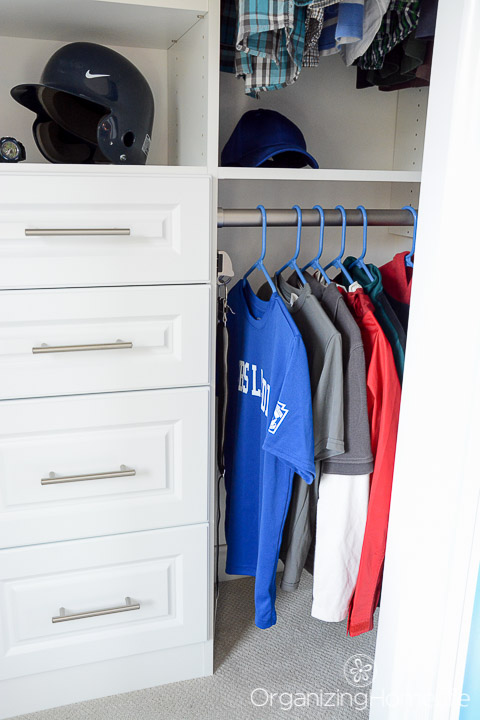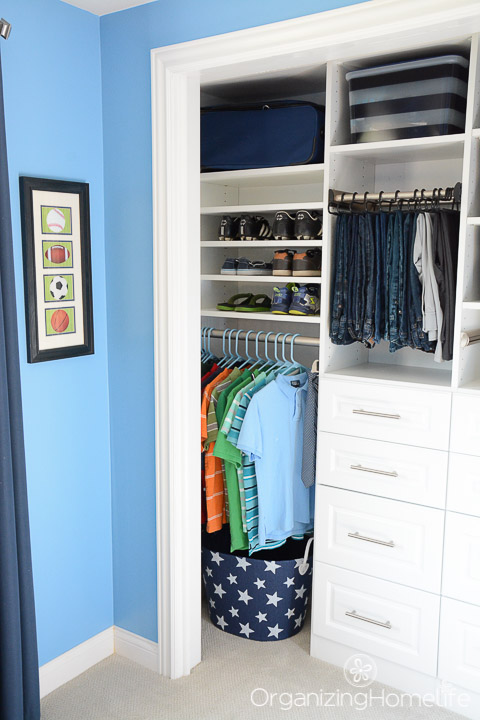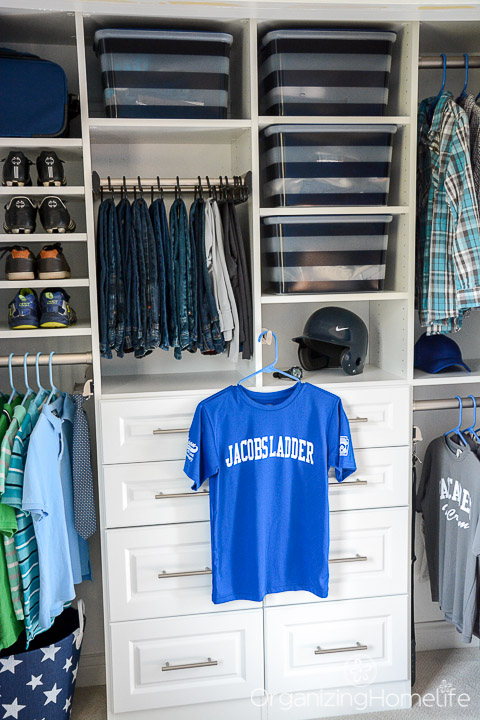 Before and afters are always so fun, so we can't end this without a few!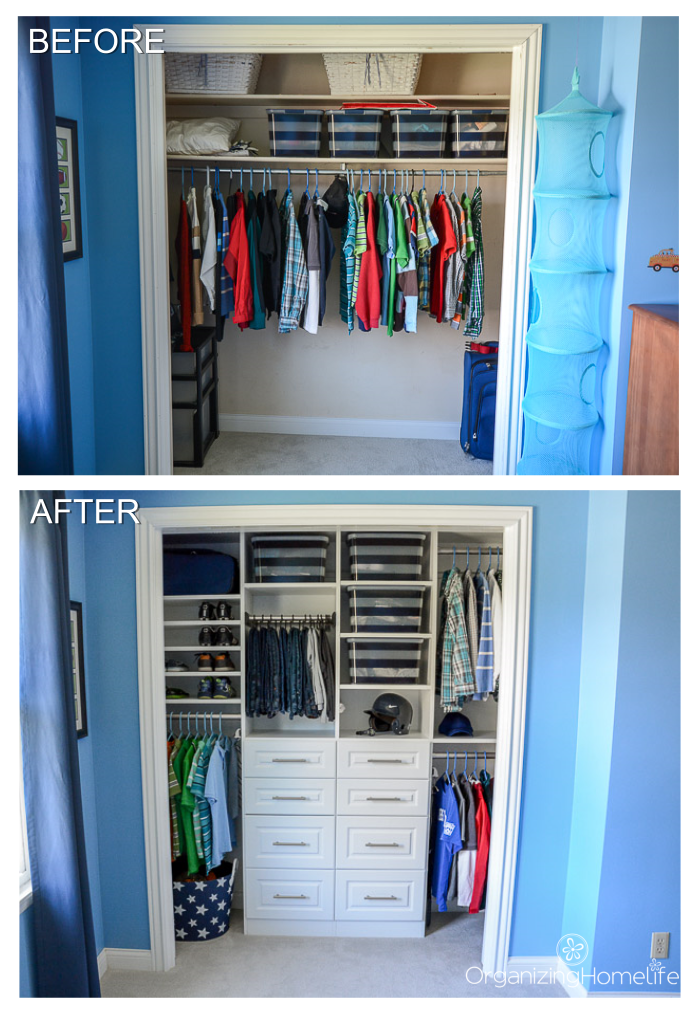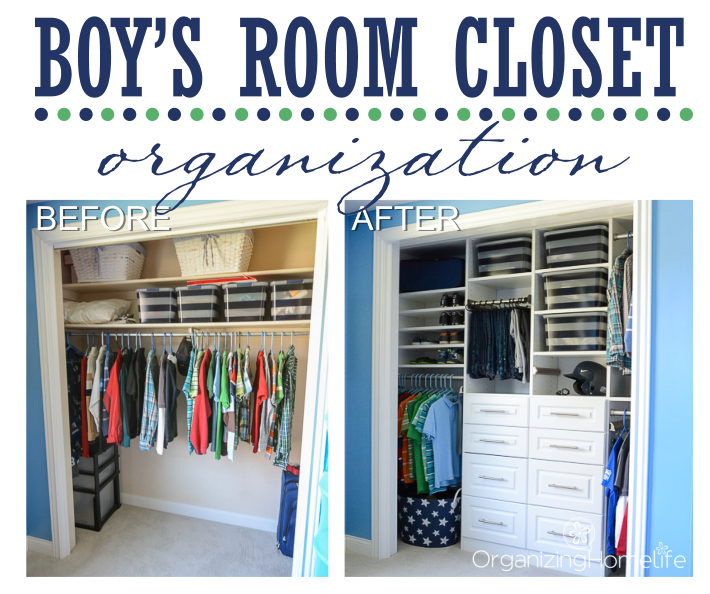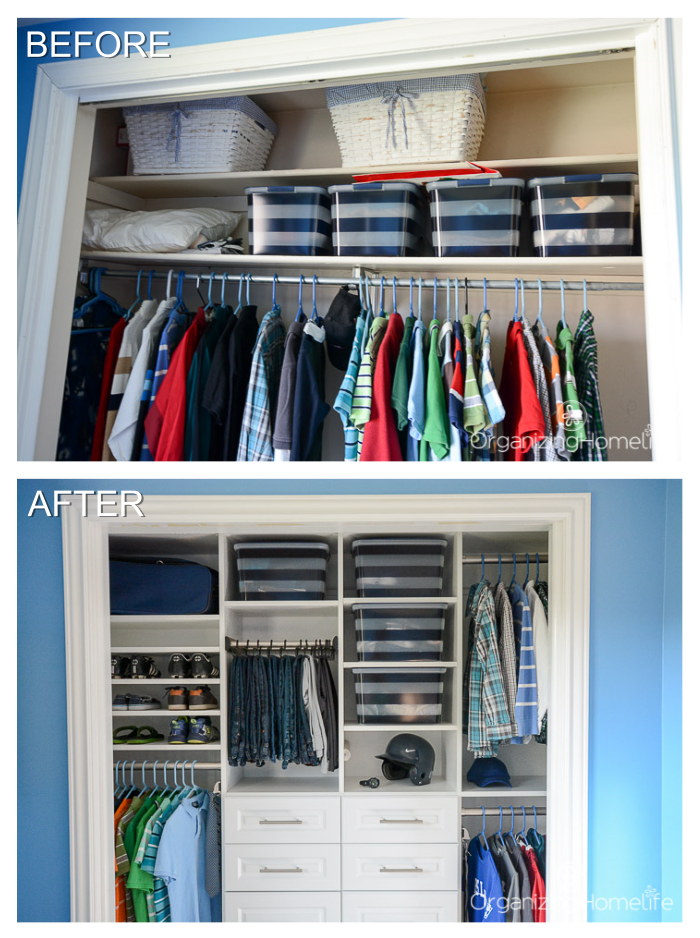 If you're considering a closet organizational system, I would highly recommend EasyClosets.  They are affordable and definitely worth the investment.
Here are a few of my favorite things about EasyClosets:
Free access to design professionals that help you create a design that's perfect for your unique needs
Incredible online design tool to design your own closet easily
Designs are customized to your specific closet
Create an inexpensive basic closet solution or upgrade to "extras" like soft-close drawers and various accessories.
Quality, quality, quality.  Even the boxes the parts come in are superbly marked and packed with care.
Big News!!!
I'm giving away a $1,000 organizational closet system made by EasyClosets! And YOU will have a chance to win! Watch for details soon!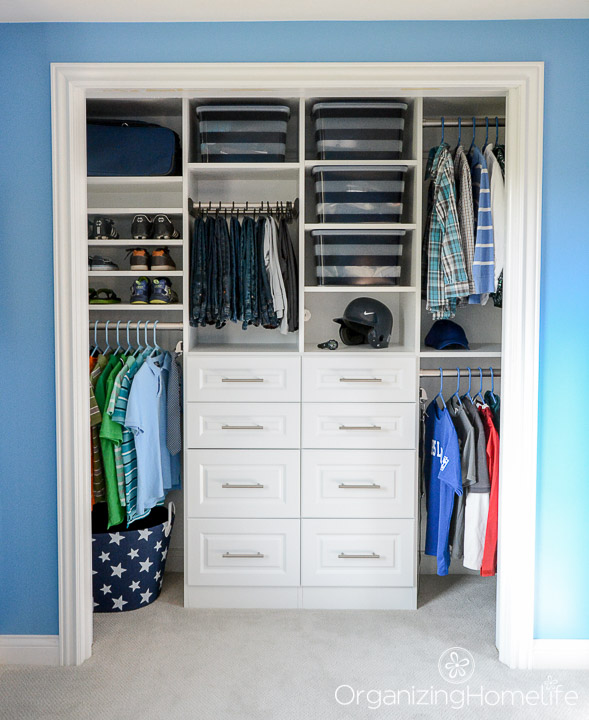 If you're wondering about doors, yes, we are planning to add them. 😉
Disclosure:  Thanks so much to EasyClosets for providing this closet system.  All opinions in this post are completely my own and I was not influenced to write a positive review in any way.  I chose to work with EasyClosets again because I believe they are a superb company and I take pride in recommending companies and products that have proven excellence.  See my full disclosure policy here.